Why Piwik PRO Confluence Analytics?
Confluence integration will allow you to maximize the benefits to your team's productivity offered by this collaborative platform. Piwik PRO Analytics is an efficient way of getting useful information on how well your company is leveraging the tool in meeting your organization's objectives. Set goals, track events and improve overall performance along with internal communication of employees.
Visitor Profile
View the session history of all your Confluence users.
Site Search
Discover keywords, phrases and the most clicked-on results.
Page Titles
Find out which pages are the most popular and which do not perform well.
User Activity
Identify your top contributors and overall intranet user activity.
How Can Confluence Analytics Help Your Business?
Use Piwik PRO Confluence Analytics to establish goals to boost your users' engagement, contributions and productivity using reliable metrics and analysis. You'll get the capacity to track a broad range of actions and areas that show how your users engage the full spectrum of tools and areas available to them within Confluence. In-depth analytics will provide you with precise, deep insights into user behavior. Goal-setting will allow your users to work with even greater efficiency and to meet more ambitious objectives.
Visitor Profile
With Visitor Profile you may decide to gather detailed information about your Confluence users and their actions. Tracking activity by individuals during the selected time period is easy as pie.
Visitor Log
This is the exact place where you get real-time data on users accessing the Confluence service. Custom variables and unique Piwik IDs give you the power to identify each user and track their actions as they are performed.
Site Search
Compilations of the the most popular keywords entered by users are displayed in the Site Search section. You will also get invaluable information about the pages users click on after performing a site search.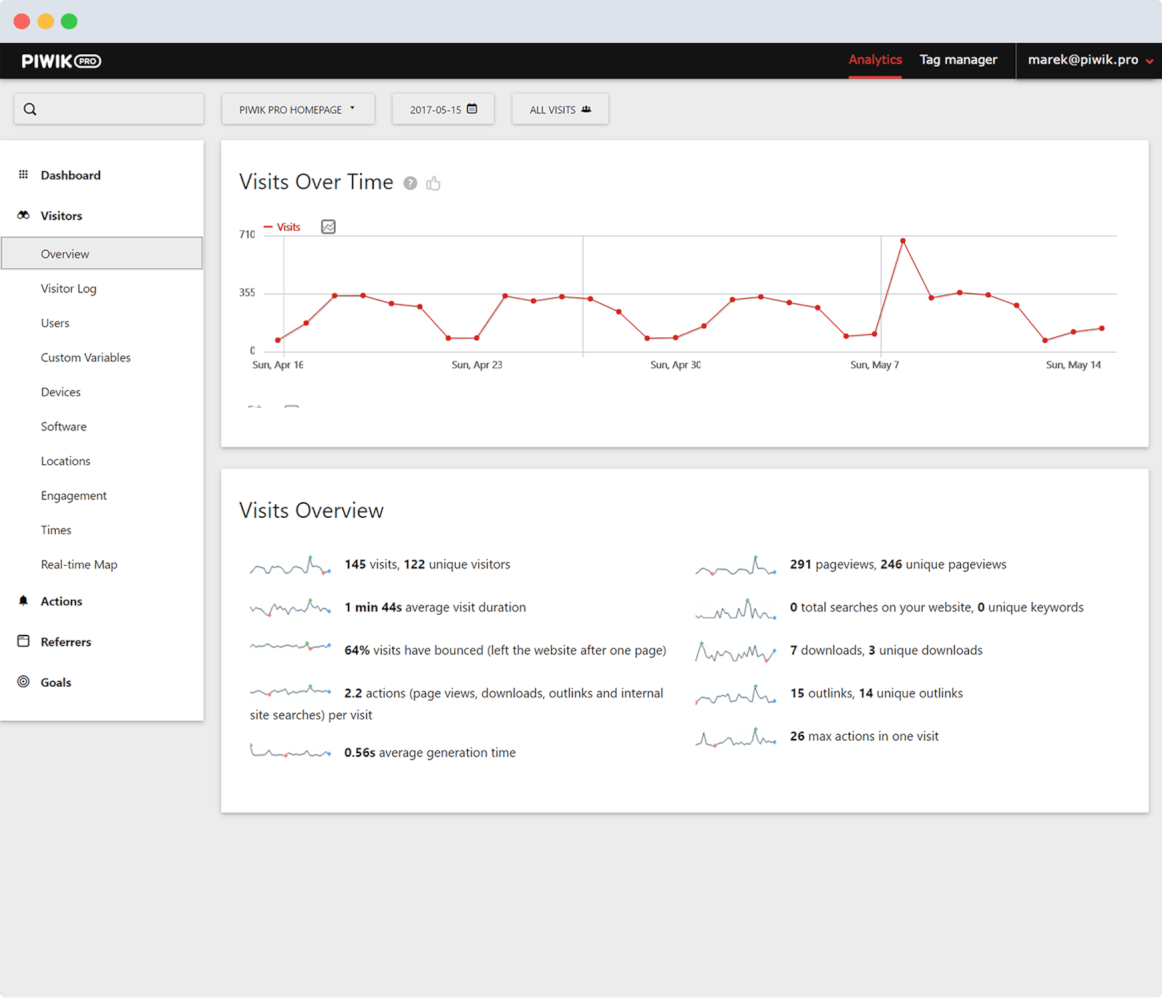 Learn more about Piwik PRO Web Analytics: