How can custom HTML tags help you?
In order to minimize page load times, Piwik PRO Tag Manager utilizes container tags that load with the head of a page (asynchronous). Moreover it offers the possibility of firing tags placed in the body of the web page (synchronous) – a feature that is particularly useful for A/B testing. With custom tags, you are not limited to Piwik PRO Tag Manager's built-in template library – you can implement any tool or tag desired, including custom scripts and tools you have written yourself.
Unlimited marketing possibilities
Add custom audience targeting and conversion tracking tags to your repertoire and implement custom listeners and data layer pushes with custom HTML tags.
Serve custom content
Custom asynchronous and synchronous tags are a great way of implementing and firing custom pop ups and notifications on your website using Piwik PRO Tag Manager's built-in firing triggers.
HTML Editor for Custom Tags
The HTML editor has embedded linter and syntax which helps debug your JavaScript code. It also allows you to use variables, both basic and custom by simply clicking one of the variables on the right to insert it into your code.
Set Tag Firing Sequence
Get the flexibility of setting the firing sequence of your tags based on your specific needs. Assign each individual tag a particular priority so that it is fired only when you want it to be.
Set & Modify Custom Values
Easily insert and change values within the HTML code of your custom tags including pixel ID's and other items.
Create Custom Tracking Pixels
Use the HTML editor to easily create and edit tracking pixels for whatever set-up you need.
Synchronous & Asynchronous Customization
No need to be limited to one type of tag. Enjoy the freedom of firing your own scripts and marketing tags, both synchronously or asynchronously, whenever and however you want.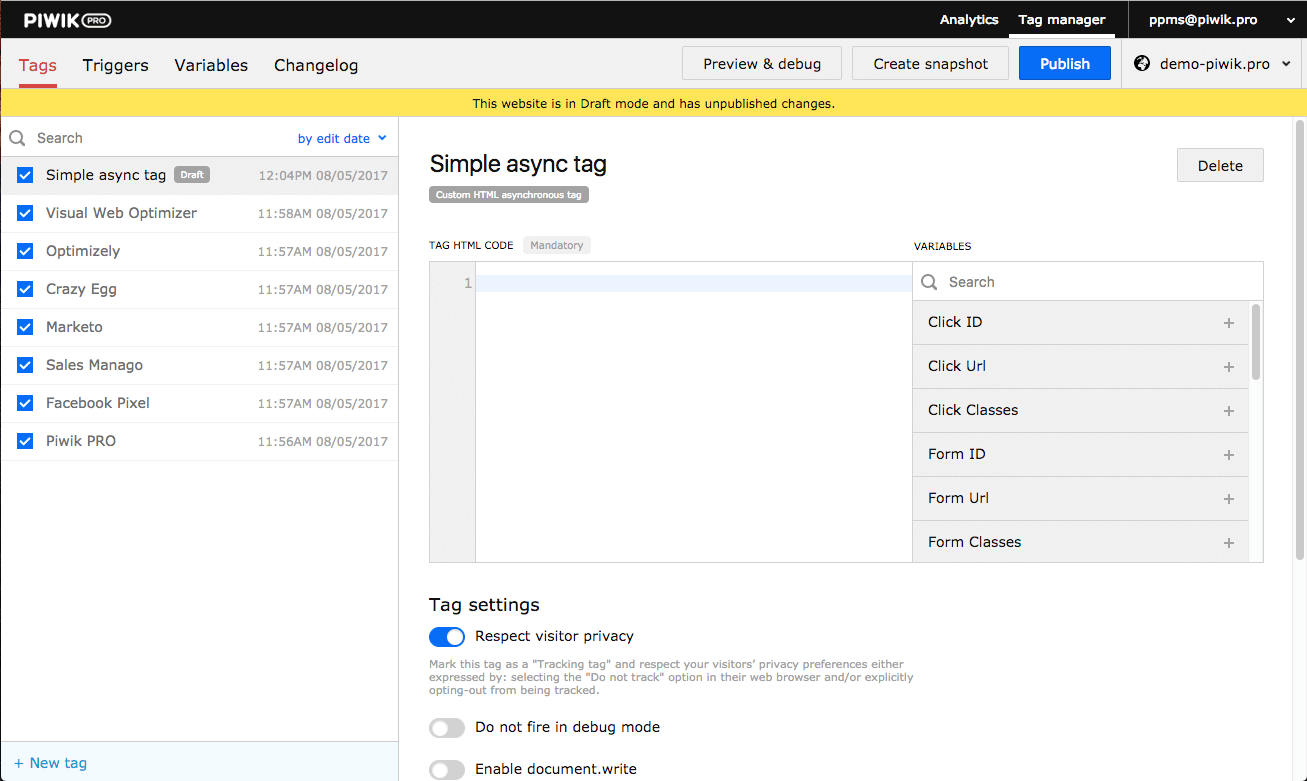 Learn more about Piwik PRO Tag Manager: