Why do I need Piwik PRO Real Time Analytics?
Get the most up-to-date analytics data using Real Time Analytics by Piwik. Request data for "today", "this week", or any other date range including the current day to get the most recent analytics data. Live reports are refreshed every 10 seconds, or you can customize report settings to get them refreshed at intervals of your choice. Piwik puts you in the eye of the storm so you can observe everything happening around you in real time.
Live! widget
See the flow of visits to your website in selected period of time, right on the dashboard. Fresh data served up hot every five seconds by default.
Real time geolocation
Are you targeting a specific country or region? Use the real time map to see if your aim is accurate and adjust something if you're missing the mark.
Visitor log
Review individual user sessions. Understand how users move around your site before converting goals. Apply custom variables for more granularity.
Real Time Analytics API
Piwik integrates easily with your CRM tools, e-commerce database and other data warehouses. Use Real Time for maximum insights into your users.
Monitor diverse metrics
Piwik Real Time Live! widget gives you information about date, number of actions, time spent on site, country, browser, OS, referrer, and goal conversions.
Investigate individual profiles
The visitor profile displays all previous visits of an individual user, as well as a summary of key information about activity. Drill deeper into your visitors' histories by accessing individual visitor profiles.
Access all visits and actions
Query individual visitor records or retrieve visits from a custom date range using the Live! API. Data can be prepared and exported in a large range of formats for further processing.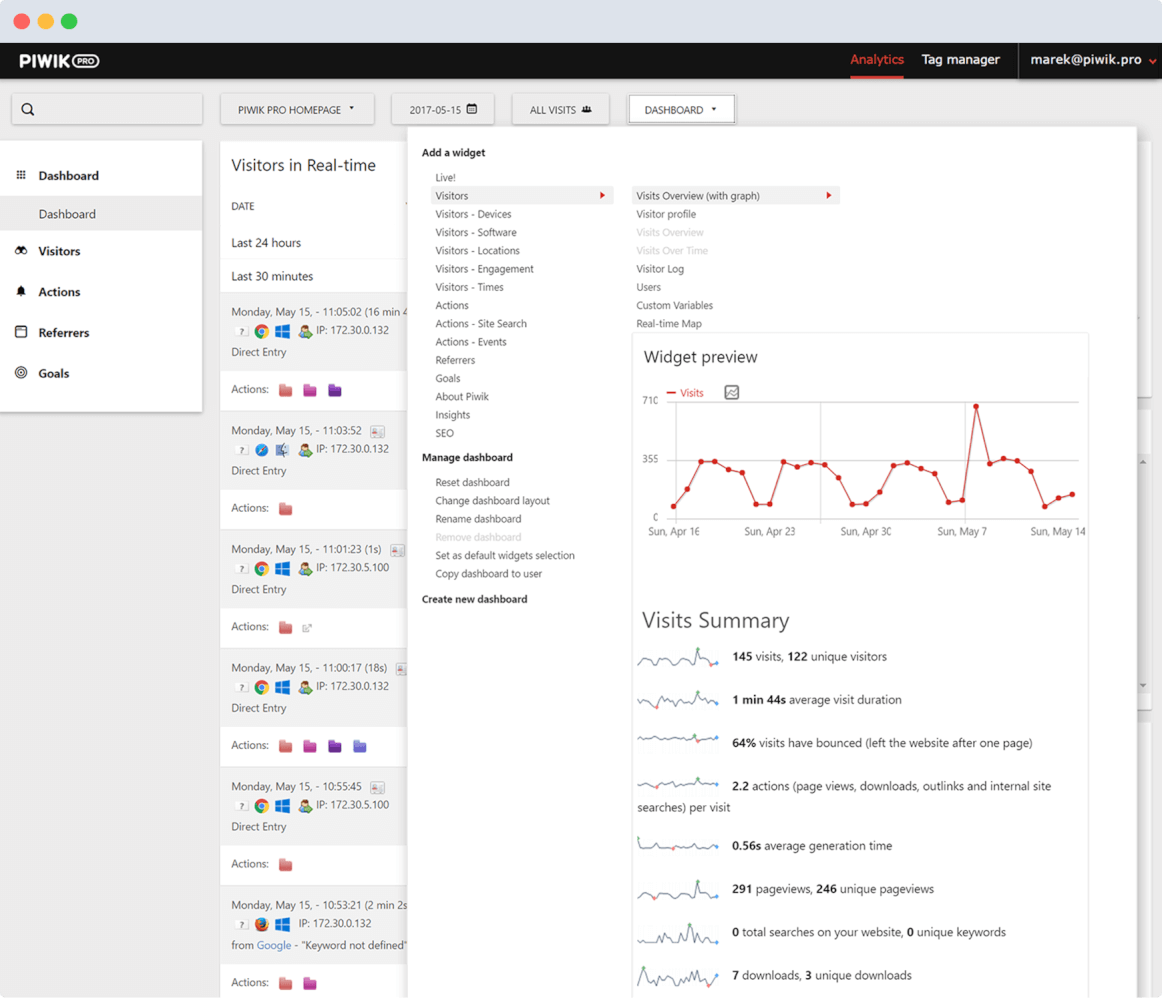 Learn more about Piwik PRO Web Analytics: