INTRODUCTION TO PIWIK PRO GOALS
How can you check if your online business is going well? How can you assess what should be done to improve your website's performance? You could try a guessing game, or you could just go for web analytics software (we suggest the latter!). A very simple, yet powerful tool is here to help you: GOALS. In this post, we will focus on how to track Piwik PRO goals and how to best approach this functionality to enjoy its full potential. We'll also guide you through setting your first goal in web analytics software, using the Piwik PRO dashboard.
So how do you define a goal?
In short, a goal is your strategy or priority. Obviously, certain things cannot really be measured with this tool – think of visitor satisfaction or other qualitative factors- but you can easily count how many orders or newsletter sign-ups are completed, and these numbers can reveal your level of success.
A goal can entail many things ("sold item," "new sign-up," "downloaded e-book,") depending on what you want your users to do on your website. The website should be aligned with your business objectives, and these can be reflected in the goals you decide to measure using your web analytics software. Well-selected goals can not only help you assess whether you are meeting your objectives, but also to identify new objectives, view and analyse your performance, and learn how to increase your conversions, and eventually, revenue.
Examples of useful goals could include the following actions:
signing up for a newsletter
viewing or requesting a demo
downloading a whitepaper, software, or video
registration or contact form fill-in
spending a certain amount of time on the site
Free Ebook: How to Improve the Digital Journey in Healthcare with Web Analytics & Personalization
Learn all the important aspects of optimizing the customer experience on your patient-facing platforms while remaining in full alignment with data privacy regulations (including HIPAA & GDPR)
Download FREE Ebook
Just a word of caution before you set off to track Piwik PRO goals
With the ease of getting a variety of reports in the analytics platform of your choice, any action may seem like it could be a goal to follow, even a page view. However, adding too many goals can clutter your data and obscure what should otherwise be simplified. By setting a goal, you want to narrow down this data to the exact metric you need – it's good to keep that in mind. If you read one of our previous posts on selecting the right KPIs, this advice may seem familiar.
Before selecting your goals, it's good to ask yourself some questions:
What are my business objectives?
What is the main purpose of my website?
What kind of marketing activities do I run to attract visitors to my website?
Remember: It's all about the conversion!
When a visitor reaches a goal, we say that a conversion has happened. If you want to specify how well your website converts visitors over time, we use the conversion rate. Once you decide on your goals, the conversion rate of your desired action will become your main focus. You will be able to improve this metric by tweaking and adjusting your website and seeing how all these changes affect completion of your goals.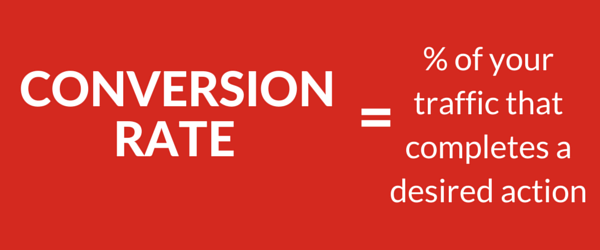 Setting your first goal: Step by step
Now that you've decided on your goal, it's time to add it to your analytics dashboard. In Piwik PRO, this functionality is added with a plugin and is set to active by default. When the Goals plugin is enabled, you can see the "Goals" tab on the Piwik PRO menu:

Opening the tab lets you access goal settings, which includes an option to create a new goal: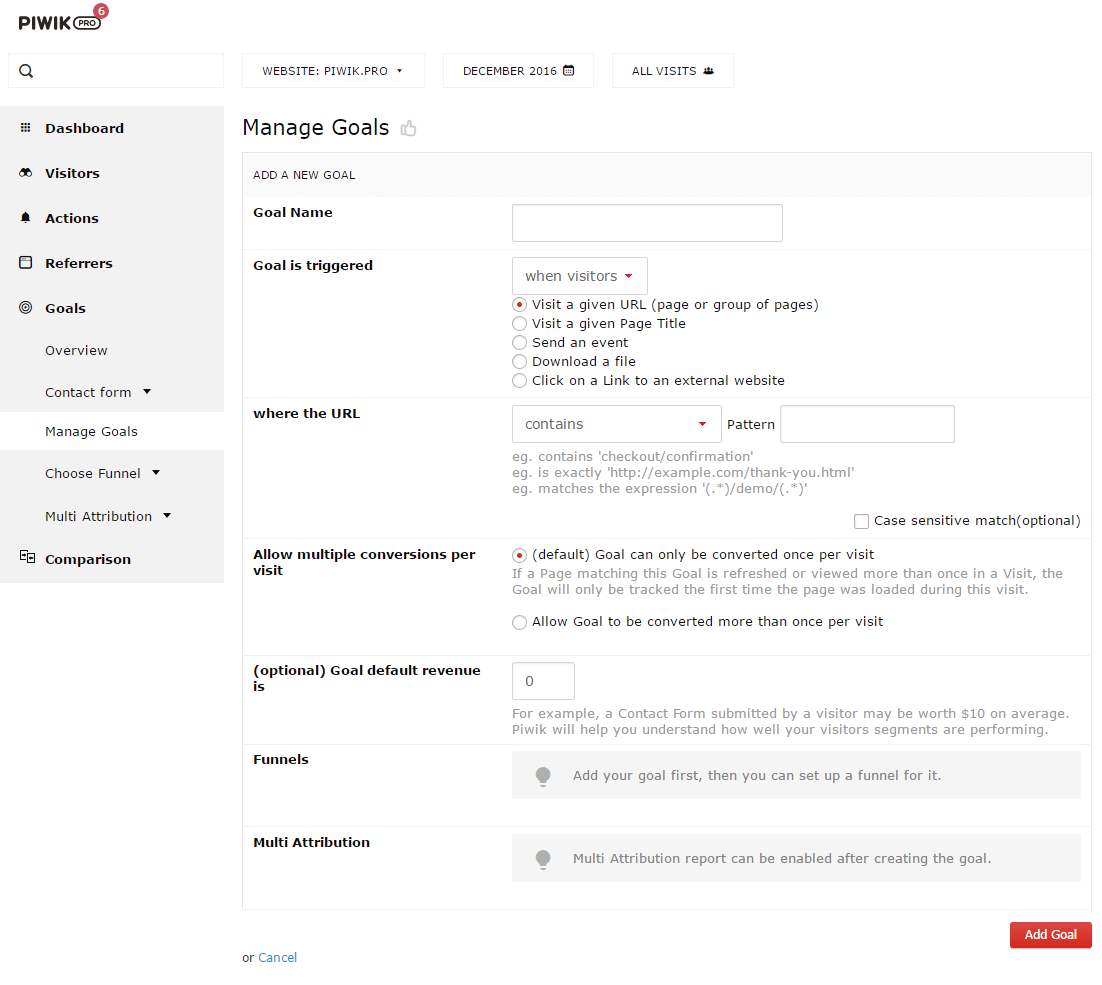 Let's discuss briefly the elements you need to specify when creating a goal:
GOAL NAME
Align it with your business objective and name it in a way you can easily identify later. Make it short and sweet, yet meaningful enough to discern it from similarly named goals. If you have only a few goals, names like "Newsletter Sign Ups," "Publication Downloads," and "Contact Form Fill-Ins" could work for you. If you have similar goals, you could try names such as "Publication Download – XYZ Paper."
GOAL IS TRIGGERED
You can choose to trigger the goal based on a visitor's action or manually trigger the goal using the trackGoal() JavaScript function for specific user actions. Let us stick with the visitor's action which provides you with five options:
Visit a given URL (page or group of pages)
Visit a given page title
Send an event
Download a file
Click on a link to an external website
WHERE THE URL
Each of the above values is a string of characters that Piwik PRO can filter in several ways. Only those URLs or page-title strings matching the filter will count as a goal.
Contains is a default option. It will trigger a conversion if the URL or page title includes the string entered in the field beside it.
Exactly only counts an exact match. By default it isn't case-sensitive, although such an option also exists. Selecting "Exactly" means that in order to correctly trigger a conversion, you have to insert a full URL with a specified page title.
Matches the expression is a more advanced option, suitable for really complicated URLs and page titles of a website using a specialised syntax called regular expressions.
ALLOW MULTIPLE CONVERSIONS PER VISIT
By default this is set to one conversion per visit. If your goal is a file download, multiple downloads of the same file during the visit will count as one conversion. But if you, for instance, run an ecommerce shop, you may want to use multiple goals per visit – such as adding a product to a shopping cart – this can happen several times during one visit.
GOAL DEFAULT REVENUE
This is an optional feature. When you specify Goal revenue, Piwik PRO will report both total revenue and revenue per visit for each Goal. At some point it may be useful to evaluate how much money each conversion is worth. For example, you could create a "contact product" goal to see how many times people have asked for more information about your product. We'll cover revenue tracking in more detail in a future blog post.


Click on the red button "Add Goal," and that's it – you've just created your first goal in Piwik PRO!
If you still have some doubts regarding goals, why don't you check our User Guide on Goal Tracking?
In the next blog post we'll discuss how to interpret a goal-detailed report and use the insights to improve an online business. Stay tuned!
Free Ebook: How to Improve the Digital Journey in Healthcare with Web Analytics & Personalization
Learn all the important aspects of optimizing the customer experience on your patient-facing platforms while remaining in full alignment with data privacy regulations (including HIPAA & GDPR)
Download FREE Ebook