This blog post was originally published on November 23, 2018.

According to the latest statistics provided by W3Techs.com, Google Analytics is used by 56.6% of all websites. Its popularity comes as no surprise – it's developed by one of the most recognizable brands in the world, offers a vast variety of features and is free. However, there are numerous reasons why you might consider an alternative to the Mountain View giant's product: 
1) Control over data. You don't want to share data about your website visitors with Google. You're aware that Google would use this information to improve targeting and personalization of its ads, including the ads of your competitors.
2) Traffic limits. Your traffic exceeds the limits of GA (10 million hits per month) and you're looking for a more competitively priced analytics platform than the premium version of Google Analytics – Google Analytics 360.
3) PII usage. You'd like to work with PII (or personal data) and take on all the responsibilities it entails. You're hunting for a platform that would allow you to integrate different sources of personal data and create single customer views out of them. GA doesn't give you this option.
4) Types of tracked properties. You're seeking features or integrations that Google Analytics doesn't have. For example, you want a product with a dedicated solution for tracking SharePoint intranet. Or you'd like to collect data from secure member areas of your websites and apps according to your internal security policies.
5) GDPR and HIPAA compliance. You prefer software that would support you in complying with data security and privacy laws. For instance – one with a module for handling consents and data requests under GDPR, or which allows you to fulfill the obligations of HIPAA.
6) Data hosting options. You're looking for a platform that offers flexible hosting options. Because of data protection regulations, data residency laws or your strict internal policies you're not allowed to store your data in the public cloud or in random locations.
7) Raw data access. You want to push raw analytics data to e.g. a data warehouse or BI software. GA allows you to retrieve collected information only in an aggregated form.
8) Always fresh data with no sampling. You would like to operate on the latest and complete dataset. With Google Analytics, you have to wait up to 48 hours for your reports and can expect sampling when you reach more than 500K sessions in a month.
9) Support & professional services. You want to receive premium-level support, implementation and onboarding. You'd like to have someone to advise you on how to set up tracking, create reports, perform custom integrations and to make you comfortable with using the platform.
With this blog post, we'd like to show you how Piwik PRO fares against Google Analytics in these and many other fields. Let's get started!
Table of contents:
Number of features and modules
The first important thing to consider is the number of modules provided by each product. Google offers an analytics and tag management system. Piwik PRO gives you, next to its Analytics Module, more with Tag Manager, Customer Data Platform (CDP) and Consent Manager. The modules will allow you not only to collect detailed and legally compliant data. They will also help you capture the entire customer journey, create comprehensive user profiles (aka single customer views) and employ them in your on-site retargeting campaigns.
Here's a short recap:
| | Google Analytics | Piwik PRO |
| --- | --- | --- |
| Analytics | | |
| Tag manager | | |
| Customer data platform | | |
| Consent manager | | |
Hosting options
Now, let's consider the data storage options.
In the case of Google Analytics, you get randomly assigned public cloud hosting. As for Piwik PRO, you can choose between:
Cloud data centers in the Netherlands, the US, Singapore and Germany.
On-premises hosting options in the location of your choice.
To sum things up:
| | Google Analytics | Piwik PRO |
| --- | --- | --- |
| Cloud | | |
| Private cloud | | |
| On-premises (self-hosted) | | |
Data processing, connectivity & collection flexibility
The next thing is the ways in which you can collect and process your data, then connect it with different tools. More possibilities means greater freedom in using your analytics platform.
Data freshness
The freshness of your data describes the time it takes to collect, process and deliver data to your reports. In the case of Google Analytics:
Processing latency is 24-48 hours. Standard accounts that send more than 200,000 sessions per day to Analytics will result in the reports being refreshed only once a day. This can delay updates to reports and metrics for up to two days. To restore intra-day processing, reduce the number of sessions your account sends to < 200,000 per day.
[…]
When intra-day data is available, it may not contain every event because some hits may be delayed due to implementation or network constraints. [source]
In Piwik PRO reports based on the same (or much bigger) data sample would be generated in 30 minutes or less.
Data sampling
In products such as Google Analytics, your data is aggregated and delivered to you as a random data set. This means you can't be sure if your reports are displaying overall traffic and meaningful trends, or are off the mark.
With Google Analytics, data sampling occurs automatically when you reach the monthly limit of 500,000 sessions. With Piwik PRO, on the other hand, sampling is optional. You can employ it, for instance, if your website experiences over a billion actions per month, to enhance the speed at which you access your analytics data.
Access to raw data, reporting API & integrations with BI tools
When it comes to data connectivity, there are some differences between Piwik PRO and Google Analytics. The biggest is the ability to access raw data through API, BigQuery and CSV export. Here Piwik PRO has the upper hand.
Still, it's worth noting that both products have API-related features. Namely, you can take advantage of a reporting API to extract data from your reports. Also, both vendors allow you to integrate your analytics with popular BI and data visualization software. However, in the case of Google Analytics, this capability is limited to aggregated data.
Limit of properties
Finally, let's look at the number of properties allowed in each product. Piwik PRO allows you to employ an unlimited number of properties and views. Meanwhile, Google Analytics offers far fewer in this respect – 50 properties per account.
Here's a short roundup of the entire chapter:
| | Google Analytics | Piwik PRO |
| --- | --- | --- |
| Data freshness | 24-48 hours | 30 min |
| Data sampling | automatic sampling for more than 500k sessions per month | none by default |
| Access to raw data | | via API, BigQuery, CSV export |
| Access to historical raw data | | |
| BigQuery raw data export | | |
| Reporting API | | |
| Integrations with popular BI and data visualization software (e.g. Tableau, Power BI) | limited to an aggregated data | |
| Limit of properties/websites | 50 properties | unlimited |
Piwik PRO vs. Google Analytics – reporting features and integrations
From the practitioner's point of view, it's crucial to know what Google Analytics and Piwik PRO offer when it comes to reporting capabilities.
At first glance, the platforms seem similar, as they allow you to:
Track web and mobile apps by means of JavaScript and SDKs.
Get insight into user actions and characteristics with audience, acquisition and behavior reporting.
Take advantage of easy-to-use custom reports, dashboards and widgets.
But the devil's in the details. Let's have a look at what you can expect from both vendors.
Processing personal data
First, let's consider personal data. If you'd like to collect and process this kind of information, Google Analytics won't be the right partner for the job. At Google's help center you can read that:
To protect user privacy, Google policies mandate that no data be passed to Google that Google could use or recognize as personally identifiable information (PII). PII includes, but is not limited to, information such as email addresses, personal mobile numbers, and social security numbers. [source]
This means that even your user-level reports in GA should be stripped of PII. Otherwise, you are violating the platform's terms of service, which can result in Google suspending your GA account.
As for Piwik PRO, it allows you to gather personal data (including sensitive information) and safeguard its privacy and security by employing Consent Manager and additional data protection measures. We discuss these in the Privacy compliance section later on.
Secure member areas analytics
Now, let's move on to analyzing data in secure member areas of your websites and apps.
If you decide to analyze and use the information from those places, you must be sure that you are doing it with software that provides the highest level of security.
Google Analytics won't give you control over where your data is stored. Also, it uses your data to improve its own services and shares it with numerous products including Google Ads and DoubleClick. For these reasons, it may not be the right product to analyze data from sensitive areas of your website or app.
With Piwik PRO, you get full data ownership and can decide where you store the collected information – in a public cloud, private cloud or on your own premises. You can also apply consent management to further protect the privacy of your visitors and fulfil regulatory requirements.
Multi-channel attribution
The customer journey rarely finishes in a single browsing session, which makes it difficult to analyze which channel or touchpoint should get the credit for conversion. Both Piwik PRO and Google Analytics offer you multi-channel attribution tools to help you with this task.
Besides predefined attribution models, you get custom ones to fit your business needs. You're able to analyze:
conversion paths – traffic channels (channel, medium, source/medium, source) visitors use before they convert
time to conversion – how many days visitors take to convert
path length – the touchpoints visitors use before they convert
compare attribution models such as last-click, position-based, first-click, last-non-direct-click, time-decay, linear and custom
to make a more complex and detailed evaluation of channels and touchpoints.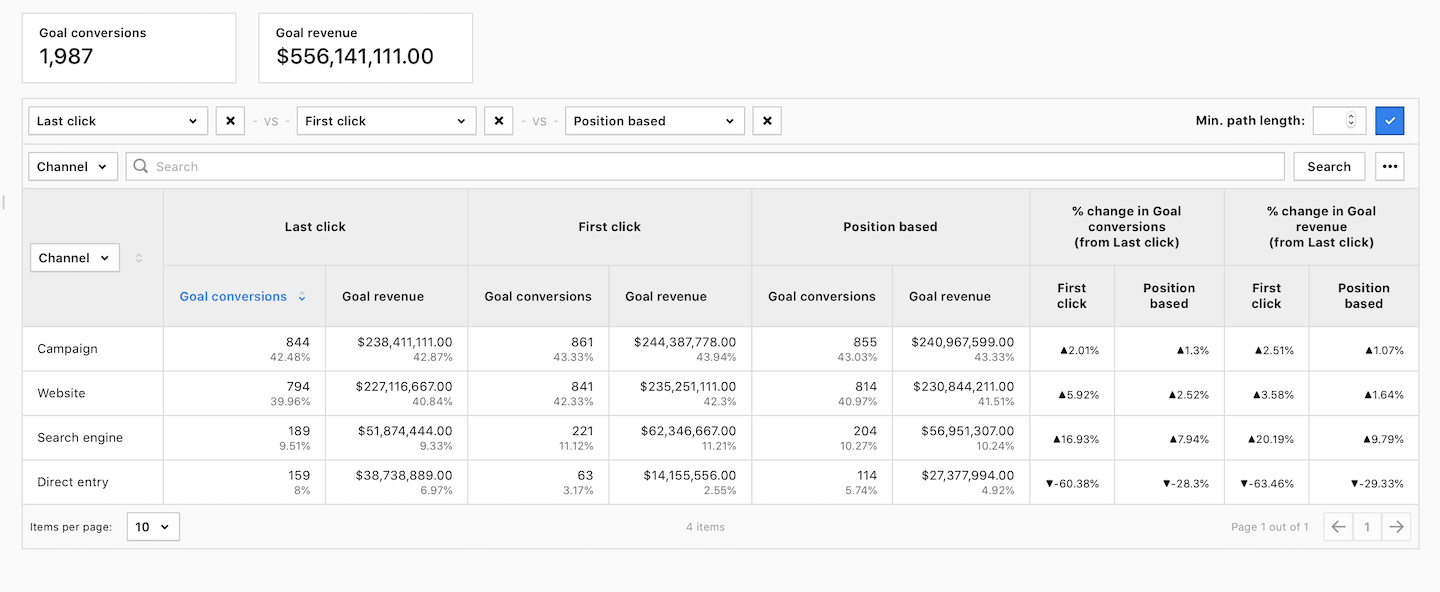 What's more, Google Analytics allows you to segment your attribution reports. And it provides you with data-driven attribution reports that work based on algorithms and let you assess converting and non-converting paths.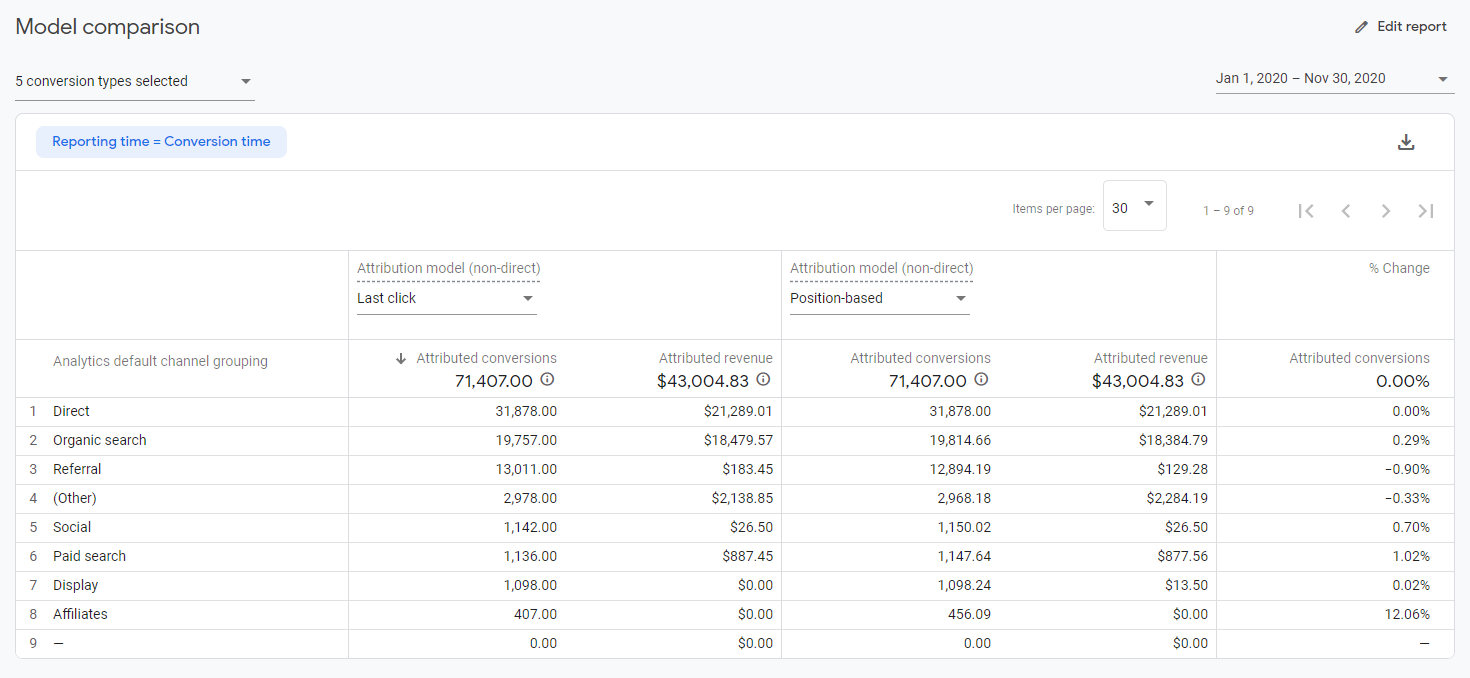 Here's what exact reports and features you'll find in this attribution kit:
| | Google Analytics | Piwik PRO |
| --- | --- | --- |
| Predefined attribution models | | |
| Custom attribution model | | |
| Model comparison tool | | |
| Conversion paths | | |
| Time to conversion | | |
| Path length | | |
| Data-driven attribution | | |
Funnel analytics
Next, let's discuss funnel reporting. In Piwik PRO, you can build funnels out of any type of page view and custom event. In addition, funnels are:
Retroactive – present historical data tracked before the funnel was defined
Available immediately after creation
Flexible – don't require a goal as a last step
Filtrable – allow you to define each step in the funnel at a highly granular level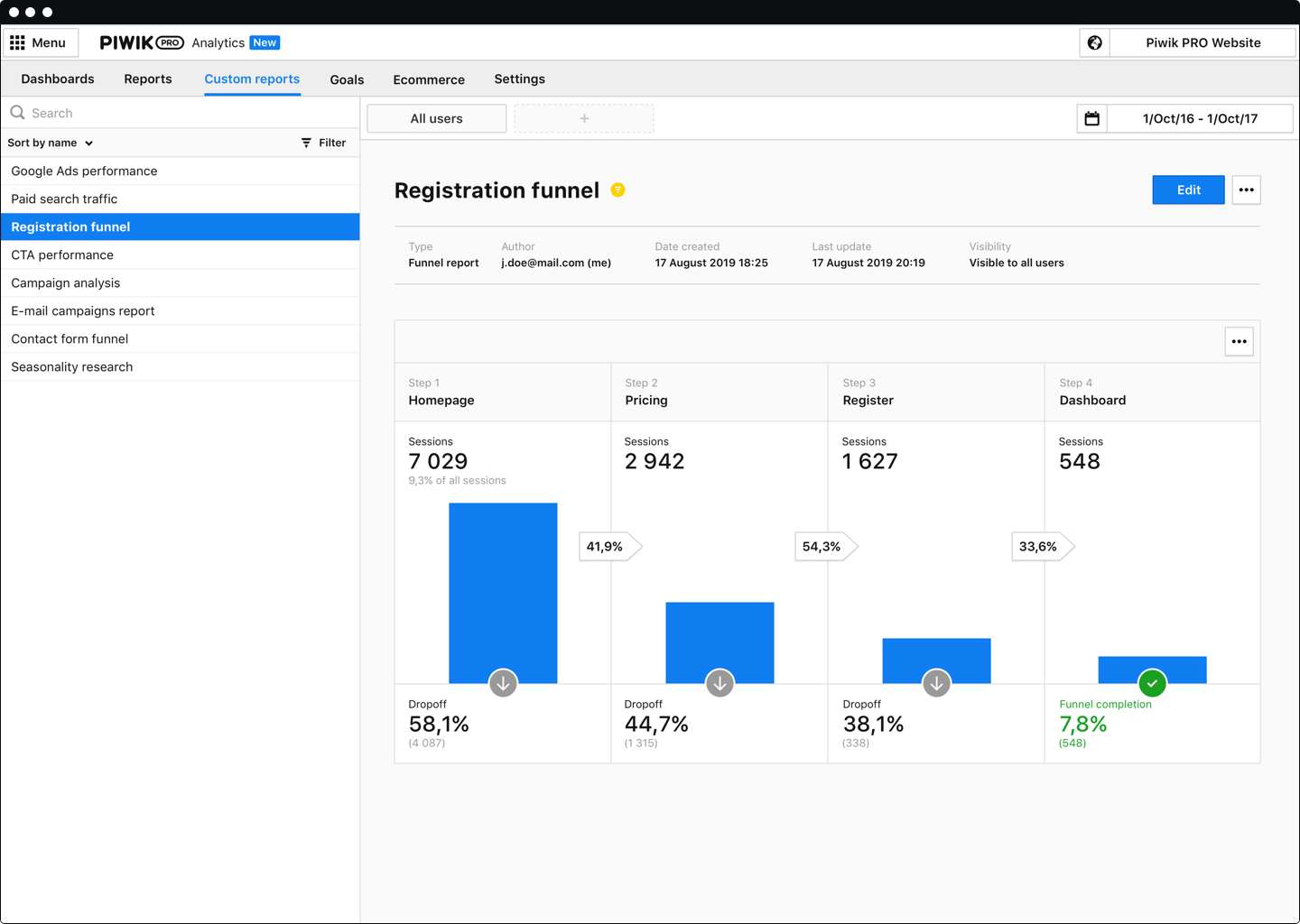 No matter when you decide to configure your funnel, you'll always have access to the full dataset of both historical and recent user actions.
In turn, funnel visualization in Google Analytics:
Requires assigning a goal.
Can't be viewed using a specific segment of sessions.
Doesn't include historical data. [source]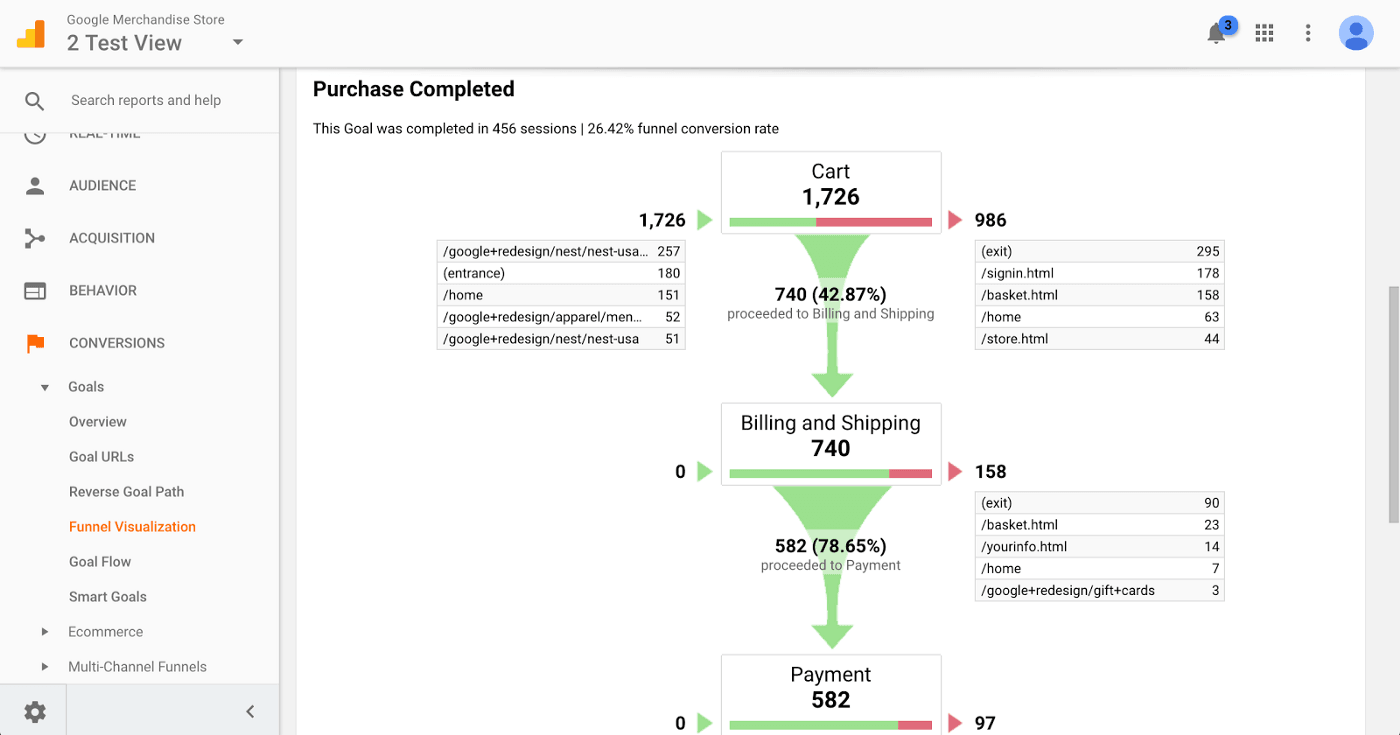 User flow reporting
Piwik PRO's user flow reports provide you with the following options:
To set up a user flow report for interactions such as a page view, download, search, custom event, and more.
To see a breakdown of dimensions related to sessions. For example, you can view channels, referrers or campaigns.
To add up to ten interactions.
The user flow in Piwik PRO has three settings that help you analyze visitor paths:
Standard: shows you the next interactions after the key interaction.
Transition: illustrates the interactions before and after the key interaction.
Reverse: shows you the interactions preceding the key interaction.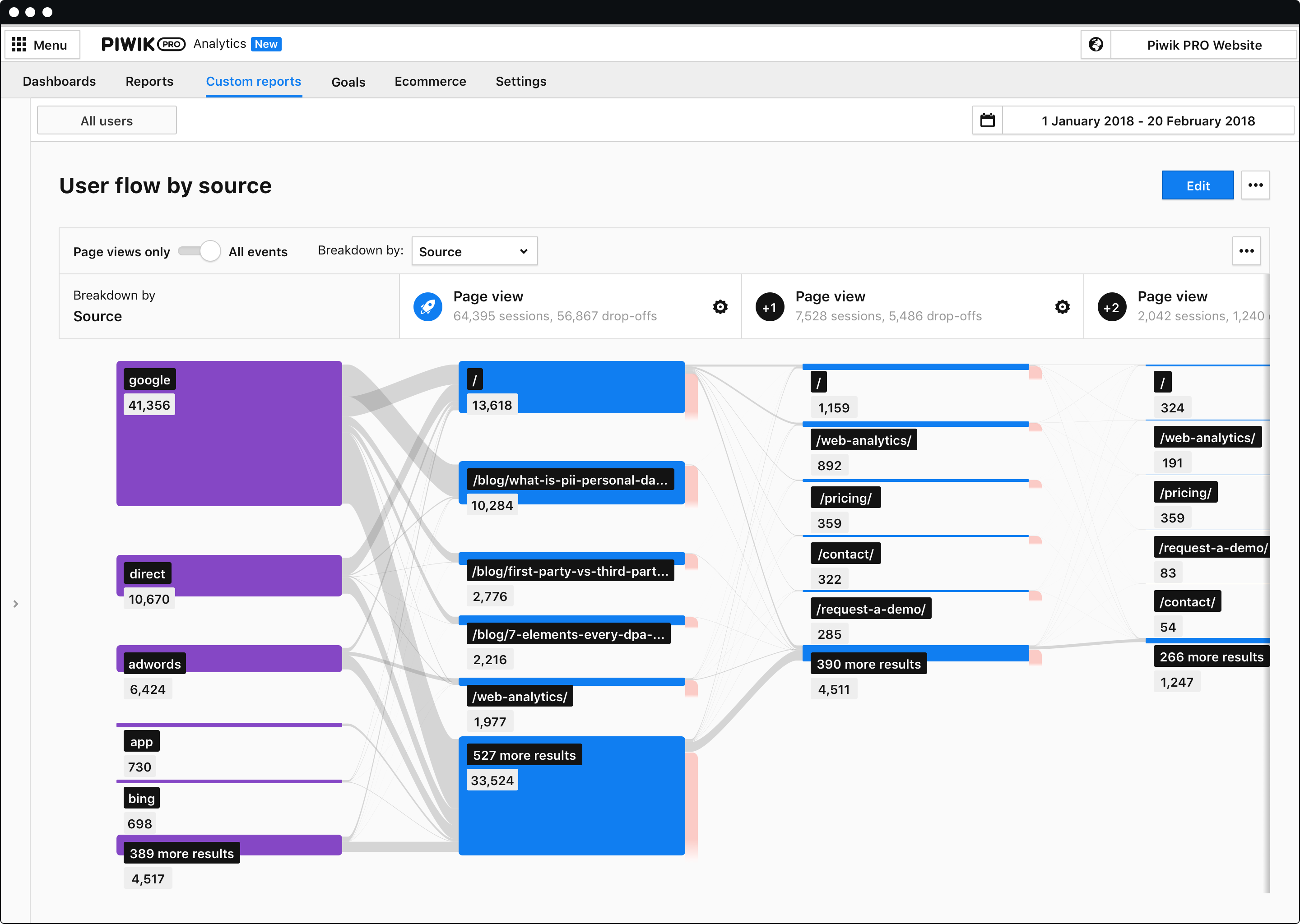 As for Google Analytics, it offers many different types of flow reporting. The list includes:
Behavior flow
Goal flow
Users flow
Events flow
Funnel visualization
Google Play referral flow
However, when using them you'll stumble across the following limitations, which Piwik PRO doesn't have:
Flow reports support only session-based segments. User-based segments are disabled for flow reports. You can apply only a single segment to a flow report.
Flow reports cannot display data for more than 100,000 sessions. If you have more than 100,000 sessions in the data set, the sampled data appears in the flow reports. Adjust the date range to reduce the number of sessions in the report. [source]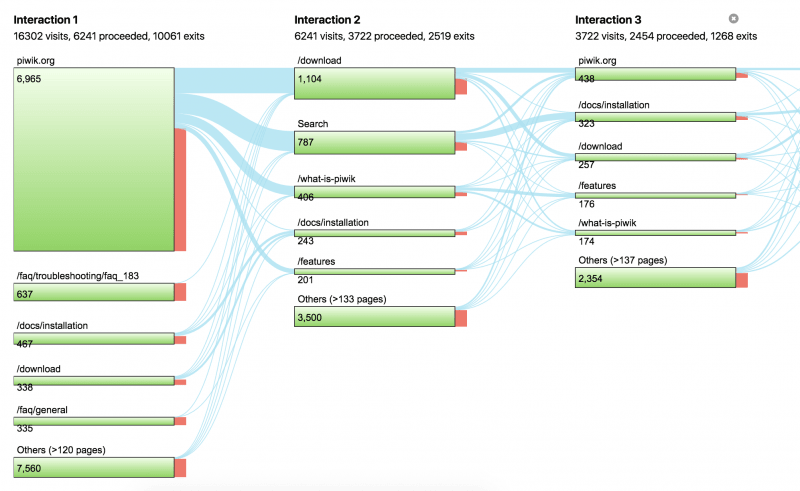 Network domain and service provider dimensions
Omitting the traffic that comes from your employees allows you to focus on data related to external visitors – namely, your present and future customers.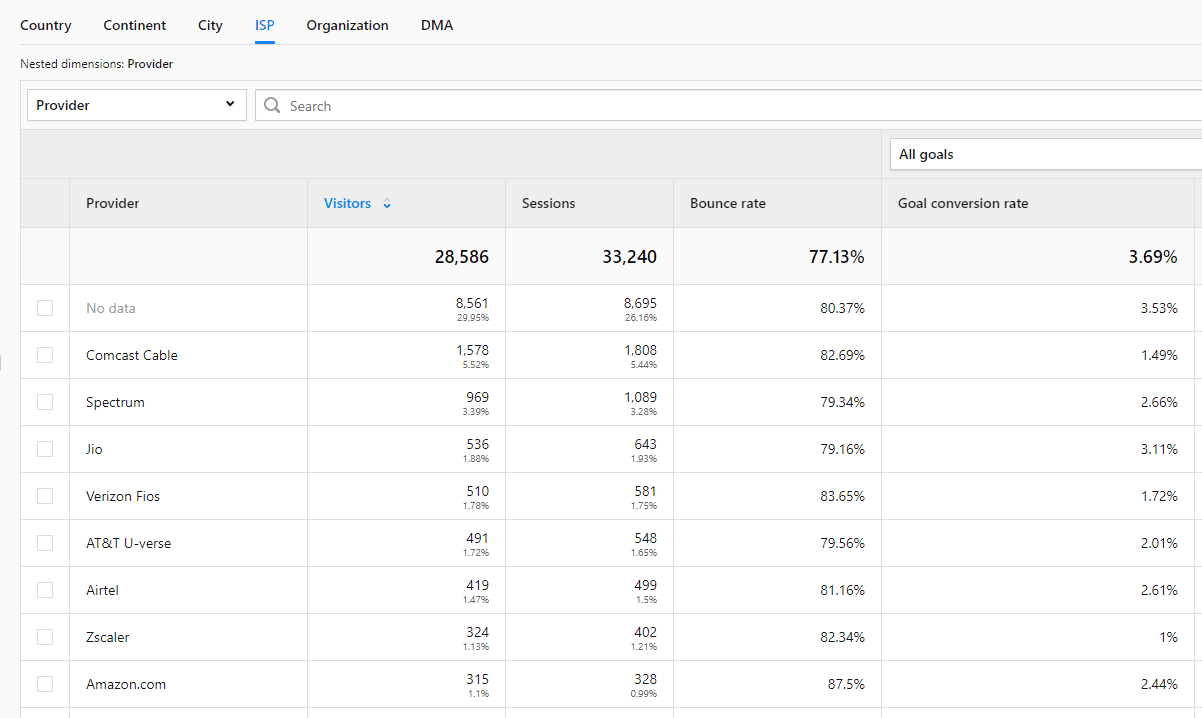 In Piwik PRO, your reports can ignore internal traffic for each website or app, or for the whole account. In Google Analytics, however, the lack of support for network domain and service provider dimensions means you may have issues with excluding those sources of visits from your reports.
Custom channel grouping
Piwik PRO and Google Analytics provide you with a handy feature called custom channel grouping that provides flexibility in organizing your incoming traffic. You can connect all traffic sources to your website in one channel grouping that you define.
For example, connect similar referrer URLs into one group. Take Facebook traffic and the different subdomains it uses. Instead of having multiple rows in your source/medium report (each one for Facebook traffic), you can get just one – Facebook organic.
Piwik PRO lets you create 10 groups in one custom grouping, but this limit can be increased. Google Analytics, in contrast, lets you create 50 groups.
Metasites
Metasites let you combine data from two or more websites to analyze them as a whole. They save you the time you'd have to spend on copying and calculating data for separate websites. Instead, you see all the relevant data in a single view:

You'll be able to use this feature in Piwik PRO, but Google Analytics doesn't provide you with this functionality.
Real-time analytics
Next, let's discuss real-time data.
In Google Analytics, real-time reports allow you to monitor activity on your website as it happens. For example, you can see how many people are on your site right now, which pages or events they're interacting with and what goals they complete.
You won't have this option with Piwik PRO. Currently, the data has a 30-minute delay to allow for sessions to complete before displaying them in the session log. We plan on adding full real-time reporting in the future.
Integrations
Now it's time to talk about integrations with different products.
In Piwik PRO you'll find:
Full integration with Search Console allowing you to combine GSC and analytics data.
Google Ads integration – to let you keep track of your marketing budget and stay up to date with campaign results.
Additional synchronous tag templates allowing you to use A/B testing tools such as Optimizely, VWO, AB Tasty.
To the surprise of no one, Google Analytics provides you with native integrations with Google Ads, Google Search Console and A/B testing tools.
SharePoint analytics
If your organization uses SharePoint, you may want to seek an analytics platform that, in addition to tracking your business websites and apps, would also analyze user behavior in your digital workspace.
You'll find it with Piwik PRO, as the platform offers a dedicated solution for tracking SharePoint. Among other things, it lets you:
Find out how users engage with your publications and news web elements – what they like, save for later, follow and comment on.
Enrich analytics data with User Profile Attributes retrieved from SharePoint Active Directory such as user login, user display name, office location, department and job title.
Track your internal email campaigns.
Organize your reports by team and office location.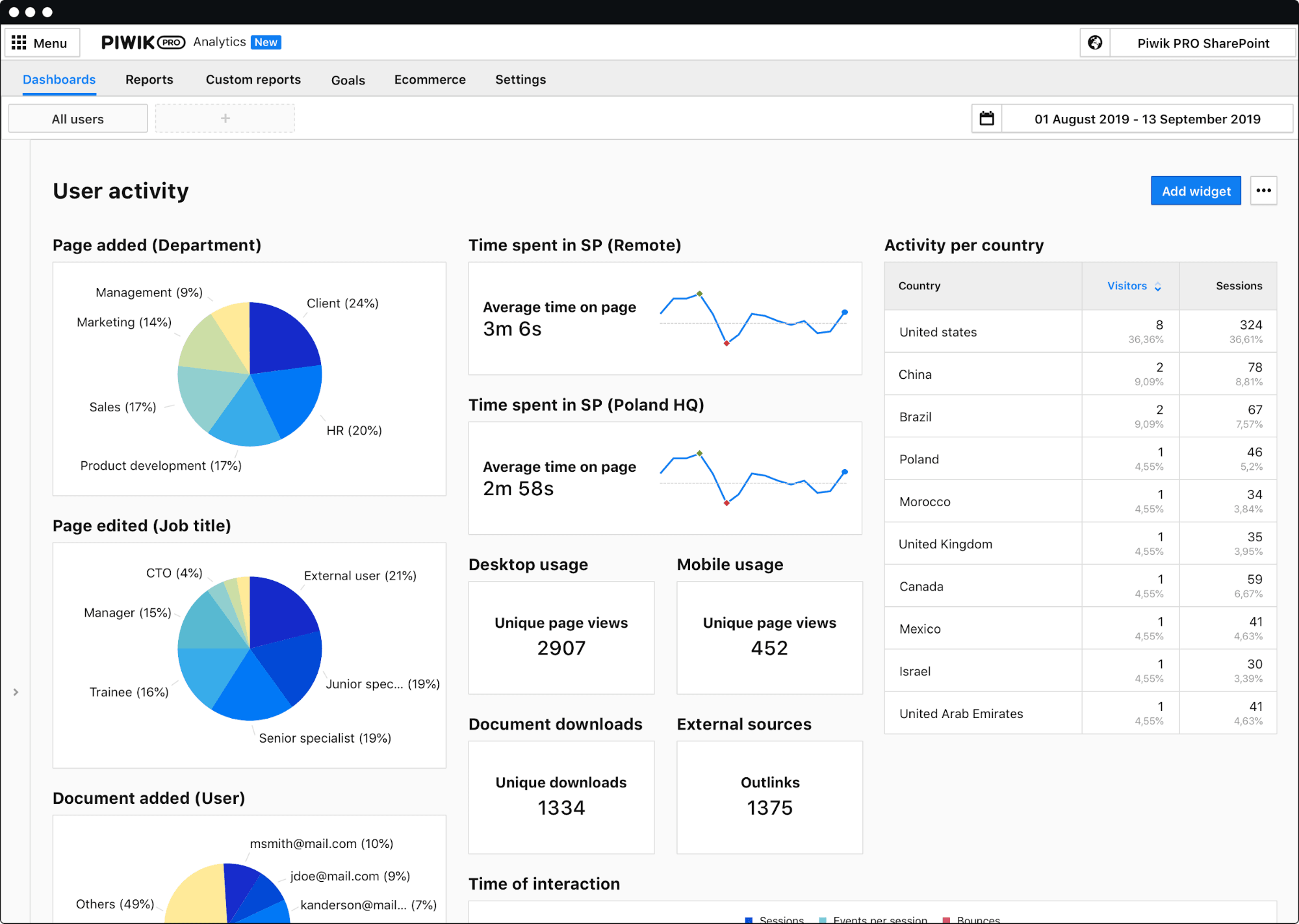 Google Analytics doesn't provide a dedicated integration with SharePoint. You can try to connect your intranet website with GA manually, but this solution has some serious drawbacks. Among other things, you won't be able to track SP-specific user characteristics or collect and upload personal data (e.g. from your Active Directory).
Here's a roundup of the rest of this chapter:
| | Google Analytics | Piwik PRO |
| --- | --- | --- |
| Standard reporting for web and mobile apps | | |
| Cross-property roll-up reporting (metasites) | | |
| Ability to process personal data and PII (including sensitive data) | only encrypted PII allowed (min. SHA256) | non-encrypted and encrypted PII allowed |
| Legally compliant tracking of secure member areas | | |
| Funnel reporting | basic | advanced |
| User flow reporting | | |
| User-level reporting | without PII | |
| Network domain and service provider dimensions | | |
| Calculated metrics | | |
| Custom reports | | |
| Custom channel grouping | | |
| Detailed real-time reporting | | |
| Custom dashboards | | |
| Dedicated solution for SharePoint analytics | | |
| Search Console integration | | |
| Google Ads integration | | |
| A/B testing integration | native | tag templates from external tools |
Tag manager
Both GA and Piwik PRO provide you with a tag manager with a vast array of features. The list includes asynchronous tag support, extensive library of triggers, conditions and tag templates, as well as custom tags, variables and analytics tag templates. You can also employ tag and debug mode and freely export and import configurations between your websites.
Piwik PRO Tag Manager supports synchronous tags that can be used to eliminate a possible flash of original content when you run A/B tests. Plus, you have content personalization and custom pop-ups at your disposal to improve your marketing campaigns with tailored banners, ads & HTML elements.
Thanks to Piwik PRO's integration with Consent Manager, you can adjust your tracking according to user privacy preferences and prevent tags from loading before you obtain legal visitor consent.
You won't find these functionalities in Google Tag Manager.
A short summary of this section:
| | Google Analytics | Piwik PRO |
| --- | --- | --- |
| Asynchronous tag support | | |
| Synchronous tag support | | |
| Tag template library | | |
| Analytics tag templates | | |
| Custom tags | | |
| Custom pop-ups | | |
| Content personalization (banners, ads & HTML elements) | | |
| Library of triggers & conditions | | |
| Tag manager variables | | |
| Test & debug mode | | |
| Tag configuration import/export | | |
| Changelog | | |
| Privacy features (opt-out & opt-in) | | |
| Zero cookie load | | |
| Adjusting how and if tags fire based on visitor privacy preferences | | |
| Integration with consent manager | | |
Privacy compliance
Now let's talk about privacy compliance. With an increasing number of regulations, companies must pay more attention to how they collect and process user data. From this section, you'll learn which product will support you better with this task.
Data ownership
If your analytics vendor provides you with data ownership, you can be sure that you're the only party having access to the information about your clients and have full control over how this data is used.
That wouldn't be the case with Google. As we've said before, its product uses your analytics data to improve their services, and the information you collect in your tool is then shared with clients of other Google products, including:
Double Click
Google Ads
YouTube
and other Google products
You can read in Google's Privacy & Terms that:
Many websites and apps use Google services to improve their content and keep it free. When they integrate our services, these sites and apps share information with Google.
For example, when you visit a website that uses advertising services like AdSense, including analytics tools like Google Analytics, or embeds video content from YouTube, your web browser automatically sends certain information to Google. This includes the URL of the page you're visiting and your IP address. We may also set cookies on your browser or read cookies that are already there. Apps that use Google advertising services also share information with Google, such as the name of the app and a unique identifier for advertising.
With Piwik PRO, you remain the sole owner of your data. That, combined with flexible data hosting, allows you to employ analytics in more contexts. Even if you're handling sensitive data or operate in an industry that requires stringent privacy measures – be it healthcare, finance or the public sector – you can still tap into opportunities that come with collecting first-party data about your visitors.
GDPR and LGPD
New data privacy laws, including Europe's GDPR and Brazil's LGPD, obligate you to use software that supports your compliance efforts.
Unfortunately, Google Analytics doesn't necessarily fit the bill. To address the requirements of these privacy laws, GA mandates you to to dump all information classified as personal data, except for:
Online identifiers, including cookie identifiers, internet protocol addresses and device identifiers; client identifiers [source]
As for this type of personal data, it advises you to anonymize IP addresses and encrypt other identifiers with the minimum hashing requirement of SHA256. Here you can find Google's guides on how to avoid collecting PII and anonymize IP addresses.
However, hashing is not a sufficient anonymization method. Under GDPR, hashed data is still considered personal data and you need a valid visitor consent to collect and process it. Google doesn't provide a tool that would help you with the task.
Piwik PRO, on the other hand, allows you to tackle compliance in two ways:
By turning on Piwik PRO Consent Manager. It's a piece of software dedicated to collecting, managing and storing both records of consent decisions and data subject requests. You configure it using a visual interface.
By anonymizing your data. In this scenario, one session cookie identifier ("Visitor ID") is stored in the visitor's browser. This cookie's duration is set to 30 minutes, after which it is deleted automatically by the browser. Because of that, the online identifier describes a visit and not a visitor. This kind of data anonymization allows you to collect some information about user behavior (e.g. page views, conversions and time spent on the site) without asking for consent.
Anonymization mode can be also used in combination with Consent Manager, when a visitor declines or disregards your consent request. Then, if a user grants you consents later in the session, you'll be able to merge their anonymous and personal data into a single record.
CCPA
Another important new law to abide by is CCPA. Under the Californian legislation, consumers have the right to obtain a record of the personal information companies have on them and can request to have their data deleted or to stop the sale of their information.
In Google Analytics, you'll have to configure the mechanism for processing and honoring visitor requests manually.
Piwik PRO, however, gives you a handy user request management system that comes with Piwik PRO Consent Manager.
Data residency laws
Numerous countries, such as Germany, Australia, Canada, India, Switzerland, Russia and China, have introduced laws that order companies to keep their residents' personal data within a country's physical borders.
Meeting all those requirements is particularly difficult if you use Google Analytics, as it doesn't provide flexibility in terms of server locations – your data will be stored across different Google Data Centers. Here you can find their whole list.
With Piwik PRO you can choose between multiple private cloud regions of Microsoft Azure and AWS, or keep the data on your own servers. This in turn allows you to comply with the requirements of data residency laws.
| | Google Analytics | Piwik PRO |
| --- | --- | --- |
| 100% data ownership | | |
| Data shared with third parties | | |
| Local data residency | | |
| GDPR compliance | | |
| LGPD compliance | | |
| CCPA compliance | | |
| Integrated Consent Manager (with data subject requests management) | | |
| Suitable for industries handling sensitive data: banking, governments, telecoms and healthcare | | |
Support & customer care
Now, let's discuss client support. The better it is, the faster you solve problems with the tool and find answers to burning questions. After all, not everyone has to be an outstanding analytics specialist from day one. But the help of an experienced support team will certainly bring you closer to this goal.
In the case of Google Analytics, you will be able to take advantage of vast online documentation and help from the community. However, apart from that, you'll have to rely on your own expertise in implementing the tool, learning all its features and handling any issues.
In turn, as a Piwik PRO client you can take advantage of the following services:
Dedicated customer success manager – assists you in defining your business needs and translating them into actionable advice for using the platform, provides product training and is your first point of contact in case of any platform-related questions.
Detailed documentation – infrastructure guidelines for optimal product performance in the case of an on-premises installation.
Personalized onboarding and support – to help you set up and configure your web analytics instance. An SLA ensures that all your needs are met as you use the product. These services can be provided remotely or on-site, in cooperation with your internal team.
Dedicated service delivery manager – is your first point of contact in case of emergencies or web analytics performance issues.
Custom integration and development (extra service) – to integrate PPAS with your data ecosystem (e.g. CRMs or BI tools) and to adapt the platform to your requirements through custom development.
Analytics consulting (extra service) – to advise you on what to change in your tracking and reporting to bring you closer to your business objectives.
On-demand custom training and workshops (extra service) – to teach you how to use analytics insights in your day-to-day work. Every training is unique as we tailor them to the use cases of particular teams and stakeholders.
24/7 monitoring and incident handling – to make sure your platform is up and running and performing well.
Here's a recap of this section:
| | Google Analytics | Piwik PRO |
| --- | --- | --- |
| Self-service help center | | |
| Community forum | | |
| Live chat support | | |
| Email support | | |
| Dedicated support specialist | | |
| Dedicated customer success specialist | | |
| Personalized implementation & onboarding | | |
| Personalized product training | | |
| Analytics consulting | | |
| Custom integrations & development | | |
| SLA 99% uptime | | |
Data security
Piwik PRO and Google Analytics undertake external security audits and provide their clients with data hosting on a redundant, ISO 27001 and SOC 2 certified infrastructure. They also let you manage access to your analytics instance by creating user groups and assigning them with different permission levels.
Finally, Piwik PRO and Google alike are ISO 27001 certified as companies.
Now, however, we'll focus on the differences in their approach to data security.
HIPAA compliance
If you're operating in healthcare, you surely know that handling data in line with HIPAA – The Health Insurance Portability and Accountability Act of 1996 – introduces some serious data protection demands. They can't be met with many popular web analytics products, including Google Analytics.
In its guide on "Best practices to avoid sending Personally Identifiable Information (PII)" Google explicitly states that:
Unless otherwise specified in writing by Google, Google does not intend uses of Google Analytics to create obligations under the Health Insurance Portability and Accountability Act, as amended, ("HIPAA"), and makes no representations that Google Analytics satisfies HIPAA requirements. If you are (or become) a Covered Entity or Business Associate under HIPAA, you may not use Google Analytics for any purpose or in any manner involving Protected Health Information unless you have received prior written consent to such use from Google.
Piwik PRO, in turn, allows for collecting and storing PHI (protected health information) in line with the law in both on-premises and cloud hosting plans.
SAML integration
Finally, let's talk about SAML – an open standard for exchanging authentication and authorization data between parties. In the case of Piwik PRO, integration comes out-of-the-box. But with Google Analytics you'll have to be a GSuite Enterprise user to access this feature.
Here's an overview of this section:
| | Google Analytics | Piwik PRO |
| --- | --- | --- |
| Full server redundancy | | |
| ISO 27001 certified data centers | | |
| SOC 2 certified data centers | | |
| HIPAA compliance | | |
| External security audits | | |
| SAML integration | only with GSuite Enterprise | |
| User access management | | |
Piwik PRO vs. Google Analytics – which one should you choose
We hope that with this extensive comparison we've managed to answer some of your questions about similarities and dissimilarities between Piwik PRO and Google Analytics.
But if you'd like to tap into an even deeper comparison of the platforms, you'll find it in our ebook Piwik PRO vs. Google Analytics & Google Analytics 360.
Here we list over 100 product features, including data visualization methods, types of reports and more. Be sure to check it out:
If you have any questions about our product, feel free to contact us anytime. Our team will be happy to walk you through the functionalities of our platform during a personalized demo session.