Get more insights
Find out more about web and app users. Use advanced analytics features to get a complete view of your customers' journeys, optimize your marketing budget, and boost sales while respecting user privacy.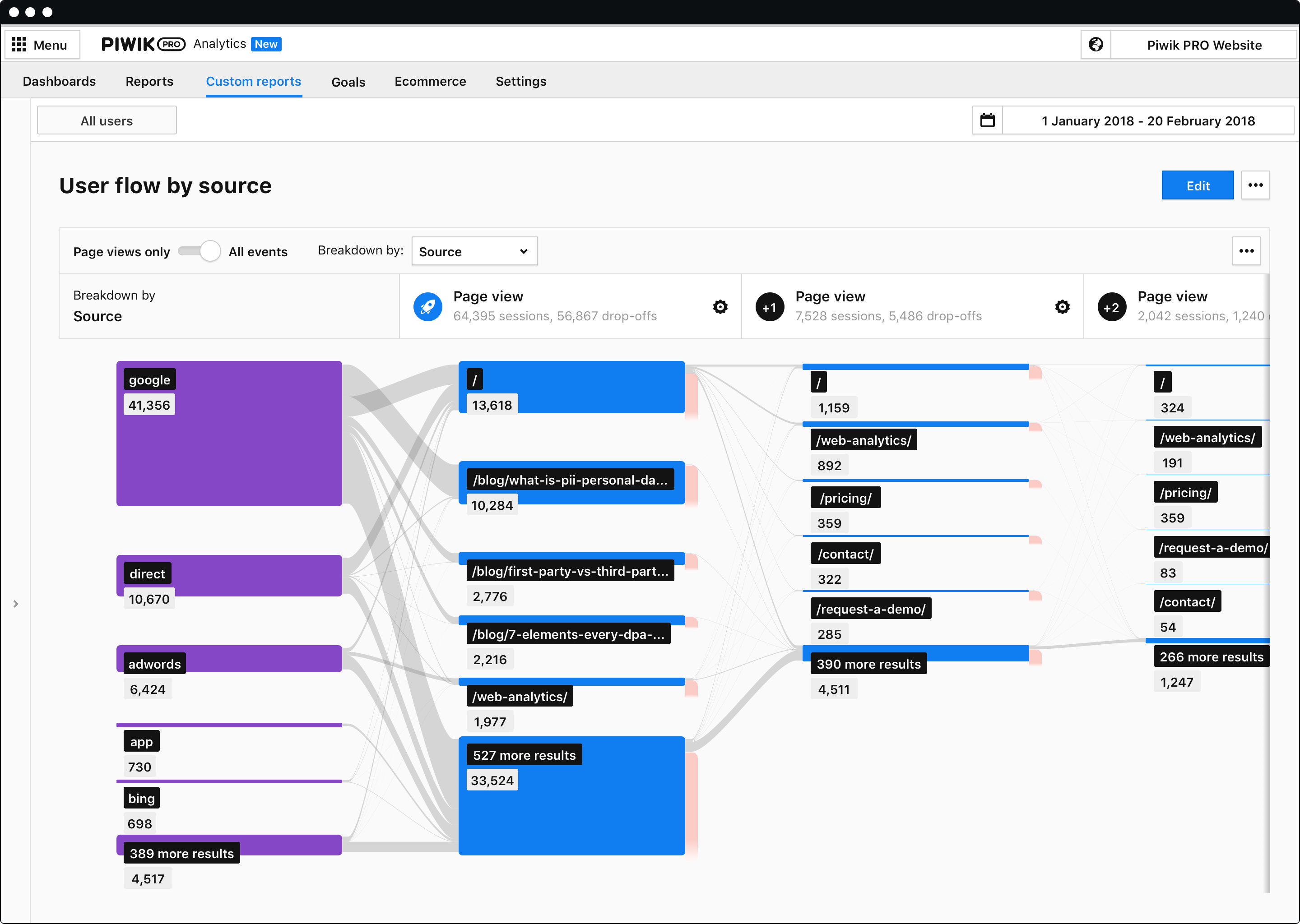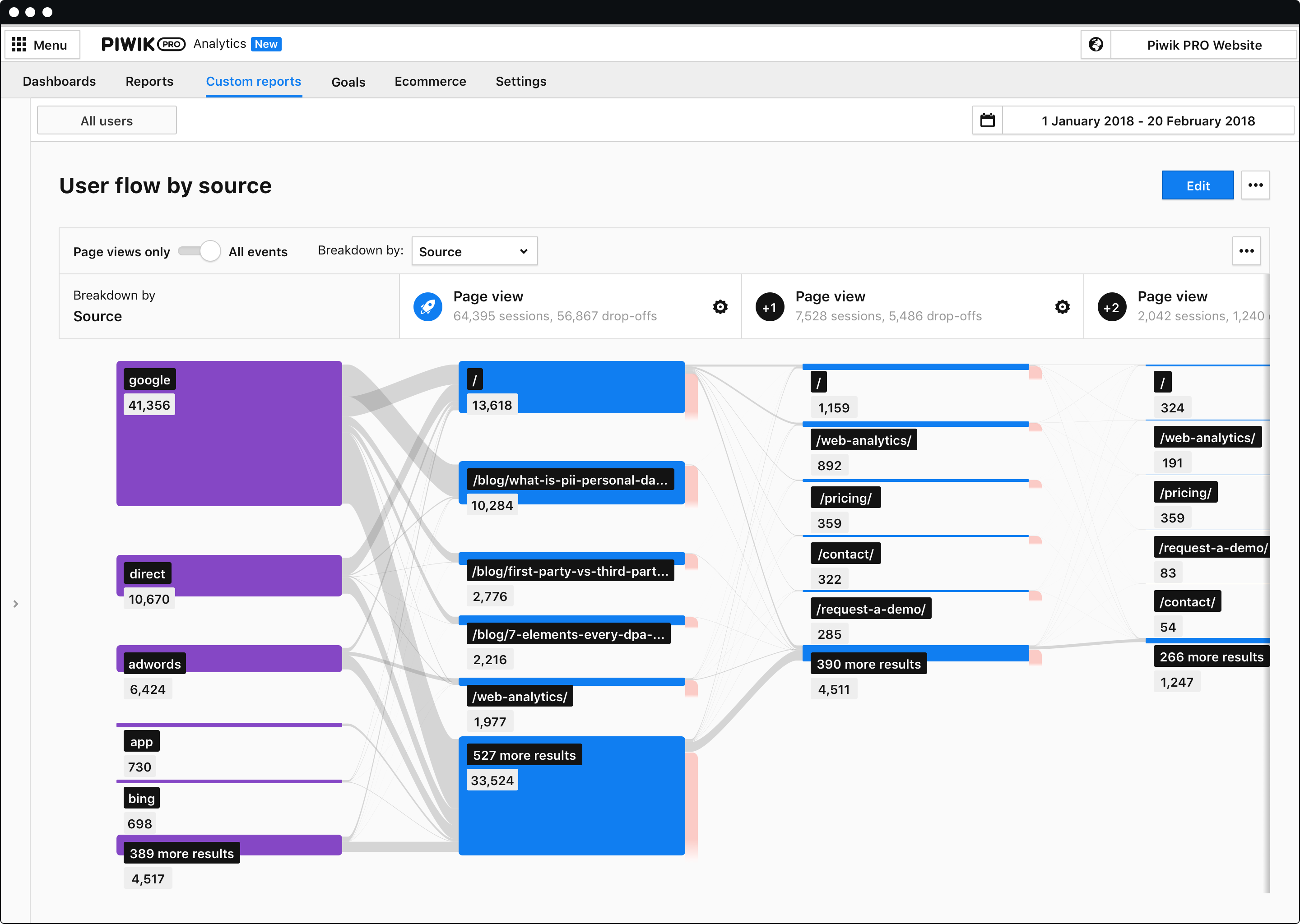 Improve conversion rates
Work with funnels, user flow, ecommerce reporting, and multichannel attribution tools to spot bottlenecks and maximize conversions.
Enhance marketing effectiveness
Create custom reports for multi-channel attribution, ads, conversion funnels, and more to measure the effectiveness of your paid, organic, and social campaigns.
Understand user behavior
Use advanced event tracking to see what actions users take across your web and app and which types of content drive the best results. Uplevel your data collection strategy and performance.
Upgrade ecommerce reporting
Advance your online store's reporting and grasp clients' needs better with dedicated ecommerce dimensions, metrics, and product scope, along with other functionalities.
"Our goal was to provide our clients greater flexibility for different teams in exploring data – from simple insights to advanced functionalities and exports that allow you to look at data from different perspectives. Introducing features such as funnels and user flow has enabled them to gain meaningful insights into the customer journey. Additionally, filters and segments allow them to make valuable discoveries more granularly."
Jarek Miazga
Product Manager at Piwik PRO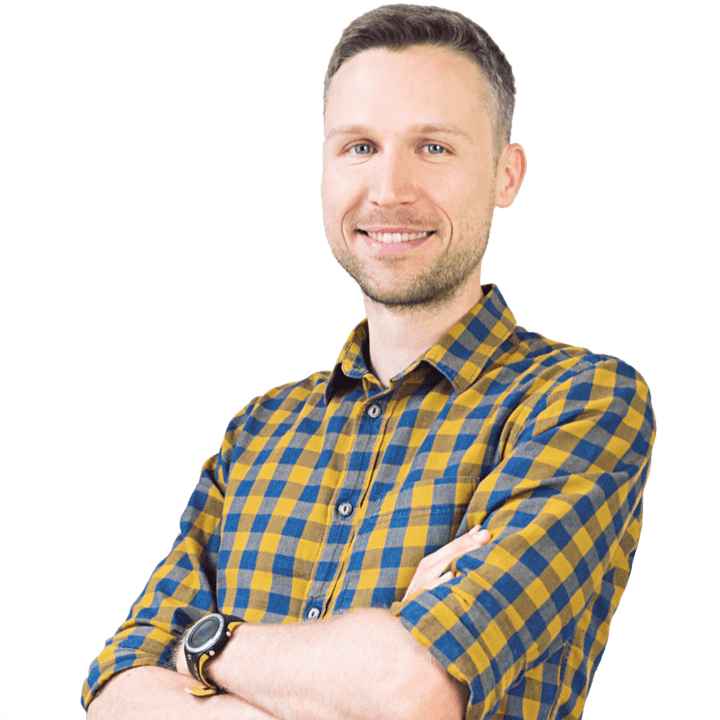 Respect user privacy & data security
Have full control over how customers' data is stored and used. Make privacy compliance easier with predefined settings for compliance with GDPR, HIPAA and other privacy laws. Use data anonymization to collect more insights while respecting users' rights.
| | Piwik PRO Core (free) | Piwik PRO Enterprise |
| --- | --- | --- |
| EU cloud hosting | | |
| Private cloud | | |
| On-premises (your own subscription) | | |
| Advanced data anonymization | | |
| Built-in consent mechanism | | |
| Compliance with GDPR, LGPD, CCPA, and more | | |
| Compliance with HIPAA | | |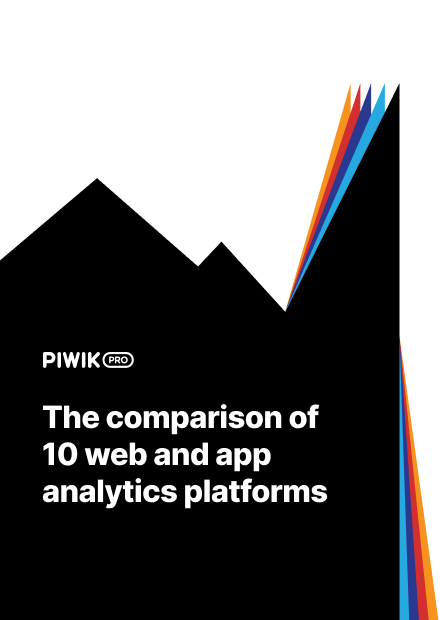 The comparison of 10 web and app analytics platforms
Compare the main features of Piwik PRO Enterprise, Google Analytics 4, Matomo Cloud, Adobe Analytics, AT Internet, Countly Enterprise, Mixpanel Enterprise, Amplitude Enterprise, Snowplow Enterprise, and Heap Premier.
Download
Make data-driven improvements to websites & apps
Optimize your mobile apps
Use our Mobile SDKs (iOS, Android, Flutter, React Native) and other app support (SPA, PWA, and AMP) to analyze and improve user engagement and ensure a seamless experience with your app.
Easily customize and integrate data
Integrate with multiple tools such as Google Ads, Google Search Console, and BI tools, You control your analytics data and decide how to use it, where to send it, and what tools to share it with.
Boost performance and accuracy
Improve the speed of your websites and apps with detailed reports for different devices, browsers, locations, and URLs. Handle billions of actions with data freshness close to real-time.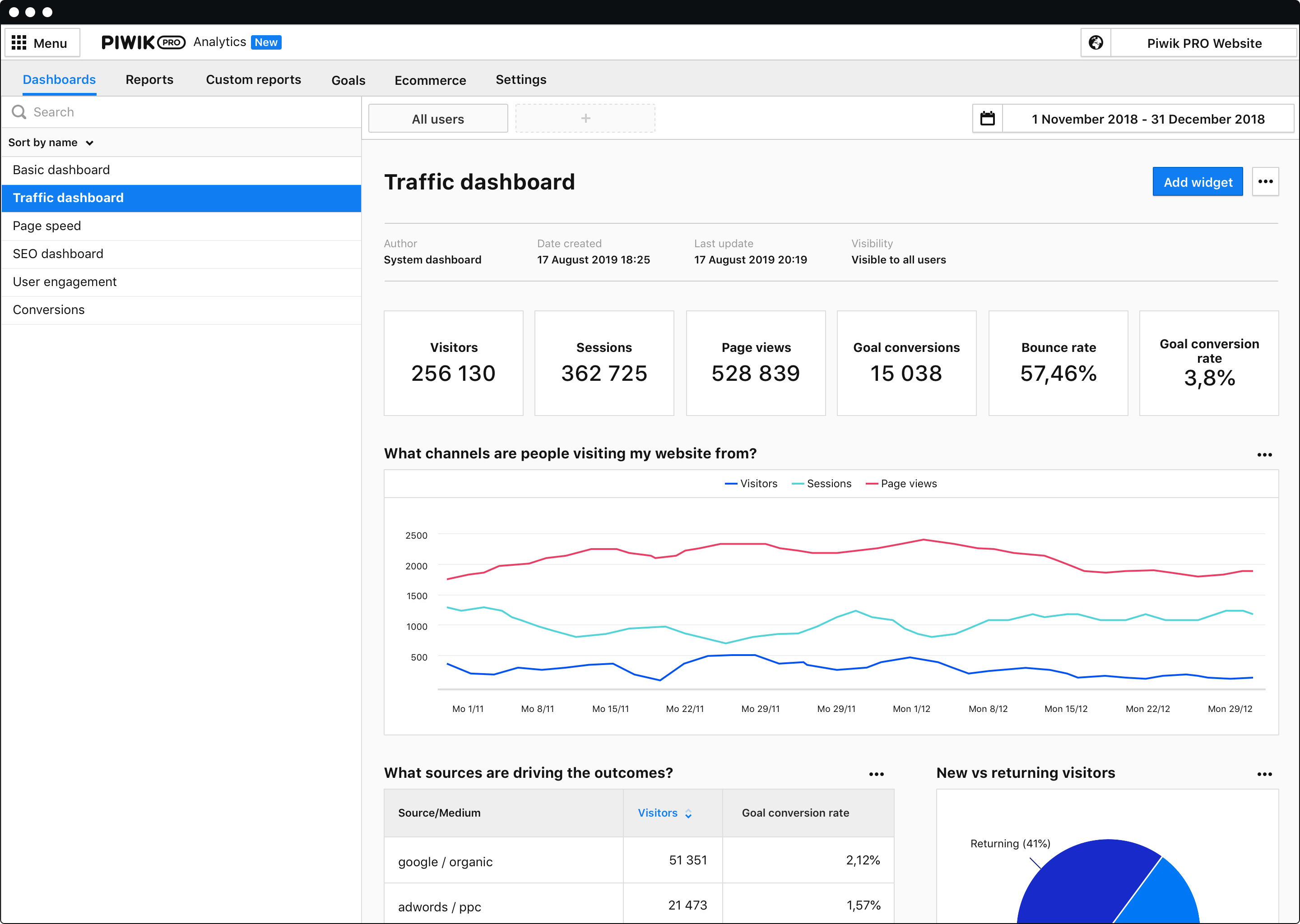 Benefit from flexible reporting for marketers & analysts
Use an analytics product that meets the needs of teams across your organization. Make working with reliable data easier with an intuitive interface, built-in and custom reporting, a high-performing backend, server-side tracking and access to raw data.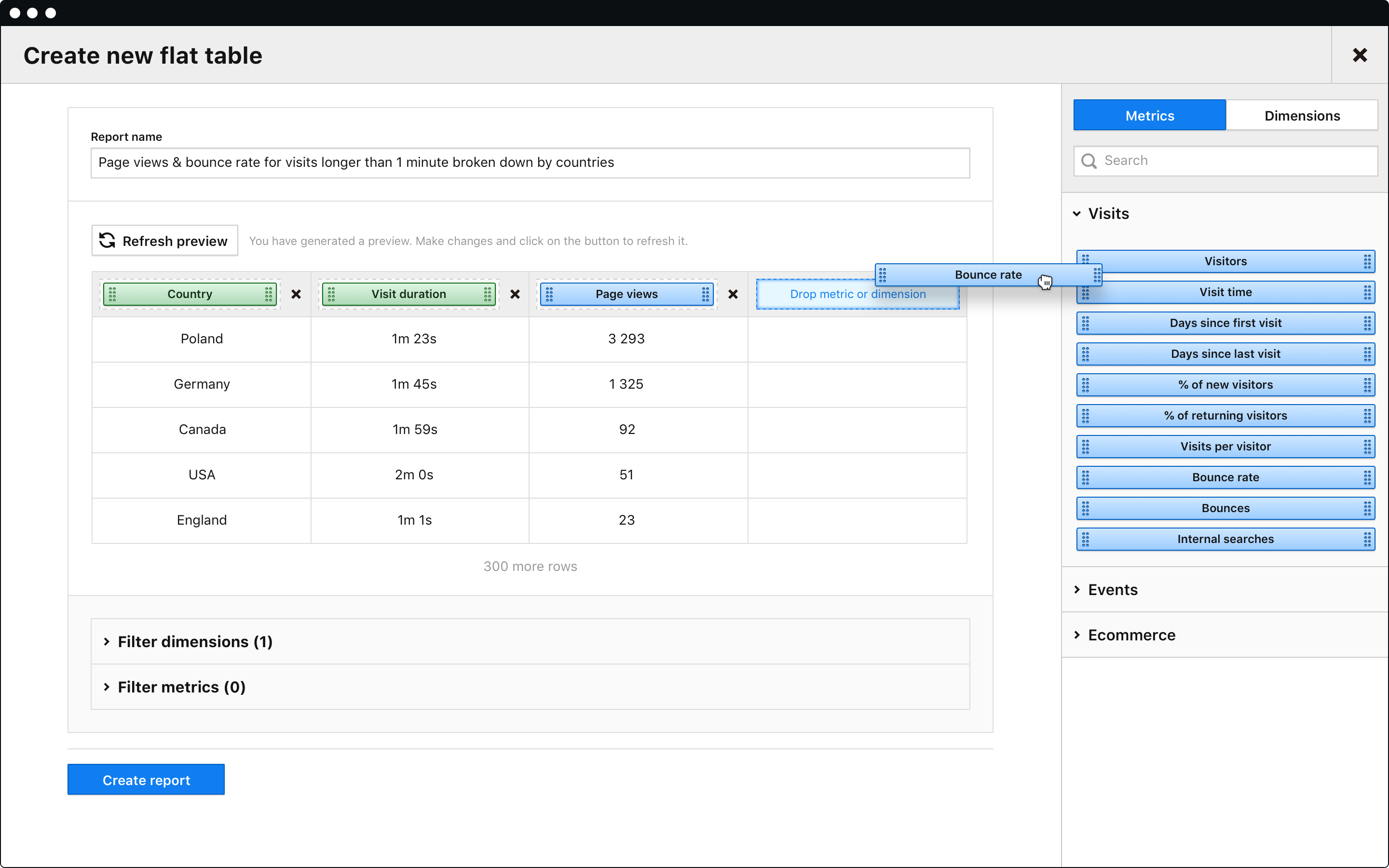 ---
What you'll get with Piwik PRO
Competitive pricing
Choose from the free forever Core plan or the custom Enterprise plan, which is more competitively priced than comparable plans.
Smooth learning curve
Get started quickly with the platform's intuitive interface and frictionless onboarding. Use an advanced analytics platform based on familiar concepts.
Permissions & SSO standards
Assign different permission levels to roles and user groups. Implement SSO standards to simplify the authentication and authorization process.
Collaboration made easier
Adjust your reports and dashboards to the needs of different teams, stakeholders and projects, and share them within your company – easily and safely.
One place for all your data
Use metasites to gather analytics insights from hundreds of properties. Visualize all your data in one place.
Optional data sampling
Decide if you want to work with a complete data set or optimize your reports' efficiency through data sampling.
Data export
Boost your marketing stack with analytics data. Export it to the most convenient formats (JSON, CSV, XML) or retrieve it using our API.
A powerful analytics stack
Take analytics to the next level by combining it with other Piwik PRO modules – Tag Manager, Consent Manager and Customer Data Platform.
Top-notch customer care
Use extensive help center resources, including video tutorials and the Community forum, or reach out for dedicated support.
"We teamed up with Piwik PRO over two years ago, not only for our own platform, but also for our customers. We're working side by side with Piwik PRO to make sure that our customers' first-party data is properly collected and used. Candid's philosophy is to be open and curious, working with Piwik PRO enhances this."
Gérard Ghazarian
Founder & CEO at Candid
Use the free Core plan or get a custom demo of an Enterprise plan setup. Get advanced, privacy-friendly analytics either way