How Piwik PRO outperforms Google Analytics (free & 360)
Privacy and security compliance
Collect data with full respect for privacy and security laws, including GDPR, CCPA and HIPAA. Make compliance easier with an integrated consent and data request manager.
More data about your audience
Get up to 70% more data* without violating user privacy. Use software that is not blocked by ad blocker and lets you collect session-level data on visitors who decline or ignore your consent request.
Full control over data and its residency
Store data where you want: on a public cloud in the US/EU, private cloud in over 60 locations or on your own servers. No matter the infrastructure, you remain the sole owner of the collected data.
The complete customer journey
With all privacy measures in place, analyze user behavior across websites, apps, SaaS products and even secure post-login areas. No more stitching together data across sessions and platforms.
No hit limits, unsampled and raw data
Work with a full set of data about your visitors, not just a sample. Use analytics data in more contexts thanks to integrations with BI tools and raw data access.
High-touch customer care
Get help from a dedicated account manager and technical team: personalized onboarding, product implementation, training and extra professional services for custom add-ons.
* Compared to the amount of data collected with opt-in tracking only, based on typical consent rates since GDPR has come into force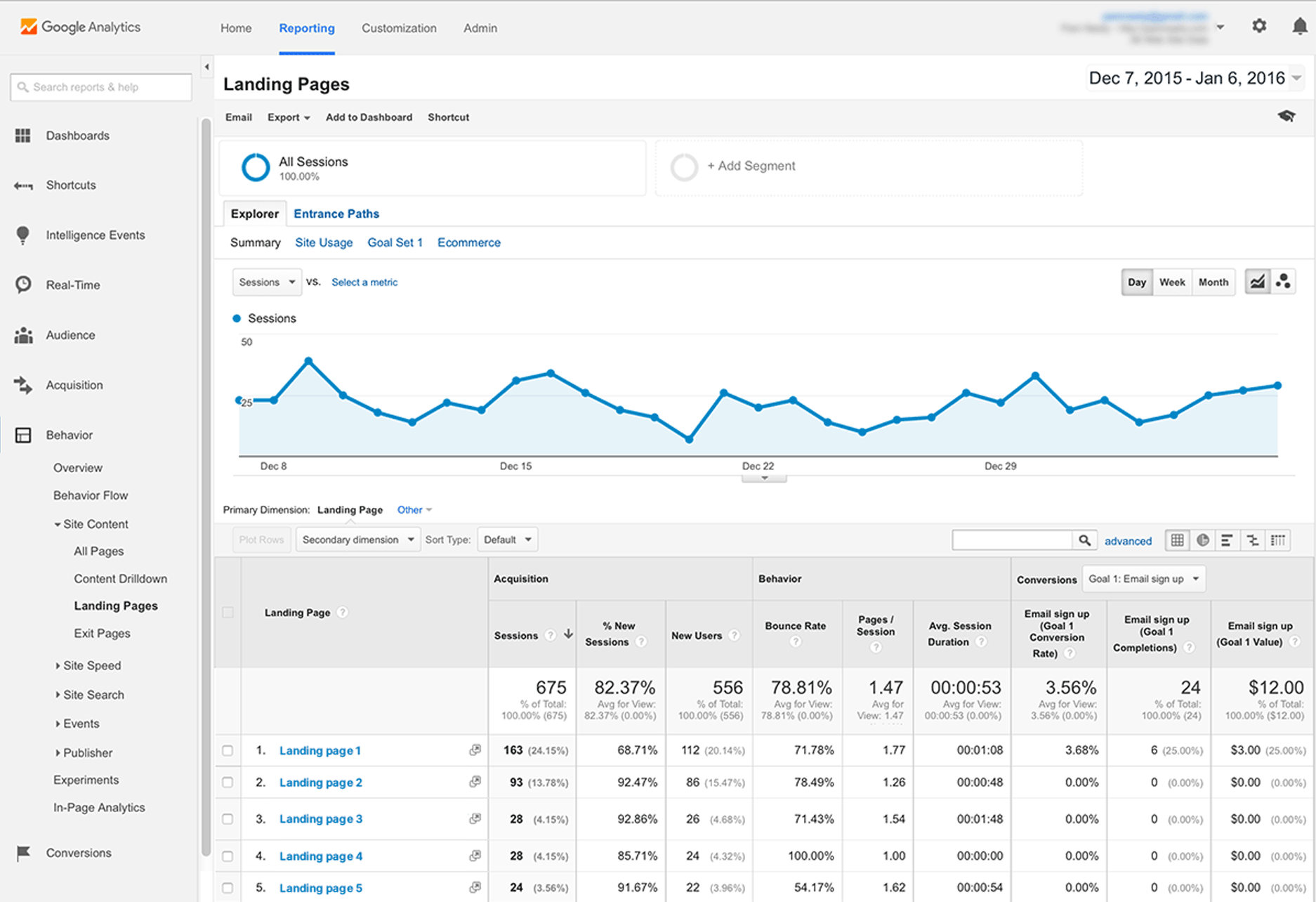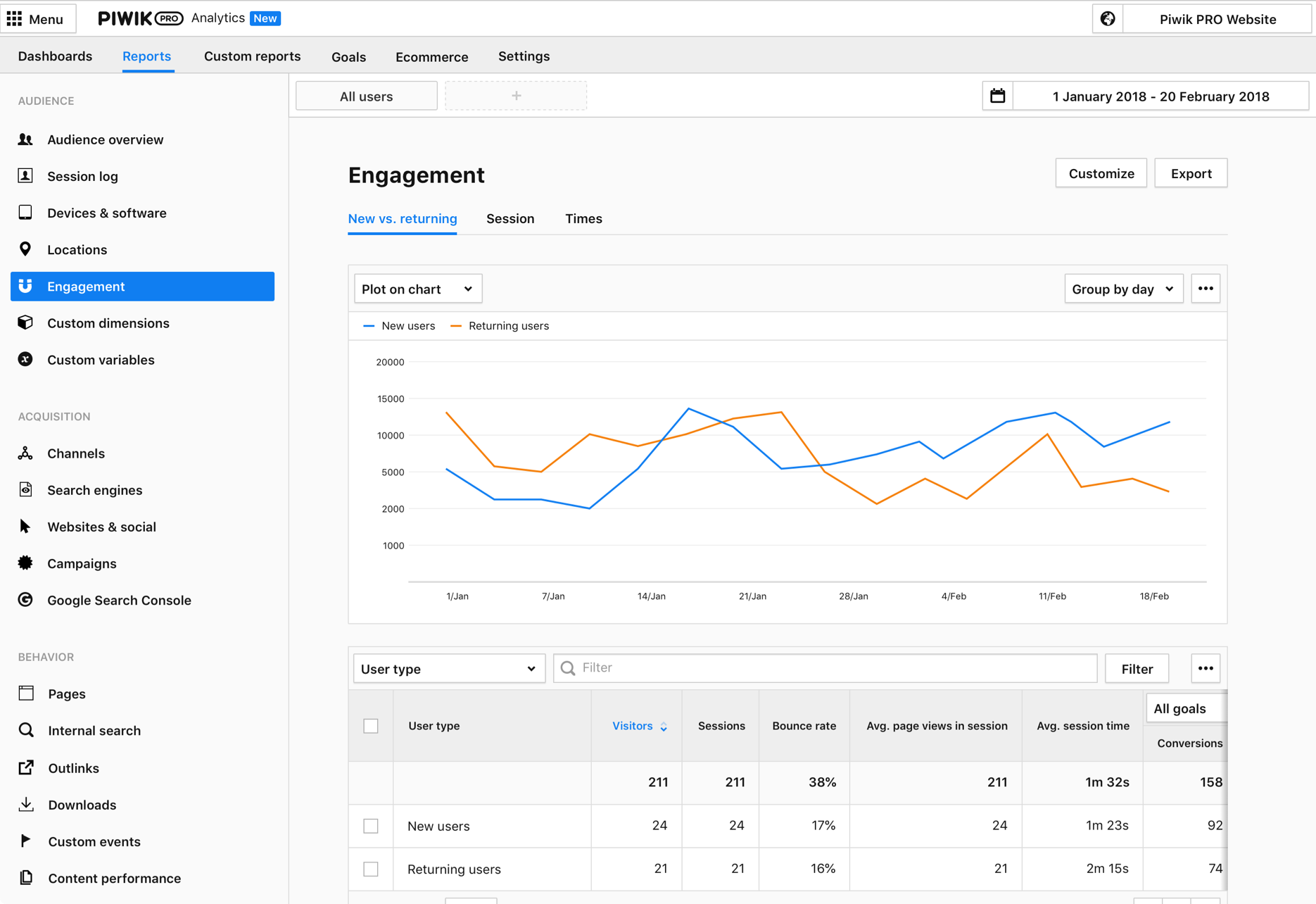 Get up and running fast after the switch
Easy implementation
Implement our platform with a single tracking tag. Then, configure your data collection using a tag manager set up in a similar way as Google Tag Manager (use your existing tags and data layer).
Support through the migration
Count on our help with mapping your business goals onto reports and dashboards. On request, we even import your Google Analytics setup for data collection and tags.
Familiar environment
No need to learn from scratch. Use an analytics platform based on the same analytics concepts and with a similar UI to Google Analytics.
Safe integration with Google Ads and Search Console
Access reports from Google Ads and Google Search Console without sharing your data with the Google ecosystem.
User-friendly custom reports
Create custom reports and dashboards out of any possible set of dimensions and metrics with a modern drag-and-drop editor.
Flexible pricing tiers
Your price is adjusted to the traffic, hosting preferences and level of customer care you require.
The second most important thing, apart from the technical support, was having the peace of mind that we're in good hands. We could contact the Piwik PRO team whenever there was something we weren't sure of and we always got quick responses.
Ingo Haupt,
CEO of Three Palms Media
Get the benefits of Piwik PRO without losing any important features
Piwik PRO offers all the key functionalities of Google Analytics such as event tracking, session metrics and custom dimensions. See what else you can do with Piwik PRO:
| | Piwik PRO | Google Analytics | Google Analytics 360 |
| --- | --- | --- | --- |
| Calculated metrics | | | |
| Advanced funnels | | | |
| User flow reports | | | |
| Custom reports | | | |
| Intuitive drag-and-drop report editor | | | |
| Multi-channel attribution | | | |
| Metasites | | | |
| Full integration with Google Ads, Search Console and compatibility with Google Tag Manager | | | |
| BigQuery raw data access | | | |
| Integrated consent manager | | | |
| Integrated tag manager | | | |
| Native integration with customer data platform | | | |
| Dedicated account manager and tech support team | | | |
Fill out the form, schedule a demo and see how to use Piwik PRO to your benefit
During the demo you will:
Compare feature sets and limits of Google Analytics and Piwik PRO
Learn how Piwik PRO will help you comply with international data protection laws, such as GDPR, CCPA, HIPAA and LGPD
Find out what kind of professional support and training you'll get during migration and everyday use of Piwik PRO


Get a personalized demo
Send us the form and a Piwik PRO representative will contact you as soon as possible. This information is stored in our CRM database and is used only to contact you. We never share your data with third parties. For details, see our privacy policy.
How long does it take to switch from GA to Piwik PRO?
The similarities between the UIs of Google and Piwik PRO, data layer compatibility, high-touch support and dedicated training make the transition as easy for you as possible. In most cases the whole process takes between 1 to 4 weeks.
How will I know how to set everything up in Piwik PRO to track my website?
Our technical team will make sure that your Piwik PRO instance is up and running, and ready to collect data about your visitors. In case of any questions, you can also contact your dedicated account manager and review detailed help center articles.
What are the monthly hit limits of Google Analytics, Google Analytics 360 and Piwik PRO?
The hit limit of free Google Analytics is 10M. In both Google Analytics 360 and Piwik PRO the limit exceeds 500M. However, Google Analytics 360 will turn on automatic data sampling after 100M hits, while with Piwik PRO you'll work on 100% of your data.
What are the differences between pricing tiers of Google Analytics and Piwik PRO?
With Google Analytics, you can take advantage of a free product version or upgrade to Google Analytics 360 for a price that in most cases starts at $150K. Piwik PRO gives you more flexible pricing tiers and better value for your money. To read more about it and request a quote, visit our pricing page.
How does Piwik PRO collect and process data differently than Google Analytics? Why does this approach make it easier for us to comply with data regulations, such as GDPR, CCPA and HIPAA?
Google Analytics scatters your data across different server locations and uses it to improve its services. With Piwik PRO you store your data in a chosen data center or on your own servers and don't share it with anyone. This makes it easier to comply with data security laws such as HIPAA and process protected health information in a lawful way. Piwik PRO also supports your compliance with GDPR and CCPA by providing you with a dedicated consent and data request manager. Read more here:
How does Piwik PRO track website statistics without collecting personal data?
Piwik PRO offers two methods for gathering non-personal data:
Anonymous tracking – collects session statistics without using any user identifiers. This method can be used as an alternative to opt-in tracking, when a visitor ignores or declines your consent request


Zero-identity tracking – collects event statistics without using any visitor or session identifiers
Both methods are optional and serve as a great alternative to standard opt-in only tracking. For more information read this article.
How does Piwik PRO allow you to connect the data from marketing pages, applications and post-login areas to recreate the full customer journey?
Piwik PRO gives you total control over your data as well as the instruments necessary to ensure its privacy and security. As a result, you're able to safely collect unique user identifiers (e.g. email addresses) and sensitive data from post-login areas of your websites and apps (e.g. e-healthcare platforms or transactional pages). This allows you to recognize visitors across sessions and touchpoints to recreate their full journey. Read more about it here.