Customer data platforms (CDPs) have proved their worth as a vital marketing technology.
CDPs assist marketers in generating a better customer experience driven by precise information on user behaviors across every touchpoint. In short, a CDP can support the following:
Data analysis
Online advertising
Campaign automation
Cross-channel customer journey mapping
Personalization
Customer support
Cross-sell and upsell efforts
Marketing teams can manage tasks independently with CDPs without the time-consuming assistance of costly IT specialists. 
A CDP creates single customer views by stitching together sources of fragmented data and building an overview of all user information and behavioral details. User profiles can be segmented into audiences that can then be activated on other platforms. 
Campaigns and actions based on first-party data that the CDP helps you collect can be more business-specific, effective, and personalized to each user. This type of data is most valuable and relevant to a business, making the insights gathered from it particularly useful for effective marketing and growth. Your marketing strategy gets supercharged faster with real-time data and in-depth insights. 
Since the data in a CDP comes directly from users, it makes a great asset for ensuring compliance with GDPR and other privacy requirements.
If you want to learn more about the ways your company can benefit from a CDP, read these posts:
You need to clearly define your expectations to find the CDP that fits you best. Aligning them with features and capabilities from each vendor lets you find the right implementation for your business. That's why we've extensively researched key features of CDPs available on the market.
Below we've prepared a thorough comparison of seven enterprise-ready customer data platform vendors. If you're debating which CDP will work best for you and looking for guidance, you've come to the right place.
Customer data platform vendor overview
As you make up your mind about a particular CDP, let's start by giving you a little peek at the vendors.
Piwik PRO
Piwik PRO combines a data-driven approach with a focus on satisfying the strictest privacy standards worldwide. This makes it the first privacy-oriented alternative to Google Analytics with an integrated CDP. It enables organizations handling sensitive data to analyze and optimize the customer journey and improve their cross-channel marketing efforts.
Tealium
Tealium's primary focus is the tag management system Tealium iQ and the customer data platform Tealium AudienceStream. The CDP provides data enrichment capabilities that help create unified user profiles and automate actions across all channels. It lets you connect data and deliver it in real-time to make it easier to connect with your customers.
Exponea
Exponea gives marketers complete control over all aspects of the customer experience, especially within the ecommerce industry. Its Customer Data and Experience Platform (CDXP) lets marketers use AI-enriched data to understand customer behavior and run omnichannel campaigns across multiple channels.
Mapp
Mapp's customer data platform centralizes all data through segmentation, unification of customer profiles, and activation of those in priority channels. With Mapp's CDP at its core, organizations can connect entire marketing ecosystems to enhance the customer experience.
Segment
Segment is a CDP that helps companies organize, connect, and control their first-party data from multiple cross-device sources. It offers a complete data toolkit to standardize reliable data collection, unify user information, and send customer data into any system. The whole company can use trusted data to accelerate its growth.
mParticle
mParticle provides real-time data that combines quality and governance protections with AI-powered insights and predictions. Focused on mobile and desktop applications, it builds cross-platform user profiles to help marketers drive better marketing and improve conversion and retention for various industries.
Amplitude
Amplitude is a digital analytics platform that focuses on product analytics. It consists of several integrated products, including an insights-driven customer data platform. The CDP lets you un-silo data and connect it across teams, discover new audiences, and unite customer behavioral data across your stack.
Comparing 7 enterprise-ready customer data platforms
In our comparison, we've highlighted key differences concerning each CDP vendor's essential functionalities and qualities.
General characteristics
First, we outlined some general characteristics of the reviewed CDPs to give you quick insights into what you can expect from these platforms. For example, see whether the vendors can be easily integrated with analytics or tag management systems and what hosting options are available.
Data collection and processing
Then, we compared how the CDP vendors approach data collection and processing. Learn how the platforms collect and organize data and what forms of information you can access, including raw or historical data. Find out if they process cookies or allow SDK. See the data types you can import into user profiles to expand and enrich them.
You need access to real-time, adequately normalized data and follow the whole customer journey to ensure your data is accurate and up-to-date. Your marketing strategy should be unified and match data from multiple sources. You should be able to use your stack to its full potential.
Audiences and profiles
We also reviewed the details and possibilities of audiences and profiles in each CDP. Find out how user information is matched to create separate profiles, what attributes are available, and how to segment users who match given traits. You need to be able to merge user profiles over all channels and devices and display the information in single customer views. A well-chosen platform should enable you to continuously update and easily access these profiles and create audiences based on relevant shared attributes or behaviors.
Data activation
Each CDP's value is connected to how it lets you apply the data in personalization, ad campaigns, emails, remarketing, and other actions you can take to improve customer acquisition and retention and drive more sales. That's why we couldn't skip a section comparing the data activation features of each vendor. Learn how to integrate the CDP with other platforms and make it useful.
Privacy and security
On top of that, we've evaluated the CDPs in terms of their privacy and security obligations. We have checked which platforms provide privacy-dedicated Opt-out/Do Not Track options, an integrated consent manager, and the ability to onboard sensitive data. 
We couldn't overlook the legal landscape of storing and processing users' information. We've investigated if these platforms adhere to international privacy legislation such as GDPR and whether they boast valid security certifications. Customer data is in your hands. Your company should be able to rely on a vendor that ensures proper compliance with all applicable regulations.
Customer care
Last, we've checked what kinds of technical support and customer care services each vendor provides. As an enterprise customer, you may benefit from enhanced guidance through dedicated support and onboarding, personalized training, and custom development & integrations.
Comparison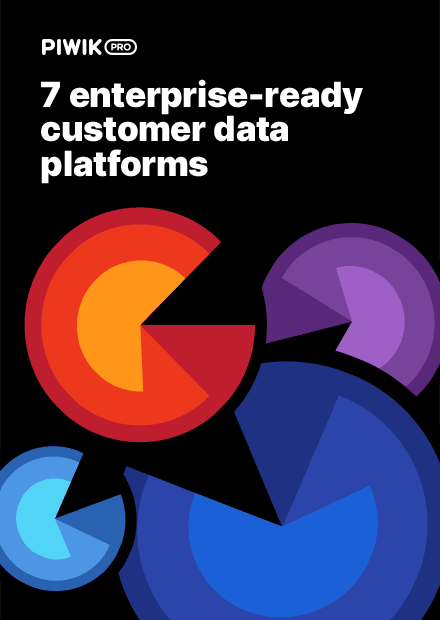 Comparison
Free comparison of 7 enterprise-ready customer data platforms
Get to know over 50 key differences to determine which platform fits your business needs best: Tealium, Amplitude, Exponea, mapp, Segment, mParticle or Piwik PRO.