Customer data platforms have proved their worth as a vital technology in marketing. They create a single customer view by stitching together sources of fragmented user data.
CDPs assist marketers to generate a better customer experience, driven by precise information on user behaviors across every touchpoint. In short, they support:
Data analysis
Online advertising
Campaign automation
Cross-channel customer journey mapping
Marketing teams eliminate issues with data silos and manage tasks independently just by using CDPs. The time-consuming assistance of precious and costly IT specialists isn't needed anymore. Your marketing strategy gets charged faster with real-time data and in-depth insights. Fueled by first-party data, CDPs make a great asset when GDPR compliance is a must. As for other reasons, we'll discuss them further in our post.
If you want more details on how CDPs work, we recommend reading these posts:
Below we've prepared a thorough comparison of seven customer data platforms that highlights the distinctions among vendors. So if you're mulling over the choice of a CDP and looking for guidance, you are in the right place. This post aims to ease the dilemma of finding the tool that best suits your business requirements.
You need to understand your business expectations to find the CDP that fits you best. Aligning them with features and capabilities from each vendor lets you find the right implementation for your business. That's why we've conducted extensive research on the differences and key features for a range of industries, spanning from banking to e-commerce.
There are numerous vital differences in customer data platforms that you need to understand when making a decision. We're sharing our results to help you make an informed choice and grow your business.
Customer data platform vendor overview
As you make up your mind about a particular CDP, a little peek at the vendors is a good place to start. Let's introduce the players in our comparison:
Piwik PRO
Piwik PRO adheres to the strictest privacy standards worldwide. This makes it the first privacy-oriented alternative to Google Analytics with an integrated CDP. It enables organizations that handle sensitive data to analyze and optimize the customer journey and improve cross-channel marketing efforts.
Tealium
Founded in 2008 in San Diego, California, Tealium's primary focus is the tag management system Tealium iQ and the Customer Data Platform Tealium AudienceStream. The CDP provides data enrichment capabilities that help to create unified user profiles and automate actions across all channels.
BlueVenn
BlueVenn, established in 2013 in the UK, is a multi-channel marketing automation app with an integrated Customer Data Platform. It provides marketers with insights about customers, enabling real-time website and email personalization, modeling and segmentation.
Exponea
Exponea focuses on a personalized experience, mainly within the e-commerce industry. Its Customer Data and Experience Platform enables marketers to use AI-enriched data, ensuring an improved customer experience and increasing customer retention.
Mapp
Mapp's Customer Data Platform centralizes all data through segmentation, unification of customer profiles and activation of those in priority channels. With Mapp's CDP at its core, organizations can connect entire marketing ecosystems to enhance customer experience.
Segment
Segment provides a data toolkit for marketers to act on by collecting many kinds of data data from cross-device sources. It lets organizations easily execute their marketing strategy on the fly with 300+ tools.
mParticle
mParticle provides data to improve customer experience, functionality and marketing for various industries. Focused on mobile and desktop applications, they build cross-platform user profiles to drive real-time personalized experiences.
Get the gist of the comparison
Now you have met the customer data platform vendors. It's time to let us guide you through all the nuances of these CDPs we've covered in our whitepaper. We've highlighted key differences concerning essential functionalities and qualities.
We looked at data connectivity and integration first. It is vital for your marketing strategy to unify and match data from multiple sources. You should be able to use your stack to its full potential. Get the complete view of your customer journey across all platforms and channels and react at the points of highest importance.
The second issue we examined was data processing. You need to be able to merge user profiles over all channels and devices. A well-chosen platform should enable you to continuously update and easily access these profiles for various advertising campaigns.
Moreover, we have also taken into account a CDP's hosting options. Every organization has different needs and demands. You should have the choice of the most suitable infrastructure, whether it's your own or a dedicated private cloud. On top of that, we've evaluated these solutions in terms of data security and privacy obligations.
Touching on the subject of data security, we couldn't overlook the legal landscape related to storing and processing users' information. That's why we've checked if these platforms adhere to international privacy legislation. We even took specific markets into account. Customer data is in your hands. Your company should be able to rely on a vendor that ensures full compliance with such regulations.
If you're wondering whether a CDP lets you enrich your data, we've covered this too. We've analyzed importing data from various kinds of sources, CRMs, offline sources, and warehouses. You need to be able to use either an internal or external database for these purposes.
During our research we also considered if the products sample their data. It is essential to use the most detailed information possible to make fact-based forecasts of future trends and performance. Sampling data hinders you in making accurate decisions. Access to raw, unsampled historical data ensures precision in your reports and your tactics.
Comparison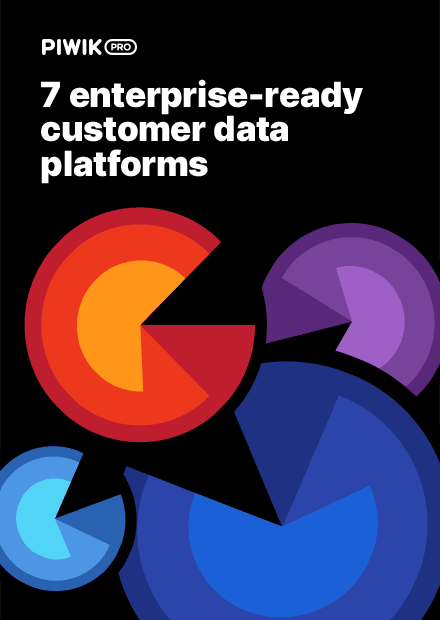 Comparison
Free comparison of 7 enterprise-ready customer data platforms
Get to know 37 key differences to determine which platform fits your business needs best: Tealium, BlueVenn, Exponea, mapp, Segment, mParticle or Piwik PRO.