JavaScript tags are a necessity to manage data flow on websites, in mobile apps and in digital products of all kinds. For over a decade, tag managers (also called tag management systems or TMS) have helped analysts create, organize and test a huge variety of tags for data collection and activation.
In recent years, data governance has grown in importance. It's not enough just to send bits of data here and there. Analysts and marketers need to know exactly what, where and with what justification.
Regulations such as GDPR and higher expectations from internet users have led to new requirements for tag managers. Assuring data privacy and security has become essential for many use cases.
However, that doesn't mean that the traditional role for tag management systems has gone away.
Why do you need a tag management system in the first place?
Tag managers make web and mobile tracking tasks simpler for analysts and marketers. Where an IT team may need weeks to implement new code, a tag manager lets you use templates and tag libraries to create and debug tags in minutes.
This puts a lot of power in the hands of analysts and marketers. To make sure data collection is safe and reliable, it's worth adding a few other things to your tag manager requirement list:
Customer Support – Tag managers take care of a lot for you, but at the core, you're still dealing with complex JavaScript code. It pays to have access to a good support team in case any problems or unknown bugs come up.
Privacy compliance and data control – Tag managers give you an incredible amount of control over the flow of data around and outside your stack. To get the most of that, while still keeping data secure, make sure your platform gives you the control you need. This includes advanced features for assuring privacy and security compliance.
Integrations and templates – To avoid writing too many custom tags yourself, make sure the platform you choose has the integrations and tag templates you need. This will save you a lot of time when creating, testing and maintaining tags.
So how have modern tag managers adapted to these demands? Download our 70-point tag management comparison to find out.
Preview of our tag management comparison
Note: We've shortened some product names for easier reading. Here are the full names of the products covered:
Piwik PRO Tag Manager
Google Tag Manager (360-only features are noted in the table)
Segment (with Business plan features)
Tealium IQ Tag Management
Commanders Act TagCommander
Matomo Tag Manager
| | Piwik PRO | Google | Segment | Tealium | TagCom. | Matomo |
| --- | --- | --- | --- | --- | --- | --- |
| Platform | | | | | | |
| Option for built-in custom reports and dashboards | | | | | | |
| Option for a built-in consent manager | | | | | | |
| Option for a built-in customer data platform | | | | | | |
| Hosting | | | | | | |
| On-premises (self-hosted) | | | | | | |
| Cloud | | | | | | |
| Private cloud | | | | | | |
| Content delivery network (CDN) | | | | | | |
| Cloud or private cloud data residency options | | | | | | |
| Privacy and compliance | | | | | | |
| Opt-out / Do Not Track option at the individual tag level | | | | | | |
| Option to enable zero-cookie load | | | | | | |
| Tags and tag categories fired based on consent status | | | | | | |
| Several privacy modes for session and event tracking | | | | | | |
| Customer support | | | | | | |
| Self-service help center | | | | | | |
| Community forum | | | | | | |
| Live chat support | | | | | | |
| Email support | | | | | | |
| Dedicated support specialist | | | | | | |
Download the full comparison for more, including features from these categories:
General tagging features
Tag types
Trigger types
Variable types
Testing and debugging
Flexibility and limits
read also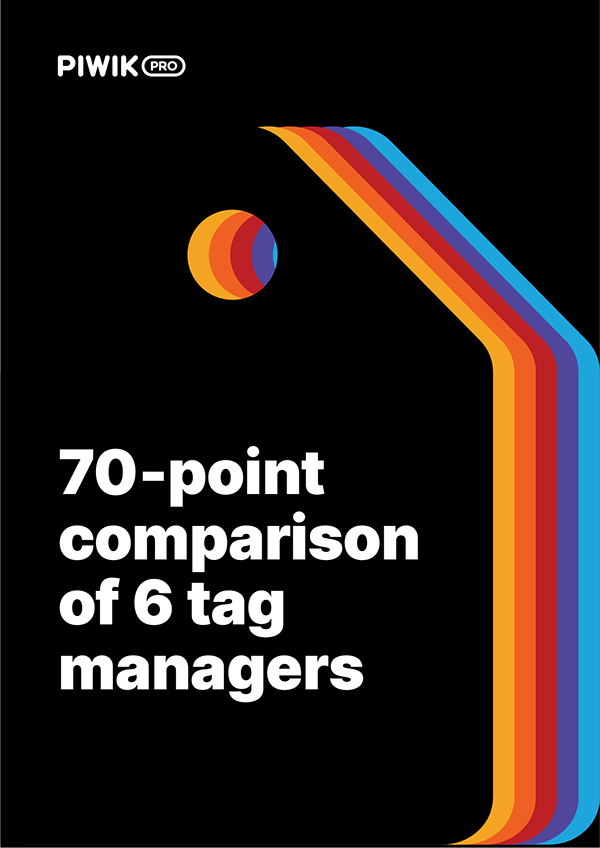 read also
Comparison of 6 tag managers – 70 factors from tag types to privacy
Understand the differences between Piwik PRO Tag Manager, Google Tag Manager, Tealium IQ Tag Management, Segment, TagCommander and Matomo Tag Manager