Tags are snippets of JavaScript used to collect and manage the data flow between websites and mobile apps, and third-party tools, such as analytics platforms or marketing vendors. For over a decade, tag managers (also called tag management systems or TMS) have helped analysts create, organize and test a huge variety of tags for data collection and activation. 
Tag management solutions track marketing data by embedding tags in websites or apps. They are essential to capture information for web analytics. Digital marketers can use tag managers to track conversions and collect visitor behavior data without the help of developers.
Choosing a tag manager for your organization shouldn't end with analyzing the extent of features and customization options. Due to the increase in the importance of data governance, your tag manager should also include data privacy and security features.
Why do you need a tag management system in the first place?
Tag managers simplify the process of web and mobile tracking for analysts and marketers. They are able to create, edit, and deploy tags in minutes using the available tag, trigger, and variable libraries. Teams get more power and flexibility. 
The main benefits of using a tag manager include:
Saving time and resources by reducing the workload of the IT team.
The ability to consolidate and standardize the process of updating tags.
Easily tracking and maintaining large numbers of tags.
Faster page load times and better site performance.
Making your marketing activities more efficient.
Increased data accuracy.
Being able to easily comply with privacy requirements.
read also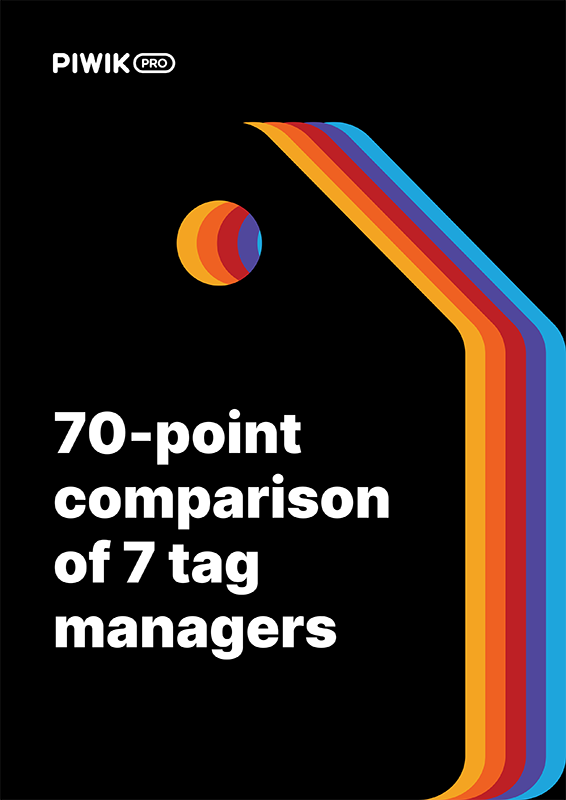 read also
Comparison of 7 tag managers – 70 factors from tag types to privacy
Understand the differences between Piwik PRO Tag Manager, Google Tag Manager, Tealium IQ Tag Management, Segment, TagCommander, Matomo Tag Manager and Ensighten Manage
How to choose the right tag management system
To make your data collection more efficient and secure, you should look for a tag management system with the following characteristics:
Customer Support
Tag managers take care of a lot for you, but at the core, you're still dealing with complex JavaScript code. It's helpful if your tag manager has extensive documentation you can use for guidance. Ideally, the tool you choose should have a support team you can reach out to in case of any problems or unknown bugs.
Privacy compliance and data control
Make sure your tag management platform contains advanced privacy-friendly features that will support the collected data's security and give you enhanced control over it. This can include features like zero-cookie load, safe hosting options, and choosing where your data is stored.
Integrations, libraries, and templates
Extensive libraries, templates, and integrations can save you a lot of time when creating, debugging, and maintaining your tags. Thanks to them, you don't have to add too many custom tags yourself. Also, it pays to have an easy way to integrate your tag management system with tools such as consent manager or customer data platform.
Read more about how you can use tag managers in web analytics:
A review of tag management vendors
Piwik PRO Tag Manager
Piwik PRO Tag Manager lets you create, set up, debug, and run tags on your website to streamline data collection and activation without the help of developers. You can run online campaigns, integrate with Facebook Ads or Google Ads, and collect additional data. Use a vast library of tag templates, triggers, and variables, or create custom ones. With Piwik PRO, you can also count on complete data control and security – for example, connect Consent Manager to only fire tags with relevant consent.
Google Tag Manager
Google Tag Manager (GTM) is the most widely used tag management system and integrates well with Google's other tools, such as Google Analytics 4 or Google Ads. GTM is a powerful tool for marketing and analytics teams that facilitates creating, embedding, and updating tags across websites and mobile apps. It offers features like debugging and rules, macros, or automated tag firing, allowing for data standardization and quick deployment.
Segment
Segment is predominantly a customer data platform that shares some features and purposes with tag managers. The platform collects and structures the data to be integrated with analytics, advertising, email, marketing automation, CRM tools, and others with minimal effort. Segment can also archive the data, replay historical data into new tools, and send raw data to a data storage solution for later analysis.
Tealium IQ Tag Management
Tealium IQ Tag Management is a system for managing the configuration, testing, and release of third-party vendor tags to digital properties. The platform lets you unify disparate data sources and drive more consistent visitor interactions. Equipped with numerous vendor integrations, you can quickly deploy and manage vendor tags, test new technologies, and take control of your marketing technology stack.
Commanders Act TagCommander
Commanders Act TagCommander is an enterprise tag management solution that simplifies managing and deploying tags. This tool allows you to increase the quality of your implementation, collect data across devices, and use it across channels. Teams can explore unified audiences and send data to other systems for more precise segmentation, targeting, and personalization.
Matomo Tag Manager
Matomo Tag Manager lets you manage and unify all your tracking and marketing tags. You can quickly integrate various features into your site, such as analytics, conversion tracking, newsletter signups, exit pop-ups and surveys, and more. Measure the success of elements of your marketing campaigns and external channels. Matomo's Tag Manager also makes sure that all snippets are implemented and loaded correctly for faster performance.
Ensighten Manage
Ensighten Manage, recently acquired by CHEQ, is an enterprise tag management solution that focuses on deploying, validating, and updating disparate marketing technologies while unifying customer data across brands, domains, mobile apps, and display advertising tags. All of this exists within a critical layer of security that ensures governance and data privacy. You can also use other Ensighten products, such as Ensighten Mobile, which lets organizations easily tag apps.
Overview of the analyzed features
We divided our comparison into the following sections:
Product overview
We prepared a quick overview of how each tag manager ranks in the most important categories: privacy and security compliance, product capabilities, customer care, hosting options, and customization possibilities. You can see each tool's strengths and weaknesses and how they compare to each other.
Hosting
This part focuses on the available hosting options. Depending on your technical and legal requirements, cloud hosting may be sufficient, or you might need to choose a more secure solution, such as private cloud or on-premises hosting. It's also great if your tag management system offers flexible data residency options so you can choose and know precisely where your customers' data is being stored.
Privacy and compliance
Because tag managers support a range of tag types, they make it much easier to ensure compliance. See what privacy and security functionalities are offered in each tool. Go for a TMS that lets you keep full control over your data and how the tags are used.
Some features we are comparing here include zero-cookie load, firing tags based on the user's consent, Opt-out or Do Not Track options at the individual tag level, and different privacy modes for session and event tracking.
Integrations
Learn whether the tag managers offer any other modules that can be easily integrated with your system. 
A customer data platform adds a ton of value to tag managers. It enables granular, cross-platform data collection, protection of data quality and identity resolution, integration and activation, audience segmentation, and data governance and security. 
A consent manager is useful for achieving compliance, especially when managing consents. You can keep track of users' consent choices and apply them so your tags get fired only after consent is received. 
Another crucial aspect is how flexible the TMS is regarding custom integrations and development. Find out if you can add and connect custom integrations to your tool.
Customer support
You should be able to contact customer support for help or onboarding assistance in the way that suits you best. Ensuring your tag management setup works correctly and serves your organization right is essential. 
If your company has a simple setup or an internal tech team capable of creating and maintaining your tags, you may do with email or live chat support or access to a help center. 
More elaborate tag setups might call for specialized help, such as a dedicated support specialist, personalized implementation, and onboarding or product training.
General tagging features
Various tag features can simplify the process of working with your tag manager. See what the tools offer in terms of tag import and export capabilities, folders for tags, triggers and variables, workspaces for concurrent tagging projects, and changelogs. Other analyzed features include access to API, moderation queue, server-side tagging, test and debug mode, and more.
Tag types
Here we look into the available tag types based on their purposes, as well as tag templates for analytics, remarketing pixels, or A/B testing tools and the option for using tag template libraries. Learn about support for asynchronous and synchronous tags, the ability to add custom tags, pop-ups, and tag templates, content personalization from within the tag manager, and others.
Trigger types
Moving on to triggers, we analyze the options of libraries of triggers and conditions, trigger groups, event trigger templates, and other types of trigger templates. Learn whether the tools include trigger types such as data layer, page view, history change, exit intent, or form submission.
Variable types
In this section, we explore the available types of variables – custom JavaScript, cookie, data layer, DOM element, URL, constant or random number variables, as well as access to built-in variable templates.
Flexibility and limits
Here you can learn if there are any limits to how many tags, custom variables, and user roles and permissions you can add. You can also check whether the tools support two-factor authentication.
Preview of our tag management comparison
Note: We've shortened some product names for easier reading. Here are the full names of the products covered:
Piwik PRO Tag Manager
Google Tag Manager (360-only features are noted in the table)
Segment (with Business plan features)
Tealium IQ Tag Management
Commanders Act TagCommander
Matomo Tag Manager
Ensighten Manage
Piwik PRO
Google
Segment
Tealium
Tag
Commander
Matomo
Ensighten Manage
Product overview
Privacy and security compliance
Product capabilities
Customer care
Hosting options
Customization
Hosting
On-premises

Cloud
Private cloud

Content delivery network (CDN)
Cloud or private cloud data residency options
Privacy and compliance
Opt-out / Do Not Track option at the individual tag level
Option to enable zero-cookie load
Tags and tag categories fired based on consent status
Several privacy modes for session and event tracking
Option for a built-in consent manager
Download the full comparison to see the rest of the features and how the vendors compare to one another:
read also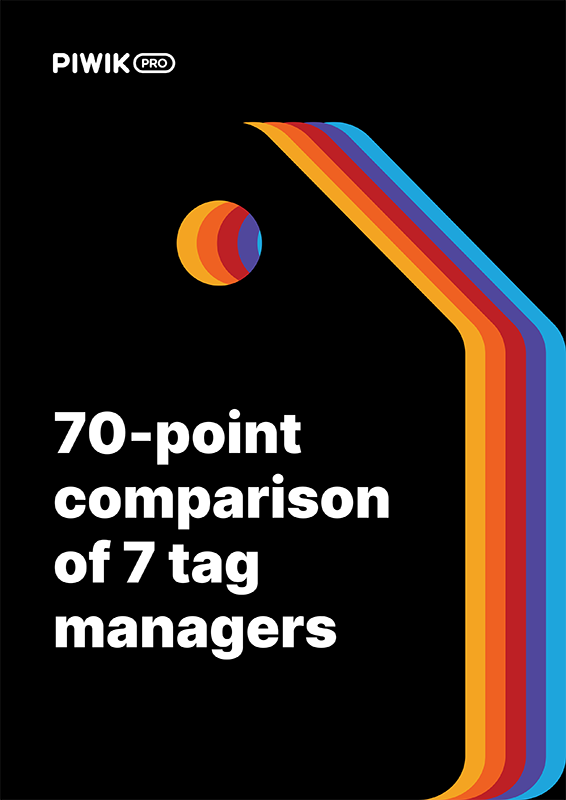 read also
Comparison of 7 tag managers – 70 factors from tag types to privacy
Understand the differences between Piwik PRO Tag Manager, Google Tag Manager, Tealium IQ Tag Management, Segment, TagCommander, Matomo Tag Manager and Ensighten Manage