How Piwik PRO outperforms AT Internet
Easy and intuitive implementation
Implement our platform easily with a single tracking tag. Then, configure your data collection using your existing tags and data layer.
Variety of EU-based hosting options
Store data in European-owned public or private cloud solutions – Orange Cloud in France or Elastx in Sweden, or your own cloud subscription with one of our certified providers*.
Transparent consent collection
Make compliance easier and track data in respect of user privacy thanks to an integrated consent and data request manager.
User-friendly interface
Create custom reports and dashboards out of any possible set of dimensions and metrics with a modern drag-and-drop editor.
Built-in Tag Manager
Configure your data collection using a tag manager that can be set up similarly to Google Tag Manager (import your tags, triggers and variables).
Multiple integrations
Safe integration with Google Ads and Search Console allows you to access reports without sharing your data with the Google ecosystem.
* These and more options are available in the Enterprise plan. The Core plan offers secure cloud hosting in Germany.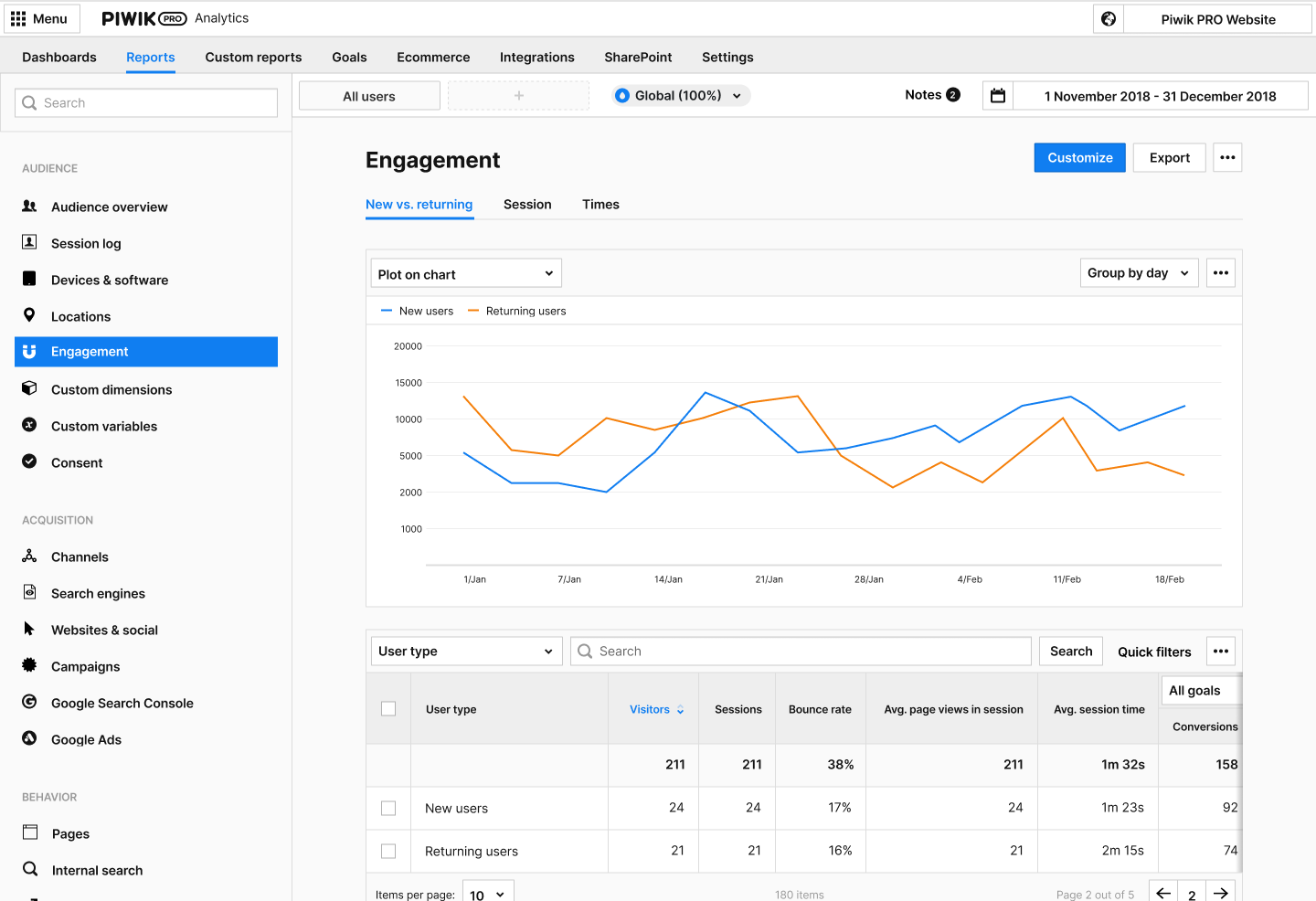 Highlights of Piwik PRO Analytics Suite
The complete customer journey analysis
Analyze user behavior on websites, apps, SPAs and post-login areas without stitching together data across sessions and platforms.
Access to unsampled and raw data
Work with a full set of customers data that can be used in the proper context thanks to integrations with BI tools and raw data access.
Support in the migration process
Our dedicated support team will help you with setting up reports and dashboards, assisting you the whole time during the switch.
Advanced funnel reporting
Easily define customer paths, see how they move through the funnel to reach the goal and observe where they drop off.
High-touch customer care
Get help from a dedicated account manager and technical team, or discuss your questions on the community forum.
Flexible pricing options
Get pricing options adjusted to traffic, hosting preferences and customer care level – choose a free Core or custom Enterprise plan.
Piwik PRO vs AT Internet
Piwik PRO offers all the key functionalities of AT Internet and more. See the comparison of the main product features to find out which platform suits your needs:
| | AT Internet | Piwik PRO Core | Piwik PRO Enterprise |
| --- | --- | --- | --- |
| Privacy compliance | | | |
| Easy-to-use reports & dashboards | | | |
| Flexible EU hosting options | | | |
| Built-in tag manager | | | |
| Built-in consent manager | | | |
| Advanced funnel reporting | | | |
| Access to raw & unsampled data | | | |
| Safe integrations with Google ecosystem | | | |
| High-touch customer care | | | |
| Community forum | | | |
| Anonymous tracking | | | |
Read detailed comparisons between Piwik PRO and Google Analytics (free and 360), Matomo and Adobe.
What our customers say about us
"The main reason we switched to Piwik PRO was having everything managed by someone, not having to take care of the open source thing ourselves. The second most important thing, apart from the technical support, was having the peace of mind that we're in good hands. We could contact the Piwik PRO team whenever there was something we weren't sure of and we always got quick responses".
Ingo Haupt
CEO of Three Palms Media
"Piwik PRO was suggested to us by another company. They told us that it's a stable solution and it's possible to track detailed user paths. We used Google Analytics free in the past and we couldn't track detailed data on the user-level, just on the domain-level. If we didn't have Piwik PRO, we could only guess at the effect of enhancements we make".
Lucky Ng
Product Analyst at Inplay Matrix
"SimpleSite was getting around 200,000 sessions and events per day. With this amount of traffic, Google Analytics was sampling our datasets – that was a problematic issue. Piwik PRO support was very helpful during the implementation. They quickly and precisely answered all SimpleSite's team questions".
Joey Maagaard King
Digital Analytics Specialist at SimpleSite
Get a demo
We'll get back to you within 48 hours.
How long does it take to switch from AT Internet to Piwik PRO?
With the help of a dedicated support team, the whole transition process is pretty easy, mainly because of the similarities between both platforms' UIs and their data layer compatibility. Depending on the complexity of the current analytics setup, it can take as little as 4 weeks.
What kind of product integrations are available in Piwik PRO that AT Internet doesn't support?
Piwik PRO offers a dedicated solution for SharePoint analytics, as well as integration with Google Search Console and Google Ads.
How does Piwik PRO collect and process data to comply with data regulations, such as GDPR and CCPA?
Piwik PRO helps you store your data in a data center of your choosing, including fully European-owned options. You choose when and how to share data, if you do so at all. The Core plan is currently limited to cloud hosting in Germany. The Enterprise plan offers the option to keep the data in a public cloud or private cloud (dedicated database or dedicated hardware) in many places around the world. You can also use the on-premises option to store data in your own cloud subscription with one of our certified providers.
How does Piwik PRO allow you to connect the data from marketing pages, applications and post-login areas to recreate the full customer journey?
Piwik PRO gives you total control over your data as well as the instruments necessary to ensure its privacy and security. As a result, you're able to safely collect unique user identifiers (for example., email addresses) and sensitive data from post-login areas of your websites and apps (for example, e-healthcare platforms or transactional pages). This allows you to recognize visitors across sessions and touchpoints to recreate their full journey.