Data activation made easy
Automated data flow
Ensure a steady flow of data between a CDP and other tools in your stack. Integrate data from any touchpoints, including event and user attributes from a natively integrated analytics platform.
Precise audiences
Segment customer data to better understand and optimize their experience. Create audiences around categories and behaviors that are most meaningful to your business.
Personalized data activation
Activate your data to improve customer acquisition, activation and retention. Reach your customers and prospects with personalized messages in real-time, using their favorite channels.
"We want to offer a composable Customer Data Platform that allows our clients to avoid vendor lock-in. Instead, it lets them use all best-of-breed platforms and integrate them into a modern marketing stack tailored to their needs."
Bartosz Nowak
Product Manager at Piwik PRO
Connect through every channel
Activate your data and engage with your customers in many touchpoints – from marketing pages, ad platforms and email campaigns, internal communication channels and CRMs to post-login areas of your website or app.
Personalize customer experience
Tailor communication with clients using insights about their buying history, visited pages, read emails and other business events from your systems. Ensure messages they receive are relevant and personalized to their interests and the customer journey stage they're at.
Help users find what they need
Recognize when users get stuck on their way to finding the information or product they came for. Help them get there faster by initiating a conversation through your chatbot or sending a link to your help center in real time.
Reduce the acquisition cost
Reach out to your customers right when they're ready to buy. Improve the effectiveness and cost of acquiring new clients.
Boost loyalty
Identify new upsell opportunities and high-value clients. Make their experience a priority for your teams, from sales, through marketing and product, to customer care.
Win back customers
Re-engage with users who are likely to drop off your funnel through on-site retargeting, remarketing, personalized emails and other communication channels.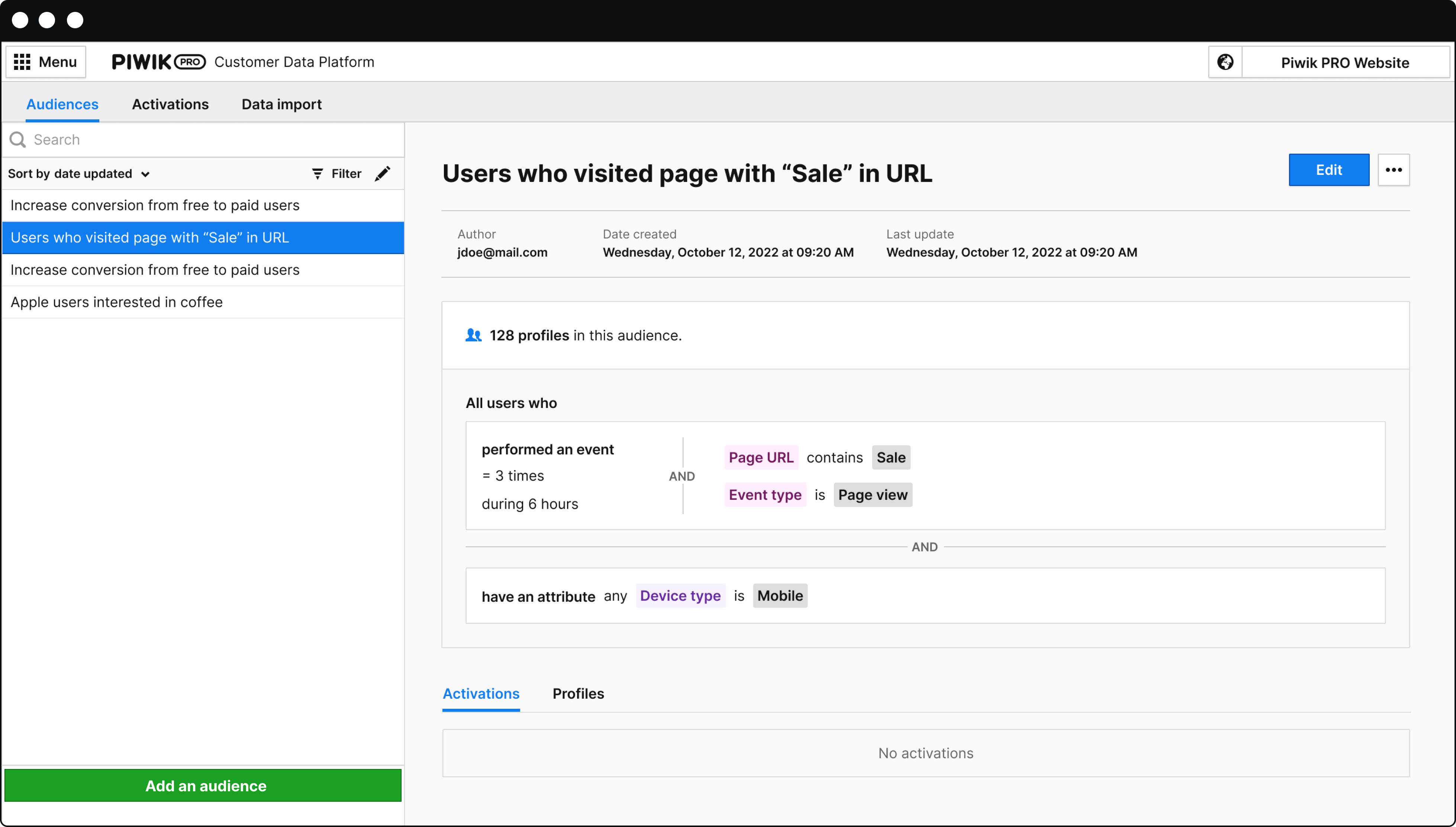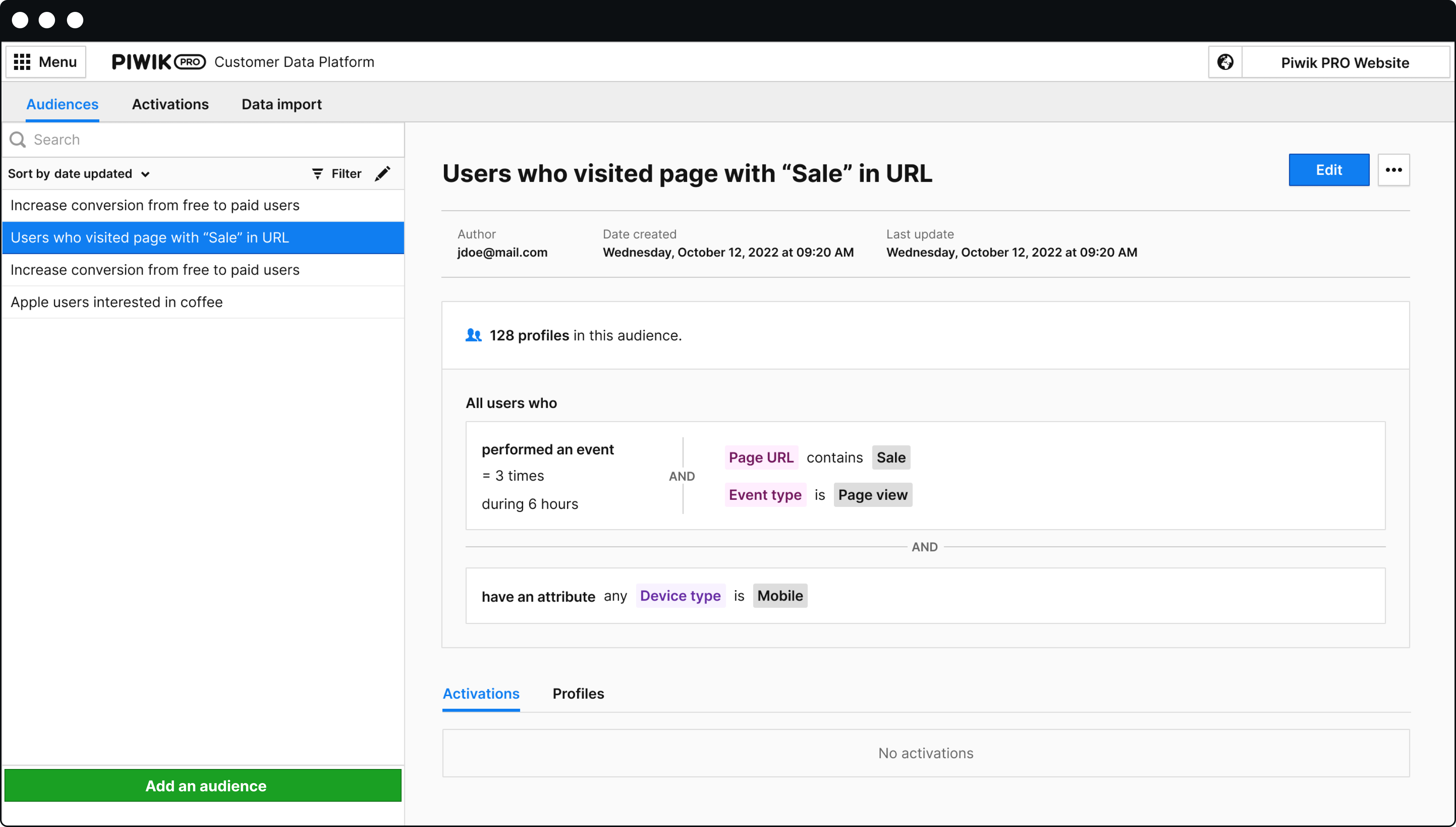 Free comparison of 7 enterprise-ready customer data platforms
Learn 45 key differences between Tealium, BlueVenn, Exponea, mapp, Segment, mParticle and Piwik PRO. Find out which platform will be the right choice for you.
Download
Ensure data privacy & security
Sensitive data onboarding
Upload personal data, including sensitive information, into a platform that helps you follow the rules of GDPR, CCPA, HIPAA and many other data protection laws worldwide.
Control over data
Have full control over pieces of data that comes in and out of your platform with data import and activation logs. Decide how granular your customer profiles should be and adjust data collection to your privacy standards.
Integrated consent manager
Create GDPR-compliant marketing lists. Activate data only when visitors agree to its use and only in ways they feel comfortable with, thanks to a built-in consent manager.
---
What you'll get with Piwik PRO
Compliant data hosting
Keep your data on-prem (in your own cloud subscription), in a private cloud (60+ Azure regions, and EU-owned Orange Cloud and Elastx), or in the public cloud on one of the Azure cloud centers in the US, EU and HK. You can also choose Orange Cloud in France or Elastx in Sweden.
EU-based business partner
Team up with a European vendor that observes the highest security and privacy standards. Make sure your clients' data is processed in line with GDPR and the Schrems II ruling.
Integrated product suite
Take advantage of an integrated suite consisting of Analytics, Tag Manager and Consent Manager. Gain greater flexibility in collecting and activating your customer data.
Dedicated customizations & onboarding
Get started fast with onboarding and personalized training sessions. Custom development and integrations are also available if your use case demands them.
Customer care & professional services
Whenever you need guidance, you can visit our help center, schedule a call with your dedicated account manager or reach out to our technical experts.
Access control & user groups
Create different user groups and roles and assign them with granular permissions. Integrate single sign-on software to streamline user authentication and authorization.
"I had the opportunity to explore the new features of the Piwik PRO CDP during demo sessions with product managers. I'm very excited about the upcoming changes in the module. We're looking forward to leveraging the new functionalities and delivering an even better customer experience."
Michael Holzinger
AdTech and Analytics Expert at Moser Holding AG
Get a custom demo of the Piwik PRO Enterprise plan – advanced analytics features plus data privacy and security