READING GOALS REPORT: INSIGHTS THAT MAKE A DIFFERENCE
In one of our previous blog posts, we covered how to track Piwik PRO goals and guided you through setting up first goal in web analytics software. We hope everything went fine and that your analytics dashboard can now give you a wealth of important information. Let's have a look at the goals report, which kinds of insights it can provide us with, and how to use this knowledge to improve our online business with website tuning.
We're using examples sourced from the live preview of the Piwik PRO online demo available HERE. If you're new to Piwik PRO analytics and haven't set up any goals, we invite you to use our demo to try out all the features described in this post – there is no better way to learn than through practice, right?
Goals Overview
Goals Overview is what you see when you click on the "Goals" tab in the main menu. It's a general report enabling you to view the stats of all your goals on your chosen website,providing you with a broad look at its conversions.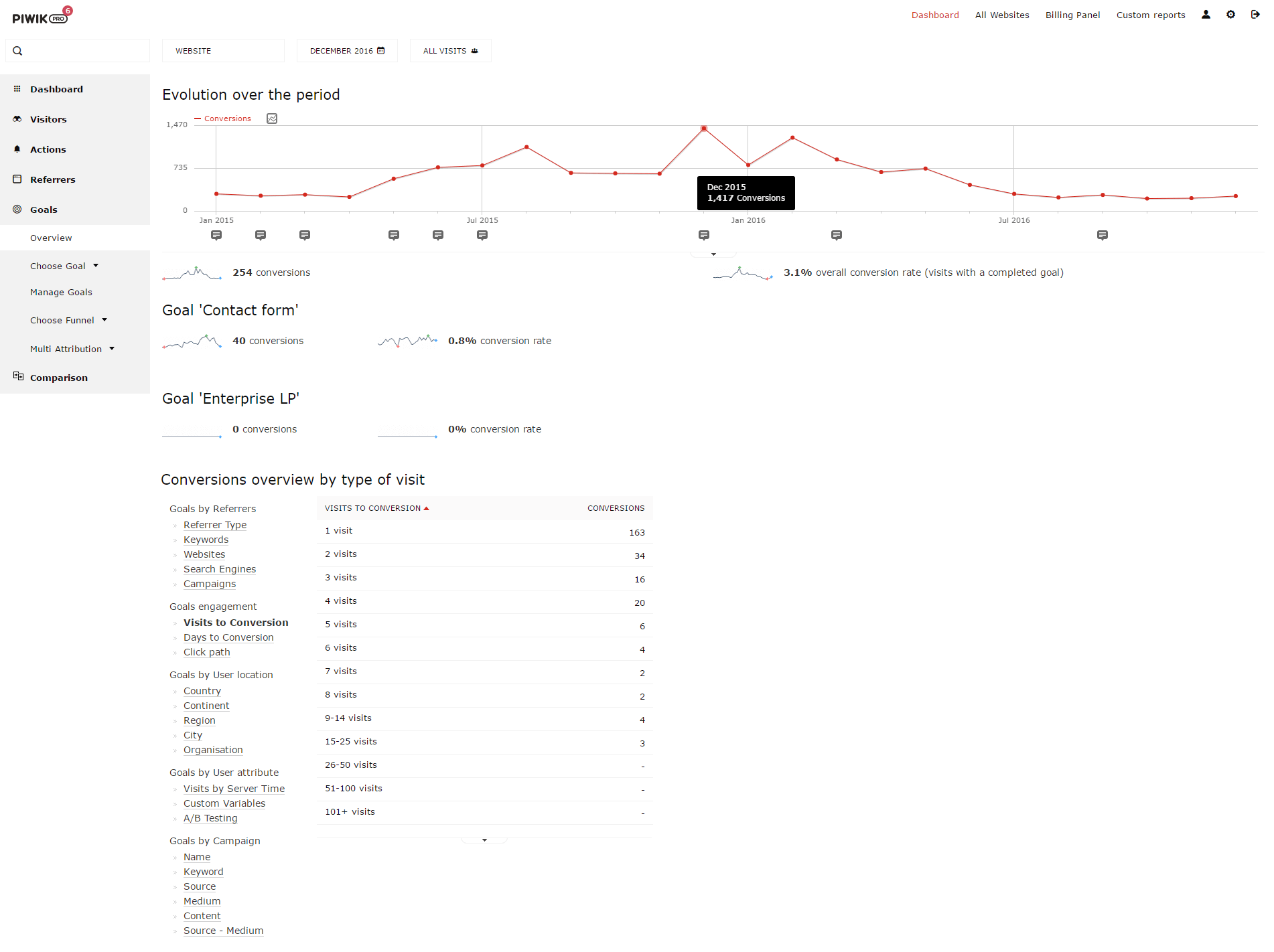 At the top, you can see a chart of your conversions across time, and can also add other metrics to view more data in one go:
Conversions
Conversion Rate
Total Revenue
Free Ebook: How to Improve the Digital Journey in Healthcare with Web Analytics & Personalization
Learn all the important aspects of optimizing the customer experience on your patient-facing platforms while remaining in full alignment with data privacy regulations (including HIPAA & GDPR)
Download FREE Ebook
Below the chart, you'll see a set of buttons allowing you to modify or export the data in the format of your choice (from CSV, through PHP array, to the RSS feed format). The image icon will create a pop-up of the chart, enabling you to save it as a .png graphic to your computer. This may come in handy when collating stats for a report of your business activities.


In the section under the chart, you can see a simple breakdown of all your goals, one by one. Each presents a miniature for conversion, conversion rate, and revenue for a period you select:


Below that section is Conversions Overview by Type of Visit, providing you with data on all goals and conversions as a whole, and with the ability to browse your goals by referrers, engagement, user location, and attribute. Most of the reports, such as Search Engines, Keyword, or Referrer Types, are available in this menu.


The majority of reports are available in the form of a table, like the search-engines report we're using as an example below. For each of these engines, the following data is presented for each goal separately, as well as all goals as a whole: conversions, conversion rate, revenue, revenue per visit.

Detailed Report
The goal report displays details about a specific goal. It can be accessed by choosing the goal in the submenu of the goals section, where you can see all of the goals you created:



So let's say we decided to click on "contact form" report on our website. Here is what we see when entering this report: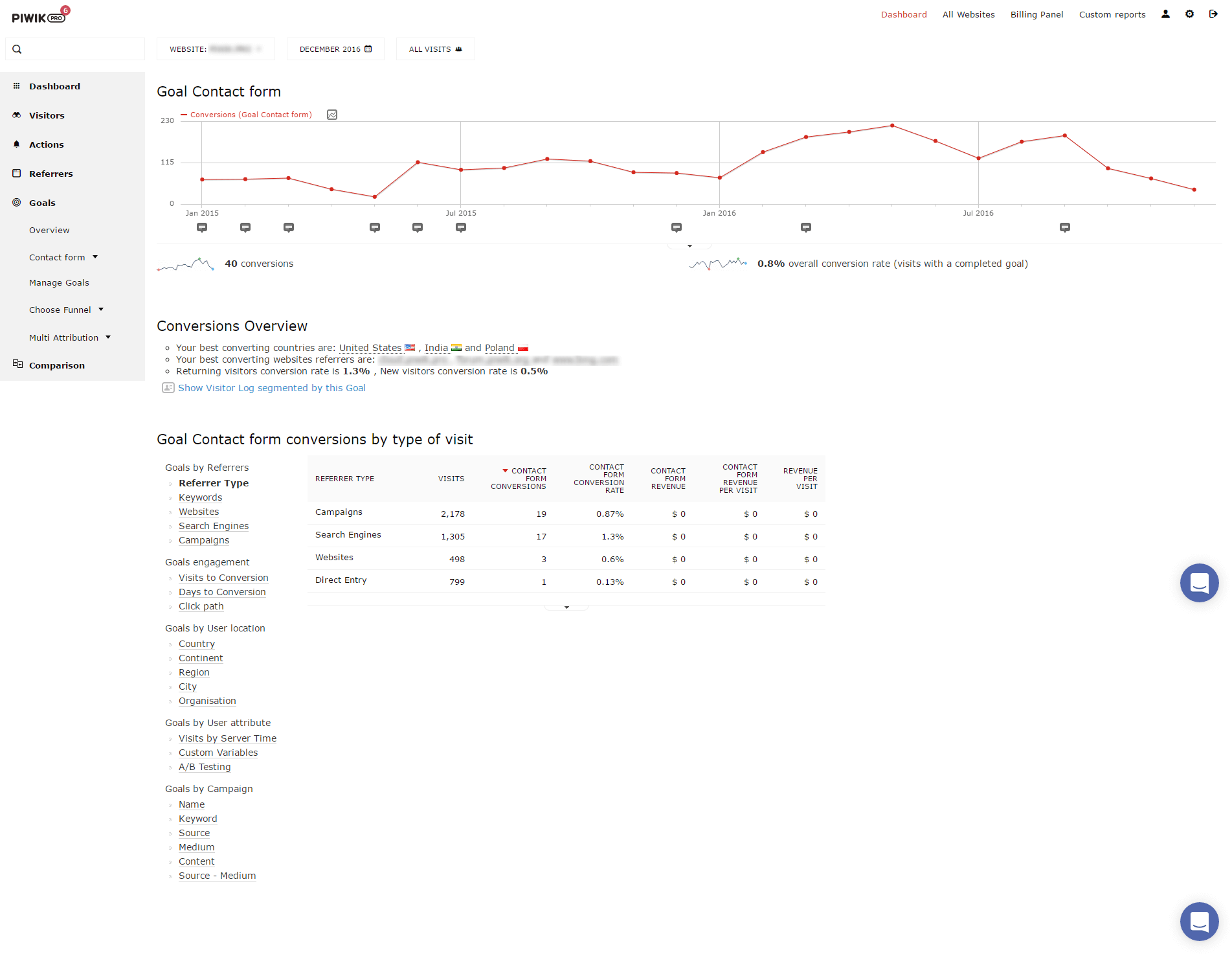 The detailed report's layout and features are almost identical to the goals overview. The main difference is that the detailed report includes a short summary of the best converting segments for this goal, such as the best converting countries, keywords, or website referrers:


Analysing Reports
With so many reports in hand, let's now focus on the nitty-gritty: how can we make the conversions, conversion rate, and revenue go up? The basic answer is through the process of website tuning, in which new changes are introduced, then tested, in order to see what results they are producing.
Although it may sound weird, constant change is the key to success. A lot of online businesses are losing out on revenue precisely because they don't change anything to drive their conversion rate or revenue. With analytics software, you have the tools to test changes, see the results, and act accordingly. Even for the best websites, there is always room for further development and refinements.
Website Tuning 101
What kind of areas would you be looking at when fine-tuning your website? There are plenty of possibilities, below we're presenting you with just a few suggestions:
Add testimonials to your home page to see if it affects your overall conversion rate.
Try changing copy on your landing or contact page to see if it affects fill-ins.
Redesign your home page to include all of the most important information, vital links, and CTAs "above the fold" and observe the effect on conversions.
Add a special offer or a voucher to test if your revenue increases.
Re-word your sales copy to see if it improves revenue.
Test the effectiveness of different bonuses or free extras to go with your product.
Include social proof of your business in a visible place and see how this affects your conversions.
Check if a click path of your website's users to your desired outcome is three steps or less. Click path presents a list of the most popular page sequences that a user visited on their way to a Goal conversion. Knowing what your visitors do on your website will enable you to make changes to your site's content and layout to improve the user experience, as well as drive more conversions
Of course, the changes you decide to introduce should be well aligned with your overall business goals, as well as your website type (see related post: How to go about selecting the right KPIs).
However, the general outline of a website fine-tuning involves the following steps:
Decide on the goals most relevant to your website.
Research and brainstorm ideas for changes that can help drive more conversions. Our favourite examples:
Introduce the changes you select to your website, decide on a timeline, and then study the results using analytics software. You could go for split testing to check how the new version of your website compares against the previous one. Pay attention to how the changes you introduced affect your conversion rate.
Repeat the process consistently
So that's it – you've just learned basics of how to track Piwik PRO goals and how to use these insights for fine-tuning your website. And for all you, who want to leanr more, we created a User Guide, you can now check out. In upcoming posts, we will focus on setting up revenue tracking and learn more about e-commerce tracking.
Free Ebook: How to Improve the Digital Journey in Healthcare with Web Analytics & Personalization
Learn all the important aspects of optimizing the customer experience on your patient-facing platforms while remaining in full alignment with data privacy regulations (including HIPAA & GDPR)
Download FREE Ebook