WordPress doesn't need much introduction. This open source platform powers 30% of web pages, according to W3Techs survey. The platform owes its recognition thanks to a rich feature set, particularly its wide variety of plugins.
These software add-ons can significantly enhance your marketing efforts. The plugin architecture in WordPress allows users to extend functionalities of their choice. This enables you to obtain the right tool set, adjusted to your particular business needs and purposes–a key advantage.
In this post we will look at some handy Piwik PRO plugins for WordPress:
To spare you some time we've also prepared guidelines on how to install and manage them without any fuss. No IT savoir faire required, we promise.
So let's get started.
Plugin # 1: The WordPress & Piwik PRO Tag Manager
Running a marketing campaign requires having your tags under control. One way to make it easier is by connecting a tag manager to your WordPress platform.
This add-on was created to eliminate the need for a professional programmer, you'll just need admin access to WordPress settings. Then any analyst or marketer can easily insert the snippet of code into the Piwik PRO instance whether it's the whole marketing platform or a standalone tag manager.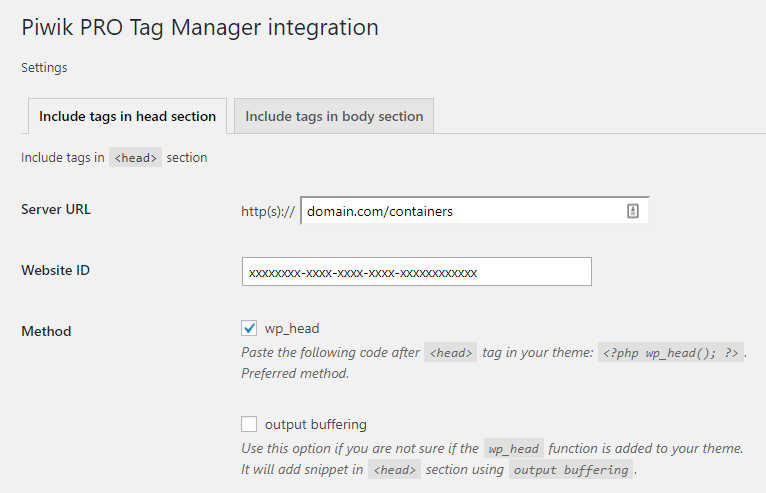 Moreover, this particular Piwik PRO plugin for WordPress allows for both synchronous and asynchronous tags. The installation is easy as ABC.
Set up for synchronous tags
If you need to trigger tags synchronously, then first you need to add Tag Manager's code to the HTML head section. Type in the server URL address of your Piwik PRO instance and Website ID: available in the container configuration section of tag manager.
This configuration is mostly used when you choose to run A/B tests using tools like:
Set up for asynchronous tags
Setting asynchronous Tag Manager's code is not much different. Firstly, switch tabs to set tags in body section. Next, you just fill in the Server URL and Website ID and tick the Method box (wp_body), as shown below.
If you are not sure whether the preferred methods wp_head() and/or wp_body() function has been added to your theme, no trouble. Just tick the "output buffering" box.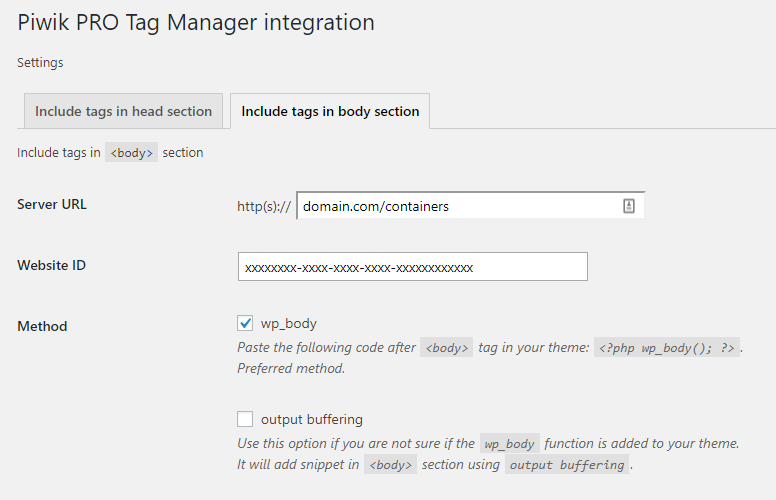 Most applications, for instance Google Ads, Facebook, Clicktale, HubSpot, use asynchronous tags as they don't slow the page down. However, the decision depends on the tools you use.
Check the tag manager version
While installing the WordPress Piwik PRO plugin, you need to verify what version of Tag Manager you use. For version 1.16.0 and higher (including all versions of Piwik PRO Analytics Suite) you need to tick the box while inserting the snippet. Otherwise, simply leave the box unchecked. This rule applies to both synchronous or asynchronous triggering.

Plugin # 2: Piwik PRO UTM Converter
As you run both paid and organic marketing campaigns you need to measure effectiveness by source, which means you apply URL tagging. But, you may come across roadblocks, like incompatible tracking parameters.
There are two options:
either you use Google's standard utm_,
or Piwik PRO's pk_.
Fortunately, the WordPress Piwik PRO UTM Converter solves this trouble. To begin with, the plugin automatically recognizes both these campaign parameters and redirects a URL to the URL with converted parameters:
utm_* to pk_* or,
pk_* to utm_*.
You can take advantage of this integration and decide if you want to convert pk_* to utm_* or the other way around. What's more, setting up a particular option is a piece of cake.
You just need to open WordPress settings and tick the appropriate box: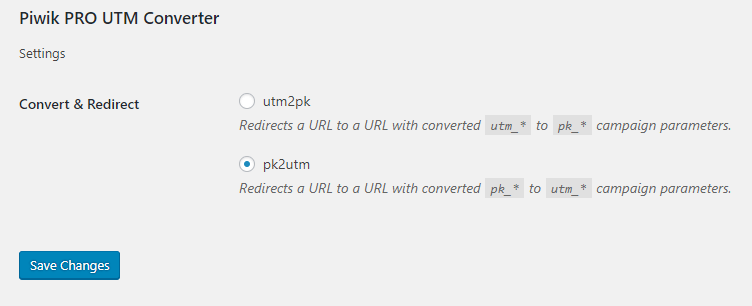 Tag your URLs right
Keep in mind that if you want to precisely track your URLs, they need to be tagged correctly. To spare you some time and effort, we have a simple and convenient tool that helps you with this task.
The Piwik PRO URL Builder Tool lets you add all sensible parameters to your links in a snap.
Now you're ready to go with your campaign tracking.
Final thoughts
As you can see small features can make a big difference in your marketing efforts. What's more, you can install these plugins in a few clicks. We hope that you find this post useful.
If you have any doubts or questions about integrating WordPress with Piwik PRO plugins, don't hesitate to drop us a line. We're always ready to help.