Why Piwik PRO Funnel Analytics?
Piwik PRO Funnels Analytics is an easy way to optimize the conversion rate of your website and increase its business value. By learning how your visitors move throughout the sales funnel, you can identify where they drop off and work towards eliminating these bottlenecks. Get more ROI on each visitor, try PRO Funnels today!
Funnel Visualization
Get a clear, visual presentation of how your visitors move throughout the conversion funnel and where they drop off.
Funnel Segmentation
Apply segmented view while analyzing funnel reports. Learn which user segments are underperforming among your visitors.
Success & Abandonment rate
Get KPIs to show overall funnel performance. Acquire actionable information about success and abandonment rates.
Funnel Drop-offs
Uncover the bottlenecks in your funnel. Identify the steps that lead to the highest number of visitors abandoning your funnel.
Advanced Segmentation for Optimized Strategy
Apply segmented view to identify groups of your visitors that may be responsible for the highest drop-off rates. Improve their performance or exclude them from your campaigns to decrease acquisition costs and allocate your resources more effectively.
Funnel Entrances & Drop-Offs
Learn which actions led your visitors to enter or exit a particular funnel. Discover which actions bring you the best converting clients and which funnel steps experience the highest drop-off rate.
Compare Different Funnel Segments
Use Piwik PRO's comparison dashboard to compare three segments in one place. Adjust your marketing and sales campaigns to focus attention and resources on the best performing subsets.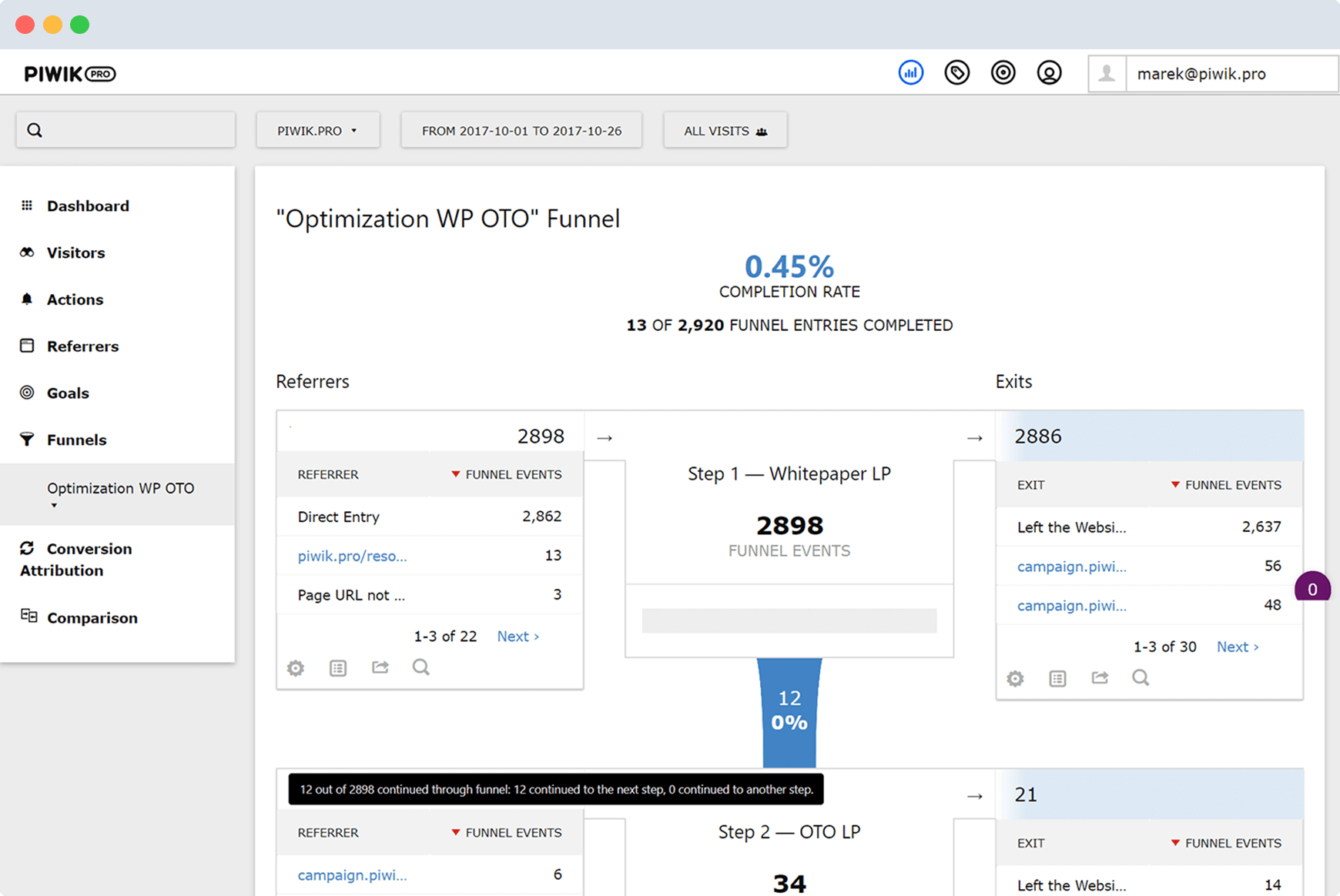 Learn more about Piwik PRO Web Analytics: