The app market is thriving, and that is opening up more opportunities for app development. However, despite a significant uptick in app downloads, this doesn't mean users actually interact with your product.
According to Statista, about 24% of apps downloaded are used only once.
The problem lies in user engagement. It turns out that creating a great app is just part of the game.
That's why marketers turn to app analytics. It lets them measure app usage and optimize the user experience to boost customer acquisition and retention.
And if you want to acquire an accurate picture of your app engagement while mapping customers' journeys across the web and mobile, you need the right data.
Considering the growing concern about data protection and privacy restrictions in today's digital ecosystem, this means you're heading down a bumpy road.
The good news is that you can buckle up and drive smoothly if you choose a reliable and comprehensible solution. That solution is self-hosted app analytics. If you're wondering how it does the trick, then we have a simple answer: security and control. You maintain ownership of data and know exactly where it's stored and who can access it. 
For example, Piwik PRO's on-premises offer includes supporting the installation of the platform in the client's own cloud subscription with one of our certified providers – Azure, and European-owned Orange Cloud in France and Elastx in Sweden. Data can be hosted nearly everywhere in the world, in over 60 locations, including fully European servers. This type of on-premises offering helps you save on internal tech and security teams and ensure that our teams will monitor the infrastructure, provide the appropriate level of maintenance, and implement security procedures.
In this post, we will walk you through all the twists and turns of on-premises app analytics to demonstrate how it can benefit your organization. Of course, we understand that your organization is like no other and has specific requirements, but some functionalities are the bread and butter for every company. So, off we go!
1. Data is in your hands
Maintaining high safety and privacy standards is no easy task. Your organization most probably operates within strict protocols and policies that determine who can access certain data and information you collect.
By choosing self-hosting deployment, you make your job easier as you can store, process, and archive data on your own servers or other ones of your choice. This way, all processing takes place under your watchful eye.
What's more, developing software in your stack and introducing new technologies to an organization involves the burden of more security issues. This is because the responsibility of handling data is shared with someone else. However, with app analytics hosted on your own infrastructure, there's far less need to worry.
Of course, you should be careful, but after all, you keep 100% control and ownership of your data. It's entirely up to you how the data is managed. So you can be sure no data is shared with third parties, and you can establish robust security standards and policies.
Free Comparison of 4 Enterprise-Ready Mobile App Analytics Tools
Discover 30 essential differences between Mixpanel, Flurry Analytics, Google Analytics and Piwik PRO to find out which tool suits your business's requirements
Download FREE Comparison
2. Stand guard over your data
If you're part of a digital ecosystem, you realize that data security is a valuable commodity. It should be a cardinal principle of your company. The problem of data safety is especially acute with organizations operating in the banking, finance, health, and governmental sectors.
Not only do they handle a wealth of personal data, but also sensitive data – and that comes at a higher risk.
Bear in mind that any data breach or leak could have a tremendous impact on the whole organization. It's not only a matter of your company's reputation but also the development of your software and services.
70% of financial institutions regard security concerns as one of the biggest impediments to mobile banking adoption, as revealed in a survey taken in five of the Federal Reserve Bank districts in the United States.
Safety issues concerning data haunt many fields of business. In this area, prevention seems to be the best cure. Though data security can be approached in various ways, it's vital to ensure that access to your app analytics data is highly restricted.
If you choose a reliable vendor for your app analytics software, you can rest assured that your data is thoroughly protected. Wondering how can you accomplish that?
First of all, as we've already said, you can store all the data on your own servers. So you know where it's located and who has access to it. What's more, as you store data on-premises, you can properly adjust your app analytics setup to internal data security policies and procedures.
To be more precise, you gain full access control. It means that you're in charge of your infrastructure configuration and can adjust it to comply with your internal security rules. For instance, you decide whether you will be able to change the settings of certain sites or mobile app analytics.
Then, you can apply Single Sign On. With this functionality, you can manage all your users in a central database and employ SSO (Single Sign On) for logging into your app analytics module using LDAP (Lightweight Directory Access Protocol), SAML (Security Assertion Markup Language), or other enterprise standards.
Finally, you can take advantage of Audit Logs. These provide you with detailed logs of all activities happening on your platform. They let you closely monitor and review:
login attempts
modification of instance settings
password updates
any reporting API requests
Keep in mind that the safety of your customers' data lies not only in protection and setting access rights to it. You also need to consider what kind of data you aggregate and how you manage it.
Once you know all the requirements, you can apply further security measures like:
These methods are your allies in the struggle to achieve legal compliance. However, you don't have to do the work by yourself. Some vendors, like Piwik PRO, provide automatic app analytics data anonymization and support the implementation of all your security procedures.
All in all, with a holistic approach and an array of functionalities, you can sleep sound knowing that you're achieving top-level security.
3. Make regulators and privacy-concerned clients happy
For organizations operating within a digital ecosystem, data privacy legislation and security are of the utmost importance. But at the same time, they create serious challenges. Privacy laws vary across countries, and besides local ones, there are international rules, like GDPR.
That's why you need to consider solutions that take the burden off your shoulders and help you follow the letter of the law. On-premises app analytics is a reliable partner in your compliance drive. Multinational enterprises go for this deployment because of the privacy regulations in force in the countries they operate in.
For instance, China and Russia only allow for storage of their citizens' personally identifiable information within their respective borders. The same rule applies to the European Economic Area (including EU Member States plus Iceland, Liechtenstein, and Norway).
It means that if you want to collect and process the data of these countries' residents, you have to have a data center in each of these countries. In the case of certain European Union countries, it may be enough to have a server located within the EU's borders.
Finally and importantly, compliance with various privacy laws and regulations requires you to maintain control over data and its storage. That's why it's vital for you to find the right app analytics vendor. In the case of Piwik PRO, you have full ownership of data by design and know exactly where it's located.
4. Wield analytics reports with raw data
Analytics demands precision. As your app analytics orchestrates your marketing strategy, you need to be sure it has all the instruments in line; in other words, you acquire accurate data. That is the key to good reporting. You need data that you can trust. Otherwise, you simply won't get any benefit from it.
Experts in various IT fields stress that among the numerous dimensions that impact data quality, the most prominent ones are accuracy and completeness.
You need to be sure that the data you collect represents exactly what happens on your mobile app or website. Also, you should be able to tap into precise information from across your whole digital business so you can better measure, analyze, and grasp it.
When we talk about data accuracy, we mean raw, unsampled data. Unfortunately, not all vendors offer this.
However, you can find partners on the market, like Piwik PRO, that offer on-premises app analytics to deliver full data sets to you, not just samples. Access to raw data gives you precise and in-depth reports, a prerequisite for a sound strategy and decision-making process.
To sum up:
On-premises app analytics should be a key tool in your marketing arsenal. But maybe you want to know more about how to optimize the customer journey across the web and mobile – because of the complexity of the issue, we've only provided an introduction here. So if you have any questions, don't hesitate to drop us a line. We'll be more than happy to fill you in on all the details.
read also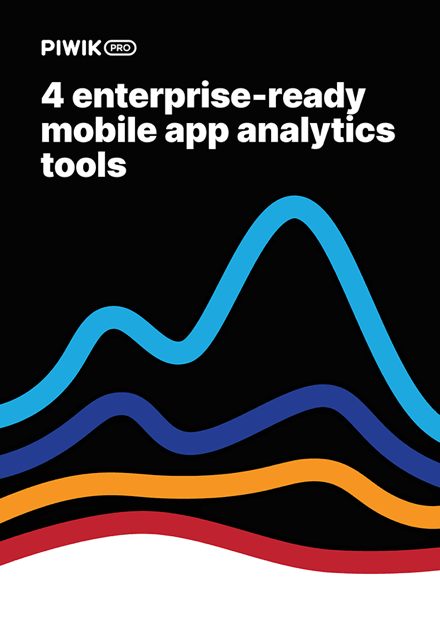 read also
Free comparison of 4 enterprise-ready mobile app analytics tools
Discover 30 essential differences between Mixpanel, Flurry Analytics, Google Analytics and Piwik PRO to find out which tool suits your business's requirements