Increase customer lifetime value
Identify weak spots in your customer journey
Data empowering online & offline sales
Identify weak spots in the customer journey
Find out which products are being left in the cart and what is their value. Compare the cart abandonment rate with cart success rate. Learn if your customers experience any issues during their journey. Use Piwik PRO Customer Data Platform and custom reports to analyze your customer journey weak spots.
Get the real customer value
Learn of the revenue generated by your customers in their entire life cycle. Integrate e-commerce data from web analytics with transactional data from the e-commerce platform or CRM. Find out what is the true customer lifetime value based on data from all your transactions, both offline and online.
Utilize customer maturity models
Use customer maturity models for advanced customer segmentation and marketing optimization. Learn how your clients move through their journey from anonymous visitors, through newsletter subscribers, 1st time buyers to loyal customer. Empower your customer support with data on when to call potential customers.
Support brick & mortar sales
Get detailed information on the popularity of your offers and marketing efforts in specific geographical regions. Learn which online discounts and deals lead to the best offline responses and activate your clients in your brick & mortar stores. Support your regional managers and improve your offline sales with online data.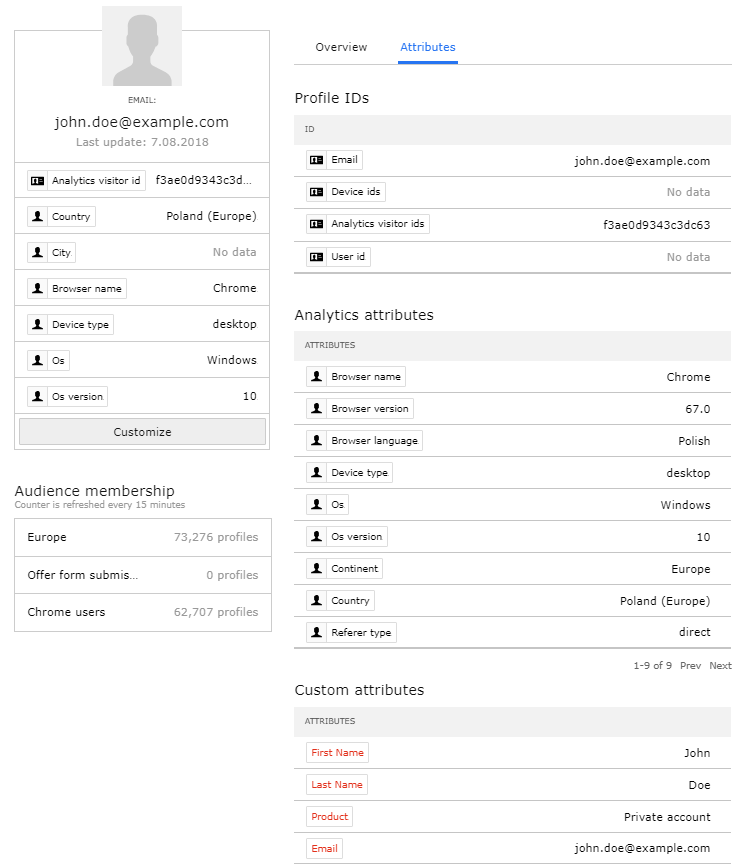 With Piwik PRO Analytics Platform you can:
Eliminate data silos
Remove all data silos by integrating all your data points into a single customer profile. Get the full picture of your customer journey by unifying your web analytics, transactional, CRM, and offline data from brick and mortar stores.
Optimize your marketing & sales process
Get detailed reports on the performance of your offer, discover trends in your consumer behavior and shifts in interest in different geographical areas. Learn which channels are less profitable, and use acquired data to make changes in your offer and increase your ROI.
Empower customer support
Crate detailed customer profiles (by combining behavioral web analytics data with CRM and e-commerce data) and take advantage of the ability to retrace the whole journey of your clients with Piwik PRO granular single customer view. Empower your support team with this data to improve the experience of your customers.
Improve the CRO process
Create advanced reports on the fly with Piwik PRO custom reports and identify optimization opportunities on each step of the funnel and customer journey. Use gathered insights to make data-driven decisions on improving the UX process and optimizing the conversion rate of your e-commerce platform.
Let us walk you through all the functionalities of Piwik PRO and answer all of your questions!