With Piwik PRO Custom Reports you'll be able to:
Track websites and apps with over 2 billion events
Quickly create reports even for websites and apps with 2 billion events per month.
Piwik PRO is powered by ClickHouse, a column-oriented database management system, which allows us to generate data reports in real-time and process each query instantly (peak performance for a single query: over 2 terabytes per second).
Create advanced reports on the fly
Explore and visualize data in a hassle-free way – no database expertise required.
Build your reports, and advanced charts in seconds with Piwik PRO's simple drag and drop editor.
Take advantage of that flexibility for both planned and ad hoc reporting tasks.
Create effective dashboards
Use custom reports for more effective dashboards – metric-driven operations and quick tracking of KPIs.
Create more flexible and attractive charts to get a visual representation of your custom reports.
Easily share your reports and dashboards with key stakeholders in your organization via e-mail or URLs.
Combine metrics, dimensions & events
Choose the metrics and KPIs most important for your organization to get the most out of your reports.
Mix and combine metrics, dimensions and events to create and filter reports. Narrow down the scope of your reports by segment and time period.
Check how Piwik PRO compares to other vendors:
Free Comparison of 5 Leading Web Analytics Vendors
Compare 40 Variables of Web Analytics Software: Piwik PRO, Google Analytics 360, Webtrends, Adobe Analytics, and Etracker Analytics

Piwik PRO Analytics Suite allows us to gather more granular data about website visitors while having full privacy compliance. Piwik PRO's customer success team ensures our system is fully operational and working at 100% efficiency.

OLIVER MICHLER SENIOR PRODUCT MARKETING MANAGER OPEN-XCHANGE
With Piwik PRO Custom Reports you always get: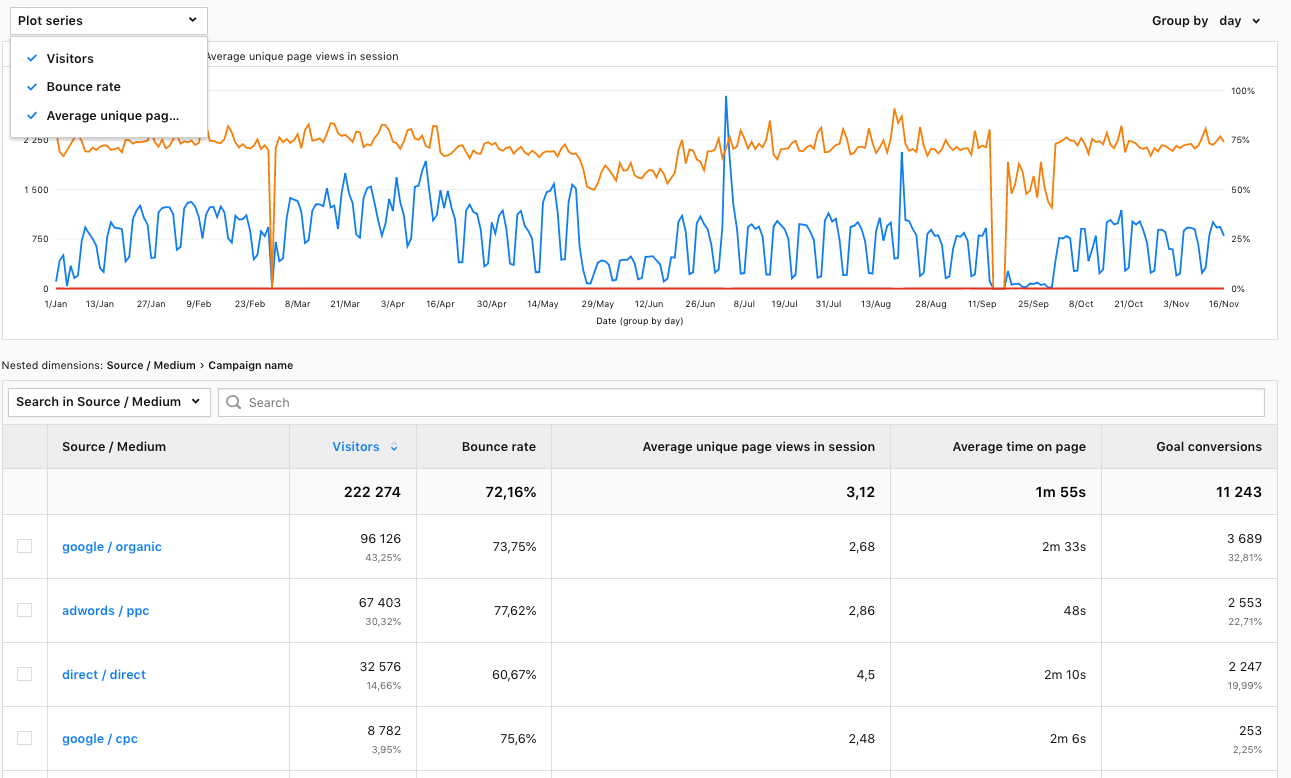 Seamless processing of raw data
Create custom reports and see results in real-time. Benefit from a more efficient data architecture with no processing issues, especially important if you're a Matomo (formerly Piwik) user. Piwik PRO utilizes ClickHouse technology which can store and process metadata on 10 billion events with over 1000 attributes per event.
Minimal maintenance, even for high traffic environments
Benefit from maximum uptime, high server reliability and no performance issues. Receive fast, competent support to sort out any of your analytics issues. Piwik PRO Custom Reports was built with high traffic in mind, so you can run queries more efficiently and create a better user experience.
New methods of visualization
Take advantage of flexible report visualization templates to share results that your team will easily understand. Create reports using flat or nested tables (with a number of nesting levels available). Mix your tables with a variety of charts, apply filters and segments to your reports on the fly and get a clear visual representation of your report.
Find out how to create custom reports in seconds for websites and apps with over 2 billion events with Piwik PRO