Why Piwik PRO SharePoint Analytics?
Piwik PRO SharePoint Analytics lets you gain deeper insights into all usage areas within your SharePoint service. It is the fastest, most direct, and clearest way of identifying user engagement and overall productivity levels. Based on the data and information displayed in Piwik, you'll be able to discover how well your company leverages the intranet platform to meet current business and team objectives, and then set goals to improve them.
Visitor Profile
View the session history of all your SharePoint users.
Site Search
Discover keywords, phrases and the most clicked-on results.
User Activity
Collect and integrate first-party data from various sources including web analytic platforms, CRM tools and transactions systems, marketing automation platforms and Piwik PRO Tag Manager.
Page Titles
Find out which pages are the most popular.
What Can SharePoint Analytics Do For You?
Uncover and analyse your users engagement, contributions, and productivity, then set goals to increase them. Integrating Piwik PRO with your SharePoint service enables you to track a whole range of areas and actions that will reveal how engaged and active your users are and their interaction with the various pieces of content contained within your SharePoint. By setting Goals, you will be able to increase your users productivity levels and achieve certain business and team objectives.
Integrate SharePoint With Piwik PRO On-Premises
SharePoint integration is available to all Piwik PRO On-Premises subscribers. We provide you with a package that is compatible with SharePoint 2010, SharePoint 2013, SharePoint 2016 and Office 365.
The Piwik PRO SharePoint Analytics Dashboard
A detailed snapshot of the main areas of your Piwik PRO SharePoint Analytics service. Add, remove, and rearrange the widgets to display the most relevant information on your Piwik Dashboard.
Visitor Profile
The Visitor Profile displays important data and information about your SharePoint users. You can view each individual user's session history to see what actions they completed on any given day in the past.
Visitor Log
The Visitor Log provides real time data on the users in your SharePoint service. The unique Piwik ID and custom variables enable you to identify each user and view their actions in real time.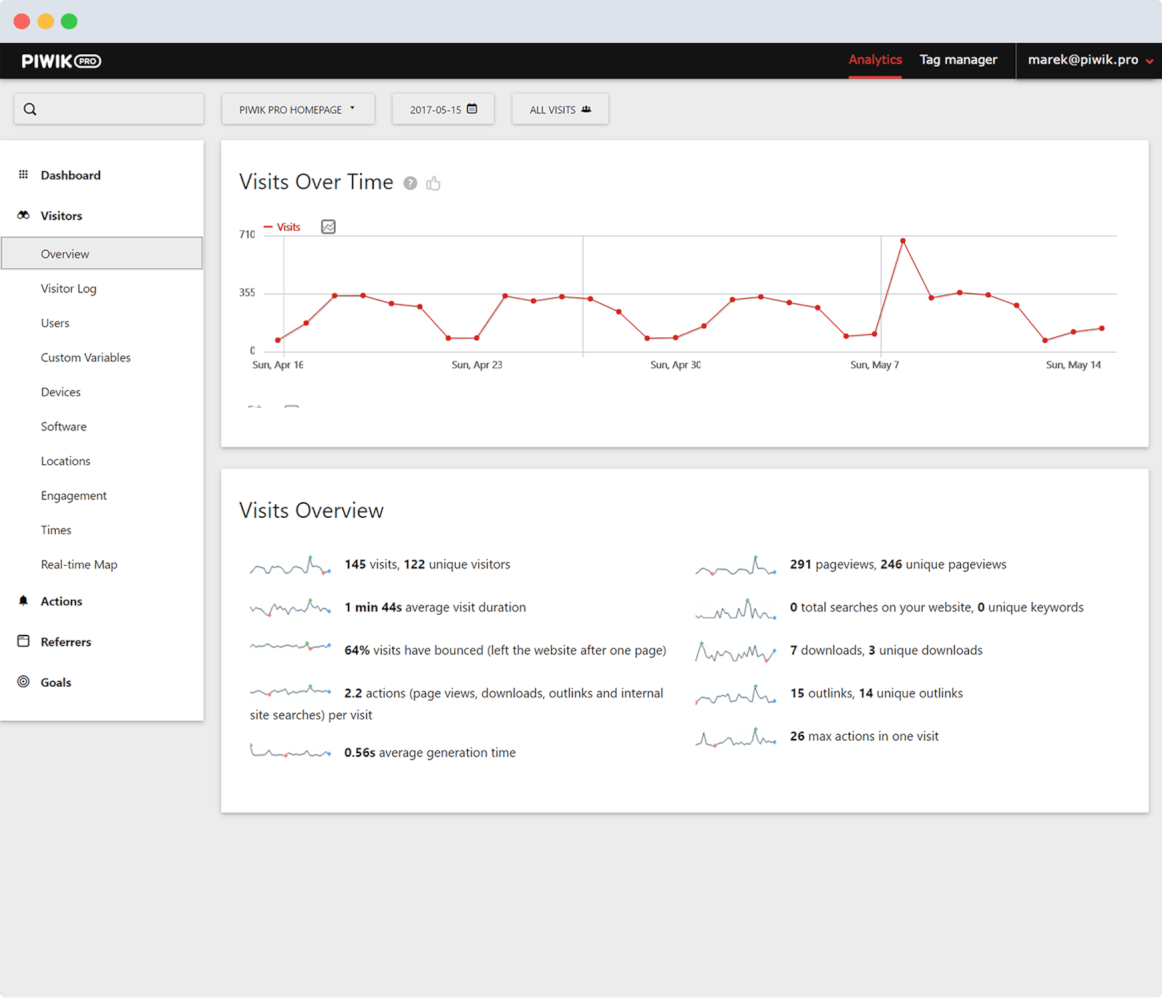 Learn more about Piwik PRO Web Analytics: