With Piwik PRO On-Site Retargeting you'll be able to:
Retarget users even in secure member areas
Retarget users in a privacy-friendly way while respecting their privacy with Piwik PRO's advanced privacy and security features.
Analyze your users' activity in post login areas, create highly segmented audiences and reach them with on-site retargeting campaigns.
Turn first-party data into intent triggered content
Gather and analyze data from devices and apps, use transactional and CRM data and merge it with information on online and offline interactions to create detailed user profiles.
Empower your win-back campaigns by enriching your profiles with data imported from CSV, API, or single customer views.
Retarget users in a privacy-friendly way
Deliver intent triggered messages to bring your customers back into the customer journey. Remind them about your offer, show them what they're missing, reduce the rate of abandoned carts and win them back.
Re-engage customers with up- and cross-sell product recommendations. Use customer's history and interest data to identify their needs, preferences to adjust your offers and set the right time of their promotion.
Improve user experience with custom pop-ups & content
Support your lead generation and lead nurturing campaigns effectively through non-intrusive pop-up messages.
Launch exit, time, scroll and other behavior triggered pop-ups and messages.
Display customized content such as banners, ads and other HTML elements to effectively engage with your users and improve the overall user experience.
Get the Whitepaper
Free Comparison of 5 Leading Web Analytics Vendors
Compare 40 Variables of Web Analytics Software: Piwik PRO, Google Analytics 360, Webtrends, Adobe Analytics, and Etracker Analytics

We provide onsite marketing solutions to over 20,000 small and medium sized businesses across the globe. All of the analytics are run on Piwik PRO. Piwik PRO have proven themselves to be a trusted partner, in running Piwik PRO operationally with maximum uptime and being able to customize Piwik PRO to our unique requirements.

DAVID OSBORN
IT PROJECT MANAGER, SPOTZER MEDIA
Explore the features of Piwik PRO On-Site Retargeting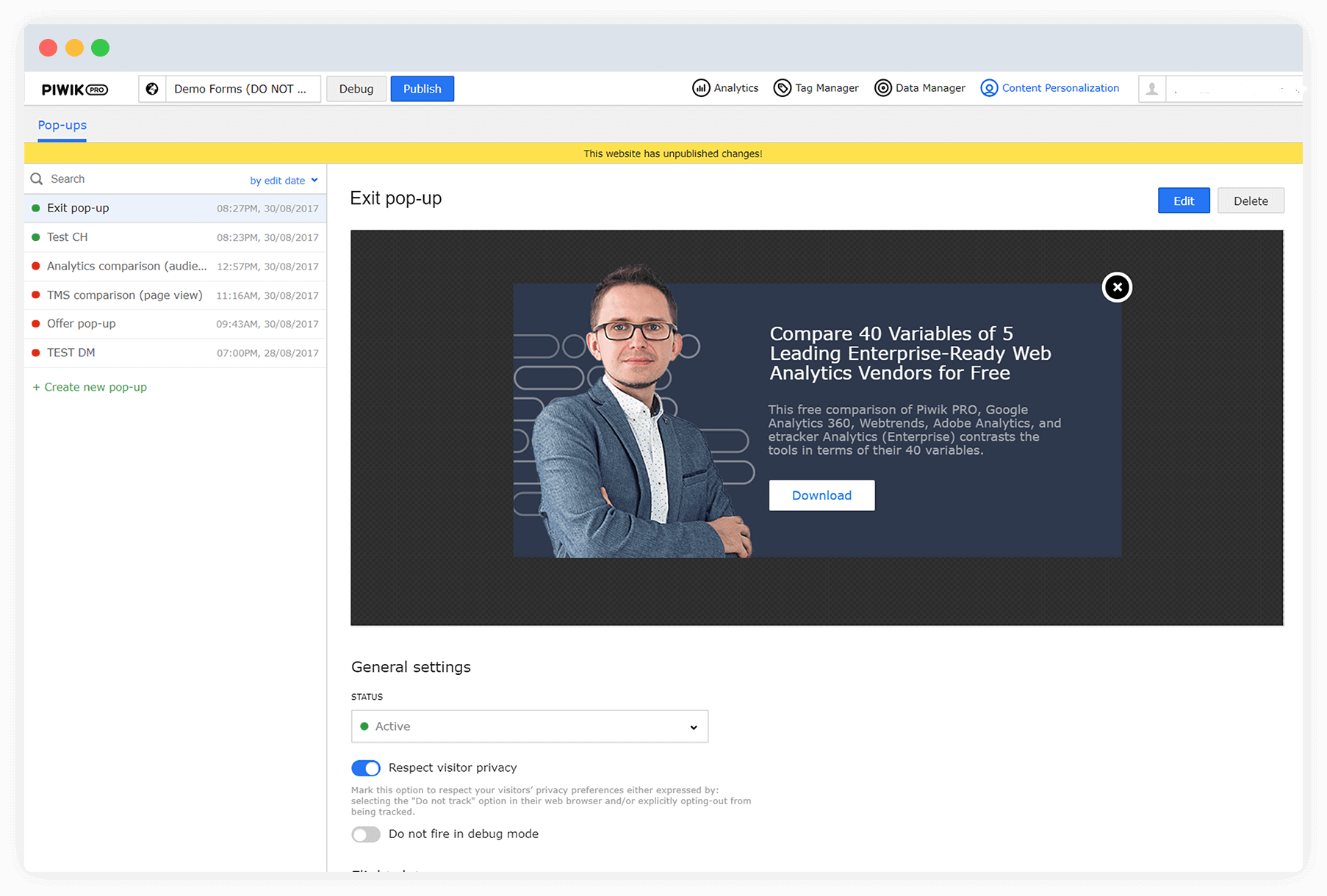 Run on-site campaigns while staying privacy-compliant
Create highly targeted segmentation groups and provide them with content based on the GDPR compliant data obtained with the user's consent. Comply with international data privacy laws, including HIPAA and GDPR. Collect your visitor consents to respect users privacy and efficiently manage all data subject requests with Piwik PRO Consent Manager.
Run on-site campaigns quickly & efficiently
Create pop-ups and creatives with ease without involving your IT or design departments. Deploy new intent triggered content, run A/B tests and implement changes by yourself from the easy-to-use Piwik PRO interface. Take advantage of Piwik PRO pop-up visual editor to create a new pop-up from scratch without CSS, HTML and JavaScript knowledge.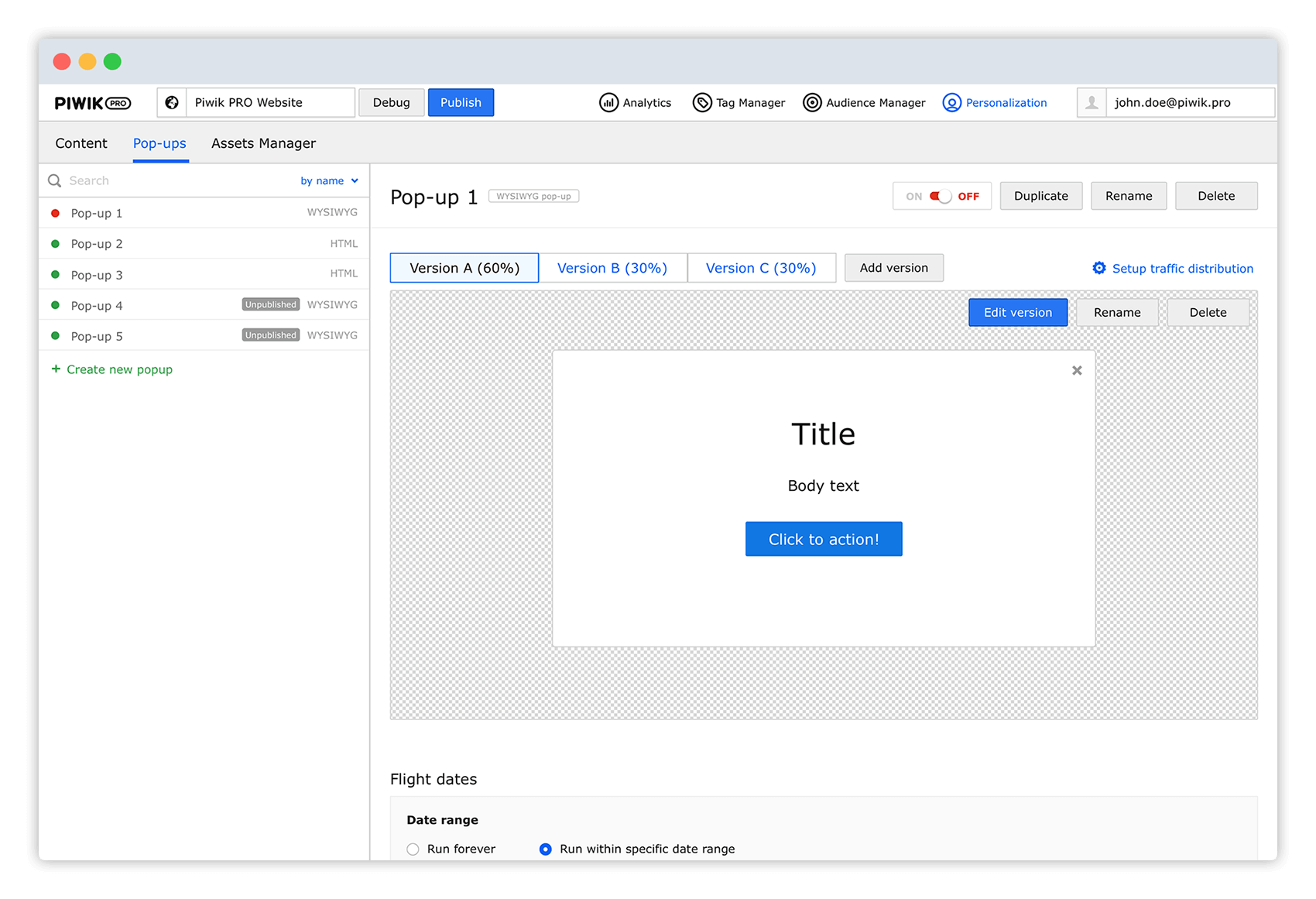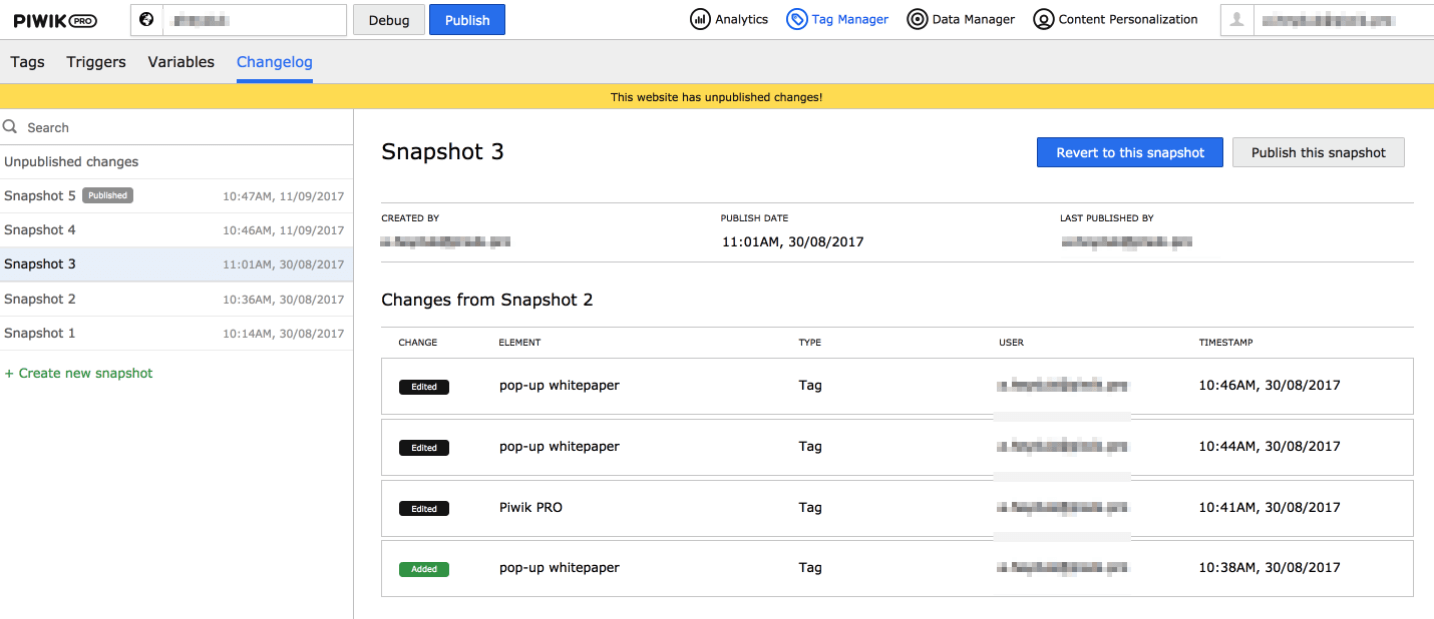 Get detailed reports of your campaigns performance
Measure your visitors' engagement with intent triggered content and view performance metrics for pop-ups and campaigns. Use data from reports on impressions, clicks, click-through rate, conversions to make informed decisions while optimizing your content.
Learn how to run effective on-site marketing and retargeting campaigns with Piwik PRO