SharePoint and Office 365 analytics – On-prem, cloud & private cloud hosting
Dedicated SharePoint analytics on a modern analytics platform
Take advantage of powerful analytics designed for SharePoint. At the same time, benefit from the high performance and flexibility of the Piwik PRO web and mobile analytics platform – user-friendly and customizable with drag-and-drop custom reports.
Support for your particular needs and use cases
Get insights fast with a plug-and-play SharePoint application. Make the platform yours by adding and adjusting capabilities. Our multi-functional team will be with you every step of the way – implementation, onboarding, training and detailed technical support.
Built-in SharePoint analytics has too few features. Google Analytics lacks data privacy and isn't built for SharePoint. Piwik PRO offers the perfect alternative. See how it compares to other dedicated SharePoint analytics platforms:
| | Piwik PRO SharePoint analytics | CardioLog Analytics | HarePoint Analytics | Webtrends Analytics for SharePoint |
| --- | --- | --- | --- | --- |
| Dedicated analytics platform for SharePoint | | | | |
| Modern drag-and-drop report editor | | | | |
| Dedicated account manager & technical support | | | | |
| Track and combine data from other websites, SPAs and mobile apps | | | | |
| On-premises hosting | | | | |
| Private cloud hosting | | | | |
| Price | | | | |
"Our goal is to give customers detailed data about SharePoint user behavior along with an easy and intuitive way to create custom reports and dashboards from that data."
Piotr Harmasz
Product Manager at Piwik PRO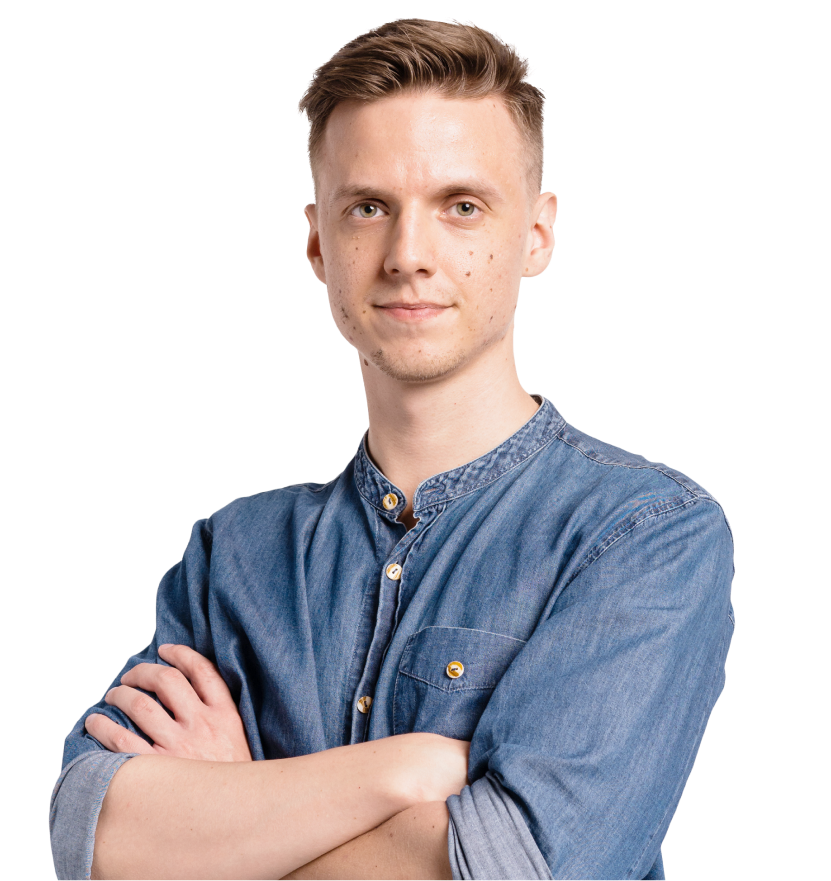 Increase intranet adoption & engagement
Ensure that your employees make good use of SharePoint. Analyze their behavior based on job titles, locations, offices and departments. See how often they log in, what they spend time reading and what actions they take.
Improve internal communication
Encourage a steady flow of information between different offices and departments inside your organization. Recognize top contributors and incentivize all employees to interact with, and contribute to, your digital workspace.
See what users consume and create
Analyze the performance of internal email campaigns, pages, documents, announcements and more. Check what kinds of content users most often create, read, interact with and promote.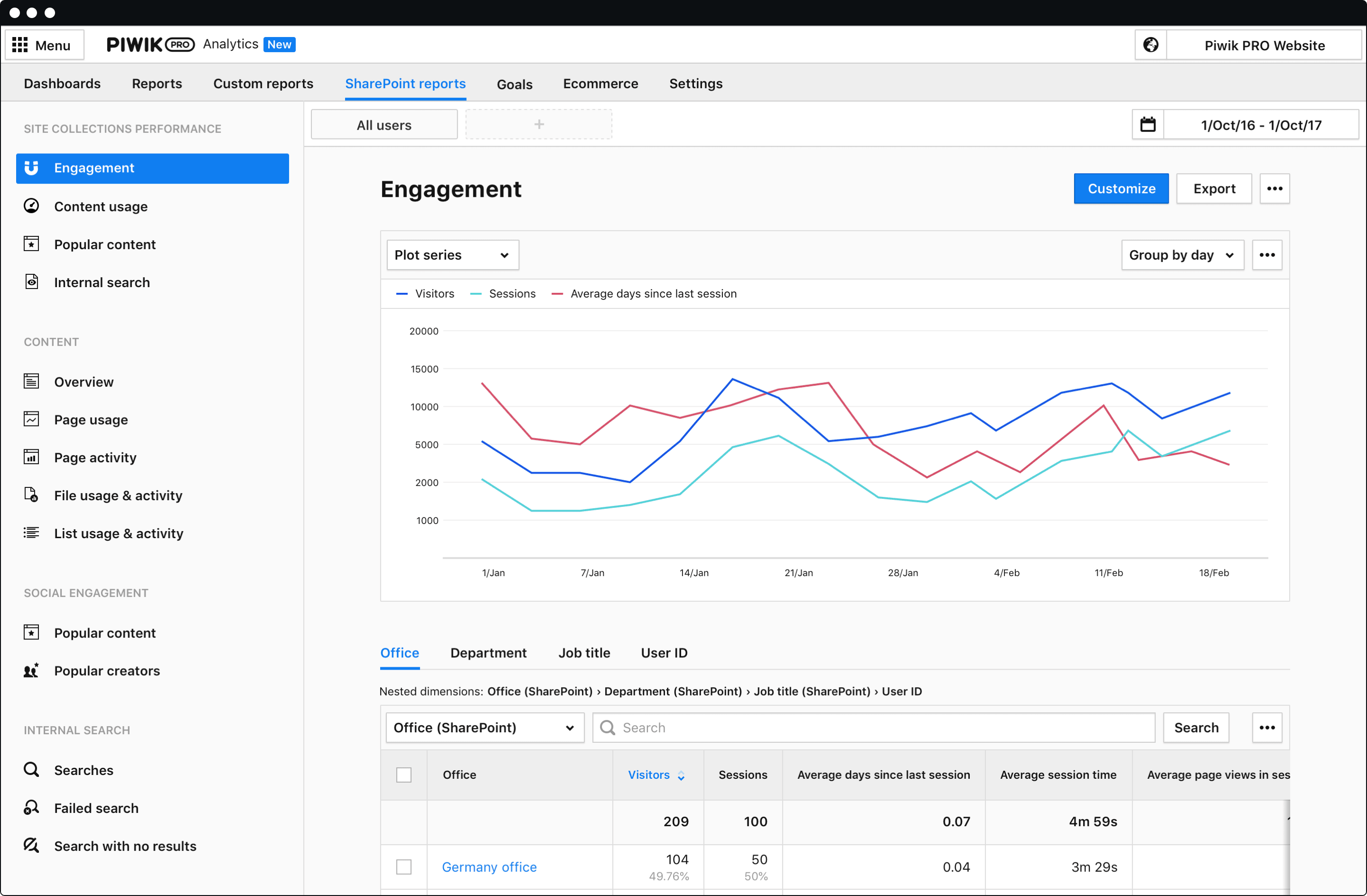 Know what content is in demand
Detect which keyword searches lead to blank results, outdated documents and files. Create new content that answers the internal demand or optimize the existing resources to make them easier to find.
Improve user satisfaction
Analyze user experience of your SharePoint instance. Spot slow loading pages and issues across the devices. Remove these roadblocks, allowing your employees to easily achieve their goals.
Validate investment cost
Investigate which segments of users pick up SharePoint at the slowest pace and help them use it more effectively. Detect unpopular content and dispose of it to free up storage space and avoid unnecessary spending.
"Piwik PRO is very easy to use and we don't have any problems with creating reports, so we can easily deduce meaningful conclusions. With data from Piwik PRO SharePoint analytics it's easier to justify our internal projects and get an in depth view of what our employees search for. Since 2016 it has improved the quality of our internal processes and made global collaboration efficient."
Philipp Kirchmeir
IT Application Consultant, Greiner AG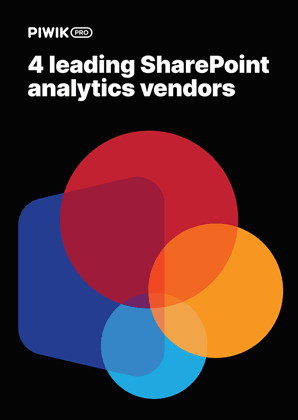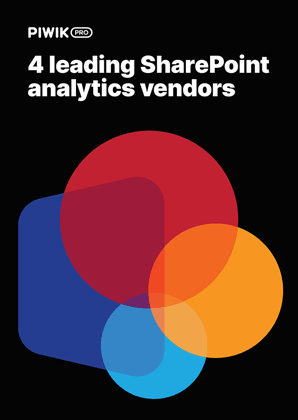 Compare four leading SharePoint analytics platforms
Learn the key differences between Piwik PRO, CardioLog, HarePoint and Webtrends
Download
What you'll get with Piwik PRO
Plug-and-play integration
Easy integration with Piwik PRO: classic and modern layouts; SharePoint 2013, 2016, 2019, Subscription Edition and the latest version of Office 365. No coding required.
High-touch support and custom development
Get started fast with onboarding and personalized training sessions. Custom development and integrations are also available if your use case demands them.
Secure hosting
Keep your data on-premises (in your own cloud subscription with one of our certified cloud providers), in a private cloud (60+ Azure regions, and European-owned Orange Cloud and Elastx), or in the public cloud in the US, Hong Kong, the Netherlands, Germany, France or Sweden.
IP anonymization
Take advantage of an anonymization feature to mask the IP addresses inside your organization.
Access control and user groups
Integrate your user accounts directory stored from a central system – SAML or LDAP. Assign teams and stakeholders different permission levels inside the platform.
Compliance and data privacy
Collect and process employee data with full respect for GDPR and other privacy laws around the world.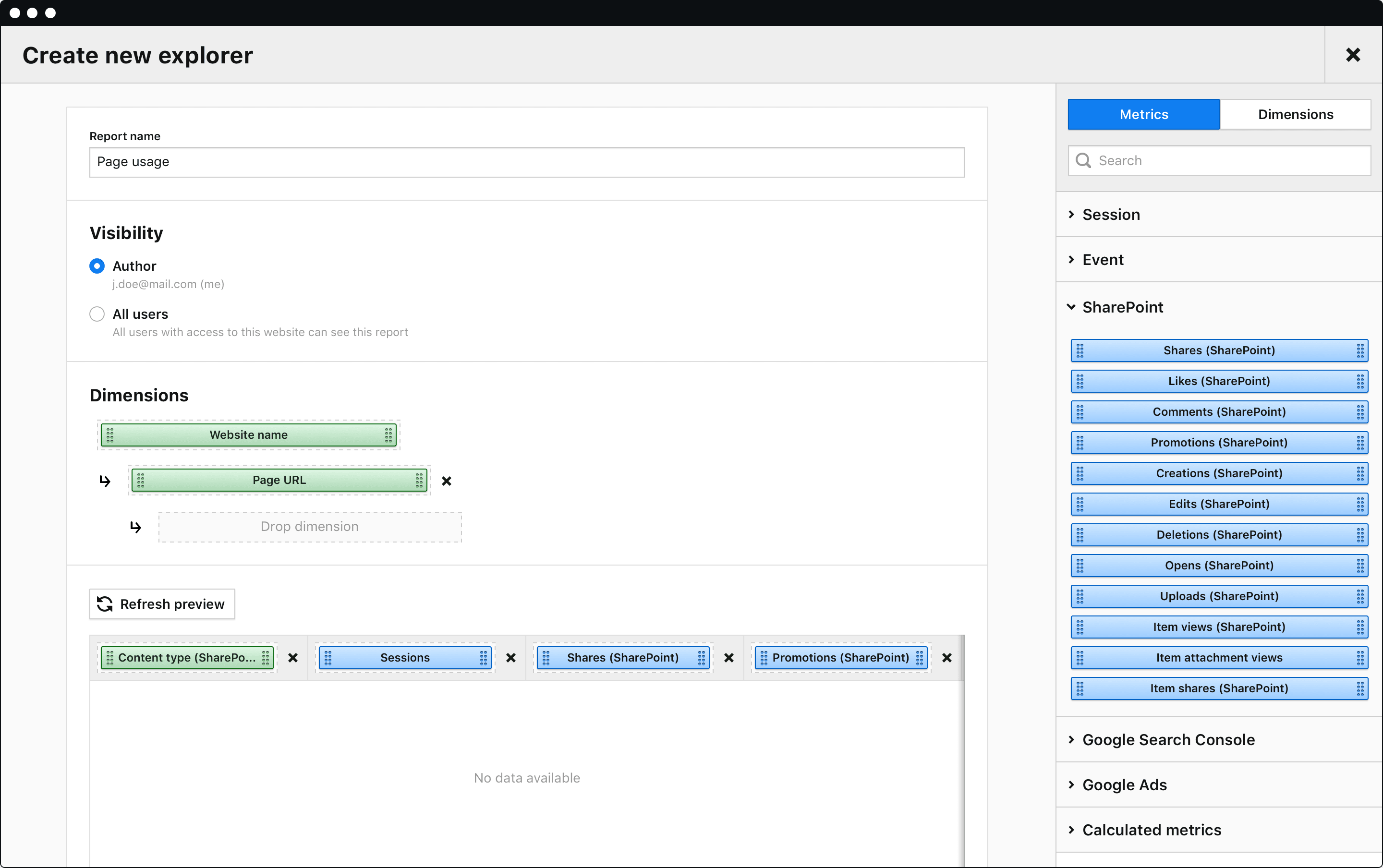 Detailed out-of-the-box reports
Analyze site collection performance, content activity (files, pages, lists), search effectiveness, social engagement and more
Get insights from intuitive tables, charts, funnels and user flow reports – all easily modified with our drag-and-drop report editor
Explore data grouped by different content attributes, user interactions and areas of your organization
Custom reports and dashboards
Create an unlimited number of custom reports and dashboards with a modern, user-friendly editor
Create any report you need in a few clicks based on all possible combinations of your dimensions and metrics
Explore data with filters, segments and custom dimension value grouping – add calculated metrics for extra precision in reports and dashboards
Rich user profiles
Connect user profile attributes from Active Directory with analytics data
Build detailed segments to analyze data through the lens of your company structure
Protect user privacy by anonymizing all data or the parts you choose
Compatibility
Integrate Piwik PRO with SharePoint 2013, 2016, 2019, Subscription Edition and Office 365
Use Piwik PRO for both classic and modern SharePoint layouts
Collect data from external websites, mobile apps and any digital product within the same analytics platform
Customization
Choose which pieces of user profile data you want to pass to analytics
Add and remove attributes to be tracked along with content usage
If needed, deploy dedicated scripts to track your customized SharePoint environment
Easy data export
Create scheduled reports using any default or custom reports and dashboards
Export data and reports to CSV, XML, JSON, PDF, JPG and PNG file formats
Export data to external tools such as Power BI, Tableau and BigQuery
Learn more about the benefits of Piwik PRO SharePoint analytics
We'll be happy to answer all your questions!
Get a custom demo