How can Piwik PRO Tag Manager extend your Piwik PRO capabilities?
Using the full potential of Piwik PRO analytics often requires gathering large amounts of data, especially when you are dealing with many web pages and a high volume of visitors. Thanks to Piwik PRO Tag Manager you can not only quickly implement, test and fire a vast number of tags to get the data you want, but you can also accomplish a range of specialized tasks to enhance your analytics reports, all without the headache of involving IT support staff.
Event Tracking Templates
Collect and integrate first-party data from various sources Implement Piwik events fast and easy with Piwik PRO Tag Manager. Without IT support and accessing the website source code. Attach Piwik events easily to button clicks, form submission and many more.
Custom Dimensions & Variables
Add custom dimensions and variables to your reporting with Piwik PRO Tag Manager hassle free implementation. Implement Piwik custom dimensions & variables Without IT support and accessing the website source code
Multiple Instance Tracking
Deploy changes to the Piwik tracking code within seconds even if you manage hundreds of Piwik instances. Great for managing a large portfolio of websites running on Piwik.
Custom Piwik Integrations
Use Piwik PRO Tag Manager for an even bigger range of Piwik custom implementations like Content Tracking, Virtual Page Views, Cross Domain Tracking, Adjusting Time Spent and more.
Improved site performance
Maintain a positive visitor experience by keeping load times to a minimum while deploying all the tags you need for powerful analytics.
Increased agility
Using Piwik PRO Tag Manager makes it easier to implement and change tags in order to deploy and optimize marketing and advertising campaigns.
Reduced IT costs
Let your marketing and data analysis teams take direct control over tag management and save money that would otherwise be spent on IT support.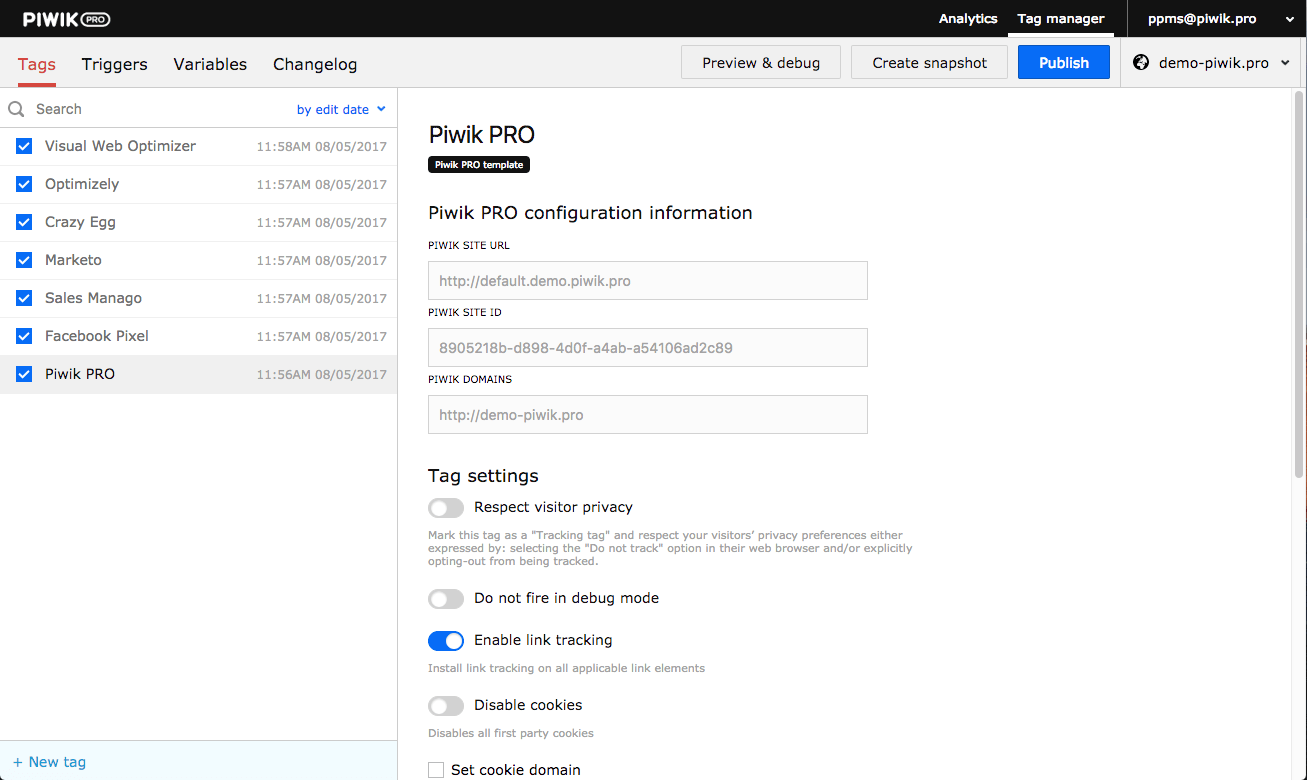 Learn more about Piwik PRO Tag Manager: