What can Piwik E-commerce Analytics data do for you?
If your organization depends on online sales, you need detailed analysis to transform raw e-commerce stats into actionable insights. Revenue, orders, conversion rates, and a host of other product statistics can be analyzed by integrating Piwik with your e-commerce solution. Get real-time data and drill deeper into individual user behavior to understand how to optimize your users' experience.
E-commerce Log
Drill deeper into fine-grain reports on individual users. Follow the customer journey and track interactions by individual visitors with your store: e-commerce orders, cart updates, and product page views.
Goal Tracking
Set e-commerce conversions as goals in your Piwik instance to measure success rates of your online sales. You can add goals as new steps in your conversion funnel via Piwik PRO Funnel Analytics.
Best Products and Best Categories
Get reports on your top performers based on a range of metrics like revenue, quantity, unique purchases, average price, conversion rate, and much more.
Abandoned shopping carts
Track cart activity and cart abandonment in real time. Combine those metrics with product and category tracking to uncover more ways to boost conversion rates.
Track Product Page Views and Category Page Views
Get conversion rates calculated for each product and category by tracking product page views and category page views. Learn which pages need tweaking to boost conversion rates and generate more revenue.
Real Time E-commerce Analytics
Reports on the dashboard are updated every 10 seconds. Use the Real Time Live! widget and E-commerce Log for the most current user-level e-commerce analytics data from your shop. See exactly what your customers are doing as they do it.
E-commerce Statistics API
The Piwik Analytics E-commerce API provides quick and easy access to all of your website's visits and actions performed on it. Review records for a given day, date range, or individual user. It also can be integrated with your CRM, customer database, e-commerce database, or existing data warehouse.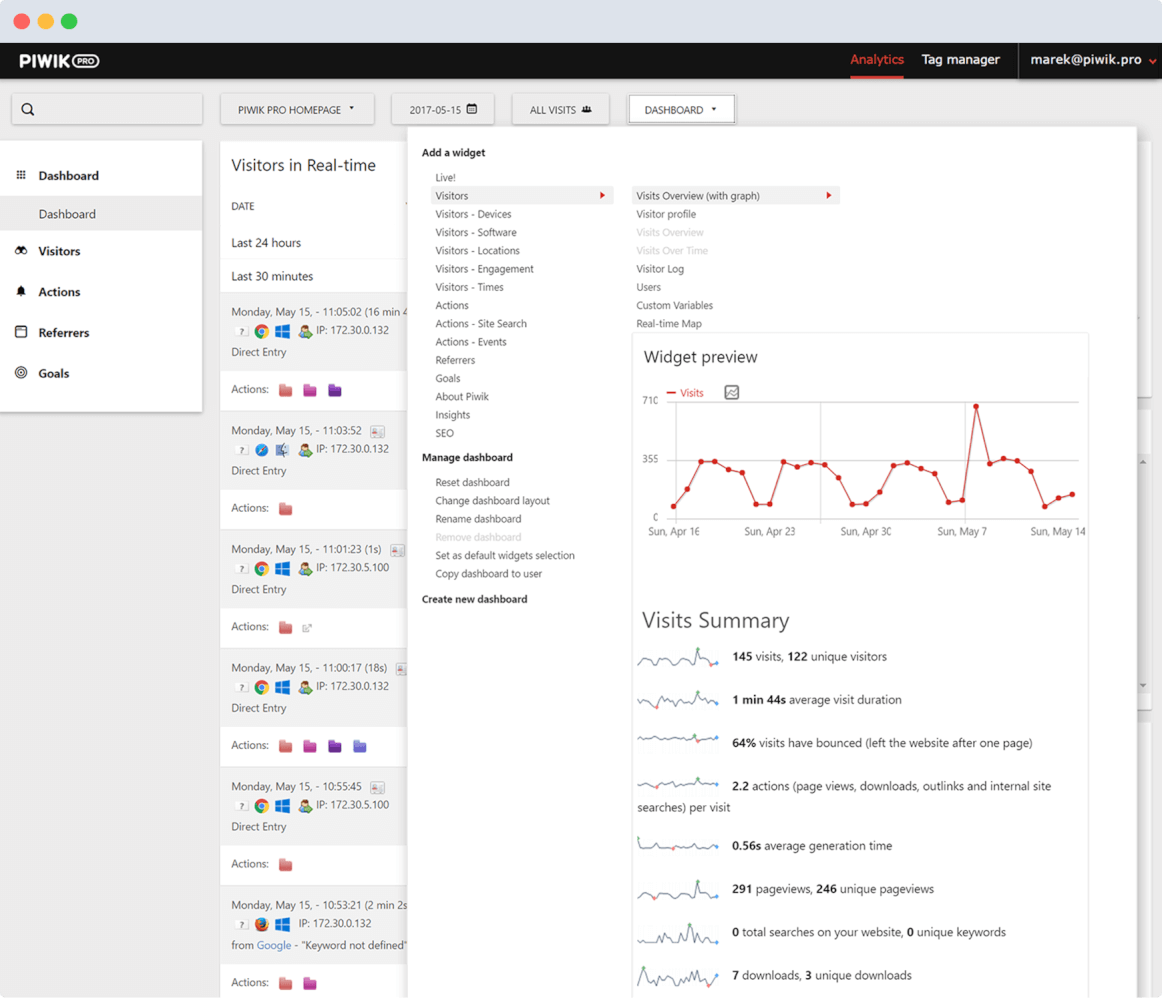 Learn more about Piwik PRO Web Analytics: