How will Piwik Goal Tracking improve my web analytics?
Use Piwik Analytics Goals to measure all the key actions relevant to your business. With detailed reports at your fingertips you can improve your website and make reliable, data-driven decisions. Track your marketing campaigns, e-commerce goals and conversions to improve your digital presence.
Record file downloads
Track user engagement with your apps, software and content. Download tracking is done automatically, no extra tags required.
Track E-commerce Performance
Put values on conversions in your e-commerce store and identify the most profitable products and categories.
Unlimited goals
Unlike SaaS analytics tools, neither self-hosted Piwik nor the Cloud version places limits on the number of goals you can track.
Campaign tracking
Identify which campaigns perform best, invest in the most profitable sources of traffic and watch your conversion rates rise.
Trigger goals for individual pages
Use Goal Tracking to record users visiting a specified URL, as well as pages with particular titles. You can also set links to external websites as separate goals, with no additional tagging required.
Custom goals
Piwik Analytics Goal Tracking allows you to manually create and track goals simply and quickly using the trackGoal function. By inserting the appropriate tags you can observe goals based on event tracking, such as button clicks, videos being played, and even mouse movements.
E-commerce goals
Use Goal Tracking to record products added to the shopping cart, sign-ups to newsletters, and all other actions that mean money for your business. You can also set up conversion funnels for every goal to get an even clearer picture of user activity.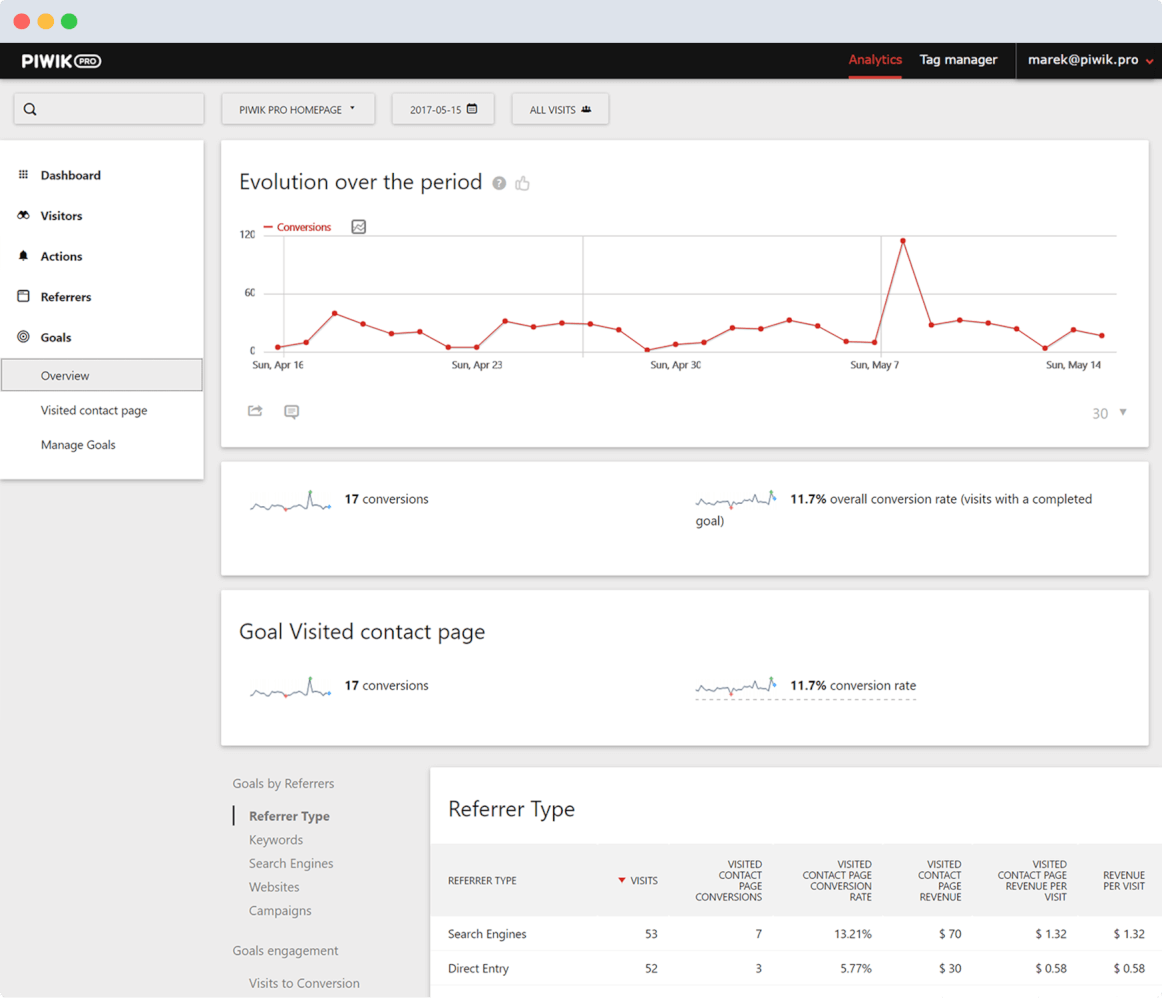 Ready to take your conversion rate to another level? Contact us and let us introduce you to the possibilities of Piwik PRO!
Request a Demo
Learn more about Piwik PRO Web Analytics: