What does unlimited data mean for your analytics?
With self-hosted Piwik, the only limit is your infrastructure capacity. Piwik can easily track an unlimited number of pages and record all the hits on your website. Reports based on 100% of sessions mean you never miss a single piece of valuable information. What's more, there are no restrictions on the number of goals, accounts, e-commerce transactions, and a range of other metrics.
Unlimited number of hits
Only you and your infrastructural capacity decide how many hits you track. Compare this to Google Analytics, which stops recording after 10M hits per month.
No limits on properties number
You can manage thousands of websites or apps from one account, as Piwik does not restrict the number of properties that can be tracked.
Keep your data even forever
You can keep your data forever, including historical visitor data and all reports. Data can be anonymized, or you can purge old logs and report data after a few months.
Set as many goals as you need
There is no need to restrict the number of goals tracked on your websites. Use this capacity to improve your business performance.
The alternative to Google Analytics
While a cloud-hosted analytics tool must protect its system from receiving more data than it can process, hosting Piwik on your own infrastructure lets you bypass limits on hits, user accounts, data storage time, number of properties, goals and e-commerce transactions.
Configure Piwik for top performance
To improve the performance of your Piwik installation, you can freely configure limits settings. The decision is yours about how much data you track, analyze, and export. Introduce limits if you prefer, but Piwik will not impose barriers on you.
Enjoy unsampled reports
With Piwik web analytics your reports are based on 100% of session data by default. You always get complete information to make truly data-driven decision and improve your business.
Optimize Piwik for the best experience
Piwik web analytics is designed to run in any environment. No matter what your server capacity, Piwik will work for you. Manage, optimize, and adjust it to your needs.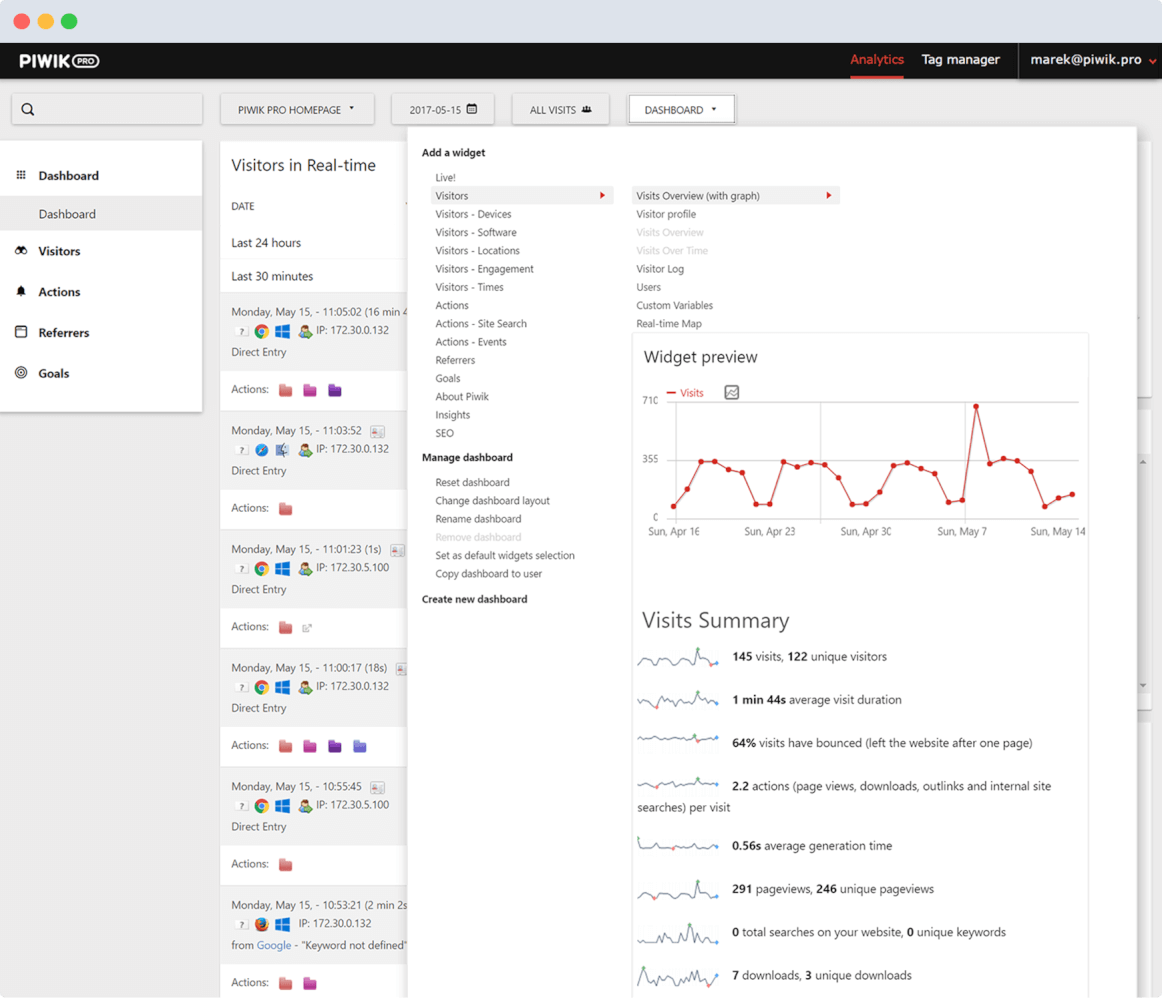 Learn more about Piwik PRO Web Analytics: