Now that GDPR has entered into force, every company doing business in the EU is obliged to ask for permission in order to process data from their website visitors.
The first months since the introduction of the regulation, however, show that many businesses don't take this responsibility seriously enough. How do we know? Because banners like the one below are still very common around the web:

And if you know a thing or two about GDPR, you know that's not exactly the kind of consent request the regulation requires.
Among other things, the pop-up doesn't exactly inform you about the ways the data controller is going to use your data (or what types of cookies they're talking about).
And that's only one example of bad practices we've found. Here you can read about more of them.
Stay informed with Piwik PRO Cookie Scanner
Fortunately, you don't have to be vulnerable to companies continuing to disregard your rights in violation of new EU law. We're launching a free tool that gives you the power to see what data the websites you visit are actually gathering about you.
By using our Cookie Scanner, you can see which cookies are launched before you consent to any form of tracking on a given website.
This means you can easily see if:
they're activating some cookies before you give permission
they're not showing you the the types of data they're gathering about you
they're sharing your data with any third parties
All you have to do is visit the Cookie Scanner website, enter the URL (address) of the page you want to scan, and leave your email address with us so we can send you a link to the report. The report will show you what cookies the site issues, in which domain (distinguishing between first- and third-party cookies), the date of expiration of the file and its content.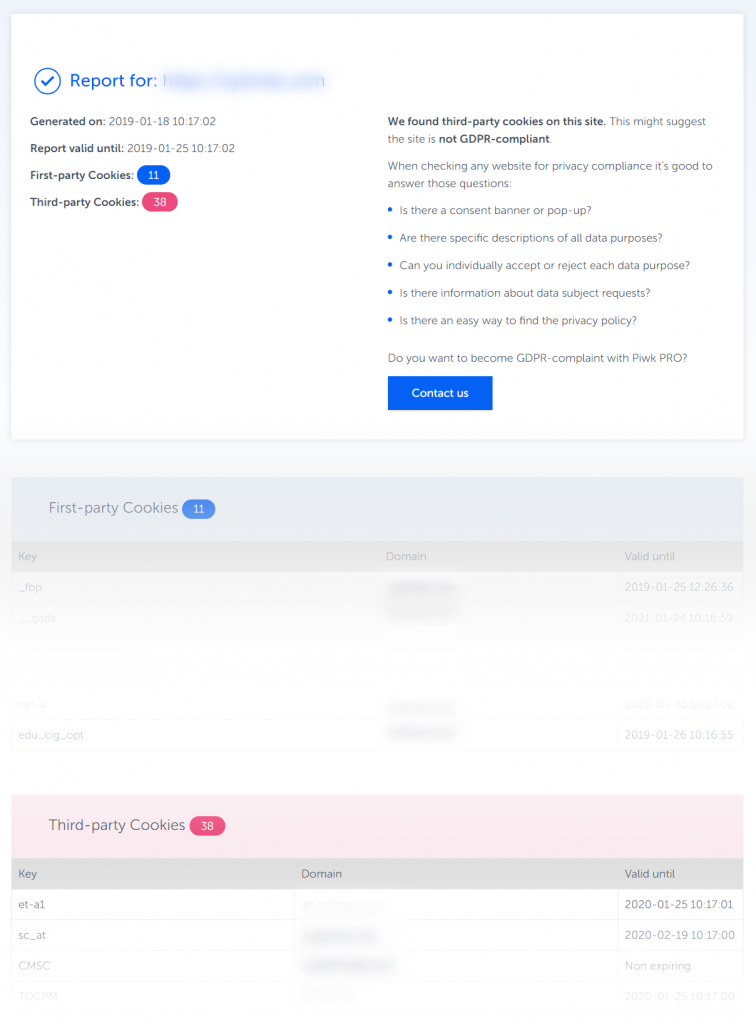 Interested? Try it out!
As we've already said, our new tool is completely free to use. So try it out it anytime you want and check which information is being collected about you by the websites you're using.
Also, we encourage you to share your thoughts about our new tool. If you want to discuss its functionalities or simply learn more about the product, don't hesitate to contact us.