Unless you have been living under a rock for the past 4 years, you've noticed that something has changed. Something about data privacy and the collection of user data.
These changes have had profound effects on marketing campaigns and the ability to track touchpoints on the customer journey.
But what's in store for marketers and businesses looking to profit from solid marketing insights? To predict the future, we must look to the past.
First-party data and permission based marketing
Over 20 years ago, Seth Godin wrote the book "Permission Based Marketing".
In his essay, Godin discussed different approaches to the 1990s mass marketing intrusive methods and introduced the concept of 'permission marketing'.
A technique where customers themselves decide whether to permit businesses to market to them. A concept based on willingness to share data. A concept built on trust.
However, the idea seems to have become swamped in the tracking frenzy we saw with the rise of digital marketing and social media platforms in the late 2000's.
Although the book may be a dinosaur in the age of digital marketing, the concept of asking for permission to collect data for marketing activities is coming back to life. And it will become a dominant factor of good marketing practices from 2023 and onwards.

Why?
There are three main reasons:
As consumers become more and more careful about sharing their personal data, companies are forced to learn that data protection and privacy can create business advantages.

A McKinsey report from 2020 showed that 87% of internet users would not do business with a company that could not sufficiently secure their data. And that was 2020. Imagine 2023!

Regulators are stepping up privacy requirements. National data protection laws are now spawning like mushrooms on a wet autumn day – GDPR, LGPD, PDPA, CCPA to name but a few.

Gartner predicts that by 2023*, 75% of the world's population will be under a national privacy regulation. Thus, the wild west of tracking will be over as legislation will end the harvesting of data without consent.

Finally, big tech companies seem to have taken privacy seriously. Google's Sandbox, the end of third-party cookies, Firefox' Enhanced Tracking Protection (ETP) and Safari's Intelligent Tracking Prevention (ITP) indicate the shift in their approach.

This March, Google announced that websites using Google products or services for conversion tracking or remarketing must collect valid consent to place cookies. Or be shut down.
That said, the privacy revolution has also changed the way we communicate with our user base. It has changed how we are able to collect insights about user journeys, intentions and interactions. It has changed the way we perceive and deal with customer data.
The new ways of obtaining data

Marketers and advertisers must now turn to new ways of obtaining data that, for example, third-party cookies have provided the past 20 years.
And here we come back to Seth Godin's permission concept. Because asking permission and obtaining users' consent is going to be crucial for collecting data and using it for marketing activities.
First- and zero-party data will be the future of digital marketing. Data that you collect. That you own. Data that you don't share with anybody. Data that is collected with the permission of your users.
When data comes directly and voluntarily from your users, you are able to build relationships with them. You are able to provide them with customized experiences that they want and desire.
Respecting their data and their choices thus creates trust in your brand.
Collecting data with a consent also removes that creepy factor consumers often experience with digital marketing.
And that's the heart of the concept. A concept based on willingness to share data. A concept built on trust.
read also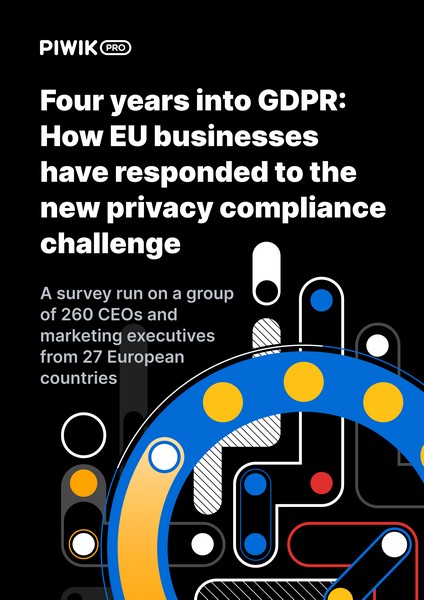 read also
Four years into GDPR: How EU businesses have responded to the new privacy compliance challenge
A survey run on a group of 260 CEOs and marketing executives from 27 European countries.