Modern companies employ various technologies for each stage of their data processes.
Data ecosystems differ between organizations based on their needs and resources, but every data stack should consist of components used to acquire, integrate and transform the data.
Collecting, organizing and managing data are key aspects of every data analytics stack, but how can you put the data to use to your business' advantage? What are your options for uncovering valuable insights and applying them to your company's processes?
One option you have is data activation, which is the final piece of the data stack puzzle.
What data activation is
Data activation involves working on customer data to convert it into insights and actions. It's the step that comes after data collection, warehousing and management.
You can activate data by sending it to various tools, such as:
Ad platforms like Google and Facebook Ads
Email marketing platforms
Marketing automation tools
Analytics and business intelligence (BI) tools like Microsoft BI or Tableau
Personalization software
Customer support platforms, such as chatbot or live chat
CRMs
You're able to benefit from the data in ways that suit your business needs while making it more actionable and usable for your teams. It allows them to better target various groups of users at the different stages of the funnel.
In doing so, data activation gives the people in your organization the ability to tie their efforts to business outcomes.
Why data activation is important
Data activation aims to solve the issue of data silos. These occur when data at an organization is held in a repository controlled and accessible by one department, often incompatible with other data sets.
For a long time, the default solution to data silos were data warehouses. However, with time, they developed the same problems.
Specifically, data in a warehouse becomes stagnant since it does not sync between platforms and isn't accessible across different teams. As a result, teams need to move back and forth between tools used by sales, marketing, product, support and other parts of the company.
In this situation, the user information lacks actionability. You can't actively use it to automate and optimize business processes to create seamless customer experiences. Marketers and advertisers strive for actionability because storing and managing data in a platform are no longer enough. This is why they are now focused on the next level of data management — data activation and audience activation.
With technologies and tools such as customer data platforms (CDP) and data management platforms (DMP), you can activate your data quickly and thoroughly. These platforms help you tackle the issue of data silos by providing single customer views across the whole organization and simplifying how you gain insights from customer data.
The benefits of data activation
Data activation means lots of new opportunities for your company — in particular, you can:
Get a better understanding of your users
You're able to recognize essential patterns in visitors' behavior through access to countless sources of information. You can compare and surface shared behaviors and traits of particular groups of people, and you're able to predict customer behavior.
This lets you spot customers and prospects who require your attention and focus your efforts on what's likely to bring the best results.
For example, you could focus on discovering sequences of actions that precede conversions, upgrades to a higher pricing plan, or churn, then encourage customers to follow specific actions to shift them in the right direction.
Or, you may identify specific groups, segment them and plan dedicated campaigns. These groups could be:
Prospects who fit the behavioral and/or demographic profiles of high-value customers.
Prospects that express genuine interest in your product or service but haven't contacted you yet.
High-value customers who haven't engaged with your brand in a while.
Based on your improved understanding of users, you can make informed, data-driven decisions and:
Reduce acquisition and retention costs
Boost loyalty with new upsell opportunities
Reengage customers who've dropped off your funnel
Act on your customer insights in real time
Because all your tools are integrated into the CDP, you get continuous feedback on your efforts. You can make faster decisions based on real-time information rather than waiting for reports or manual analysis.
For example, see if the users opened an email enticing them to purchase new products in your store or if those who received a promo code for the higher plan upgraded their accounts. You can then plan your actions accordingly.
You are also able to see which users have abandoned their carts. Then, you can send a one-time offer with a discount for the products in the users' cart to encourage them to purchase.
Improve targeting and content personalization
You can focus on personalizing your communication and adjust it to the stage of the given user's journey based on every bit of information you can access. All the details you collect about people's behavior and preferences allow you to group them into specific audiences and choose how exactly you want to target them.
You can engage with users through ads, email campaigns, chatbot messages, or direct contact with a representative and catch them with the right message at their preferred touchpoint with you.
This lets you create highly personal communication. You don't need to rely on run-of-the-mill campaigns or try to engage with users based on general criteria or unreliable information.
Optimize the work of different departments
The benefits of data activation extend to many departments at your organization and help them in highly relevant ways:
Marketing team
Marketing teams get an option to build sophisticated audiences using attributes, behavioral signals, actions performed by users and more, without the need for data engineers. Marketers can centralize data from different sources and cultivate customer lifecycle marketing.
Customer success team
Customer success teams can gain insights to improve the customer experience. For example, they can create automated alerts for customers that are likely to churn based on a downward trend in usage. Reps can prioritize and route support tickets based on customer activity, contract value, and other criteria. This way, they can keep their efforts more focused and reduce response times.
Sales team
Sales teams can empower account managers with relevant product data to make their conversations with people more effective. Sales reps can combine all customer data to ensure accuracy and consistency in reporting across all business apps. They can also maximize lead conversions and revenue by prioritizing certain leads based on their own scoring rules.
Data team
Data specialists will be able to meet the competing demands for their time and empower other teams with the ability to perform more actions on their own. Data engineers don't need to waste time building integrations and connectors. Instead, they get to delegate ownership of data to others by assigning them rights and permissions.
Make the data processes at your company more efficient and cost-effective

Your company will be able to expand and work on a unified set of data rather than trying to locate relevant pieces of information every time someone wants to use it in another application or process.
This way, you can reduce the time spent on repetitive tasks such as manually reviewing and analyzing reports.
What platform you should use to activate your customer data
A customer data platform (CDP) is the most powerful tool you can use for data activation.
A CDP is a single platform that lets you collect, manage, transform, and activate customer data from various sources. It unifies touchpoints and matches them to customer profiles. Its activation features separate it from other data management systems, like data warehouses and Excel databases.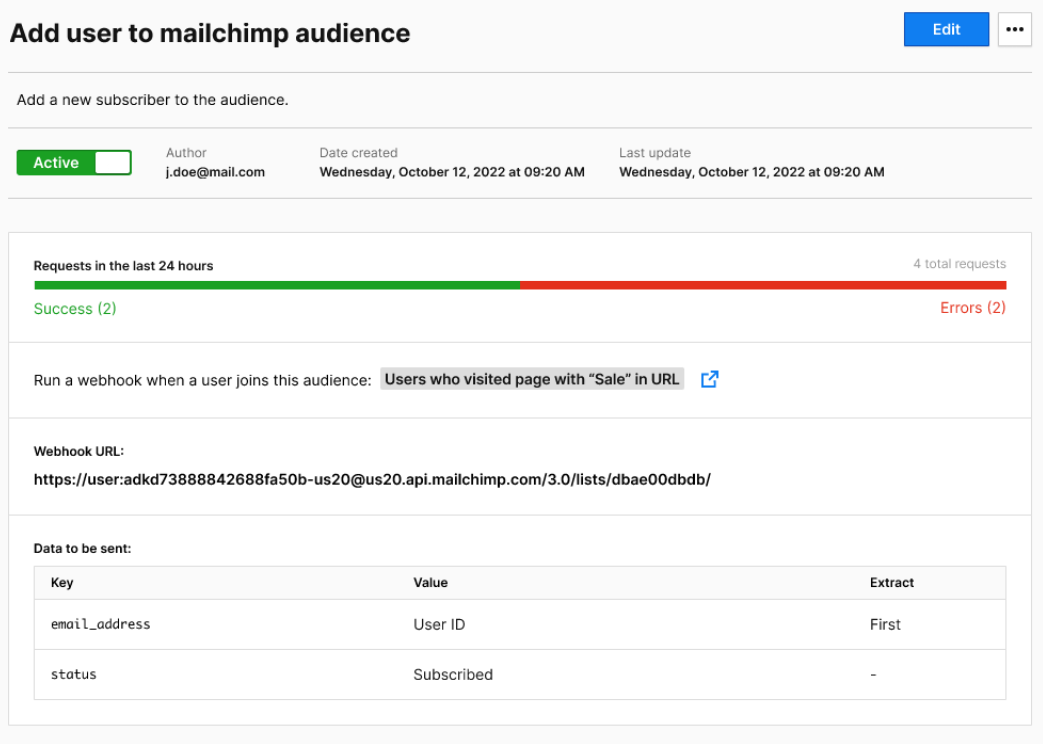 For CDPs, data is like fuel in a car, and audience data activation is the ignition — until you turn the key and start the engine, the car doesn't do much.
A CDP lets marketers scale data-driven customer interactions. Marketers and other teams within an organization can make the data flow into systems like ad platforms, product and customer journey analytics software, CRM tools and more. CDPs are becoming an industry standard, with a growing amount of complex platforms emerging.
In the past, companies often employed a data management platform (DMP) to perform data activation. DMPs helped them control the data flow in and out of an organization and assisted data-driven advertising strategies.
But DMPs have some drawbacks – for one, DMPs work mostly on third-party data that might come from an unclear source, be vague and lack precise user attributes. Some DMP aspects can't be ignored in the GDPR era, where data privacy is a priority. For instance, a DMP will require you to take additional steps to ensure you're on the safe side of privacy regulations.
CDPs have extensive usage options, like content personalization, upsell and cross-sell campaigns, retargeting, email marketing and others. They can also push raw data to other platforms for running external business intelligence analysis.
Moreover, CDPs can help you build single customer views, giving you access to comprehensive and reliable 360-degree customer profiles.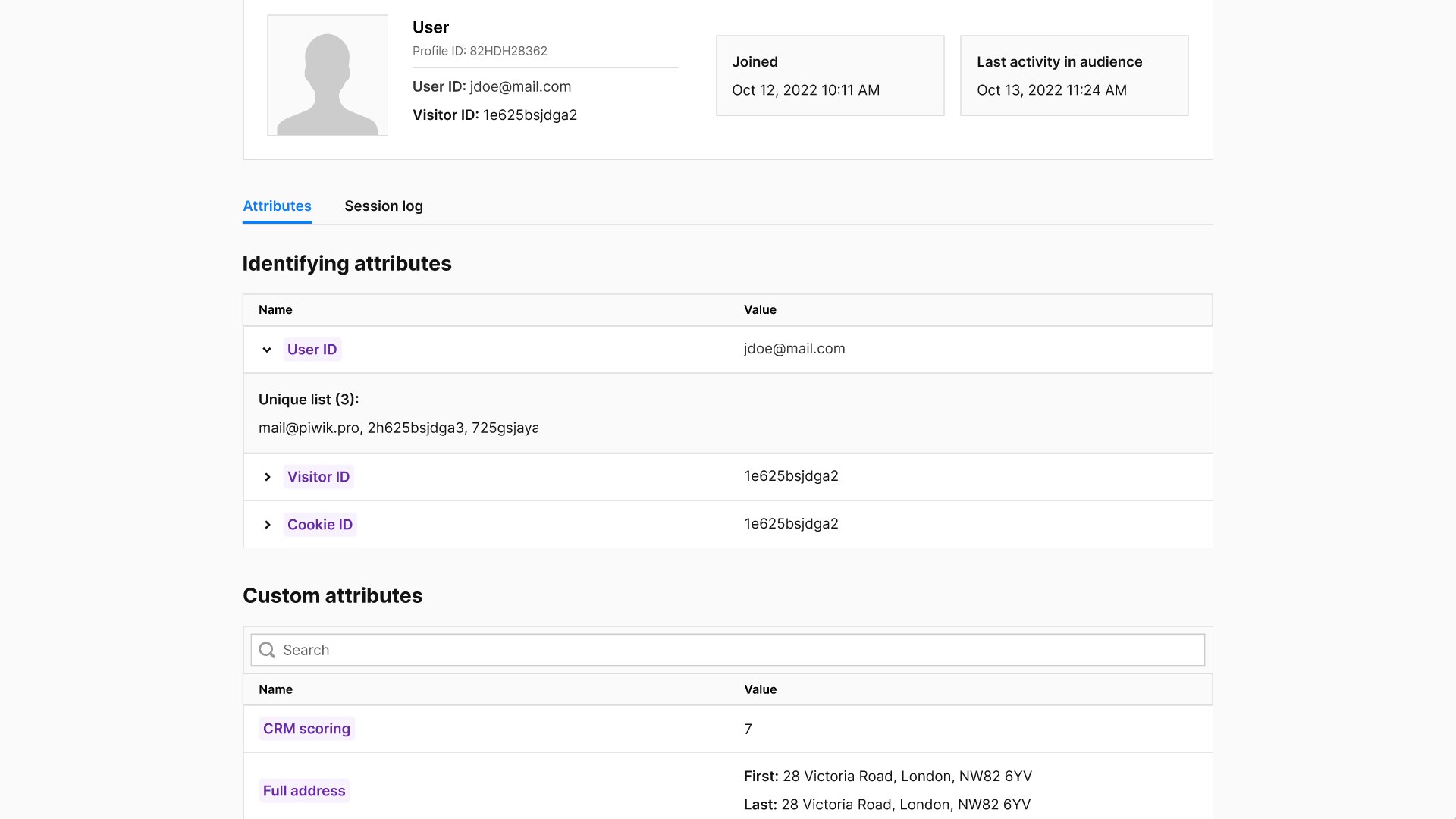 CDPs are also highly customizable and allow for the creation of detailed segments of cross-channel data. Segments can encompass user profiles based on behavioral data, purchase intent signals, predicted order value, lifetime value and more.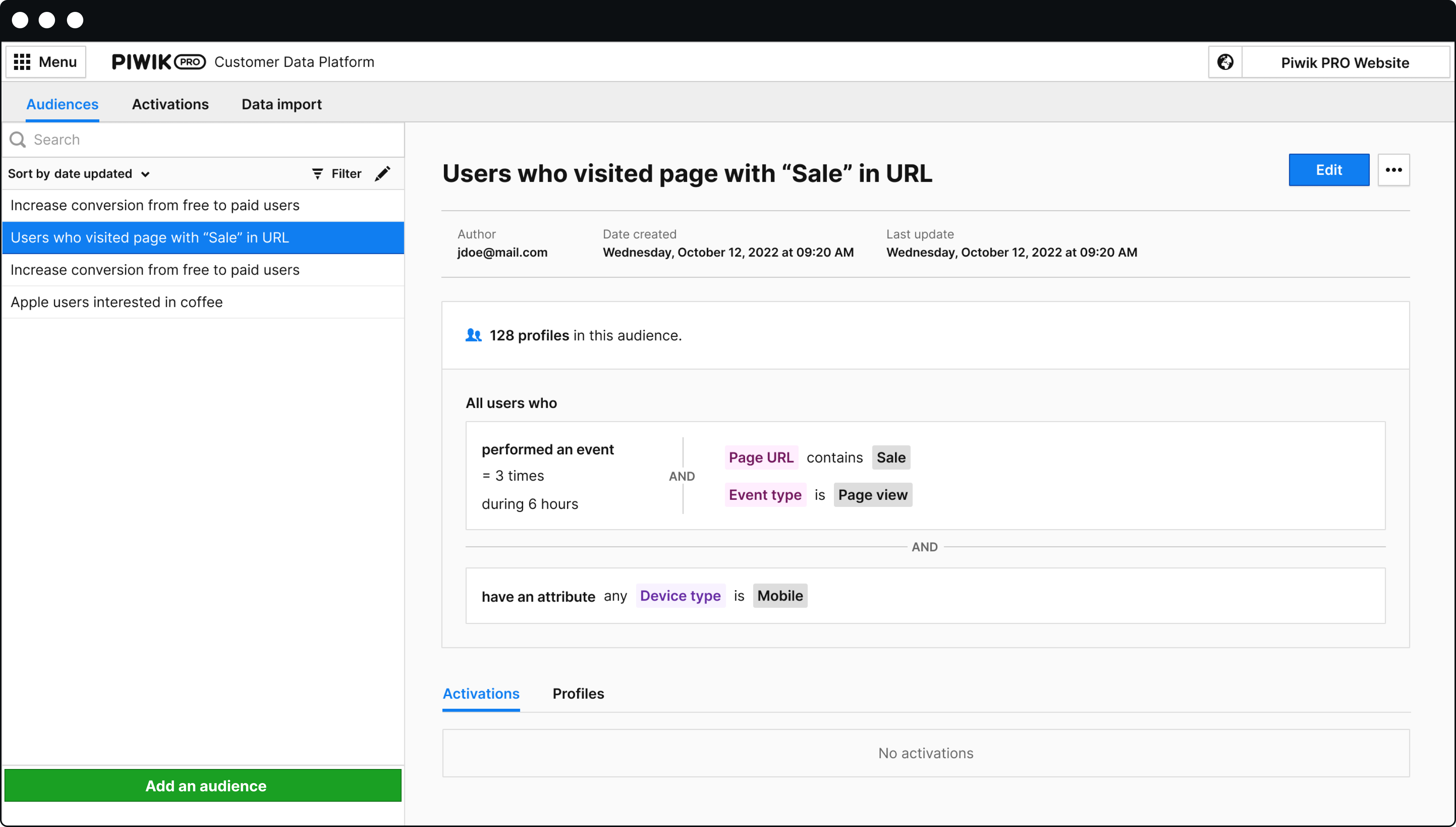 Many modern companies focus on acquisition. Often, they also put effort into 1-on-1 personalization, engagement and retention based on a deep understanding of user interactions with the brand. Because of that, operationalizing a CDP's data activation features should become a priority.
When selecting the right data activation platform, you should base your decision on the available integrations and the platform's flexibility to handle your company's use cases.
4 steps to effectively activate your data
The process of data activation should consist of the following stages:
1. Data collection
All elements that could help you build a complete customer view are likely already in your possession, but they might be spread across different databases and tools.
At this stage, you bring all of your data sets together. You combine data from websites, mobile apps, CRM systems, offline databases, POS systems, marketing tools, ad platforms, etc. Then you transfer them to a consolidated platform, such as a CDP.
When the data is in a CDP, you can build on it over time and expand the customer profiles to make them more meaningful and accurate.
For example, you can continue collecting users' behavioral signals, like site visits, app purchases, or engagement on social media, and use them later to find new ways to engage with them.
2. Data analysis
Once all the data has been collected in a single location, you're ready to start analyzing it.
You can explore historical data, comparing it to find patterns and surface trends. The information you uncover can be basic, such as cart abandonment or users who browsed product pages but didn't purchase. But it can also be more nuanced, such as user activity by segment and time of day.
You can also gain an updated understanding of your target audience. You may have thought your target market was between 20-30 years old, but the combined demographic information may indicate an older audience, between 30-40.
The results of your analysis can be utilized to combine users into specific, relevant groups and drive outbound marketing promotion and optimization. You can use the information you discover and trigger actions based on it.
For example, you may create a segment of prospects who fit the profile of some of your current customers but haven't converted, and plan steps that would get them to make a purchase.
Or, you might gather users that visited a product page but left it without requesting a demo into one segment.
They can then be targeted with an email campaign that explains more about the product and how it can suit their needs.
3. Data activation
At this point, you are ready to put your analysis into practice by taking action on behalf of your business.
Here, you should plan your strategy, prepare offers and design content for upcoming campaigns. For example, if your business is looking to increase customer loyalty, this is where you would decide what kind of loyalty scheme you want to offer based on the analysis of user behavior.
It's crucial to bring together people from relevant teams – like marketing, product, sales, and IT – who focus on specific consumer segments or journeys. These teams have clear ownership of consumer priorities and responsibility for delivering on them.
The cross-functional team should continually:
Develop new ideas
Design hypotheses to engage customers
Implement the offers and campaigns
Test the impact of the efforts
Tie everything together to draw insights for future adjustments
4. Data measurement
The last stage of data activation is assessing the effectiveness of the implementations. Here, you should quantify how well your decisions have worked out by measuring if you are achieving your goals. Measurement helps provide insights into areas where you can improve performance or change your strategy.
Piwik PRO's CDP is coming soon
If you're looking for the right solution that can help you activate your customer data, we have just the platform for you.
We have been developing our Customer Data Platform (CDP) that will solve your problems when dealing with scattered, inconsistent and unusable customer data.
Piwik PRO's CDP allows you to connect disparate data sources and unify them to create 360-degree customer profiles that map all their interactions. You can import data into the CDP from a CRM, eCommerce platforms, data warehouses, and other tools using incoming webhooks and automation tools.
The CDP module is one of the components of Piwik PRO Analytics Suite, which also consists of Analytics, Tag Manager and Consent Manager. Together, these modules make up a robust set of tools that help you collect and activate data in an efficient and compliant way.
Specifically:
Due to the native integration with Analytics, you get a constant stream of user data from the website and mobile app.
Thanks to Tag Manager, you can trigger tags for remarketing ads, A/B testing, on-site retargeting, personalization, and other tools.
You're able to adjust your campaigns to users' privacy choices recorded through Consent Manager. This allows you to meet the demands of privacy laws such as GDPR, TTDSG, CPPA, etc.
Due to the control you have over the data, you can integrate sensitive information into customer profiles. If you want to enhance privacy levels even more, you can switch identifiable data with your chosen scoring values so only you can understand them.
The CDP relies on first-party data, and you're able to control the quality and granularity of customer data with detailed import and activation logs.
How data activation works in Piwik PRO's CDP
Data activation is what defines Piwik PRO's CDP.
It involves integrating data from different sources and activating it in various places of the product stack through webhooks integrations.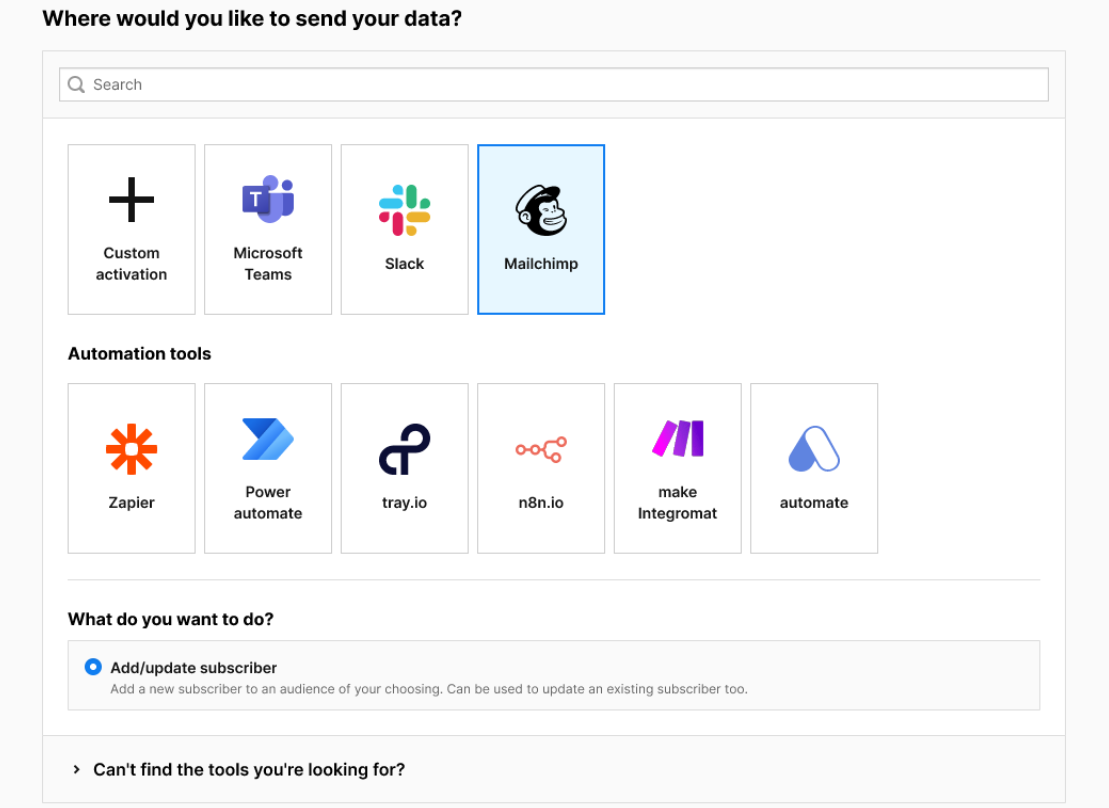 You will be able to import and export selected customer profile attributes from and to countless locations using numerous no-code integration tools and webhooks.
You may also personalize user profiles with custom attributes such as purchase history, persona types, support tickets they've created, etc.
For example, you can import your data into the CDP from web and app analytics or CRM, then activate it in Piwik PRO's Tag Manager or an email platform like Mailchimp.
In order to create relevant audiences, you need to group customer profiles matching certain conditions, such as user attributes or behavioral information.

Then, you can set up and enable an activation, which sends selected customer profile attributes to thousands of endpoints through webhooks and automation tools.

You can use template connectors for Slack, Mailchimp, Microsoft Teams and others, as well as webhook templates to create your own integrations between the CDP and your tech stack.
To give you a better idea of the possibilities offered by Piwik PRO's CDP, here are some examples of audiences that you can create based on the given conditions:
Visitors who spent more than $1,000 in the last month
Users who visited a page with "loan" in the URL 3 times in the last 7 days
Users who entered the checkout page and didn't enter the thank-you page in the last 24 hours and made no further actions in the last 6 hours
Visitors who viewed product pages with "keyboard" and "monitor" in the URL, didn't visit pages containing "speakers" and didn't make a purchase
Users who started filling out a form and didn't complete it and made no further actions in the last 6 hours
Here are some ideas for data activations that you can conduct:
Send a message to a user in real-time via a chatbot when they become a part of an audience
Email a user who opened a URL (e.g., clicked/visited a URL with "Sale," so you include a discount code in the email)
Send an email to a visitor with the list of products that they visited and might be interested in
Retarget visitors who didn't complete the funnel or those that completed it X days ago/immediately after completing the funnel
Send an email to a user with items from their abandoned cart
Piwik PRO's data activation is, above all, easy to use. It can be successfully performed by marketers and other people within the company who have little or no experience working with API calls.
Data activation: final thoughts
The customers who use your services or buy your products interact with your brand in their own unique ways. Data activation is a method of exploring and addressing the uniqueness of their interactions, helping you improve the quality of your campaigns to target new and existing customers.
You can make significant improvements in how you engage with people by developing more personalized communication within a single channel or across multiple ones.
To learn more about data activation and ways to benefit from a CDP, browse our blog posts: