A new month, a new release of Piwik PRO Analytics Suite 13.0. We're glad to announce that our enhanced product comes with Google Ads integration, an indispensable tool for marketers, an upgraded user flow report, and many other advancements. As of July 9th 2020, all our customers will be able to take advantage of all the fresh functionalities and try out the platform changes.
Let's dive into the details.
Analytics with Google Ads integration – a precise view of campaigns that bring you traffic
Thanks to our shiny new integration, you'll now be able to find out which campaigns generate traffic on your website. You can create custom reports by merging data from Google Ads with data from Piwik PRO, for example:
Sessions
Bounce rate
Goal conversion
This helps you figure out which ads work best for your organization, and specifically which exact campaign converts visitors into customers. What's more, it allows you to keep tabs on your budget. And you'll stay up to date with campaign results at the level of:
Campaign
Ad groups
Keywords
Landing pages
Ultimately, you'll be able to compare your results with your marketing goals.
For more technical details and advice on Google Ads integration, check our help center.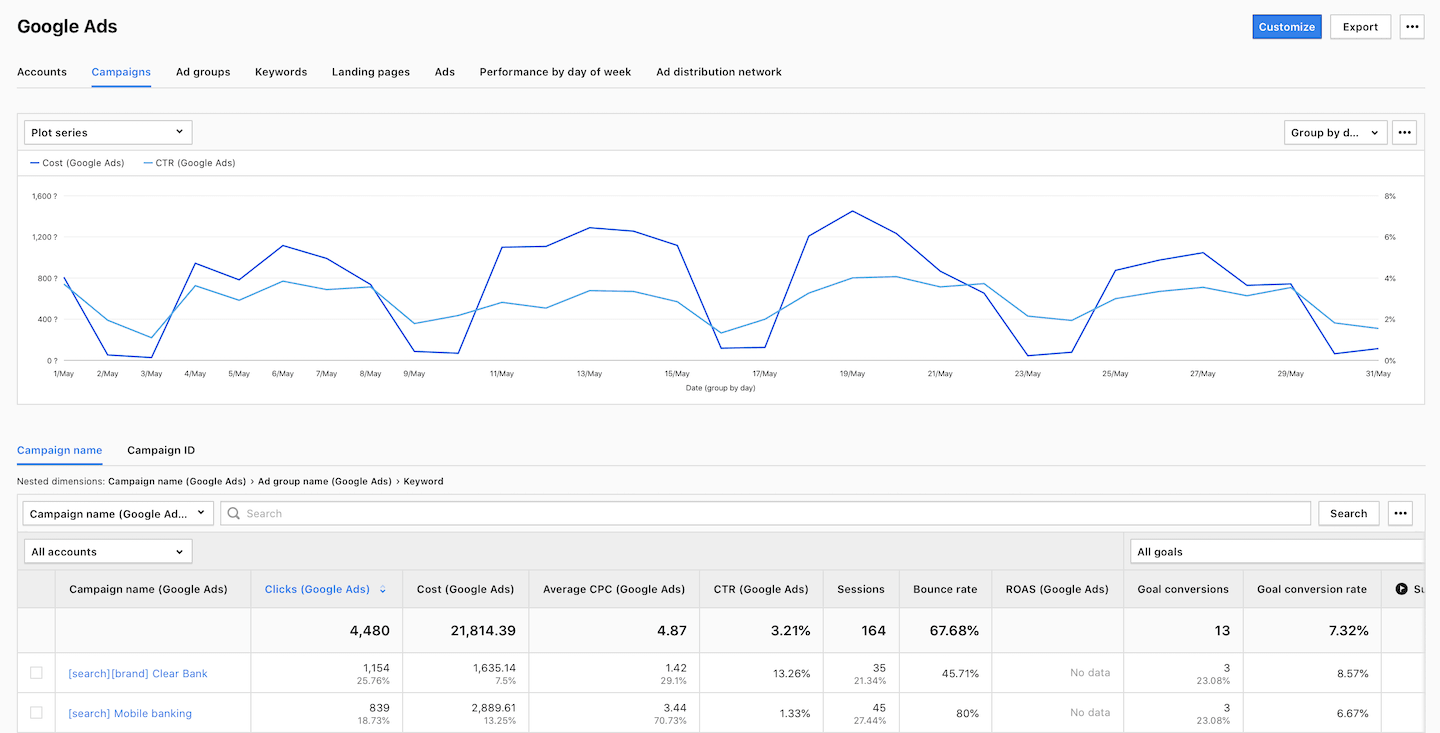 User flow gets even better
We've long wanted to make it easier and more convenient for you to analyze the route visitors take across your website.
Until now, Piwik PRO Analytics has had a strict mode by default in which it reports all events that occured on the visitor path. It means that configured events must follow each other in the exact sequence, otherwise you'll notice a drop-off. But with this setup it's possible that some interactions won't be displayed.
That's why the latest release introduces non-strict mode. Let's say you want to omit some events that occurred before the filtered ones. This mode will work perfectly, as events that don't match the defined filters will be skipped, and you'll see the first one that matches the conditions that you set.
Take, for instance, a user session that consists of an event sequence such as:
Page view: /home
Page view: /product-tour
Button click: /product-tour
Page view: /sign-up

If you've set up the user flow report with the following conditions:
Key interaction: Event type = page view
Next interaction: Event type = page view, Event filter = Page URL contains /sign-up
Then the user path in the non-strict mode will show:
Key interaction: page view
Next interaction: page view /sign-up

The /product-tour page view and button click on /product-tour – events that happened before the visitor viewed the sign-up page – were omitted as they didn't meet the set conditions.
And the final addition to the Analytics module is the possibility to export dashboards to PDF. Now you can easily share your dashboard with your team and anyone else you want in just a few clicks.
Improvements to Analytics
We realize that ease and simplicity of using analytics software is crucial. It's enough of a challenge that you have to solve different data puzzles. To give you a hand, we've elevated the UI and UX in a couple of ways.
First, you get a clearer presentation of data on report charts in reports. And when you plot series on the chart, they will be saved when switching reports. You won't miss a single bit of important information. Second, a new functionality that lets you set the default sorting option in custom reports and dashboards makes creating new ones much faster.
Finally, users who employ ad-blocking tools will get a notification to turn them off for a proper display of reports. The Piwik PRO team has implemented the same solution in Audience Manager (Customer Data Platform).
Tweaks and fixes in Analytics
In the latest product version we've made some adjustments so you can use our software without bugs and errors. You'll be able to add more conditions in interaction filters in the user flow report and funnel steps as they're now counted correctly.
We've added total sessions and percentage of sessions to the table with all paths in the user flow report. Our team has also included troubleshoot tooltips, pagination in the session log report, and links to the user flow report in custom reports.
Various module fixes and improvements
The platform team has made some key UI modifications. Masking a visitor's IP address is now possible in Administration instead of Analytics settings. And when you need to configure global website settings, you'll also do it in Administration, not in Analytics settings as before.
Furthermore, to enhance the product's security, our crew has improved the Tracker and added HTTP Strict Transport Security (HSTS).
In addition, the Tag Manager team has replaced the function of saving the scroll trigger with several options.
If you're curious about the complete list of modifications we're bringing with Piwik PRO Analytics Suite 13.0, visit our changelog.
To wrap up
The product version we're presenting you this month might not be as feature rich as previous ones, but we're focused on quality first. It gives you more essential analytics capabilities such as measuring the performance of your Google Ads and better evaluation of the user flow.
We've recently changed our approach, and you can expect more frequent releases so you don't have to wait too long for fresh and robust functionalities. We are constantly working on ways to make the software that lets you do analytics easier and give you more advanced options. It's no secret that Piwik PRO Analytics Suite 14.0 is already under development.
Stay tuned for more upgrades. And if you have some questions about upcoming changes or anything else related to our product, just …