Every business has goals they want their customers to achieve. It could be purchasing a product, subscribing to a newsletter, adopting a new feature – it depends on the company. But there is one thing all businesses have in common: designing websites to make achieving these goals as smooth as possible.
With your goals established, the question is: how can you get more people to complete them? This is where conversion rate optimization (CRO) comes in. But optimization without analysis is just guesswork.
At the heart of this process is examining why someone starts a task on your website but doesn't finish it. This is the basis for some of the most important web analytics metrics like bounce, goal conversion, and click through rates. They all give you information related to visitors moving towards a desired outcome.
Piwik PRO has multiple tools that help with CRO. One of the most useful tools is funnel reports. They let you study customer paths, identify friction points, see if changes you've made to your website are increasing conversions, and more.
This post is all about funnel reports. We'll talk about how to analyze them, make improvements to your journeys, and provide a few examples of funnels. By the end, you'll find out how you can start boosting conversions using this powerful report.
For a technical guide on setting up funnels in Piwik PRO read this article from our help center.
When can you use funnels?
You've worked hard to design a clear path for prospects who arrive at your website. Now you can track every step of that journey and observe how many completed it or dropped out.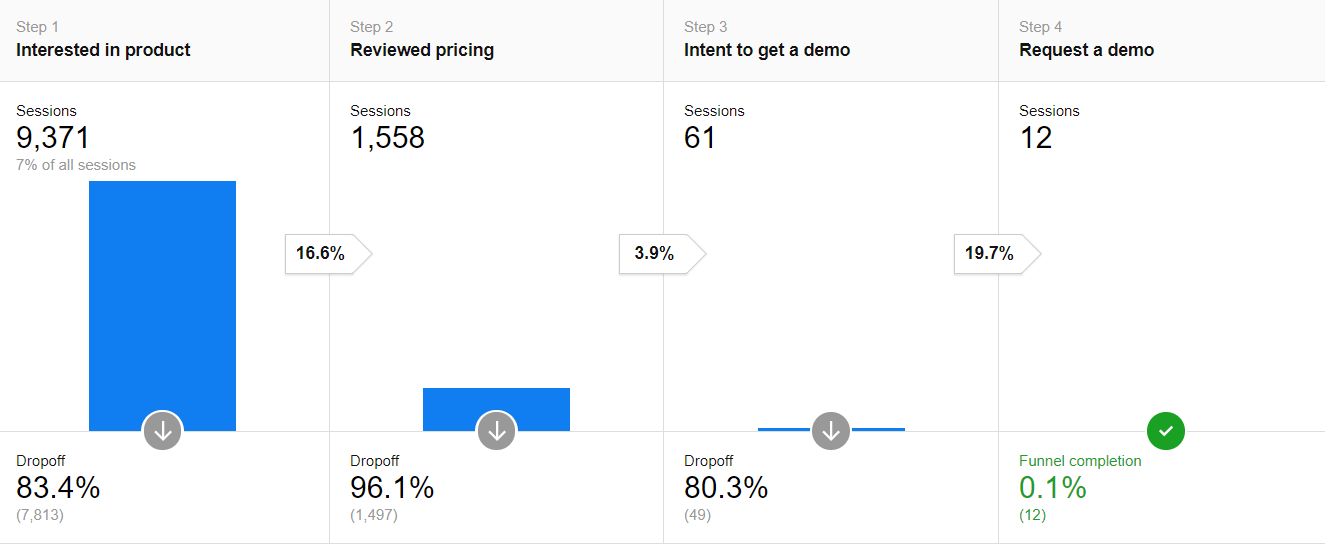 So what are some real-world use cases for funnels? Let's look at a couple examples:
Goal: visitors move from the homepage to the product page, ending in a demo request.
You have planned a customer journey that looks like this:
Someone visits your website. From here they have an overview of the business and product/service offer.
If you've captured their attention, they go to the product page to dive deeper. So far, we have two steps: homepage and product page.
If they like what they see, they request a demo. This is the conversion you had in mind, and the final step.
This funnel could end differently depending on the conversion you're interested in. For example, you may want to conclude with the visitor contacting your sales team, or making a purchase. You could also use a more complex version, breaking down the demo request into multiple steps such as clicking the request link, filling out the form, and finally hitting the submit button.
The most important thing is that you have a mapped-out process with multiple steps for tracking progress.
Goal: Prospects submit contact information.
You created a landing page with the goal of capturing leads via contact form submissions. Form optimization and funnels make a great match. You can see, field by field, where visitors start losing interest and where to make improvements. Your steps might look something like this:
Visitor lands on the contact page.
They click on a button that scrolls down to the contact form (here a custom event is used as a funnel step since no new page is loaded).
The first page of the form is filled out.
The second page of the form is filled out (assuming this is a long form with multiple pages).
After submitting their information, they reach the thank you page, and your goal has been achieved.

For long forms with lots of information to fill out, you may divide it into multiple pages so you don't overwhelm the visitor. In that case, your funnel's steps would include reaching the next page(s) and all resulting fields.
Where to start with funnels
Whether it's a conversion or some other task, it's best to start with a clear vision of the final objective.
With this in mind, you can get to work figuring out how you want visitors to reach that point. What was the path you created when you designed your website, campaign, landing page, FAQ, etc.? Now's the time to test those paths you made and see what's really happening.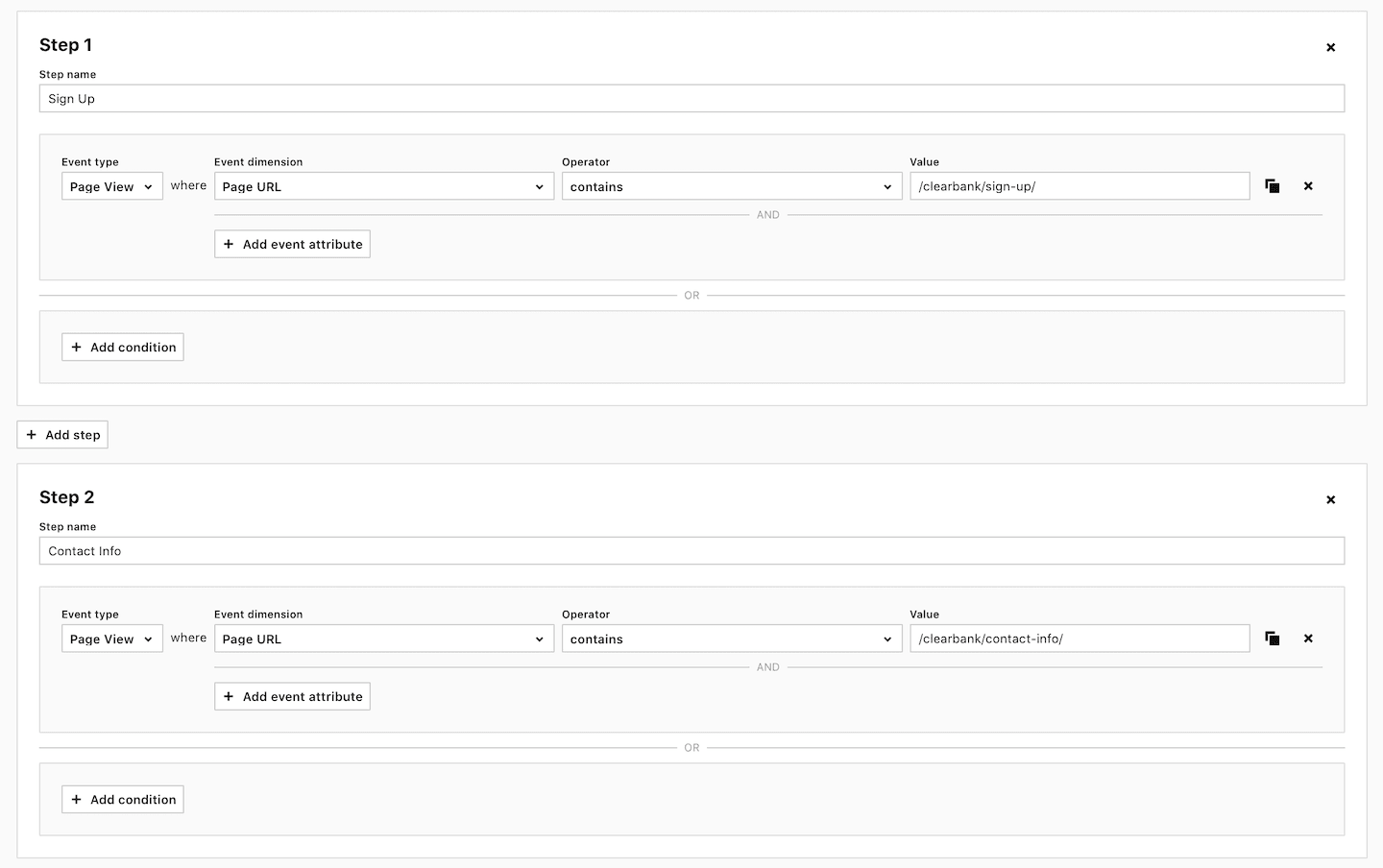 From a technical perspective, funnels are made up of steps. It's important to add every step of the journey so you're not missing any important information. You don't have to base steps strictly on predefined web analytics goals or conversions. You can use any tracking dimension, making it possible to apply funnels in many cases. For example, your steps could include such events as:
button clicks
page scroll percentage
file downloads
and more
Don't hesitate to create multiple funnels and improve journeys everywhere on your website.
Analyze your funnels
You've built your funnels, now it's time to check their performance. With the visitor path visualized step-by-step, you can easily spot the trouble areas. You'll clearly see what's working and where you can make improvements.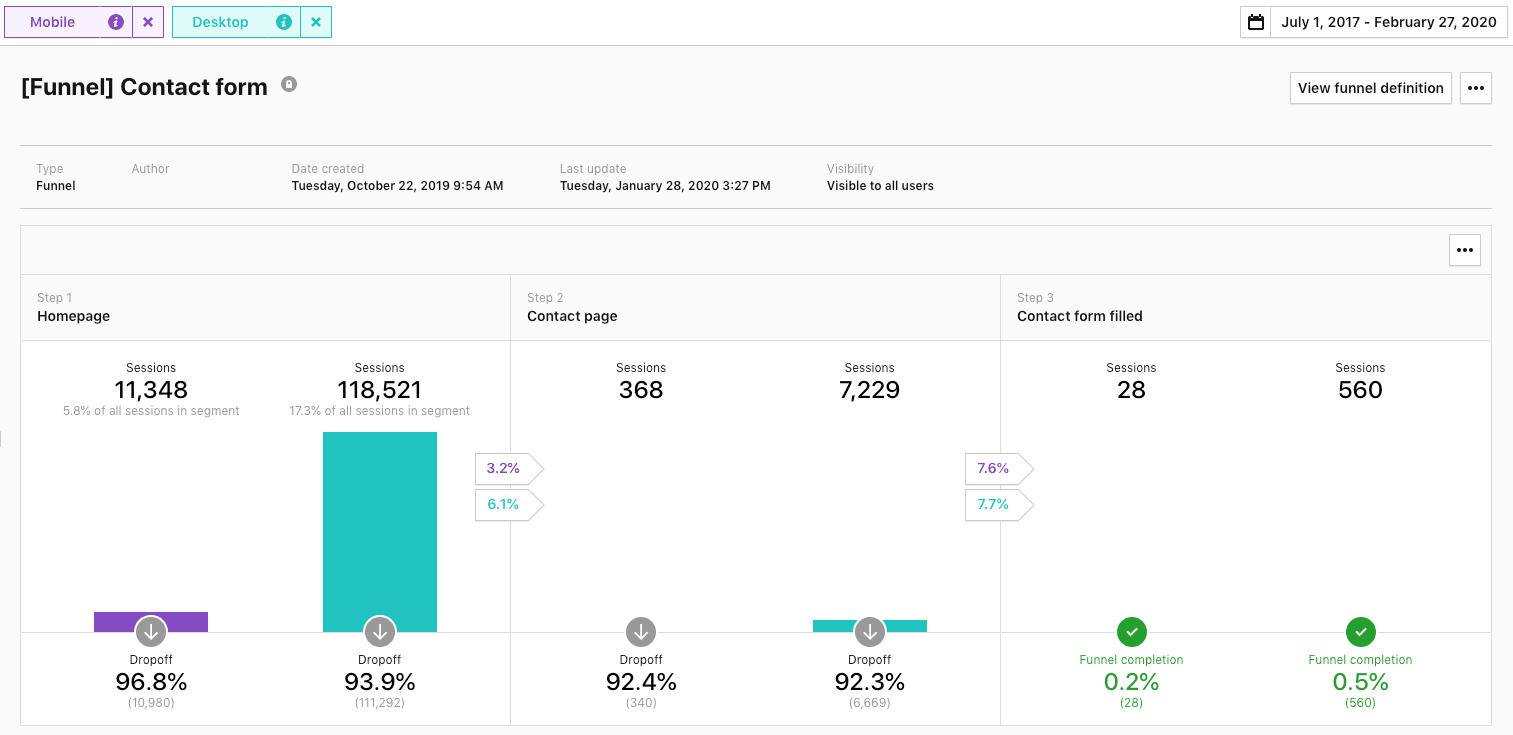 Applying segments to your funnels lets you dive even deeper and discover more about what's going on in your customers' journeys. If you apply a device type segment, you could find that the majority of drop-offs come from mobile users. With this knowledge you can take another look from the perspective of someone using their phone to visit your website. This is just one example. You can utilize other segments in your funnel reports like location, language, specific campaigns, and many more.
Studying your funnels can help answer questions like these:
Which visitor segments are responsible for the biggest drop-off rates in my funnel?
Is my sales funnel optimized for mobile visitors? Is it as user-friendly on mobile as on desktop devices, and what about particular operating systems?
Is there any traffic source that stands out for not completing my funnel? Should I reconsider my traffic acquisition strategy?
Are there any regions or cities that have unusually high drop-off rates?
Utilize funnel data and make improvements to your website
Now that you've analyzed your funnel, you should be able to understand which elements of your process can be improved to achieve more conversions. Depending on the nature of the problem, you could consider the following courses of action:
Enhance user experience for device type and operating system.
Exclude problematic segments and audiences from your campaigns and decrease the overall cost of acquisition for these groups.
Create remarketing campaigns, offers, and push notifications for users that don't complete funnels, such as triggered pop-up windows with free shipping or a discount code.
Example funnels in Piwik PRO
We'll share with you some popular examples of funnel set-ups we've seen in Piwik PRO. They should give you an idea of how to use this report for your specific conversion goals.
If you think prospects move from your product page to the contact page to reach out to you, a funnel like this would be helpful in quantifying that conversion: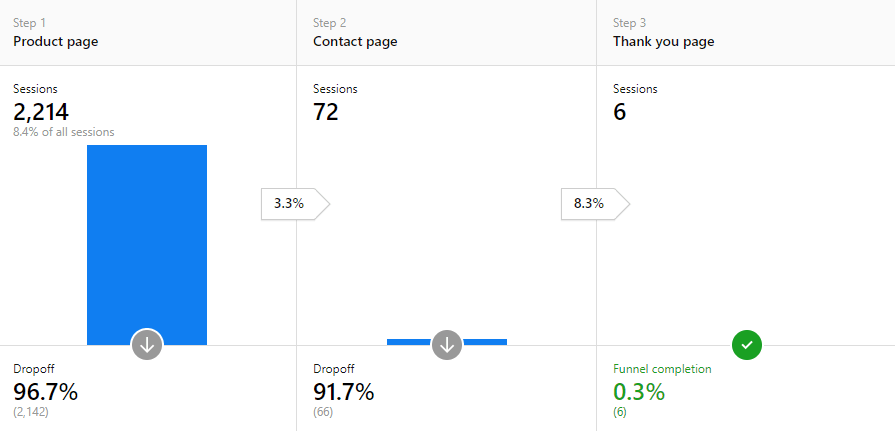 Other funnel examples:
Contact information funnel
A funnel about visitors completing or dropping out of the "contact us" process would look something like this:
Demo request funnel (simple)
For the journey from home page to requesting a demo on the product page, you could set up a funnel similar to this:
Conclusion
Remember that there is no one-size-fits-all answer. With thousands of possibilities, we encourage you to use the full power of funnels to customize them for each visitor group and website type.
We hope that now you have an idea how you can benefit from this report in Piwik PRO. If you have any questions about this feature and what it can do for your business, reach out to us any time.