Privacy has become a big thing for companies in recent years. It is now a standard practice to map data sources, update privacy policies or install tools like consent managers to become more compliant with GDPR, LGPD, CCPA, and other privacy regulations. However, data security is an equally important area.
Finding a business partner who adheres to the best data security practices is key, especially when it comes to web analytics and customer data collection. The risk of data leakage has increased remarkably in today's era of frequent cyber-attacks. According to research by Surfshark, approximately 15 million data records were exposed through data breaches in the third quarter of 2022, which is 37% more than the previous quarter. That's why ensuring personal data security is crucial.
Security standards in web analytics
When searching for a web analytics platform, you should pay attention to its functionalities as much as to the security certificates and standards it provides. However, not everyone knows the right questions to ask about security.
That's why we've gathered a list of the essential standards, regulations, and frameworks a security-conscious analytics provider should follow. The list will help you determine if your chosen analytics vendor checks all the right boxes.
To make the decision easier for you, we've divided the list into three categories.
Organization security
This chapter gathers information about essential security methods that a web analytics vendor should apply within the organization. It will help you check the vendor's approach to security in its internal operations.
The section contains information about:
Security certifications.
User access management.
User authentication methods.
Internal network security.
Audits and penetration tests.
Service Level Agreement.
Data security
This chapter covers regulations regarding the vendor's privacy compliance and security methods for handling customers' data.
The section contains information about:
Data privacy compliance.
Data storage.
Data center security measures.
Data transfers.
Data backup policies.
Application security
This chapter focuses on security measures that prevent an app's data or code from being stolen. It may include hardware, software, and procedures that identify or minimize security vulnerabilities.
This section contains information about:
Application security methods.
Lifecycle management.
Security guidelines for releasing products.
Vulnerability management programs.
Business continuity management.
Choose a security-compliant analytics platform
If you're looking for an analytics platform or thinking about changing your current one, make sure that the vendor checks all the boxes regarding the features you need and also follows important security requirements. Our whitepaper, gathering all the essential standards and regulations, will definitely help you make the right choice.
WHITEPAPER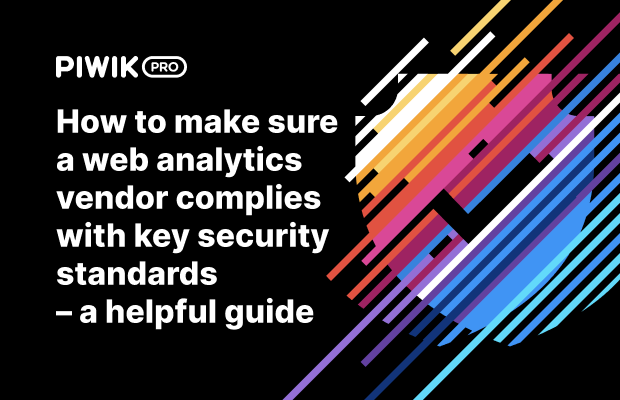 WHITEPAPER
How to make sure a web analytics vendor complies with key security standards – a helpful guide
At Piwik PRO, we understand the importance of data security, and we like to demonstrate this to our customers. We constantly take steps to ensure compliance with industry standards. We regularly review and update our security controls and their implementation and conduct internal security training to keep ourselves up-to-date with the latest standards.
Contact us if you want to learn more about our approach.