Like almost everyone else these days, you're immersed in data but not all of it is useful. For an analytics solution to benefit your e-commerce site, it needs to deliver actionable data that you can use to trace the paths your users take when moving towards the goals you set for them. It also should supply you with information about where things go wrong in the sales funnel, so you can figure out what needs to be fixed and how to go about fixing it. Those are the things we'll show you in this post, so that you can save time and use the right data to draw the right conclusions quicker than the competition.
E-commerce integration
Of course, you first need to be certain that the tools you employ are compatible with your chosen analytics package. So it's worth noting here that Piwik PRO integrates with leading e-commerce platforms to help you easily start tracking your e-commerce performance and developing the insights you need to sell more and smarter. You can easily and comfortably integrate Piwik PRO analytics into such online shops as:
Magento
Woocommerce
Prestashop
Zencart
OpenCart
…and many others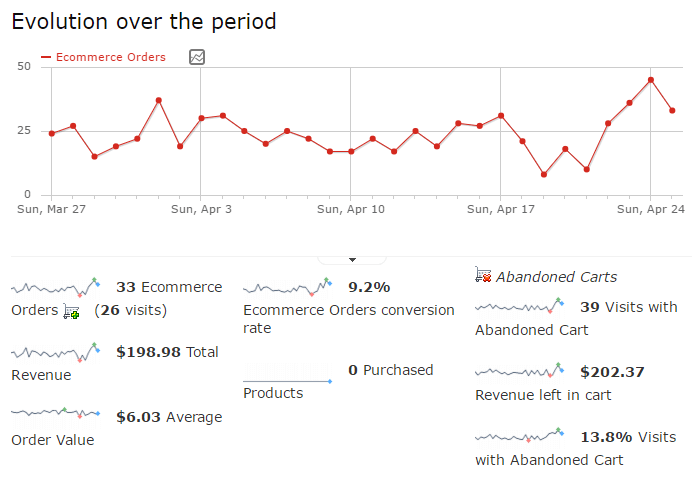 Piwik PRO vs. Google Analytics
Compare Google Analytics and Piwik PRO and Find the Analytics Tool to Fit Your Business's Needs
Download FREE Comparison
Now let's take a brief look at the e-commerce data that Piwik PRO provides and how it can get you closer to your business's goals. You can also check out our E-Commerce Analytics User Guide.
Six ways Piwik PRO improves your e-commerce analytics
E-commerce analytics have one purpose: helping you make more money. To get that job done, you need an analytics tool to deliver information that you can use to take action and make decisions that will boost sales revenue. With Piwik PRO e-commerce analytics you can:
Enrich visitor data

Make visitor data more useful and get comprehensive insights by assigning $ values to each traffic source, page, piece of content, etc.

Track average order value

Understand the real worth of each conversion on your website, calculate CPA and develop optimized up-selling and cross-selling strategies.

Report on % and value of abandoned carts

Do something about lost revenue and lost customers by getting clear, actionable metrics on KPIs describing the condition of your sales funnel.

Generate detailed visitor profiles

Develop in-depth profiles of individual users who buy your products to better understand who your customers are and the context they do their shopping in.

Track the customer journey

Refine the sales funnel and boost conversions by tracing the steps taken around your website by customers. Record the number of days and visits before users convert into customers, as well as the pages they visit along the way.

Identify problematic products

Save money by quickly identifying which products are most frequently abandoned in the shopping cart and refine your product offer to give customers the choices they want.
What else?
Of course, there are other reports which you can generate using Piwik PRO to drill deeper into your analytics data and map out a strategy for increasing turnover and pumping profits. Poke around and get a feel for how to learn more about your online business.
Piwik PRO vs. Google Analytics
Compare Google Analytics and Piwik PRO and Find the Analytics Tool to Fit Your Business's Needs
Download FREE Comparison