Microsoft's SharePoint, a collaboration platform, has become a primary tool for companies around the globe. It's famed for fostering communication and productivity while creating a smoothly functioning digital ecosystem.
However, this grand machine lacks a crucial cog – complete analytics feedback that would show you whether your intranet was fulfilling its purpose.
You could use the native SharePoint analytics, but it has limited measuring capabilities that only scratch the surface. But with software that provides dedicated integration for collecting data from the platform, like Piwik PRO, you can achieve fuller and deeper insights on key actions happening within your digital workplace.
And no matter whether you have SharePoint 2013, 2016, 2019 or even the latest version of Office 365, Piwik PRO ensures full compatibility.
With the recent product rollout we've significantly expanded our analytics capacity with over 60 new interactions. All this newly collected data helps you perform contextual analysis with greater accuracy, precision and ease.
In today's post, we'll showcase the array of possibilities you gain from integrating SharePoint with Piwik PRO, such as using data with event-level granularity, creating flexible dashboards, and a host of customizable reports.
Table of contents
Step 1. Obtain detailed data without compromising security and privacy
Connecting your intranet platform to external analytics is not only about improving SharePoint adoption, usage or employee engagement. There's more to uncover, like data security, privacy compliance, and installation.
With Piwik PRO, all data collection – even at the most granular level – is aligned with the security regulations your organization has to follow. And you retain complete control and security over your data through 100% ownership, regardless of whether you choose on-premises or cloud implementation.
If you go for self-hosted deployment, all the components, of both Piwik PRO Analytics Suite and SharePoint integration are installed within your company's infrastructure. And if you choose the cloud version of Piwik PRO, you will keep data in certified Microsoft Azure data centers but you retain the possibility to connect it to your on-premise SharePoint instance by installing the integration on your local web server.
As an additional safety measure, you can enable the integration with your existing user accounts directory stored in your company's safeguarded central system. And Piwik PRO works with both of the most common protocols – SAML (Security Assertion Markup Language) and LDAP (Lightweight Directory Access Protocol).
What's more, you can track each SharePoint site collection as a separate entity and set tracking settings individually for each of them. You can also define default settings in a global template.
On the other hand, you can track specific site collections or activate tracking for all SharePoint sites at once. And with Piwik PRO, you can exclude whole collections with sensitive data from tracking or exclude particular users in specific parts of your network.
Then, you can identify a unique user throughout multiple sessions by their SharePoint login, that is, their email address. However, to ensure privacy compliance you've got an anonymization feature that turns those addresses into hashed values. They remain unique but don't reveal information about the person's identity.
Just keep in mind that you should verify this setup in terms of compliance with your internal policies as well as privacy regulations applicable wherever you do business.
And to deliver more detailed information about platform users, we've introduced a crucial enhancement. Custom dimensions lets you create visitor profiles based on data like:
Display name
Office location
Department
Job title
And you can easily enable or disable tracking those dimensions within specific site collections. Moreover, with the latest release you can add whatever other SharePoint profile attributes you wish to define for users. Next, when you get to creating reports you'll find them on the list alongside other dimensions: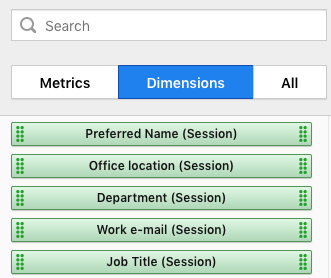 Step 2. Take advantage of new analytics features
The latest release of Piwik PRO brings new ways to see and analyze how your staff interacts with documents and pages they browse in the SharePoint library list view.
Tracking actions across SharePoint libraries
Let's say your employees engage with content in library view – this could mean Documents or Site Pages libraries. They create new documents, edit existing ones, or maybe delete some.
You can track all those actions as custom events and then generate a single report for all of them. Those events will be recorded within the context of specific library elements, so you can analyze in detail the interactions within a particular file or page.
By having a closer look at all these behaviors you'll learn whether those materials are sparking interest among your staff.
Next, the application of filters and segments allows you to acquire richly detailed reports. For instance, you can single out the top trending items among numerous activities.
1. Document Activity
As you schedule documents, policies and other materials for publishing, you want to be sure they'll gain traction. One way to measure this is by having a closer look at people's interactions, whether they share, save or delete a particular piece of content.
Next, you can use Custom Reports in Piwik PRO to drill down even further with your analysis, changing the report structure to meet your specific needs. You'll be able to examine the total volume of different actions, see exactly how people interact with particular documents, and learn who contributes the most to content creation and changes.
And what's even better is that you can track all of these actions located across different menu bars or contextual menus of particular documents.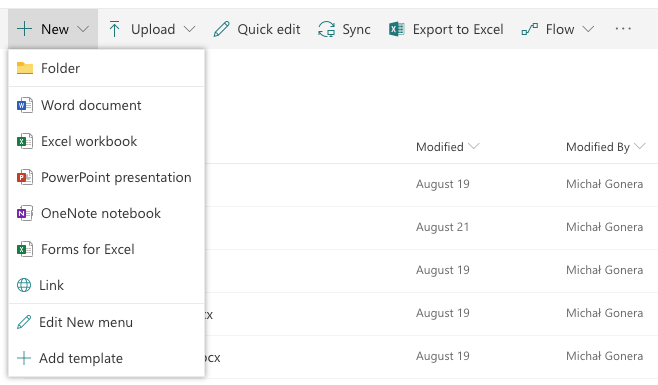 Here's an example of a report showing what new items staff members create most frequently: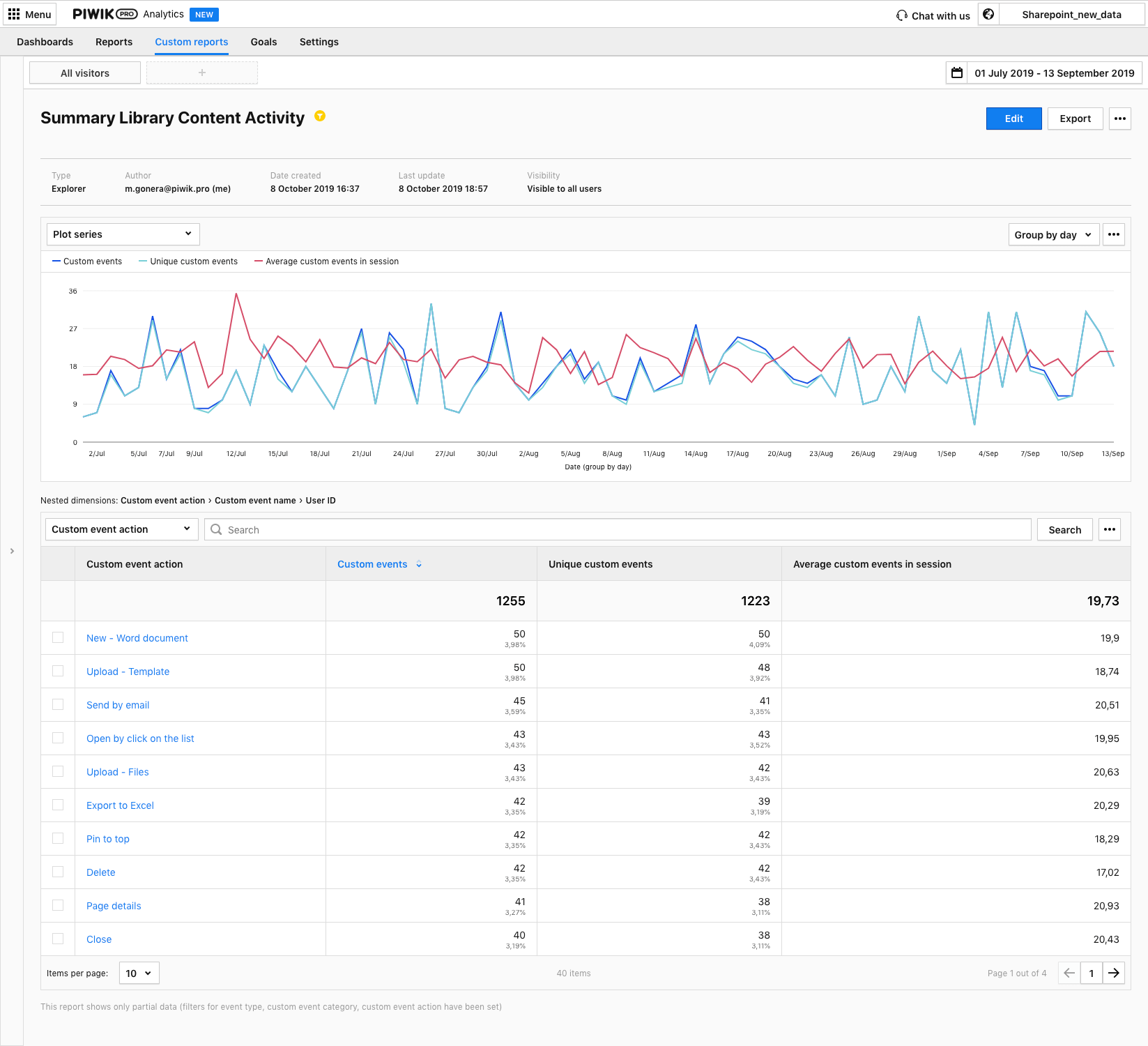 2. Pages Social Activity
If you want to find out what your employees like, what they comment on, and how engaging publications are, Piwik PRO tracking is perfect. You'll have all these actions visible in your reports.
You can keep track of:
Likes (also removal of Likes, which we track as "Unlike")
"Save for later" (as well as "Unsaving" from the list)
Posting comments on a page and replies for those comments
Likes and Unlikes on comments and comment replies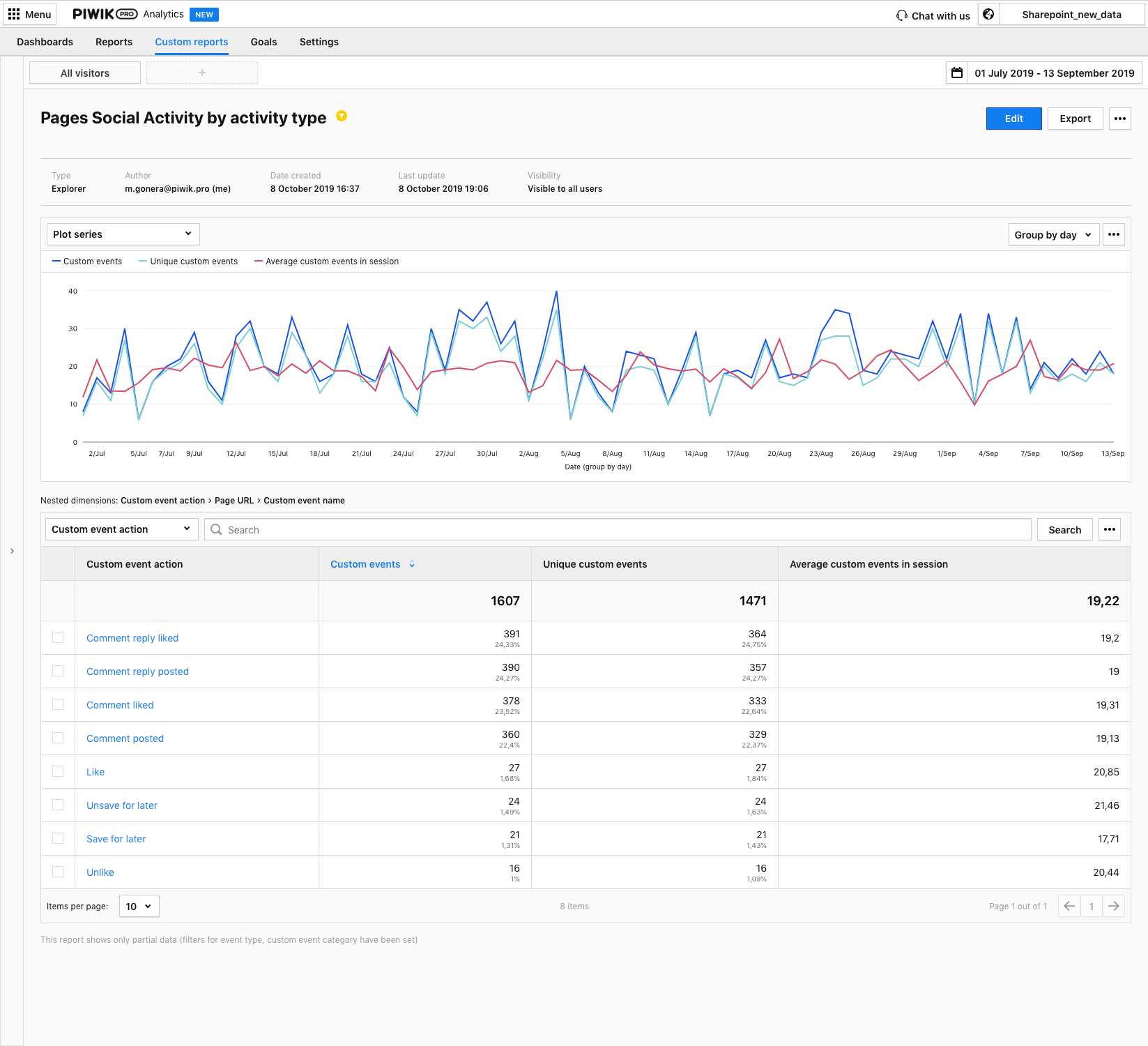 And you can place all these actions on a timeline to see if your content resonates with your employees, or how a particular page impacts your staff's engagement.
Such granular data identifies the pages that draw employees' interest the most, which is reflected in likes or comments. It's similar to standard analytics metrics, for instance, time spent on given page. This also gives you the ability to identify the most trending SharePoint content within a given timeframe so you can better adjust your publishing strategy.
3. Page Content Activity
If you want your team to stay on top of what's going on across your organization, then you probably rely on Pages to post announcements, status updates and other key information. That's why you should analyze how employees interact with this kind of content. The best way to do this is to track edits, shares and deletes.
Here's an example of this kind of report: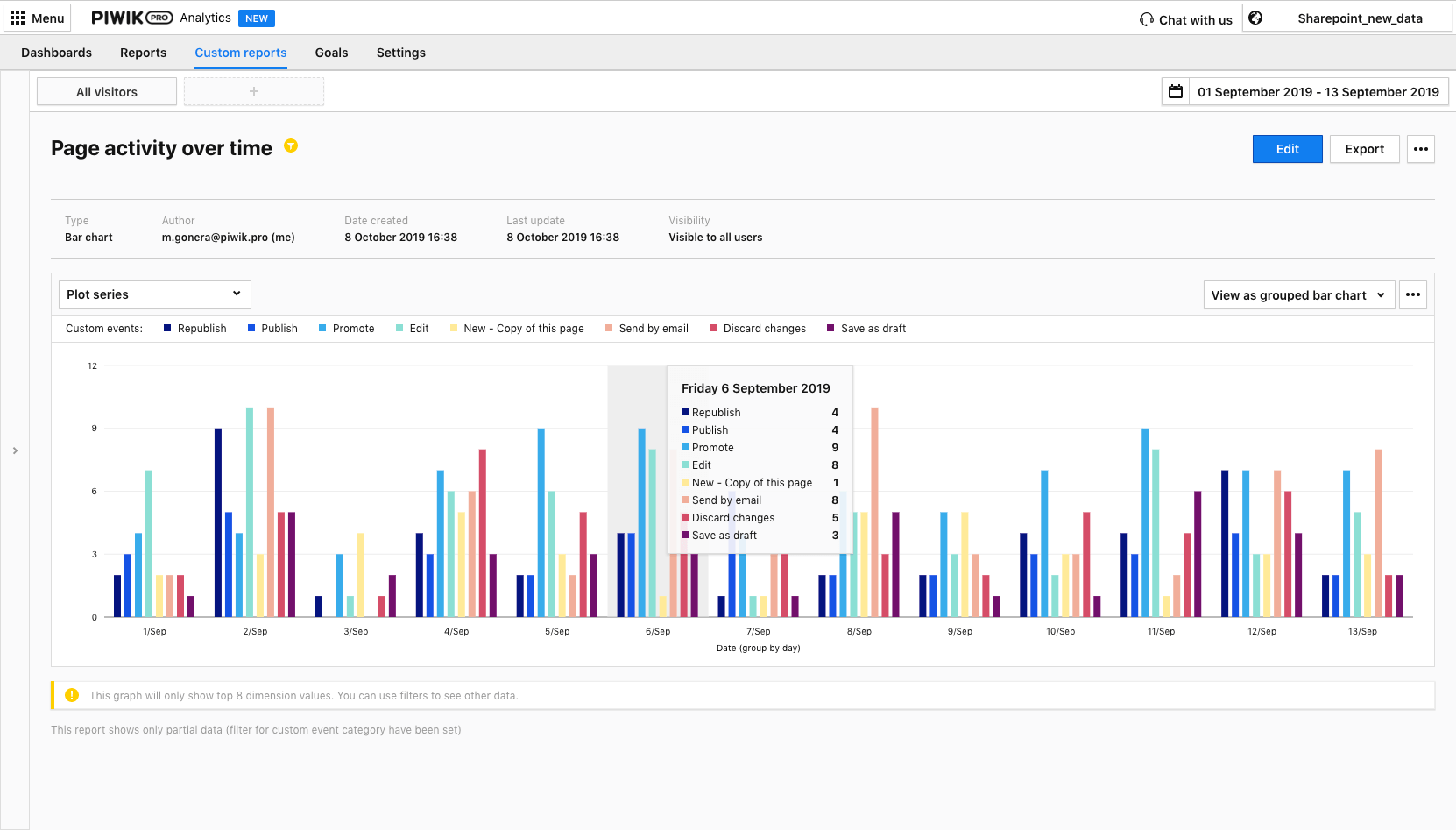 Step 3. Apply a wide variety of SharePoint reports
To get the most out of your digital environment, you need to measure its usage, analyze staff engagement in depth, and learn what devices people use to access it. It's not only about SharePoint document downloads or shares.
Here are a couple of handy reports you can generate and review to make sure your platform flourishes and helps your staff work efficiently.
Engagement reports
When it comes to staff engagement, you have multiple means of measuring it. You can analyze sessions and times when people take action within the platform.
For instance, apply a feature for plotting selected data rows in a chart (up to 5 in one go). This shows you how much time different user groups spend on SharePoint.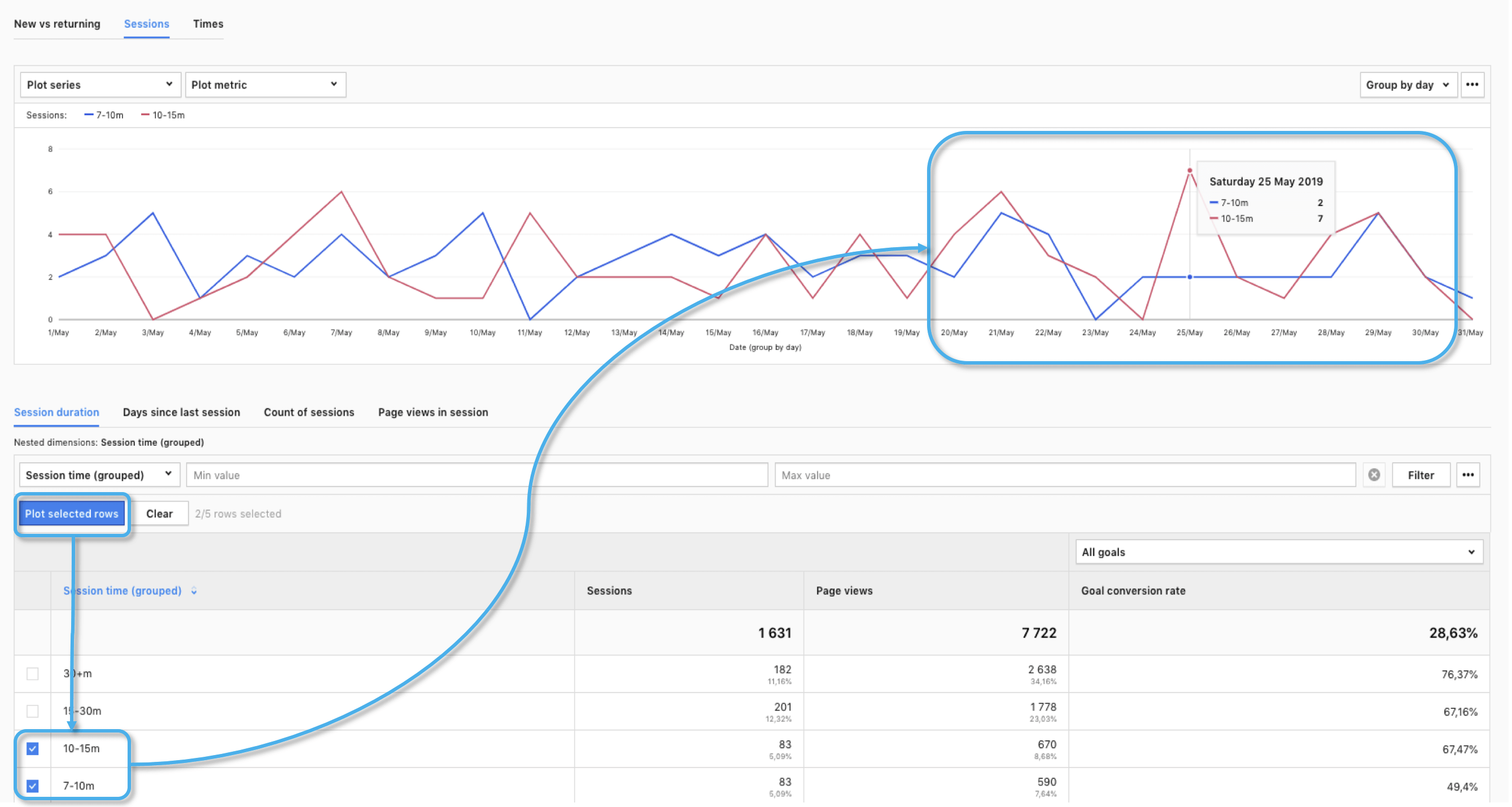 You can easily change the plotted metrics, even visualize different Goals you've set up in advance and which are available in the drop-down box.
Moreover, by using the comparison feature you can analyze the current performance of new content in contrast with a previous period, for example, when high-performing content was posted.
Next, you can create Times reports, applying segmentation to discover the best moment to publish documents, announcements, or remind users about some changes to your internal policy.
Page performance, devices and software reports
Just like with regular websites you need to ensure people enjoy a smooth and rewarding experience as they browse through different intranet pages. That's why you should stay alert to performance problems and troubleshoot potential issues. The first hint would be a high bounce rate.
This is where the page performance report comes in handy. If you want your SharePoint to work smoothly, you should be able to monitor the user experience related to browsing and viewing, discover any frictions, and fix them in a fly. Track and review metrics like:
Page load
Time to interact
Time until DOM is ready
Time to first bite
Latency
With this thorough performance checkup you'll be able to optimize your page and improve factors like page load speed.
Next you can apply device and software reports. They allow you to determine if it's the mobile or desktop app that degrades UX. You'll see what exact devices, brands and models are the culprits. This analysis also helps you optimize your sites for most common operating systems, browsers or even resolution.
Download report
That's the bread and butter of reporting. Since the intranet platform contains a host of documents, files, and other shareable materials, you should know if they are reaching their intended audience. With Piwik PRO you can track where the largest number of downloads occurs and track each file separately to obtain more granular data.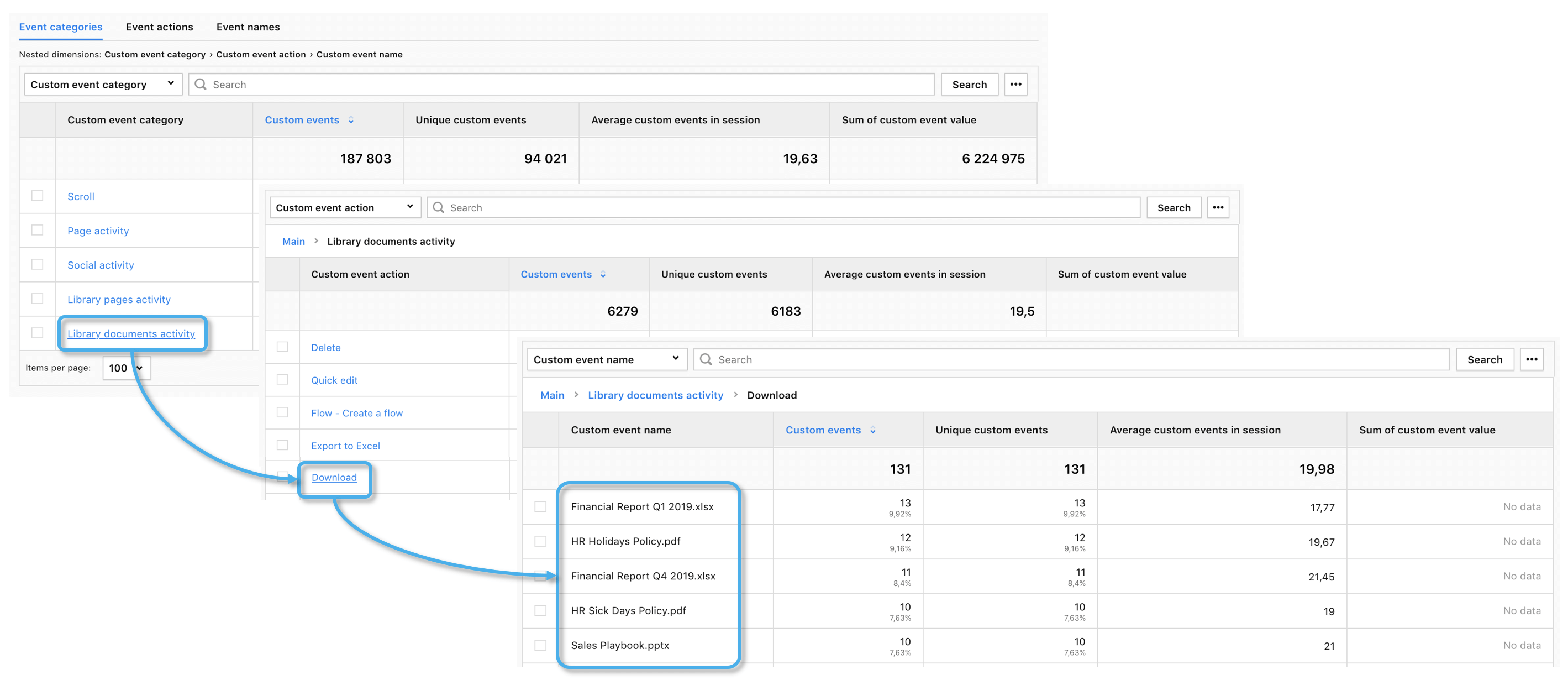 Channels report
To better understand how your staff members make use of your intranet space and how you should reach them to improve communication, you need to identify via which channel they enter the most.
Let's say your organization uses email to drive users to consume materials you publish on SharePoint. Then you should include UTMs in the email body, so you can track how employees reach for the content, whether via direct entry, a website or campaign. Or maybe your staff doesn't read your publications at all.
Internal search reporting
As you strive to make your digital workplace ever more efficient, it's important to have all key materials and publications easy to find. Here Search keyword report does the trick. It allows you to discover the most popular terms users type in.
Next, reach for a Search categories report, which classifies each search term into buckets of different types. This provides a wider perspective on the most trending queries. It could be a file type, author, or a date when they were updated.
This allows you to pinpoint categories of documents or pages that are currently underperforming, as well as spot documents created some time ago that could use a makeover.
Also, with Custom Reports you can build a very useful report on keywords that returned zero results. This gives you as a content creator the knowledge to optimize your documents or pages to make them more searchable.
Your intranet platform gives you a range of possibilities for looking up documents and sites, and the right dedicated software allows you to track all of them. Piwik PRO Analytics enables you to collect data on the information people seek via Search Center, SharePoint's interface for users to enter their queries and drill down into the results.
On the whole, you'll be able to capture the search results from different interfaces together with the results which you can analyze and transform that information to optimize your intranet.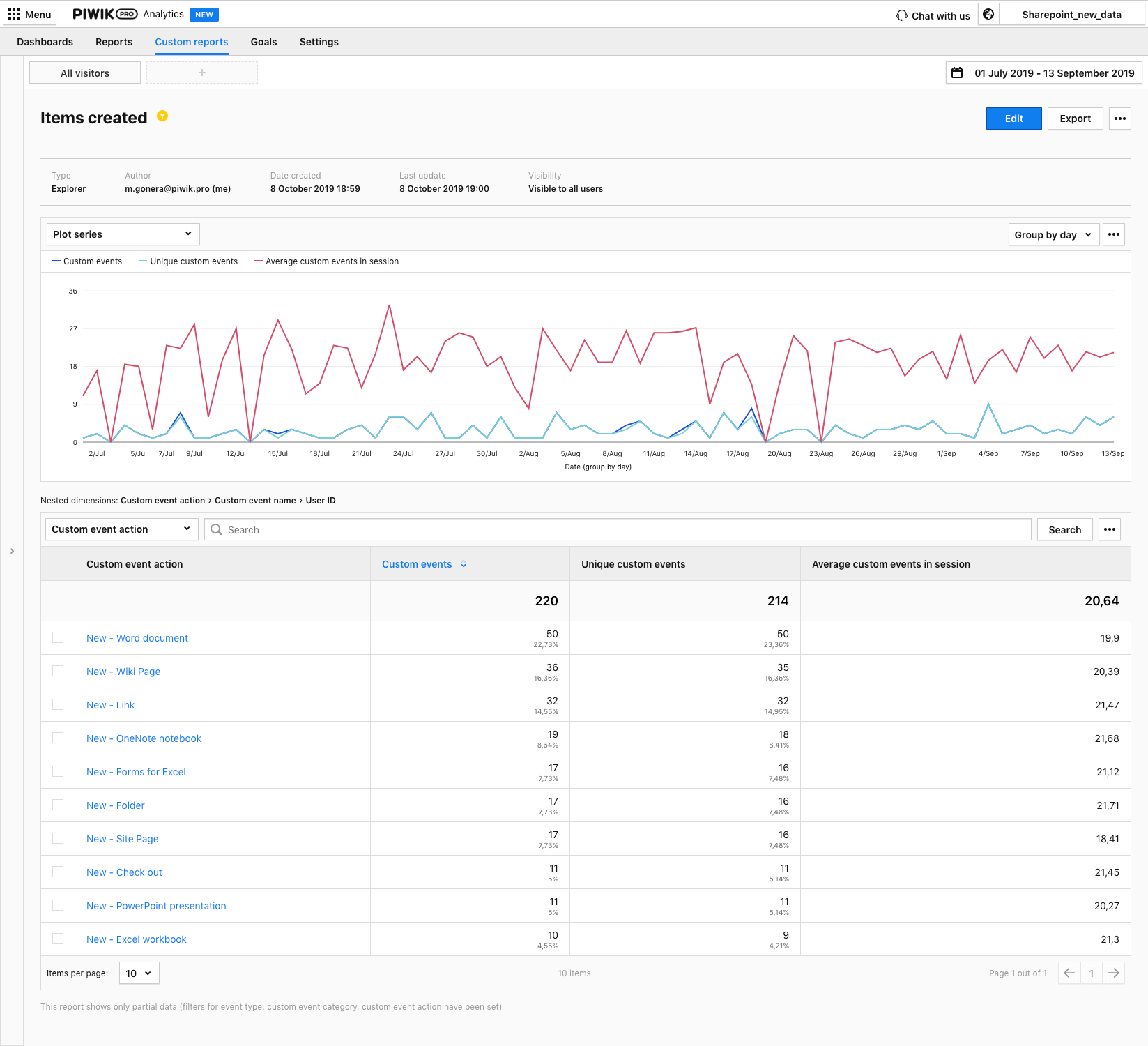 Step 4. Benefit from interactive SharePoint dashboards
Once you know each report type, you'll be able to present them together on a single page thanks to flexible dashboards. You'll have all the key data together in one place, ready to answer your business questions.
After setup, you won't have to worry about any maintenance. You can easily reorder and resize all your widgets to adjust your dashboard to your specific needs.
The dashboard below shows who your intranet users are by using data such as:
Department
Job title
Specific user
Office location
Device
Traffic origin country
User's active hours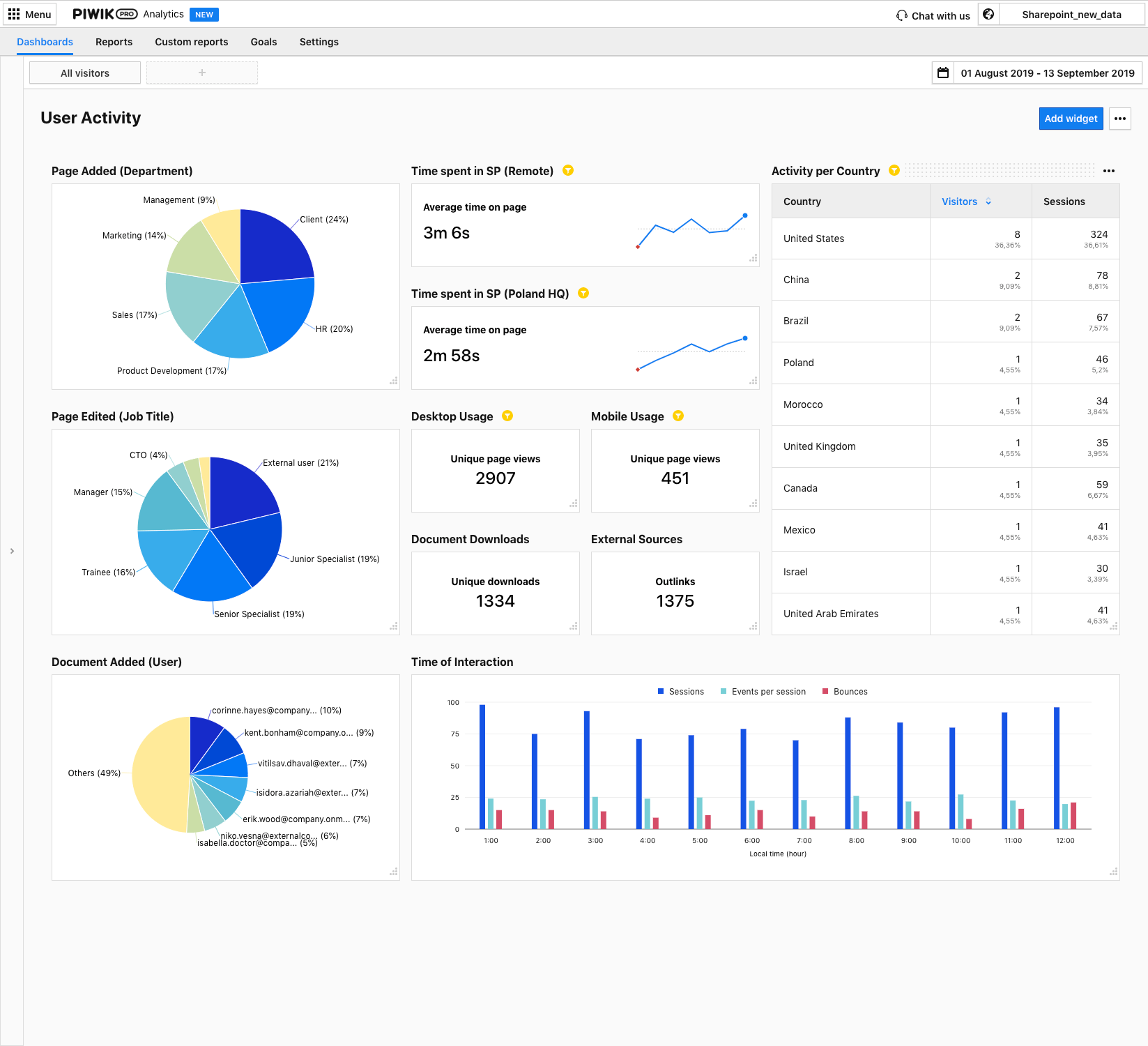 Another SharePoint reporting dashboard shows the condition of your traffic. All the crucial data is presented in a range of widgets.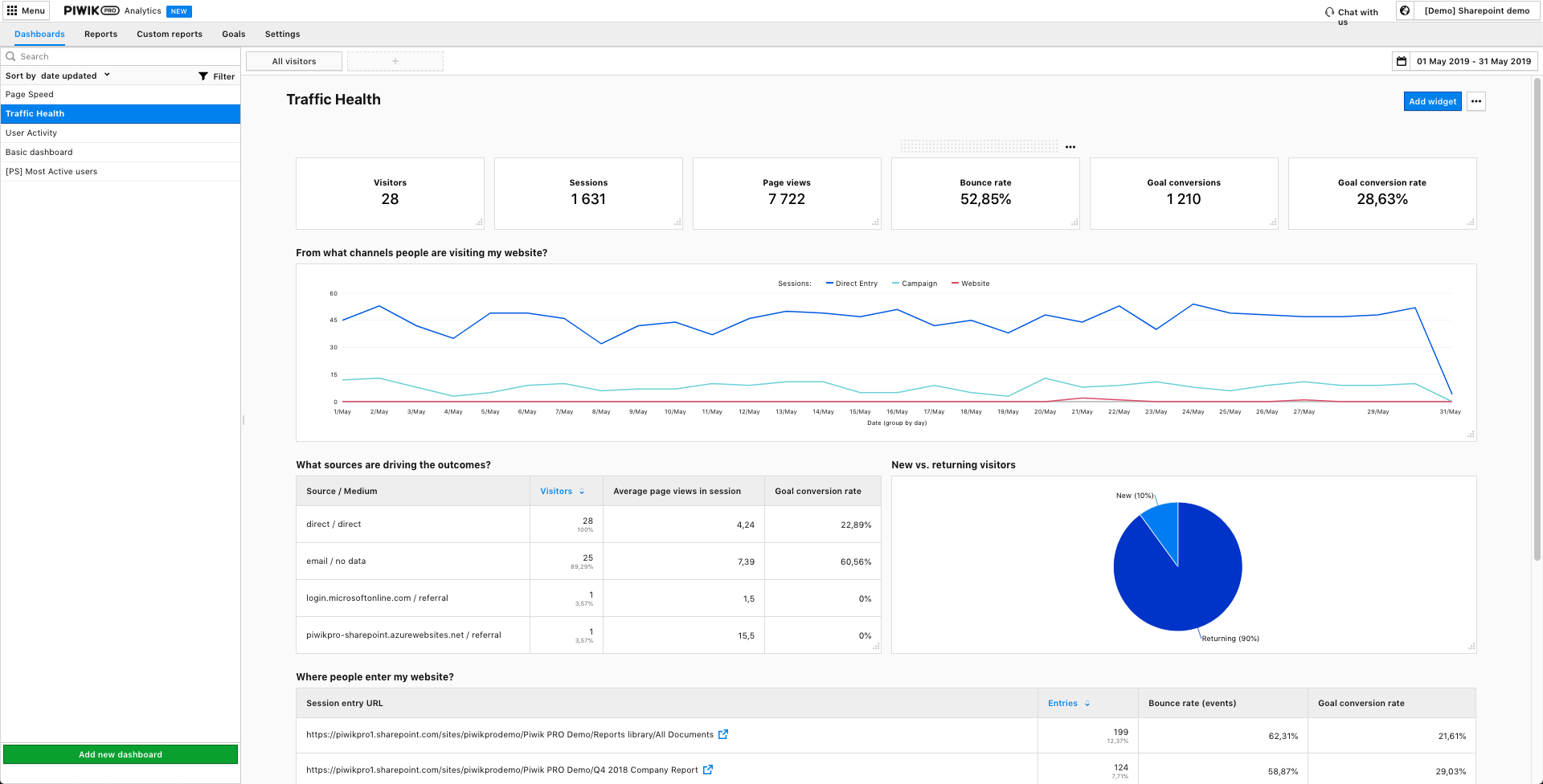 It consists of details like:
Visitors
Sessions
Page views
Bounce rate
Goal conversions and Goal conversions rate
Channels and sources driving traffic
Landing pages
With all that information you'll be better equipped to analyze the performance of your traffic. It's an opportunity to learn if your SharePoint users are active and engaging with the platform. You'll also be able to see how easily they can find what they are looking for.
Finally, you'll measure bounce rates and see which channels bring the most people to your sites.
Final thoughts
Your digital workplace should be the hub for knowledge, interactions, cooperation and other activities to jump-start productivity and engagement among your staff. That's why you need to keep a closer eye on how it works and analyze it from as many different angles as possible. And even if it's running smoothly, there are always some areas that could use tweaks and refreshing.
We hope that this post has given you a deeper understanding of the impact SharePoint analytics has on your platform. If you'd like to know more or have any other questions, just drop us a line and our Piwik PRO team will be glad to help.