Go Back
Piwik is a powerful open-source analytics platform that provides direct insights into all areas of your website and business. Piwik's strong privacy, data ownership and security policy makes it the analytics software of choice for medium- to large-sized companies, corporations and governments.
Piwik's most popular use case is web analytics. However, Piwik can also be used in a variety of many other analytics areas.
One such area is Intranet Analytics for Intranet tools like SharePoint.
Intranet Analytics is the fastest, most direct, and clearest way of identifying user engagement and overall productivity levels. Here, you can learn more on how it can help your organization in 4 practical use cases.
Piwik PRO SharePoint Analytics
Integrating Piwik with your SharePoint service enables you to gain deeper insights into all areas of usage of your SharePoint platform.
It is the fastest, most direct, and clearest way of identifying user engagement and overall productivity levels.
Based on the data and information displayed in Piwik, you'll be able to discover how well your company leverages the intranet platform to meet current business and team objectives, and then set goals to improve them.
Due to Piwik's strong commitment to user privacy, data ownership and security, your SharePoint data and user information will always be protected and not shared with any 3rd parties.
The Piwik PRO Dashboard provides a detailed overview of your SharePoint service.
What areas and actions can I track?
By integrating Piwik with your SharePoint service, you'll be able view data and information on a range of areas and actions in your service. Some of the main areas and actions are:
Visitors
Located under the Visitors menu, the Visitor Log section displays detailed information about every SharePoint user. A unique User ID (i:) is assigned to each user, allowing you to easily identify each SharePoint user.
There is also a list of Custom Variables that displays information associated with the user:
User name: John Smith
Office: J. Smith Ltd.
Job title: Sales Manager
Department: Sales
From there, you'll be able to view the user's session information.
By selecting a date range, you'll be able to see which pages the user visited, what actions they completed (e.g. uploaded a document) and how much time they spent on each page in a given session.
You can also view this information for a given session in the past by expanding the User Profile button. Doing so will display the user's session history, allowing you to see what the user did in previous sessions.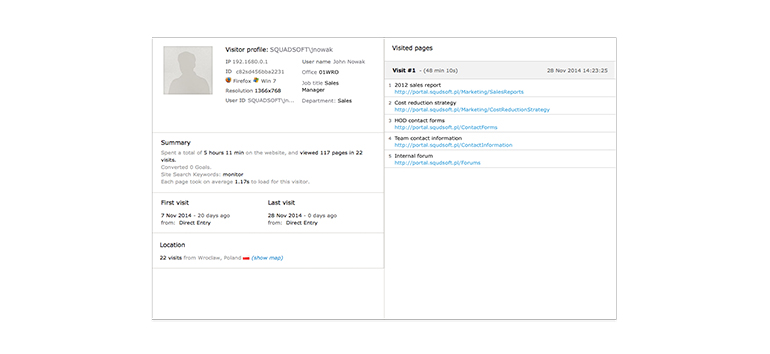 How is it valuable?
The Visitors section provides important data and information about your SharePoint users that will allow you to see which employees are actively contributing to the SharePoint community and how involved they are in the platform.
Compare 4 Leading SharePoint Analytics Vendors for Free
Learn how Webtrends, Piwik PRO, NGAGE and CardioLog Analytics differ from each other and find out which vendor fits your business's needs.
Download FREE Guide
Site Search
Located under the Actions menu, the Site Search section provides a list of the most popular keywords entered in by users during a search in SharePoint.
You will also be able to see which pages users accessed following a site search.
How is it valuable?
By analysing the keywords your users enter in and what pages they view after a site search, you will be able to look at the connection between your content titles and the content that your users are searching for. From there, you can make changes to your content titles to make it easier for your users to find and access.
Goals
You can create and track Goals in Piwik to measure certain objectives and priorities.
Some examples are:
Documents added
Pages added
Pages edited
A Conversion will be registered once a user completes a Goal.
How is it valuable?
Setting goals in Piwik is a great way to achieve certain business and team objectives, but it's also the best way to increase productivity on a company level, team level, and individual user level. Find out more about the usefulness of goal tracking in Piwik PRO from our User Guide.
Downloads
Located in the Actions menu, the Download section displays the number of times an item on SharePoint has been downloaded, such as a document, image, or any other piece of content.
How is it valuable?
Knowing the download percentages of each file in your SharePoint service will enable you to gauge their reach and exposure to your users. You will be able to see how many users download the company's monthly newsletter and other important company files.
Piwik SharePoint Analytics can be integrated with SharePoint 2013, SharePoint 2010, and Office 365 and can be set up for both online and offline services.
To find out more about the Piwik PRO SharePoint analytics offer, please contact our sales team to request a free Piwik PRO SharePoint Analytics product sheet.