Emails are one of the basic forms of communication in the online world and email campaigns are often the foundation of a marketing strategy. A well performing campaign is key to good communication and lead acquisition.
But even with years of experience in email campaigning we should always analyze the results and continuously optimize the campaign. To get actionable data from the campaigns and apply the right strategy we need to set up email campaign tracking correctly and be able to read the reports.
Let's start with configuration.
Tagging URLs
URL tagging is the foundation of proper email marketing analytics. URL tagging allows Web Analytics software to recognise specific emails as traffic sources.
When tagging URLs we can use the following sets of tags:
pk_* – original Piwik tags only recognized by Matomo and Piwik PRO. Useful tags in this case will be a combination of:

pk_source
pk_medium
pk_campaign

utm_* – Google Analytics tagging which is broadly used by analytics tools and other URL tracking tools i. e. CRMs. Using these types of tags we can combine the following:

utm_source
utm_medium
utm_campaign
Let's look at some examples of tagged urls in the context of analytics for email. Let's say we're using HubSpot as our provider and we're sending a monthly newsletter about new posts in May.
Using pk_*:
piwik.pro/?pk_campaign=newsletter-may-2019&pk_source=hubspot&pk_medium=email
Using utm_*:
piwik.pro/?utm_campaign=newsletter-may-2019&utm_source=hubspot&utm_medium=email
Tip: all the links within the email should be tagged, even those small, not very visible links in the footer.
There is no point in creating those tagged URLs manually – there are a lot of tools for generating tagged links.
One of them is Piwik PRO URL Builder.
Email campaign analytics metrics
We're finished with tag configuration, but before we dive into the reports we need to think about the metrics – understanding the metrics in the email analytics tool, and deciding which are important.
We can approach the metrics and reporting in two ways:
Taking a look at the performance of each email campaign (or even each email separately) in the email submission tool that we are using. It will give us information about how recipients interact with the email, but the scope of this tracking ends when the user clicks a link, essentially exiting the email.
But what about actions which were triggered by the e-mail? Since we tagged our URLs we will know which entries are sourced from URLs within the email and have the ability to track the actions taken by that user – all the way to conversion (if it happens, and we hope it does!).
Let's have a look at the most popular (and significant) metrics.
Email performance metrics
Delivered – number of emails actually delivered to the recipients. Ideally this metric is equal to the number of sent emails. But in the real world every database has some fake or incorrect email addresses resulting in some bounces.
Delivery rate – percentage of sent emails that were delivered. In Piwik PRO this year we have a 98.67% delivery rate which means 1.33% of our emails never reach the user. That's not bad.
Opens – quite straightforward – number of sent emails that have been opened.
Open rate – a more interesting metric than opens – it gives us an idea of how effective our email titles are and how engaged our database is with us. It's the percentage of delivered emails that have been opened.
Mailchimp created a great resource with all the industry standard values of each metric.
Clicked – metric which counts every email where at least one link was clicked, which means someone intended to go to your website.
Click rate – the percentage of delivered emails in which a user clicked on a link
2.43%
Average click rate for all analyzed industries researched by Mailchimp. That converts to just one email out of 40 getting clicks!
Unsubscribes – there's always a chance that someone will unsubscribe from our list. If someone really isn't interested in our offer canceled subscriptions will help us maintain an engaged database. But naturally we want to keep this value as low as possible.
Unsubscribe rate – this is the percentage of unsubscriptions from all delivered emails. It would be good to keep it under 1%. Average unsubscribe rate by Mailchimp is around 0.1-0.5% depending on the industry.
Email campaigns & Web Analytics metrics
A successful email campaign will drive traffic to your website. That's when we step into the realm of Web Analytics. So let's go beyond email delivery, open and click metrics and look at useful metrics to track when users come to our website.
Thanks to link tagging we can report the actions of users entering our website from email. In Piwik PRO, it will be reported as any other campaign, we just have to find the right set of source / medium among the other combinations:

And find the campaign name which is interesting to us – here are some examples of campaigns ran on Piwik PRO: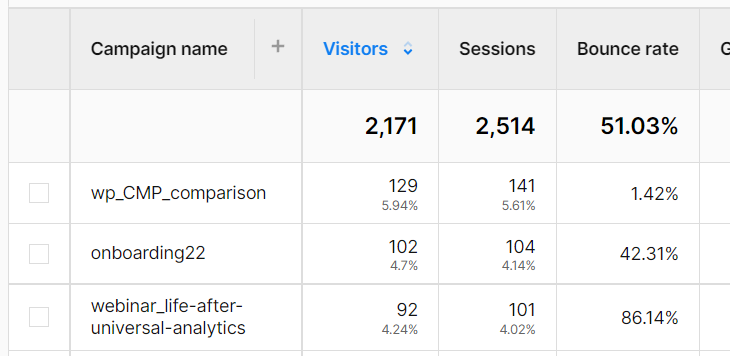 So what we can measure in terms of website entries from the email campaigns?
Bounce rate – this analytics metric will tell us how well the landing page fits the email message. If the landing page fits the message and recipients are interested, they will interact with the website in turn lowering the bounce rate. If it is too high we should think about some optimization to the email content, landing page or both.
Number of pageviews – shows us how many people are showing interest in our content by visiting our pages. We can dive deeper and see exactly which pages they are visiting.
Average time on page – also gives us an understanding of how engaging our content is to users coming to our website from email. By checking time on page we can get an idea of how interested users are… are they diving deep or just skimming the surface of our content?
Conversions – most important thing: not only have we gotten users to our website, they've also completed the actions we laid out for them.
By combining some of the email and Web Analytics metrics we can create a great report which visualises the campaign performance. Starting with our email campaign metrics and working our way into Web Analytics, finally ending with our conversion metric we can create a funnel. For example:
This type of report gives a clear overview and better understanding of the whole campaign.
Example email analytics reports
Now let's take a look at some report examples.
Let's see how the Hubspot dashboard looks: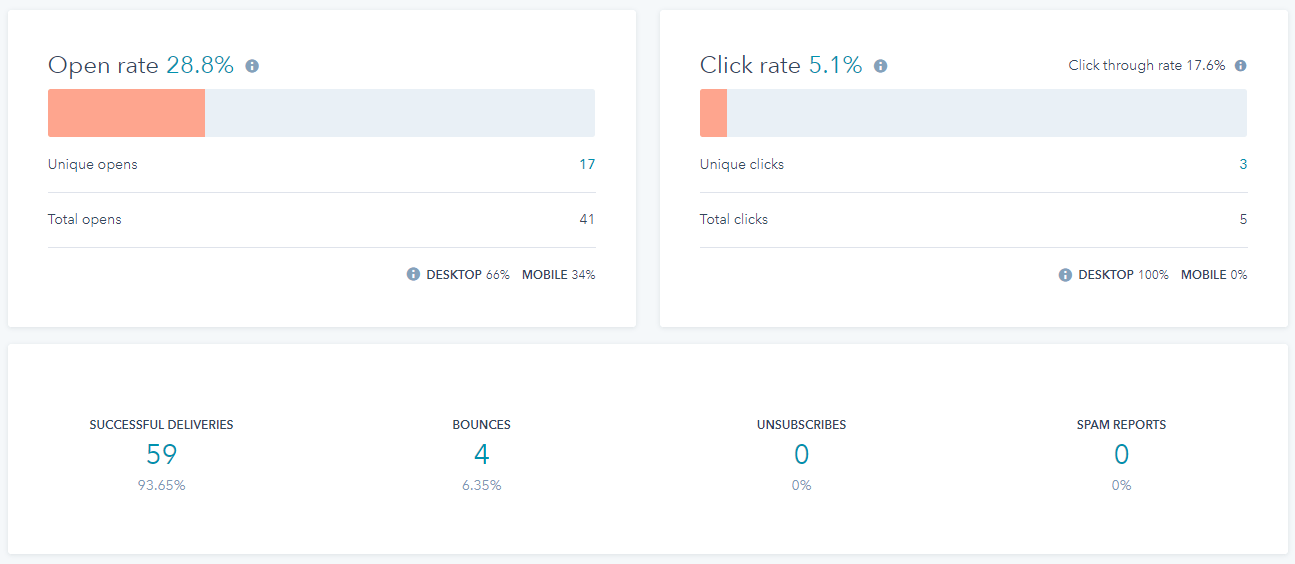 In this case we are monitoring an email campaign during a 30-day period. Due to the short time frame we don't have huge metric values but we can still draw some conclusions:
Open rate and Click rate are on the industry level (even a little bit higher)
No one unsubscribed from this email and there were no spam reports
Additional info: 66% of emails were opened from desktop and 100% of the clicks are from desktop.
Now let's have a look at the Piwik PRO custom report which presents all the email marketing campaigns: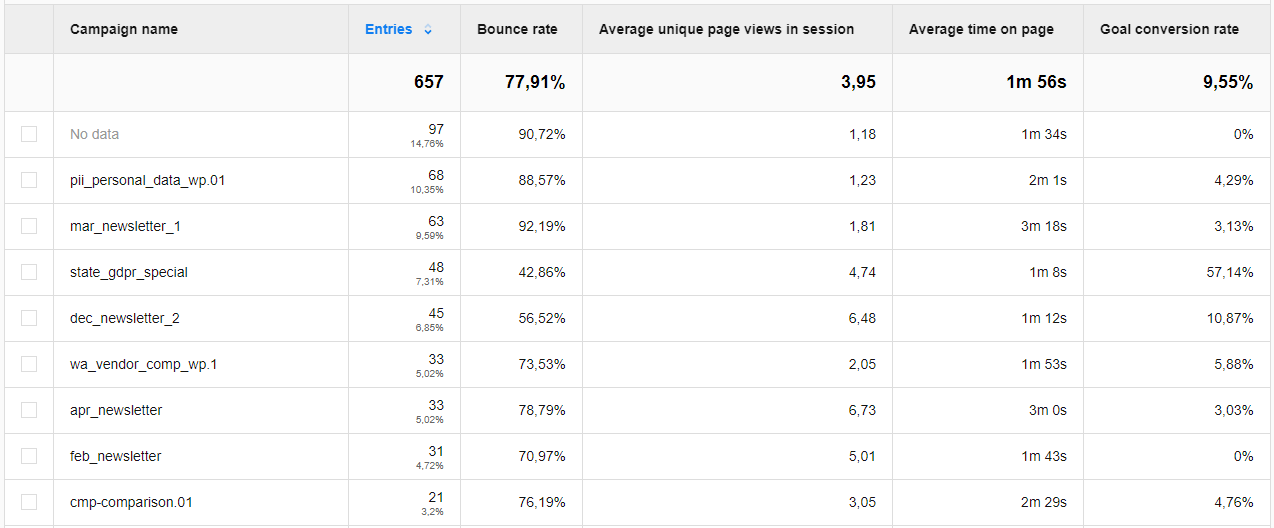 We can always create reports containing metrics that are useful for us. In this report we're using the metrics we described earlier in this post.
To create a report only for email campaign data we have to use the right filters. In our case the configuration should look like this:

We have set two conditions to avoid any errors – people configuring tags can use both values of utm_medium.
Conclusion
Correctly configured and implemented email tracking is the key to a successful, well optimized email campaign.
Email analytics doesn't end with the email submission tool, rather it's just the beginning. Email analytics should go beyond just sent emails and follow the user as they transition from email recipient to website user. We also need the ability to create clear and actionable reports that cover the whole process- from send to conversion.
If you have any questions regarding the email analytics tools feel free to reach out to us!