Consistent traffic generation can be a real challenge, but to get to that point, you will need to figure out where your visitors come from. When running online campaigns, gaining insights into referrers logs will help you learn precisely who sends visitors to your website. In this blog post we will focus on the referrers panel in Piwik PRO, as it can tell you a lot about your potential customers and enhance your future marketing efforts.
Every savvy marketer knows without proper insight into your traffic sources, you might be missing out on valuable information. Your brand or products are mentioned and linked to in many different places across the web; wouldn't it be useful to get to know them all? Luckily, Piwik PRO provides you with a comprehensive report on which keywords are best working for you, which ad campaigns are proving most effective, and who is linking to your website.
How it works
Every time a visitor enters your website, a piece of information is recorded as a source of this particular visit. It is presented in the form of a URL of the page where your visitor was before coming to your website. In Piwik PRO, there are a few different referrer types:
Direct Entry: When the URL is entered directly in the browser by your visitor.
Search Engines: Visitors may reach your page from a link in a SERP (search engine results page).
Websites: They may come from a link on someone's blog or website, forum, or other place on the web.
Campaigns: Visitors who came to your website as the result of a campaign.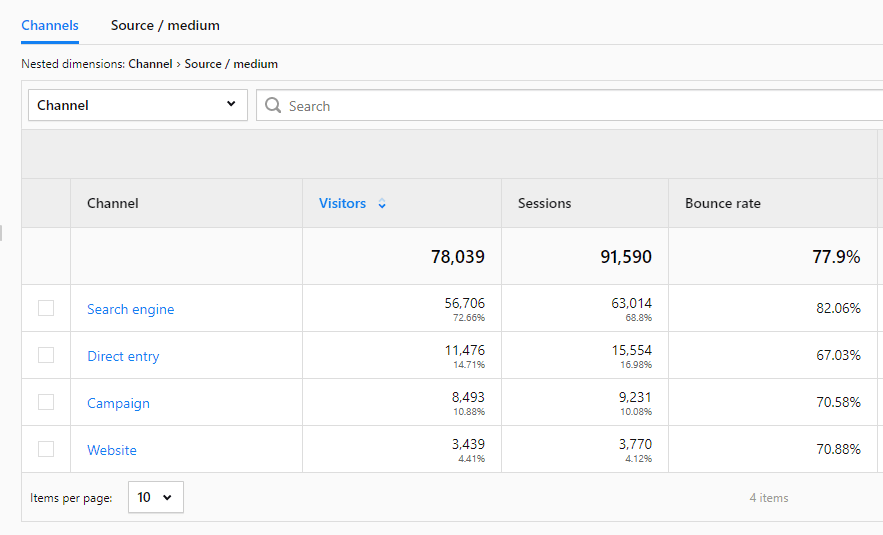 Free Comparison of 5 Leading Web Analytics Vendors
Compare 37 Variables of 5 Leading Enterprise-Ready Web Analytics Vendors:
Download FREE Ebook
The Referrers Report May Be Just What You Need
With Piwik PRO, you can easily track who visits your website and learn about specific traffic sources, which is more than useful information for understanding your customers and making more informed decisions. If you learn where and how your visitors look for information, you will be able to create successful campaigns without spending your time and money on those that don't bring you accurate traffic or prospective clients.
PRO Tip:To track your marketing campaigns, use tags and create a tracking URL for each one. This will let you segment your visitors and better identify the success of your campaigns: Learn about Piwik PRO's best tagging practices here
When studying your referrer panel's data, you will find a list of links on external pages that brought traffic to your site. Going through them, you may discover a new ally bringing numerous visitors to your site, who may even convert into long-term customers. In this way, the Referrer Websites report may also suggest the right direction for your future link-building campaigns.
---
Piwik PRO Referrers Comes with the Following Reports:
Overview: This report compares visitors from search engines, websites, campaigns, and those who came directly to your site.
All Referrers: In this panel you will find a comparison of all referrer types, whether they came from a search engine, link-building campaign, social media channel, website or through direct entry.
Search Engines: This table ranks visitors who came from different search engines. You will find out which engines are the most preferable among your audience.
Keywords: This widget provides a list of keywords your visitors entered in search engines to reach your site, along with a segmented visitors log. You will learn how many times a keyword was used, how many actions a particular visitor performed during the visit, and an average of how long visitors who used a particular keyword stayed on your website.
Referrer Websites: Your visitors do not only come from search engines, but from other external websites as well. This panel lists a count of visits from forums, blogs, articles, and other websites. If you discover referrers that send more traffic than others, it may be beneficial to investigate potential forms of partnership.
List of Social Networks: If your business invests in social media campaigns, this report may be useful to find which channels are most successful. It shows pages generating the most amount of traffic with an exact URL, so you know if your visitor comes from your profile or someone else's posts.
Campaigns: If you are tracking any marketing campaign, this is where you can find details about its results. Piwik PRO offers many different types of campaign reports, so you know the exact success rate of your efforts:

Campaign Name
Campaign Source
Campaign Keywords
Campaign Medium
Campaign Source – Medium (a summary of these two reports)
---
PRO Tip: Every report may be displayed in a different way. Piwik PRO offers many options of data visualization such as a simple table, pie chart, vertical bar graph, and many others. You can change it by clicking the arrow under the particular report and choosing the most suitable for you.
To sum up, tracking referrer metrics through these reports on a daily basis can help point you in the right direction for your marketing efforts. That's why in the next blog post, we will outline a few practical tips on how to enhance your business using the referrers insights, as well as how you can overcome challenges you may encounter when working with these reports.
Free Comparison of 5 Leading Web Analytics Vendors
Compare 37 Variables of 5 Leading Enterprise-Ready Web Analytics Vendors:
Download FREE Ebook