We're excited to announce that we're taking Piwik PRO SharePoint analytics capabilities to the next level. Improved performance and new capabilities for SharePoint data collection and reports are here. Starting August 19th, our customers will be able to try out the enhanced features as part of Piwik PRO Analytics Suite 14.
Version 14 also includes new additions such as calculated metrics. Let's dive into all the changes.
Track 55 new SharePoint-specific events
We've added dedicated reports, dimensions and metrics that will enable you to get a closer look at the performance of your digital workspace.
Our improved SharePoint analytics module picks up where the previous version left off, adding more default reports and more flexibility to fit a wider range of use cases. We've also made sure that it's easier to set up. More metrics and reports are ready out of the box. You'll also get improved stability and performance for all versions of SharePoint.
The flexibility comes from the data you can collect directly from SharePoint thanks to new native metrics and dimensions. You'll still see important information such as user ID, office, department and job title, so you can understand how users interact with SharePoint across your organization. Now you'll also get metrics such as likes, shares, comments, edits and deletions within SharePoint.
New default SharePoint reports include:
Site collection performance

Engagement
Content usage
Popular content
Internal search

Content

Overview
Page usage
Page activity
File usage & activity
List usage & activity

Social engagement

Popular content
Popular authors

Internal search

Searches
Failed search
Search with no result
In addition, you can use any metrics and dimensions available in Piwik PRO to create your own custom reports.
Content and social activity
Let's say you want to analyze and measure how employees use pages, lists and files across SharePoint. Reports from the content category will help you find out how people edit, change and share pages and documents.
What's more, you'll be able to monitor how employees respond to that content. In other words, check out the social engagement, whether people interact with it by adding likes and comments or by sharing it.

Site collection performance
Since SharePoint is built around site collections that are similar to a group of websites, we took this into consideration in this release. So the data and reports can apply to individual pages, site collections and whole groups of site collections.
We've grouped the reports into four categories: site collection performance, content, social engagement and internal search. Keep in mind that reports under site collection performance are for use only with metasites. The other three categories can be used across websites, allowing you to analyze a single site collection or a selection of such collections.
For instance, if you need to analyze how your content performs across the site collection, employ a content usage report. It'll show you how employees use pages, files, documents and lists across all SharePoint sites or a selection of site collections. It reports on views, openings, likes, shares and more.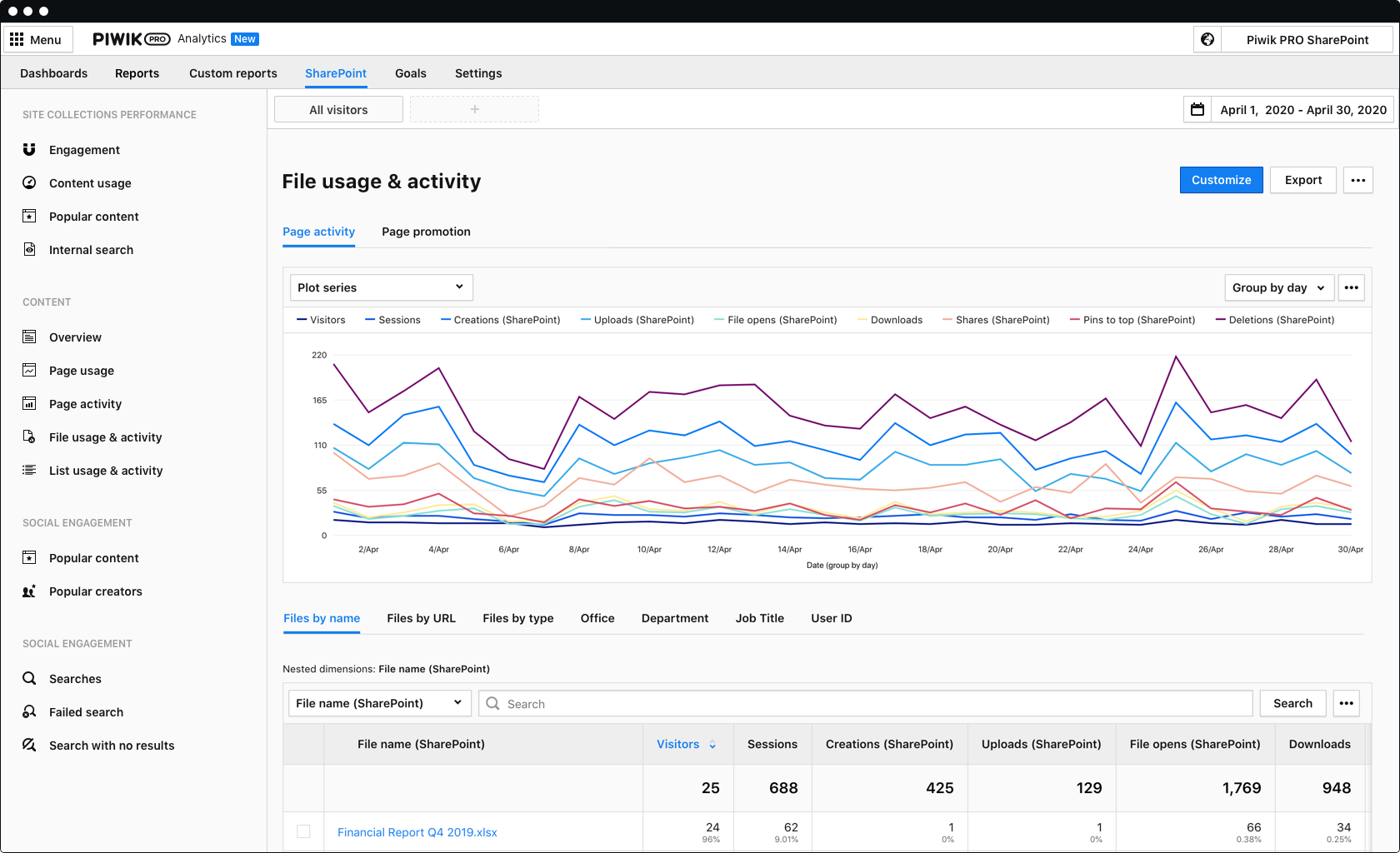 To learn more about this integration, check out our articles on the help center:
Calculated metrics
Piwik PRO provides many important metrics, but you might be missing the special ones unique to your organization. Now you can create a new kind of custom metrics using calculated metrics.

Create new metrics by adding other metrics and constants to metric formulas you define. You'll also find dimensions that can be changed into metrics.
For more details, read our help center article.
Other improvements in the Analytics Suite
To make navigating SharePoint reports handier, you can now turn them on and off from the Administration menu in Piwik PRO Analytics Suite.
Apart from that, our team has worked on some smaller but still important improvements. First, you'll be able to send a dashboard in a scheduled report, sharing any dashboard you want in a few clicks.
We've changed permissions for goals and custom dimensions to strengthen control over your reporting setup. Moreover, now it's possible to check filters set in reports without editing the reports.
The Piwik PRO team has also made many other enhancements and fixes. Check out the details in the changelog.