We've seen many positive developments in the past five years concerning privacy on the internet. GDPR came into force and regulators all over the world started taking data leaks and careless data collection seriously. That's the good news.
The bad news is that we've also still seen large players in AdTech, MarTech and analytics routinely ignore data privacy. Internet users are turning towards more and more aggressive ways of blocking any kind of data collection and activation. Trust on the internet is at an all-time low.
It's a good moment for the public launch of our newest creation: the Piwik PRO Core plan. It gives everyone the ability to create ambitious analytics projects while building trust with a privacy-friendly approach. The early-access users had a chance to test the plan. Their response has shown us that there is a great need for, and interest in, a free, powerful and compliant analytics platform.
What is Piwik PRO Core?
Piwik PRO Core is a free plan for Piwik PRO Analytics Suite. It's not a trial version – it will be free forever. We created it for both analytics professionals and those with less experience in the field. Core plan users are able to analyze the customer and user journey in business, healthcare, government and education.
Piwik PRO Core is publicly available starting today (Sep. 22, 2021).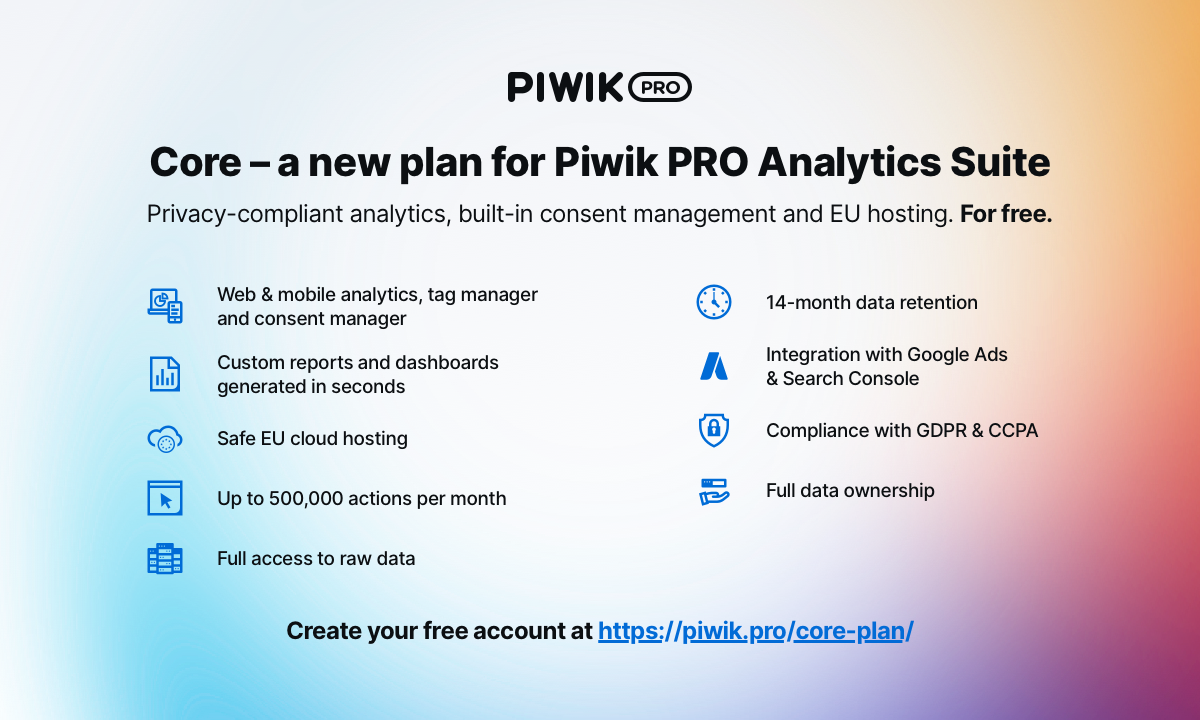 Data privacy
Responsible data collection and a commitment to privacy comes first in Piwik PRO Core, like with everything we offer.
Individuals own their personal data on the internet, according to GDPR and many other data privacy laws. So anybody doing analytics needs a good way to ask for consent. The Piwik PRO Core plan includes our Consent Manager for just that reason.
Visitors regain control of their data by getting a choice to consent or not. Consent Manager is also integrated with the Analytics and Tag Manager modules, meaning that data collection and sharing are done only when proper consent is obtained.
Full control of collected data is also part of the Piwik PRO Core plan. Secure cloud hosting in the European Union is available as of release, with more locations coming soon. Wherever the host servers are, Piwik PRO Core users will control where collected data is stored. Piwik PRO will never share this data with anyone else nor transfer it to a different location.
A transparent business model
We can operate this way because of our simple and transparent business model. Piwik PRO makes money by selling enterprise plans. These plans have more modules, actions and hosting options than are available in the Core plan.
We hope that the Core plan will get more people using Piwik PRO Analytics Suite. We have never, and will never, monetize data collected using our software.
What makes Piwik PRO Core different?
Our intention with Piwik PRO Analytics Suite has always been to give clients powerful analytics capabilities along with key privacy and security features. Piwik PRO Core is no different.
Core plan users will get access to a full set of data collection and reporting features – tag management, user flow, multi-channel attribution and more. Multiple privacy modes for data collection and consent management make it easy to collect, analyze and manage data in a privacy-friendly way.
We've developed the Piwik PRO Core plan so that it can work well in a wide range of situations:
Coming from Google Analytics. Feel at home with a familiar interface and all the advanced analytics features (plus some extras like direct access to raw data).
Coming from an open source tool or in-house solution. Get powerful features on a fast platform right from the start – no need to buy extra add-ons or make build them yourself. Piwik PRO offers industry-standard metrics and reports built on a back end optimized for analytics operations.
Starting a new analytics project. Setup is quick and easy. We're working hard on perfecting our training materials and building more ways to get support from the growing community of Piwik PRO users.
Differences from the Piwik PRO Enterprise plan
We'll continue selling the Enterprise plan for Piwik PRO Analytics Suite. Here are the main differences between the Core plan and Enterprise plan.
Data limits: The Core plan maxes out at 500,000 actions per month. The Enterprise plan lets you choose your monthly estimated traffic volume, from <5M up to 1B+ actions per month.
Data retention: The Core plan gives you 14-month data retention. With the Enterprise plan, it's 25 months or more (on demand).
Support and customer care: The Core plan includes automated onboarding, a community forum and help center materials. In the Enterprise plan, you get a dedicated account manager and support team. They help you set up reports and dashboards, provide you with personalized onboarding, training, ongoing support and extra professional services for custom add-ons.
Number of modules: The Core plan includes three out of four available Piwik PRO Analytics Suite modules: Analytics, Tag Manager and Consent Manager. The Customer Data Platform module is available only to those with the Enterprise plan.
Hosting options: The Core plan is only available with cloud hosting (only in DE for now). The Enterprise plan lets you choose between cloud (DE, NL, SE, FR, US or HK), private cloud in a dedicated database or dedicated hardware (60+ Azure regions, and European-owned Orange Cloud and Elastx) and on-premises deployment (in your own cloud subscription with one of our certified cloud providers).
Availability of enterprise features and integrations: The Core plan doesn't include the SharePoint analytics integration, single sign-on (SSO) or white labeling. All of these are available with the Enterprise plan.
How to get access to Piwik PRO Core
To get access, you just need to create your Piwik PRO Core account.
Our extensive onboarding materials and help center articles will guide you through setup, configuration and day-to-day use of our platform. If you want to dive into analytics details right away, go to our new community forum and join the discussion! We'll see you there.