Our team is bringing analytics to the next level and we're adding tools for analysis and modeling of conversion attribution to Piwik PRO with Version 15.1. We're also introducing custom channel grouping and some other handy add-ons and improvements. The final release will take place on November 12th, 2020, and it covers only the Analytics module.
Let's dive into the details!
New attribution models to analyze goal and ecommerce conversions
Visitors on your site rarely complete their buying process within a single session. Consequently, marketers need a precise method to assign conversion to the right channel. To help you out we've introduced new attribution models so you can get more out of your data and analyze your goal and ecommerce conversions.
Attribution models are crucial for your organization because they let you answer questions such as:
Which channel has the biggest impact on closing the deal?
How should I allocate my budget to maximize profit?
How can I decrease the cost of acquisition per marketing channel?
Now you can take advantage of the following models:
Last-click
First-click
Position-based
Last-non-direct-click
Time-decay
Linear
Custom
Custom models come in handy in case the standard ones won't meet your specific business needs. These models allow you to adjust baseline models to fit how you approach attribution for different campaigns, channels and projects.

Take advantage of attribution reports
We've enhanced Analytics with an attribution report that makes it possible to analyze conversions and sources of conversions on your website. In contrast to basic acquisition reports, it combines data grouped by various attribution models and data with conversion paths.
This report allows you to better understand the user's paths that led them to the conversion and shows which channel gets credit for generating the most valuable traffic to your site.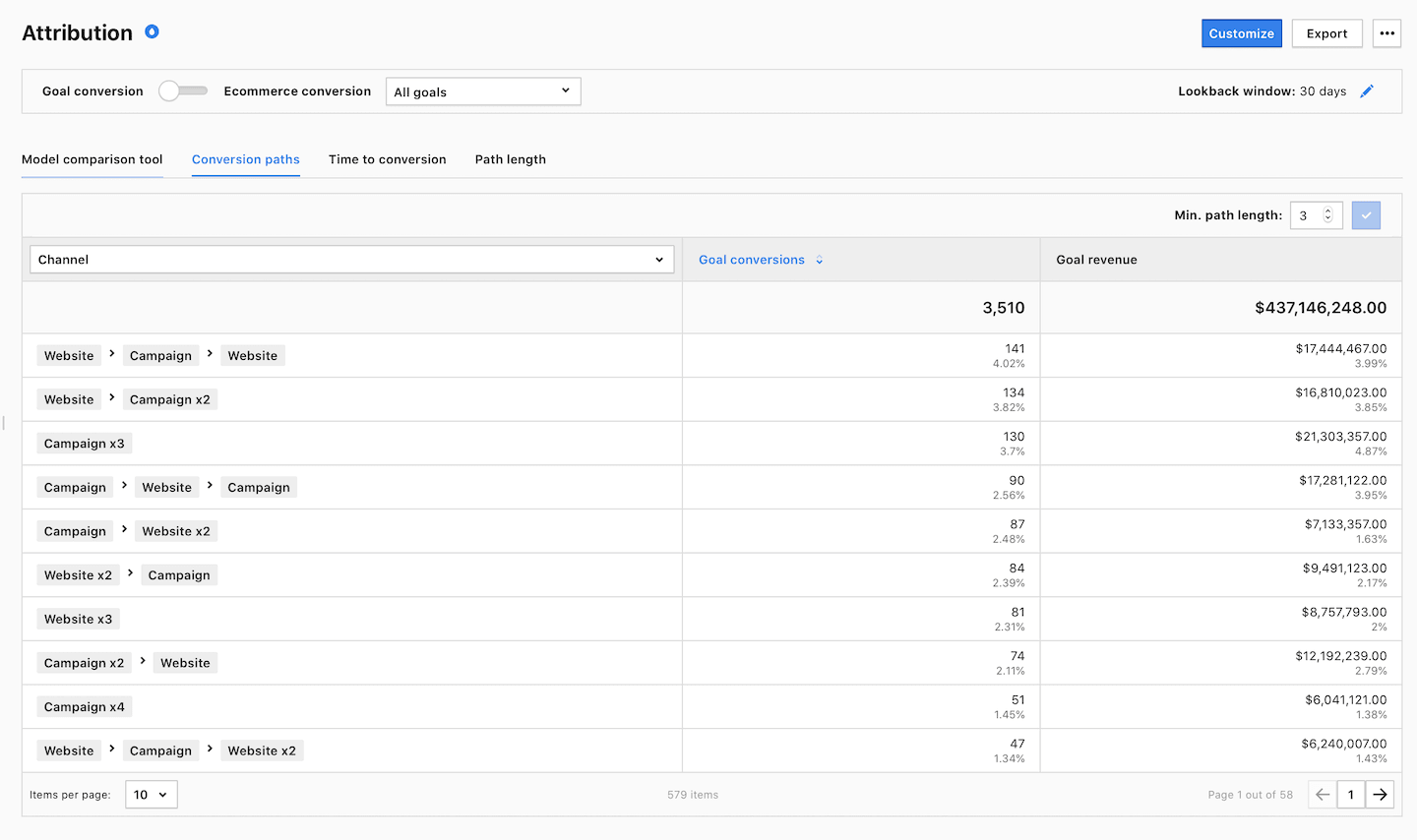 In the attribution report, you'll see four subreports:
Model comparison tool – compares the standard and custom attribution models
Conversion paths – shows the traffic channels that visitors used before reaching a goal or converted
Time to conversion – shows how quickly people reach a goal or make a purchase on your site
Path length – shows how many sessions it takes for people to reach a goal or convert
Model comparison tool
In the new version of Piwik PRO you also get a model comparison tool. It's a report that improves your conversion analysis by comparing different attribution models.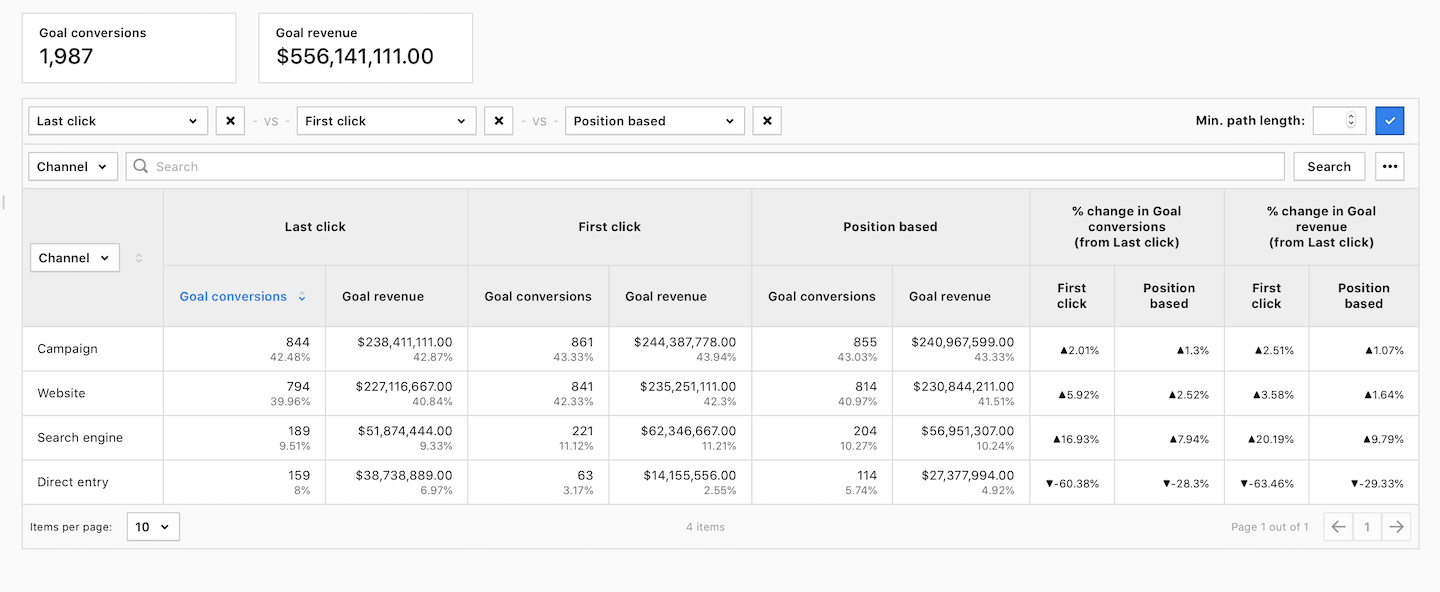 It's possible to create a custom attribution report in custom reports, where you can apply advanced filters and adjust reporting to the goals set for your website.
Organize your traffic sources with custom channel grouping
In Piwik PRO, traffic channels are organized into default groups, e.g.
Direct entry
Website
Search engine
Campaign
However, you might need a bit more flexibility. This is where custom channel grouping comes in. The new functionality allows you to connect all traffic sources to your website in one channel grouping that you define.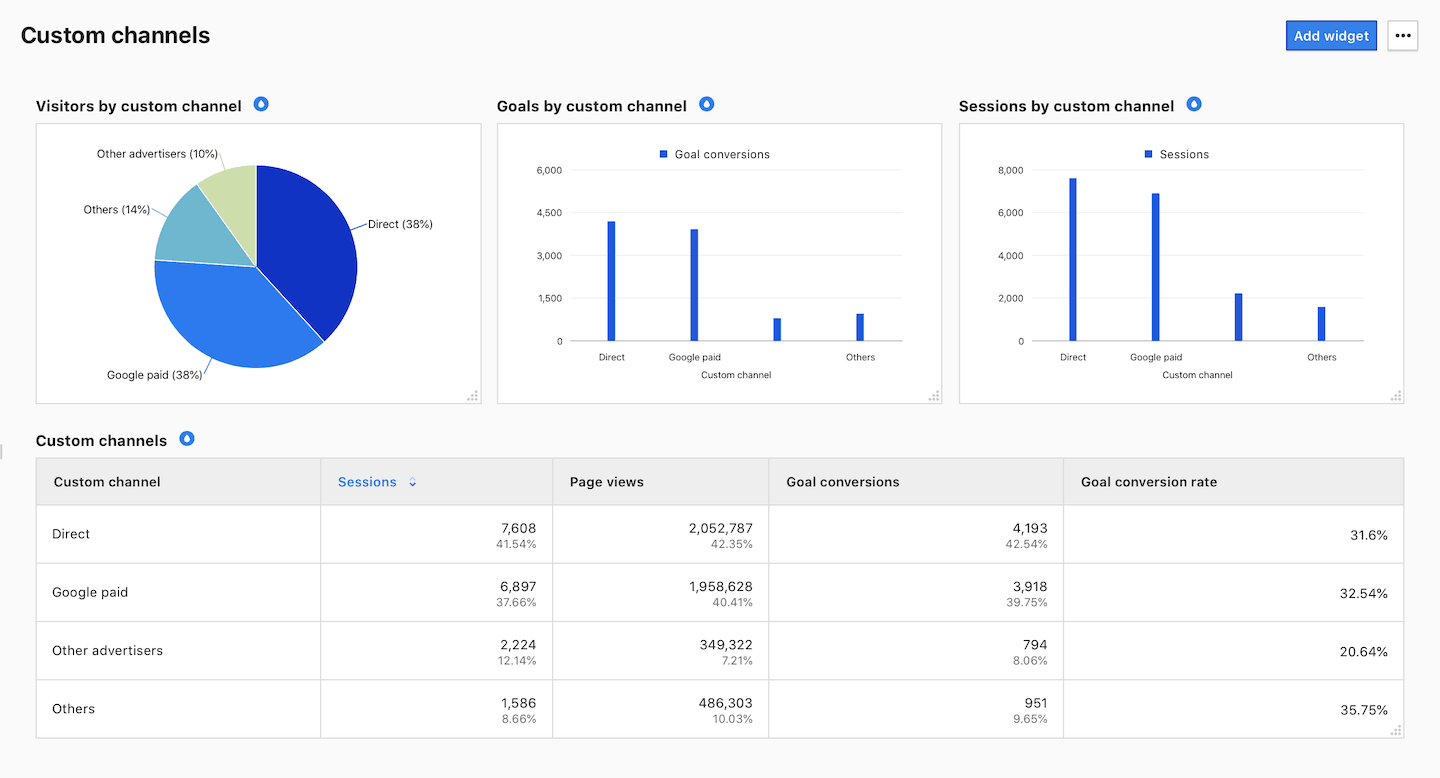 For instance, if you have an ecommerce shop, you can create a specific channel that will group all the referrals that lead to your shop. You can also distinguish affiliate traffic from other referrals and analyze the metrics for those visitors.
Other improvements in Piwik PRO Analytics
In the November release, we've also made some other upgrades. First, we've added a brand new metric Unique goal conversions that shows you the number of uniquely completed goals. Repeated goal conversions are counted only once per session.
Second, you can use a new dimension Bounced session that displays bounced and non-bounced sessions. This comes in handy for filtering and creating custom attribution models. In those models, it allows you to better assign a value to a particular channel, for example, diminish the credit given to a channel when a session was bounced.
Our team has also improved the user experience to let you decide whether you want to save changes to your user flow report or not.
Finally, it's now possible to get scheduled reports as a CSV file.
You'll find all the details on Version 15.1 in the changelog. If you'd like to learn more about our product or have some analytics questions, reach out to us.