An emphasis on customer concerns, privacy and security is important to about 90% of those surveyed by Morning Consult. This leads to a problem for financial institutions of all kinds to balance regulatory compliance with providing customers with personalized offers. Banks need data about the customer journey to understand their clients' preferences and compete in a crowded market. That said, collecting personal and sensitive data brings many risks to privacy and security.
The answer is to collect data in the right way while actively minimizing and managing those risks. That's what we'll show in this whitepaper. We'll also give you some actionable steps you need to take to enhance the digital journey for your customers.
What challenges do banks face in improving the customer journey? And how can they tackle them?
Security – Security of information is integral to banks' operations as they handle consumers' personal data, which is often of a sensitive nature. Appropriate safeguards mean you control where data is kept and who has access to it, so you'll be able to minimize the risk of data leaks and breaches as well as prevent malicious attacks.
Data residency – If your bank has an international presence, you need to be aware of the local data privacy laws of countries you operate in. Some countries require storage of their residents' personal data within the nation's physical borders. To meet those obligations you need to choose a proper hosting option that allows you to keep the data in a compliant location.
Data transfers restrictions – Transferring data, especially personal data, is a tricky business. Regulatory issues of many kinds limit where you can send data. The solutions differ based on where you operate, but there is one constant: you need to remain in full control of your data. This means knowing what kinds of data you collect, where it's stored and when it's transferred. It also means having direct influence over all three.
Industry restrictions and internal protocols – Banks face a challenge of compliance with numerous regulatory frameworks, laws, sectoral restrictions and internal protocols. Unfortunately, there's no one-size-fits-all solution. Some apply globally, others vary from country to country or between businesses. The key is the awareness of those that impact your business, then following them.
Reliance on third-party data in your advertising strategy – Financial institutions that carry out advertising campaigns tend to rely on third-party audiences bought from other businesses. But this approach is becoming problematic considering that the availability of third-party cookies is decreasing, and the quality of that data is low. Still, you can do successful marketing using first-party data.
The lack of a unified view on the customer journey and ad spends – If you run web or app analytics projects within your organization, you may find it hard to measure the value of your investment. That's because data is scattered across different tools and systems. The solution is to have one platform that enables you to collect, stitch and use that data.
Improving the customer journey in banking
If you're setting up to optimize your customers' journey in your bank, your first step is to get the complete view of your customers and the path they follow with your organization. That requires data and the right piece of software that lets you transform it into action.
Once you overcome the challenges we've mentioned, you'll be able to focus on improving the user journey. This involves removing bottlenecks, awareness of the micro journeys you need to take care of, and finally encouraging customers to engage with your products more.
Download our white paper to get more details on the challenges we've discussed and how to apply the solutions. You'll also find an overview of how to optimize the customer journey and practical use cases, such as:
Use case #1 How to optimize onboarding and improve engagement
Use case #2 How to increase the number of credit applications
EBook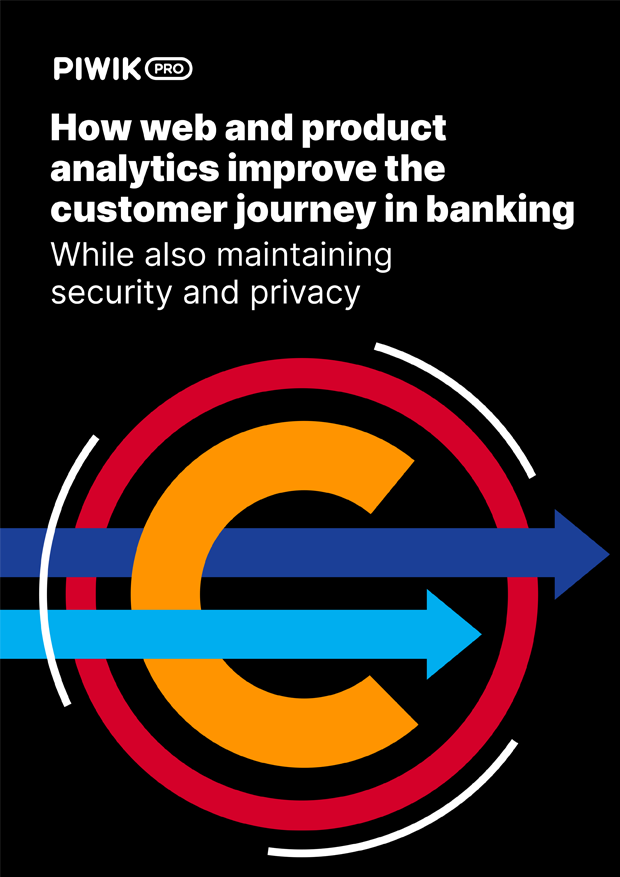 EBook
How web and product analytics improve the customer journey in banking (while also maintaining security and privacy)
Everything from security safeguards, compliance with privacy-regulations, data transfer restrictions and practical use cases