Another month, another upgrade. We're happy to share the news that Piwik PRO Analytics Suite has been updated to version 6.0.0. The official release to our customers took place on April 18, 2018. Following the old saying There's always room for improvement, our team is continuously working to refine our products.
Some of the updates are just tweaks and fixes, but we've also introduced a completely new product. Keep reading to learn about all the changes.
What's up with the Piwik PRO Analytics Suite?
Starting with the most prominent change, we've introduced a brand new module: Consent Manager.
With GDPR looming on the horizon our clients can sleep soundly. We'll make sure they stay on the safe side with a tool that makes it easier to respect data subject rights under GDPR. Consent Manager lets you collect visitor consents for specific data processing purposes, as well as handle consent changes and other requests all in one convenient place.
Thanks to a simple editor, creating and editing consent request pop-ups and other kinds of widgets now takes just a few clicks.
What's more, Piwik PRO Consent Manager will help users easily exercise their rights as data subjects. Just install the Data Subject Request and Privacy Settings widgets on your Privacy Policy page. Visitors will then be able submit requests for things like data erasure, rectification, access, and portability.
Finally, admins can review each request, change its status, and follow up on their progress. This helps to ensure that all necessary steps are taken within the required timeframe.
To learn more about the finer points of our new product visit the GDPR Consent Manager subpage.
Improved Platform
Moving on, the Piwik PRO Analytics Suite platform itself has been retooled and refreshed. Let's start with a new feature, the GDPR compliance option that can be set at the website/app level. This allows users to choose if the website will operate in a mode compliant with the Regulation or not. If the option is set to OFF, the new visitor opts in by default and personalization is performed. Otherwise, it means that new visitors opt out and will receive a pop-up with a consent form.
Along with these updates, the platform bar has been redesigned. You can see a list of all our products: Analytics, Tag Manager, Audience Manager (CDP), Personalization, and Consent Manager.

In addition, for the latest update of our product we've also solved some bugs and issues with Tag Manager.
What's up with Analytics?
The recent update also brings some major changes to the Analytics module. First of all, we've introduced an App store analytics feature compatible with the Piwik PRO Analytics Suite. It lets you easily track visitors and their actions across well-known application stores, namely Google Play and the Apple App Store.
Another improvement we've added is AdWords external integration. This makes AdWords integration with the Analytics module available again, as we've made it compatible with the full Piwik PRO Analytics Suite.
What's up with Audience Manager?
Last but not least, our team has introduced some advancements and tweaks to Audience Manager. Now, the initial setup puts some basic predefined audiences at your fingertips. This is a very convenient and time-saving solution.
Additionally, you can enhance your audience segmentation with the new browser language attribute. Now you can use additional data for your visitor profiles. Precise profiles are a vital ingredient in your targeting and personalization strategy.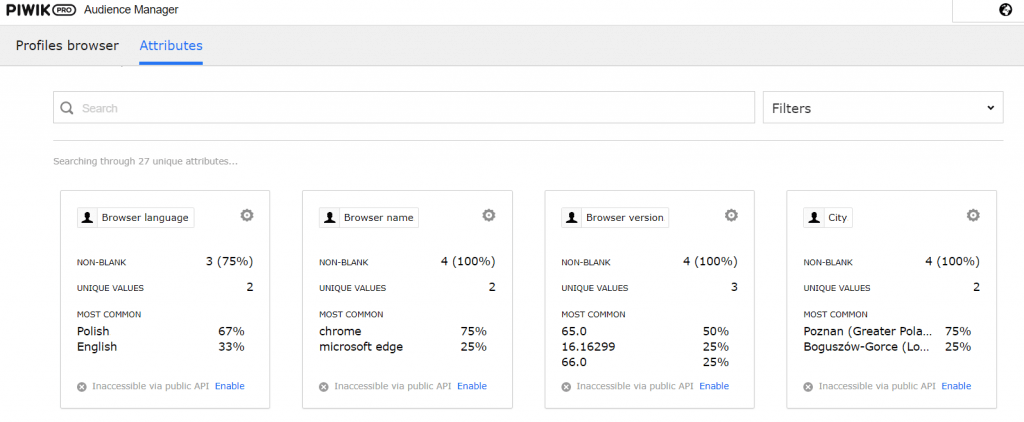 Moving along, in the profile view you can now see the date of its last update, to keep you up-to-date with the newest information. This will come in handy not only for audience creation but also debugging processes.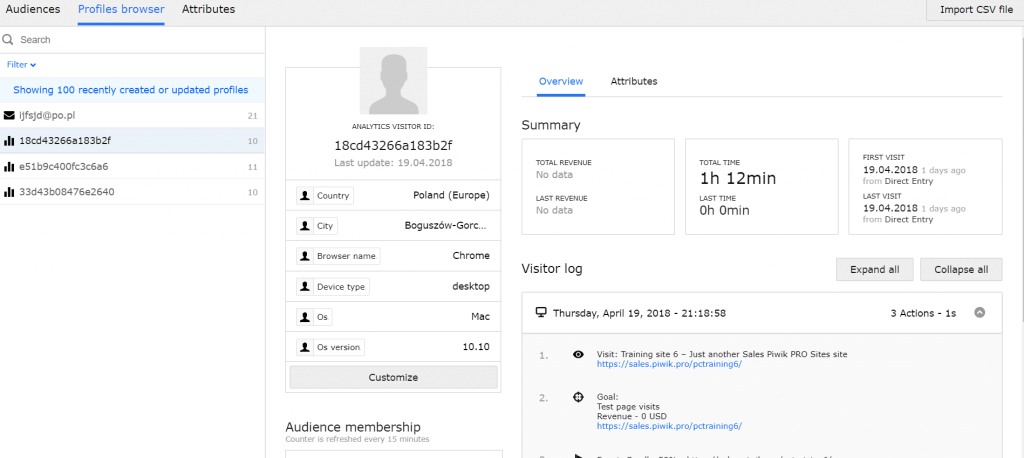 Additionally, we've expanded the list of operators available for audience building to include Is not empty and Is empty. Now you can filter for profiles which do or don't have a particular attribute. You can set them by using conditions parameters. All in all, you gain more possibilities to create exactly the audience you want.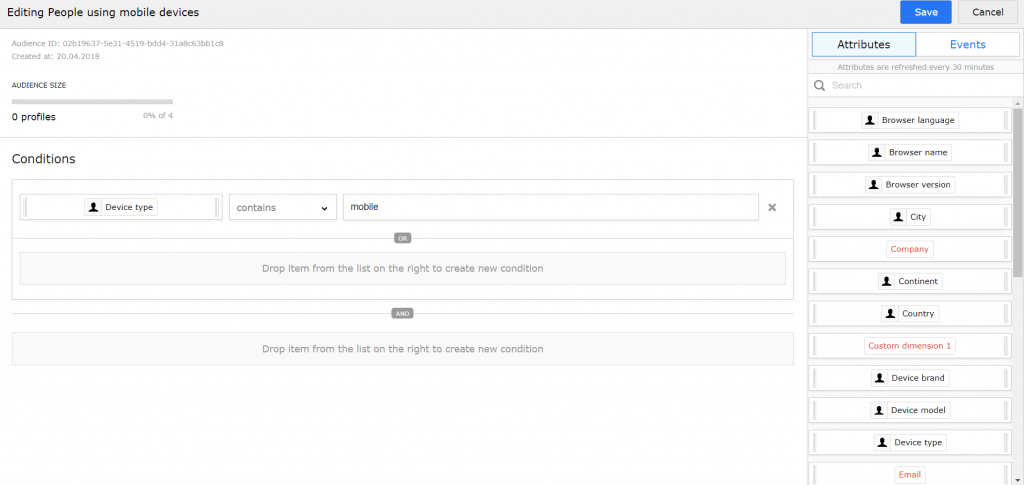 Finally, we've added a functionality that immediately updates the attributes data after you import the CSV file. This lets you filter user profiles as soon as the imported information reaches the database.
That's about it when it comes to the most significant changes and updates we've introduced to our products. Have a look at our changelog to find more details on the upgrade.
Final thoughts
The April Piwik PRO update has brought some serious advancements as well as smaller upgrades to our products and features. It's all designed to help you solve web analytics issues in the most convenient way. But there's more to come, so stay with us to get the news first. If you'd like to share your feedback or ask some questions, just get in touch!