We're happy to announce that we're extending our marketing stack with a GDPR Consent Manager. Our new tool will help you automate a huge part of collecting, processing and storing GDPR consents and data subject requests.
GDPR – an EU regulation that will change A LOT in the approach to data privacy – comes into force in less than two months (May 25, 2018).
Preparations for the new law are a huge challenge for every business wanting to process data of European citizens and residents. Unfortunately, studies indicate that a significant number of companies are still not ready for it.
According to a survey by the Direct Marketing Association (DMA) only 54% of businesses expect to be compliant by May 25, 2018.
Consent is key
We believe one of the problems companies are facing right now is the lack of a data privacy culture within their business partners.
Alter all, one of the most important steps in preparations towards GDPR will be making sure that data processing consents are collected in an appropriate manner, especially since new regulations are really strict in this regard. Among other things, consents will have to be freely given, specific, informed and unambiguous.
The regulation also introduces new obligations related to the exercising data subject's rights, such as:
Right of access (Art. 15)
Right to rectification (Art. 16)
Right to erasure (also known as: right to be forgotten) (Art. 17)
Right to restrict processing (Art. 18)
Right to data portability (Art. 20)
Right to object to processing (Art. 21)
In the case of digital businesses, aligning to the new law will involve making many adjustments to their analytics tools and making sure that all their business partners are also up to the task, and can support them in ensuring compliance.
Unfortunately, most of the vendors (including Google Analytics) haven't provided solutions that would allow companies to comply with certain aspects of GDPR such as collecting lawful consents or respecting users right to data access, rectification and erasure, or the right to data portability.
If you'd like to learn more about the responsibilities GDPR will bring, we recommend you these blog posts:
Consent Manager can help you with the task
We decided not to follow this worrying trend.
What's more, following the Piwik PRO team's commitment to data privacy, we made sure our marketing stack is ready to handle such tasks by design.
In order to aid our clients in their preparations towards GDPR, we designed a tool that makes it easier to respect GDPR rights by allowing you to collect visitor consents for specific data processing purposes, handle consent changes and other requests, all in one place.
It's called a Piwik PRO Consent Manager.
Consent Manager has the features to cover the whole visitor life cycle: from getting the consent of a new visitor to addressing data subject rights requests.
Collecting users' consents properly – without bundling, pre-ticked boxes and vague generalization about the purpose seems to be the biggest challenge in the history of digital marketing, but the truth is, it's not. It's a matter of respecting the rules and people they're protecting. For Piwik PRO customers this respect for privacy has always been a crucial part of the corporate DNA and we're proud to support it with a proper tool. – says Grzegorz Jendroszczyk, Data Protection Officer in Piwik PRO.
What Consent Manager Does
Using a simple editor, you'll be able to create and edit consent request popups and other types of widgets helping you collect lawful consents. They will serve as a "gatekeeper" between your website's visitors and an array of tools that will later operate on agreed types of data.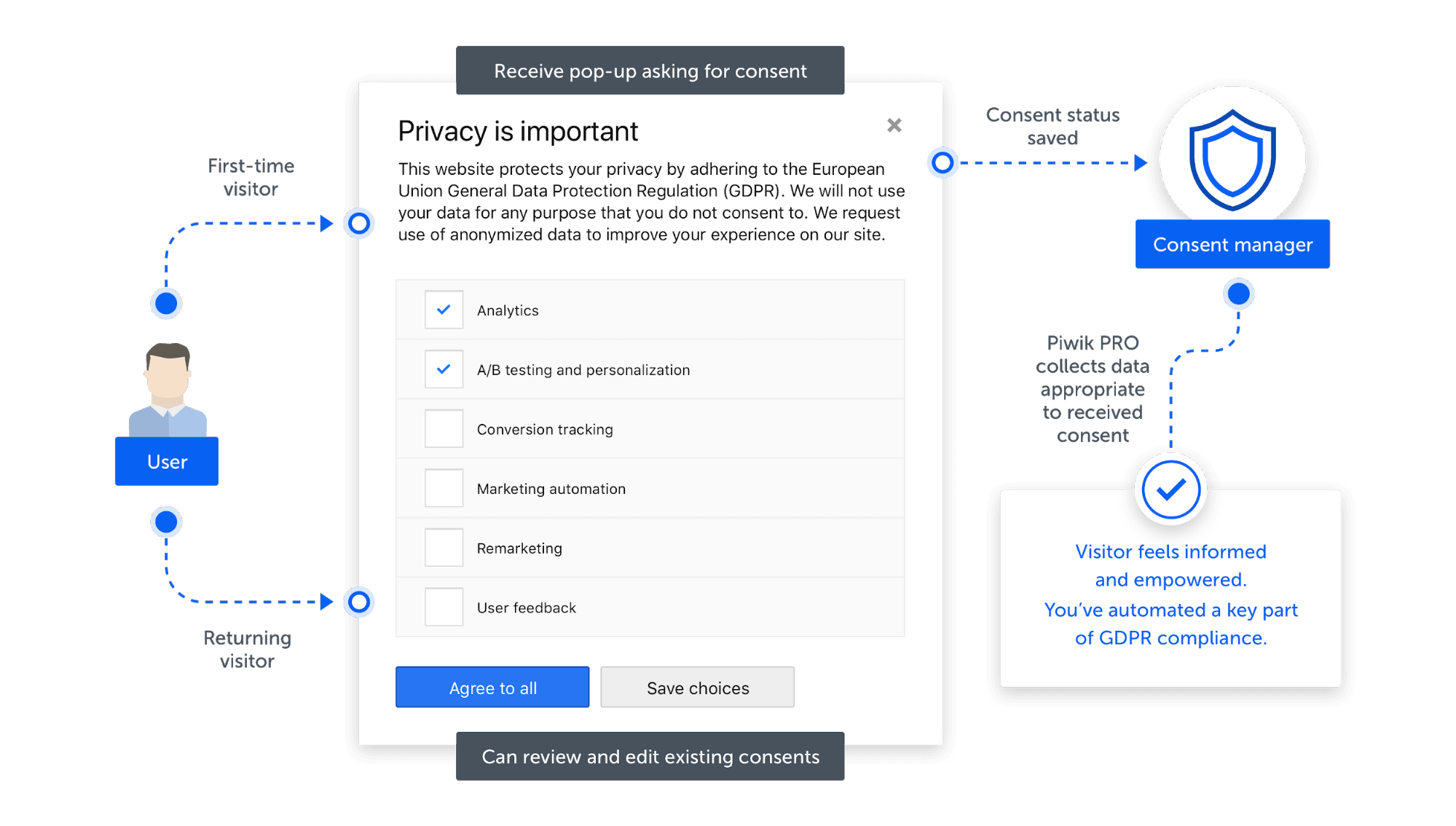 First-time visitors will receive a consent form asking for permission to collect data for a clearly defined set of purposes, which you can specify and update as needed. Until consent is given, certain categories of tags, including third party tags, won't fire. Visitors will be able to view and update their consent status at any time through Consent Manager widgets.
Want to learn more about our GDPR Consent Manager?
Schedule an introductory call with our team to find out how Piwik PRO can make your marketing stack GDPR-compliant.
Get a free quote
Exercising data subject rights
Piwik PRO Consent Manager will also support their clients in exercising data subjects' rights.
Data subject request and Privacy Settings widgets to install on Privacy Policy page will let visitors exercise their GDPR data subject rights such as data erasure, rectification, access and portability.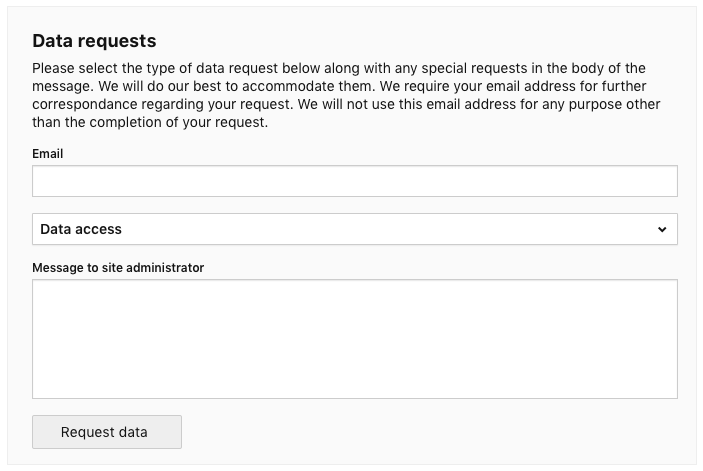 Additionally, admins will monitor all submitted requests, view individual visitor consent status and data subject request history from one place – all from a clear and highly informative panel.
The system will allow admins to review each request, change its status, and keep track of progress and status to make sure all are processed within demanded time frame.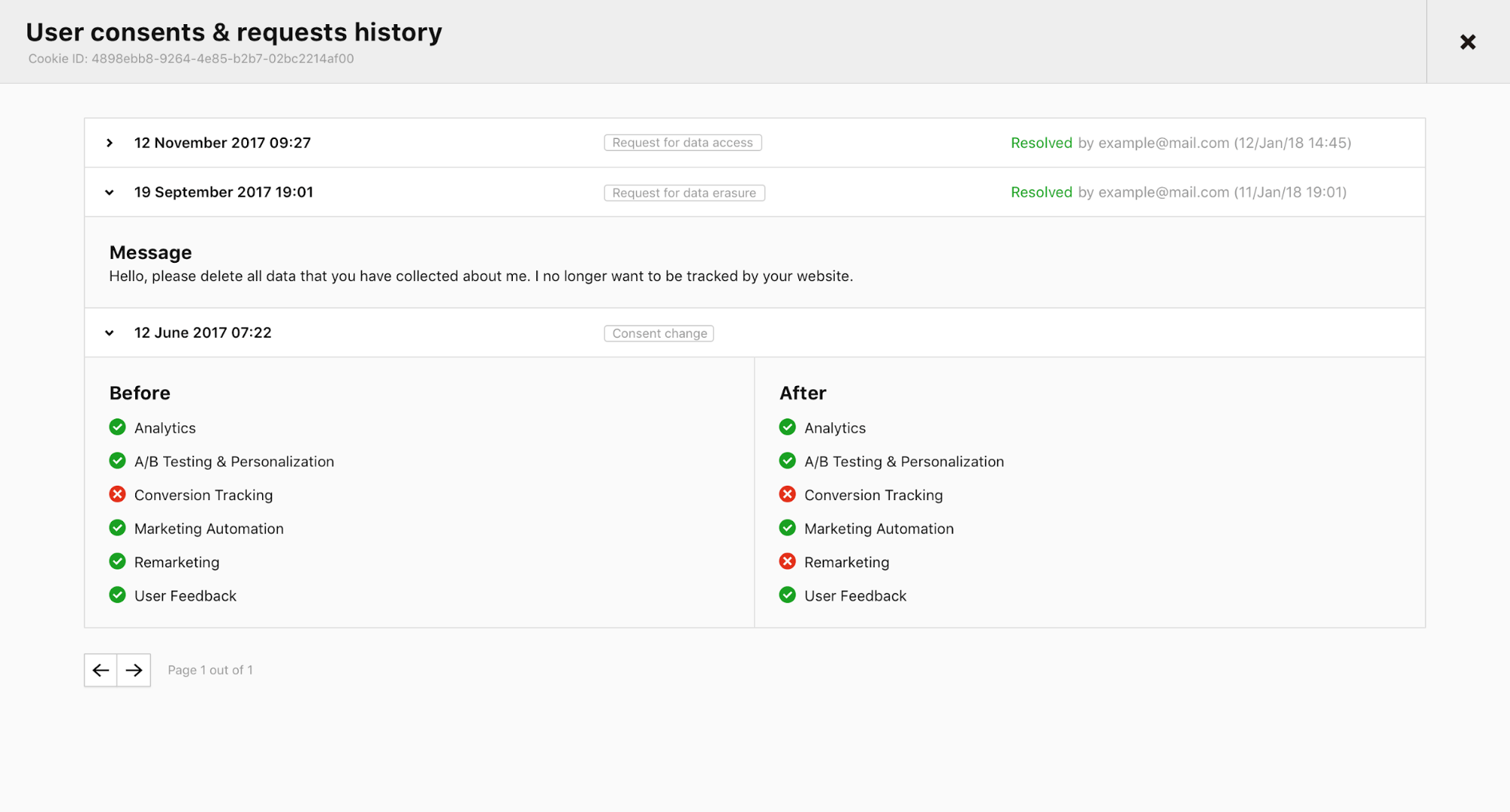 Some conclusions
So, to sum things up – Piwik PRO Consent Manager will support our clients in:
Creating customizable consent popups and widgets for visitors to get their consents,
Collecting and storing the visitor consent,
Collecting only pre-approved data by firing only accepted tags,
Collecting and managing data subject requests in one place,
And fulfilling many other tasks related to dealing with visitors' consents and requests.
And by all that, it will automate a huge part of collecting personal data in alignment with the new law. Sounds quite good, right?
For more information about our new product be sure to visit GDPR Consent Manager subpage.
Also, remember that if you're interested in our product or simply want to learn more about your responsibilities involved in dealing with personal data under GDPR – don't hesitate to contact us anytime you want. Our team will be happy to help you!