Google Optimize, a free tool by Google that allows businesses to perform A/B and multivariate testing on their websites, will be shut down on September 30, 2023.
It was popular for testing small changes and getting results, but it lacked flexibility and had some limitations.
As businesses and individuals prepare for the discontinuation of Google Optimize, many are searching for alternative solutions to fill the gap.
In this article, we'll look at some of the top Google Optimize alternatives, discussing the differences between each tool and their features, including privacy compliance.
What is Google Optimize?
The main selling point of Google Optimize was its free version and its native integration with Google Analytics, giving you automatic access to behavioral insights. It also made it easy to target the valuable segments you've already discovered using analytics.
Google Optimize is a favorite of beginner testers due to its easy-to-use interface and many essential features. But it is also notorious for its limitations when it comes to running more extensive tests:
Only five tests at a time.
Only three goals at a time.
Only test for 35 days maximum.
Only test websites, not apps.
It is a basic tool when you want to perform A/B testing without committing significant funds.
Google Optimize is a limited-feature version of Optimize 360, Google's paid optimization tool, which will also be discontinued in September.
With Google Optimize sunsetting, many companies must seek an alternative to keep their experimentation programs running. In addition, it's a great time to consider switching to a platform that protects the privacy of your users and helps you comply with data protection laws. These issues have become increasingly significant in digital marketing.
A/B testing in the age of privacy
In 2018, the EU passed the General Data Protection Regulation (GDPR) to tighten data privacy regulations, and California enacted the California Consumer Privacy Act (CCPA) in 2020.
The ePrivacy Directive, informally known as the "EU Cookie Law", is particularly important to conversion optimization practitioners because it's focused on cookies, which are widely used in marketing and product technologies like analytics and A/B testing tools.
What are cookies?
Cookies are small text files placed on a site visitor's computer, which are then read by a browser to determine and enable a host of services for that visitor. But EU law takes a broader approach. According to the ePrivacy Directive, cookies access a site visitor's or app user's local device memory.
This definition of cookies means any technology that accesses a visitor's computer memory infringes on the privacy rights of that user.
The Directive doesn't prohibit the use of cookies. Publishers and website owners can use cookies if the user provides consent.
These privacy laws give more data transparency to consumers while limiting certain data collection practices. And experimentation is critical for every marketing and product team, but it requires data collection. Data powers the process. This means that if you run A/B tests, you must make data privacy a top priority.
The laws have implications for your experimentation practices and tech stack. Many technologies were designed before these privacy laws, and while some are iterating quickly to comply, others need to catch up.
Here's a helpful checklist to ensure your experimentation practices and the technologies that power them are privacy compliant:
Check whether the vendor is focused on the concept of privacy by design
Check where your technology vendor stores its data.
Check who owns the data.
Check if the vendor asks users for consent before adding them to a mailing list, provides easily accessible privacy statements and disclosures, and allows users to access, modify, or delete their personal information.
Check whether the A/B testing tool allows for anonymized tracking.
Understand how much user data the technology vendor needs to collect to perform A/B tests.
Understand how the technology is implemented on your website.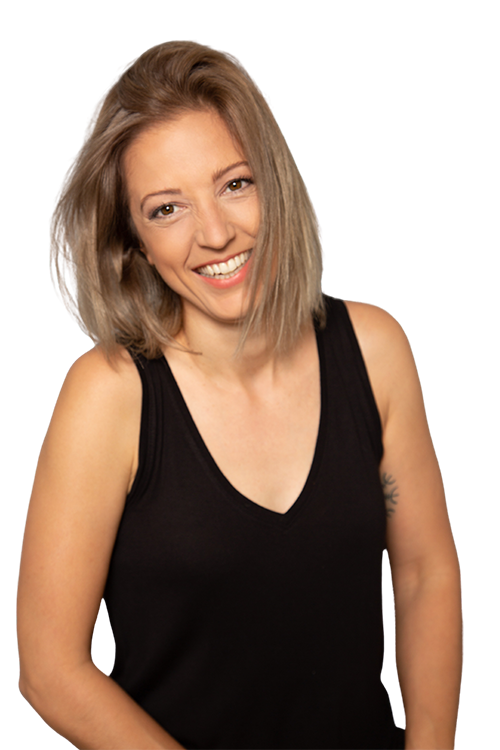 "A/B testing and privacy can play well together, providing you have weighed your risks. Of course, I recommend that you only test on traffic that has consented to the relevant tracking, but sometimes this is not an option. Suppose you need to test all your traffic (to get enough traffic for your test, for example). In that case, you need to consider the risks involved in such processing and the recommendations of your local data protection authorities. Remember that some EU countries like France allow testing under the strictly necessary cookies."
Siobhan Solberg
Founder & Consultant at Raze
The top A/B testing tools
There are many A/B testing tools on the market, which means finding the right tool requires sifting through dozens of options.
No single A/B testing tool will work well for everyone. An ecommerce business, for example, has far different needs than a SaaS company.
To help you find the right one, we've analyzed the top A/B testing tools to compare their pricing, features, ease of use, approach to privacy, and pros and cons.
Here are our recommendations for A/B testing software:
Optimizely is a user-experience optimization and testing platform that lets you quickly build, launch and measure experiments. It helps run A/B and multivariate tests, which are used to test the impact of different designs on different audiences.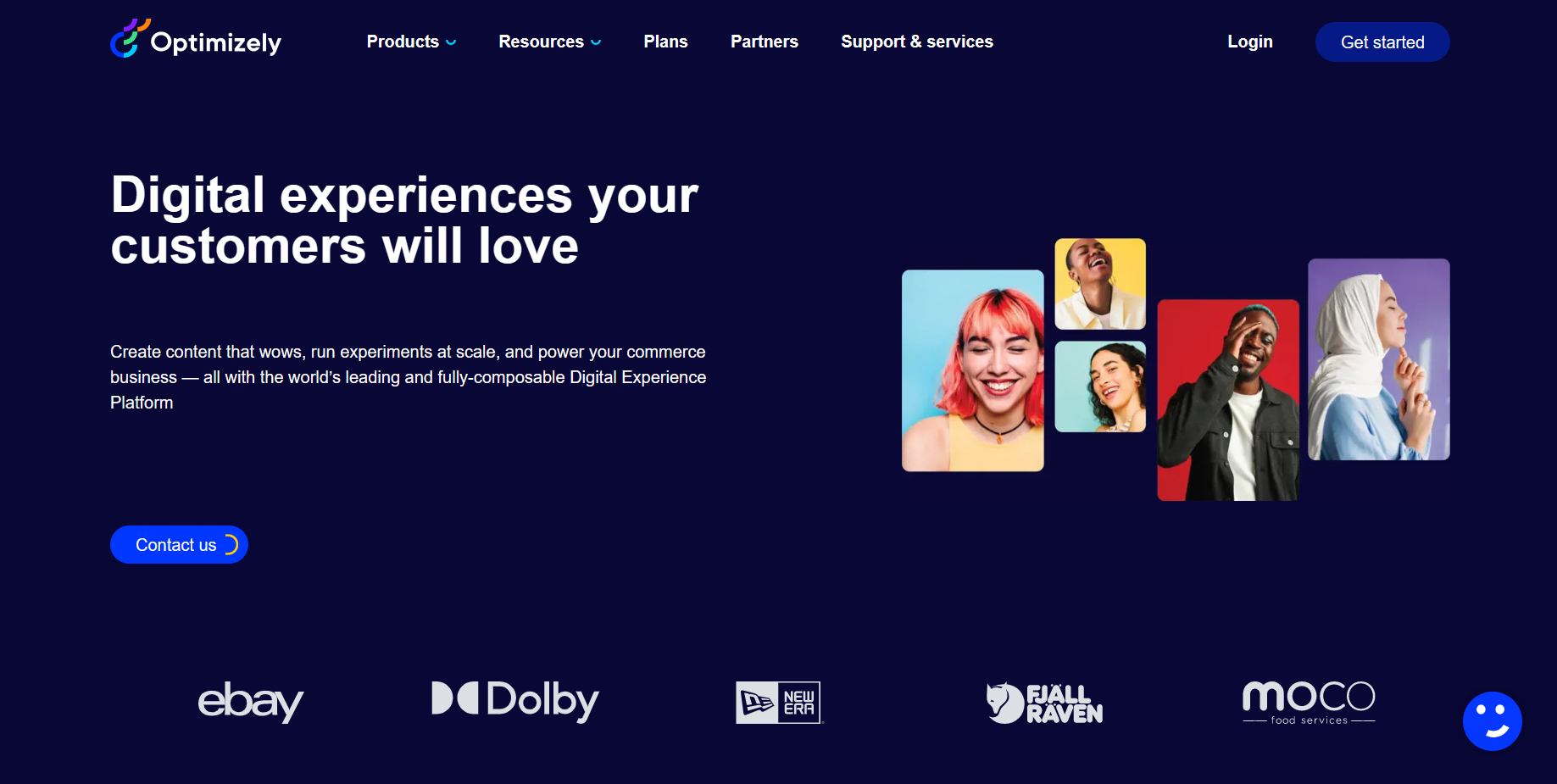 Pricing
Pricing for Optimizely is available on request. There's no free trial.
Main features

A/B testing: simple A/B tests let you put two pages head-to-head to experiment with simple changes.
Server-side testing: the variations of a test are rendered directly on the web server.
Multivariate testing: allows you to change multiple page elements and test performance.
Multipage funnel testing: you can link similar or related variants from different pages with this testing technique.
Audience-specific messages and personalized offers: you can also create variations for the elements on your webpage and determine which combination works best.
Visual Editor: Optimizely's Visual Editor lets you edit text, HTML elements, the elements' order, their position and style, background, borders, dimensions, etc., with a single click.
Audience targeting: it lets you target visitors based on their behavior and locations. It also offers adaptive audiences created automatically from personas.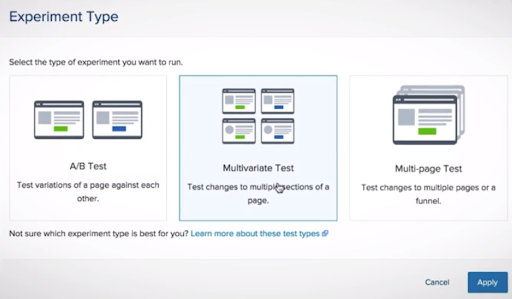 Ease of use
Optimizely's setup is simple and intuitive. It's fairly easy to change every element of your experimental page without digging too deeply into your site's code.
Privacy and security
Optimizely's Digital Experience Platform, Web & Server-side Experimentation, and Campaign are ISO 27001 and SOC certified. The platform has also implemented features and processes to help you comply with CCPA, GDPR, and Payment card industry (PCI) compliance requirements.
Data deletion and access requests
Data subjects in certain jurisdictions can request access to or erasure of their personal data. Optimizely has built tools to help its users fulfill these requests.
By default, the web snippet communicates with Optimizely using Transport Layer Security (TLS), which is regularly updated. In addition, all visitor data stored by Optimizely and its third-party service providers is encrypted at rest.

You may want to review the cookies and local storage objects set by your EU websites to ensure compliance with GDPR. Optimizely can be integrated with popular tag management and cookie banner tools to help you customize cookie compliance. It doesn't have any built-in consent management solution.
Data transfer and location
GDPR restricts the export or use of personal data to countries in the EU and the European Economic Area (EEA). Optimizely has implemented a geo-fenced process and technical controls to limit the transfer and access of personal data. EU hosting is possible
PROS:
➕Multipage tests incorporate various pages that give a more comprehensive view of how specific changes can affect your sales funnel.
➕Optimizely offers premium customer service.
➕Many integration tools are available.
➕It's very easy to make changes visually using the editor.
CONS:
➖Behavioral analysis tools are missing.
Overall

Optimizely is a very good enterprise tool. It is powerful and targeted at websites with high traffic – in other words, companies that are very serious about testing and personalization.
It is focused on web experimentation and personalization. With its Web Experimentation product, you can safely run multiple experiments on the same page. You can also use Optimizely beyond your website and expand to mobile apps, messaging platforms, and more to optimize your customer experience.
Convert is a competitively priced tool with an intuitive interface and customer support. The platform suits companies doing in-house optimization and small to medium-sized businesses.

Pricing
Convert offers a variety of plans starting from $99/month. The plans that include full-stack features start at $199/month. A free 15-day trial is also available.
Main features
A/B testing: you can use advanced targeting and post-segmentation in every plan.
Split testing: Convert's split testing allows you to run hybrid and multipage split tests.
Multivariate testing: using the MVT testing setup, you can change a cluster of page elements in each version to find the most effective combination.
Multipage experiments: you can make different changes across linked pages.
Full stack experimentation: full-stack testing offers rich aggregation of insights (server side, SDKs, roll outs).
Visual editor: Convert has an inbuilt drag-and-drop and style sheet editor to create test variations and dynamic pages.
Code editor: you can switch to the code editor to make more complex changes.
Personalization targeting: you can target visitors during and after the tests. You can target them by source, cookies, device, location, JS events, and more.
Reliable and effective testing: SmartInsert™ technology ensures flicker-free and blink-free testing.
Integrations: you can integrate a multitude of tools with Convert, including Google Analytics, HubSpot, and many more.
Sample Ratio Mismatch (SRM) checks: SRM test automatically checks and flags potential issues.
Data import feature: using the Convert Experiences Tools Chrome Extension that comes with a Google Optimize Data Migration Tool is the fast way to export your data.
Technology compatibility: client-side, server-side, and mobile testing.
Ease of use
Setting up and using Convert is easy and intuitive, thanks to an intuitive drag-and-drop editor. You can create A/B, multivariate, multipage, and split tests with the provided visual editor. You can also break out the more advanced style sheet editor for dynamic pages. Moreover, anyone who signs up for Convert's Growth, Expert, and Enterprise plans gets a guided 10-step onboarding.
Privacy and security
Convert uses the principles of the Privacy by Design approach. It allows you to comply with multiple privacy laws, including GDPR, CCPA, and LGPD. It is not HIPAA compliant.
Convert only processes (collect, use, or store) user data under basis such as consent and contract. The company keeps the minimum information required to provide its services.
Cookie settings allow you to select which categories of cookies you accept or reject. The opt-out option Convert provides is a further measure to set a third-party cookie that tells the Convert Experiences script not to track a user. Non-PII cookie lifetime is 6 months.
Convert tracks users for the test and targeting software but does not store IP addresses. They don't store sensitive personal data.
Data transfers and location
The company is registered and based in the US. Convert uses Amazon Web Services (AWS) for the production servers and databases. EU-based servers are in Frankfurt, Germany.
PROS:
➕Advanced A/B testing tool at a competitive price.
➕Easy to use the visual editor.
➕Code editor allows you to conduct complex experiments.
➕Detailed post-segmentation based on the types of visitors, devices used, and campaigns clicked.
➕Top-notch customer care.
CONS:
➖No SOC 2 compliance
➖No HIPAA compliance
➖No mobile app testing
Overall
Convert is an effective A/B testing platform at a competitive price. Suitable for small and medium businesses. A/B tests can be set up with an intuitive design. And if your team is more advanced, you may use a code editor to develop complex experiments. Customer care may help you with the onboarding process.
3. Visual Website Optimizer (VWO)
Visual Website Optimizer (VWO) is a popular enterprise-level A/B testing tool. Brands worldwide use VWO as an experimentation platform to conduct A/B tests on products, websites, and applications.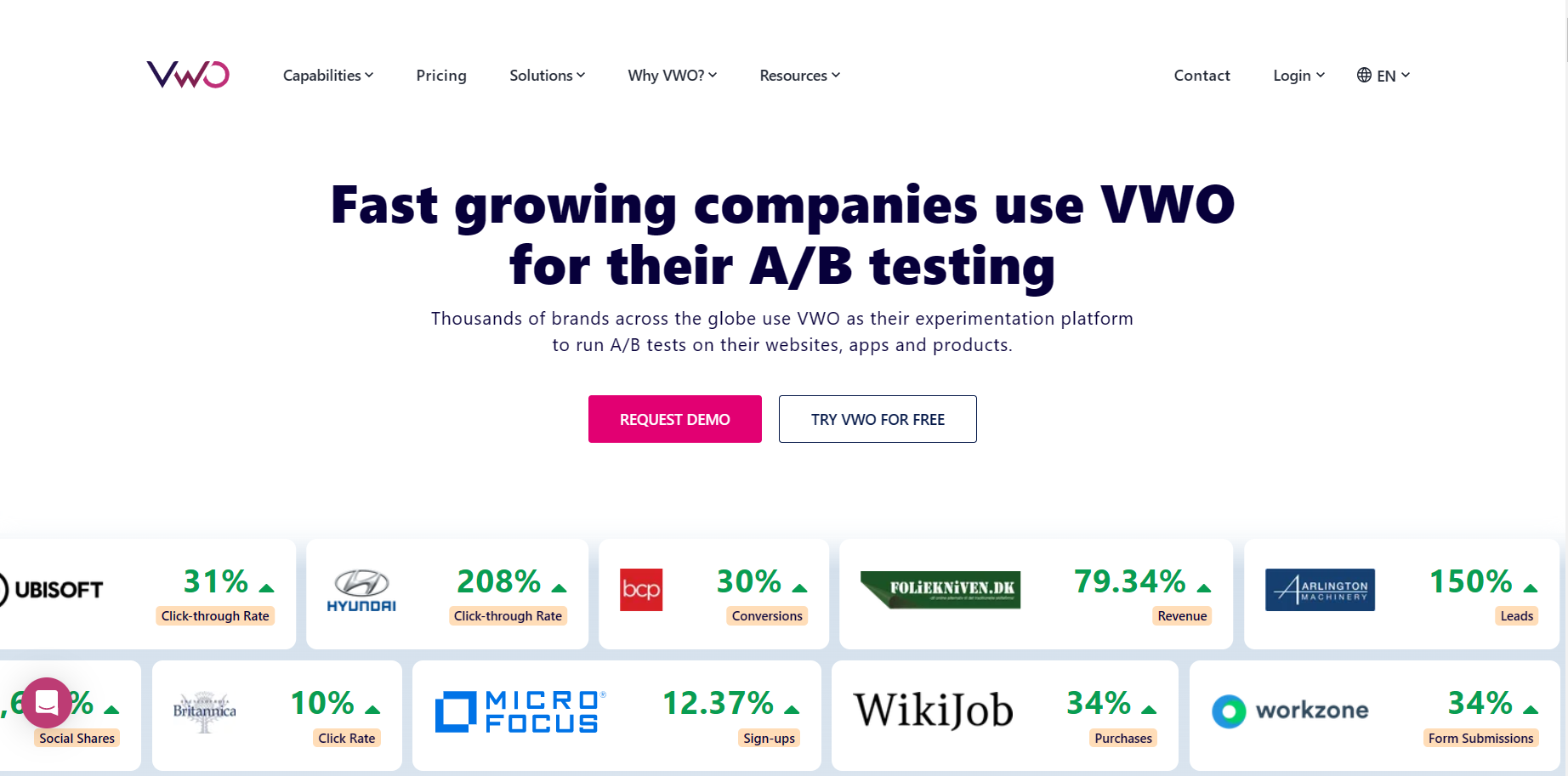 Pricing

VWO plans for web-based testing range from $356/month to $1461/month. A free 30-day trial is available.
Main features

Five categories of tools: Testing, Insights, FullStack, Engage, and Plan.
A/B tests: let you track visits to specific pages, web page engagement, form submissions, clicks on buttons and links, revenue, and custom events on your website.
Split-path tests: VWO split testing allows you to run tests for different URLs – single page vs. multipage, big menu vs. dropdown menu, and different themes and flows.
Multivariate tests: enable you to create multiple variations of web pages and track various conversion goals.
In-built visitor segments: servers for performing tests for different segments, such as mobile vs. desktop traffic or new vs. old visitors; you can create custom segments as well.
Personalization targeting: you can also test your personalized experiences by setting up target segments with the VWO Personalize tool.
Statistical significance analysis of results: allows you to rule out the possibility of obtaining results by random chance
A built-in heatmap tool: tracks visitor click behavior and tracking habits
Form Analytics: gives you insights into users' journey on your form, including metrics like total time spent on the form, interaction time, hesitation time, and the field from which users exited the form.
Technology compatibility: client-side, server-side, and mobile testing.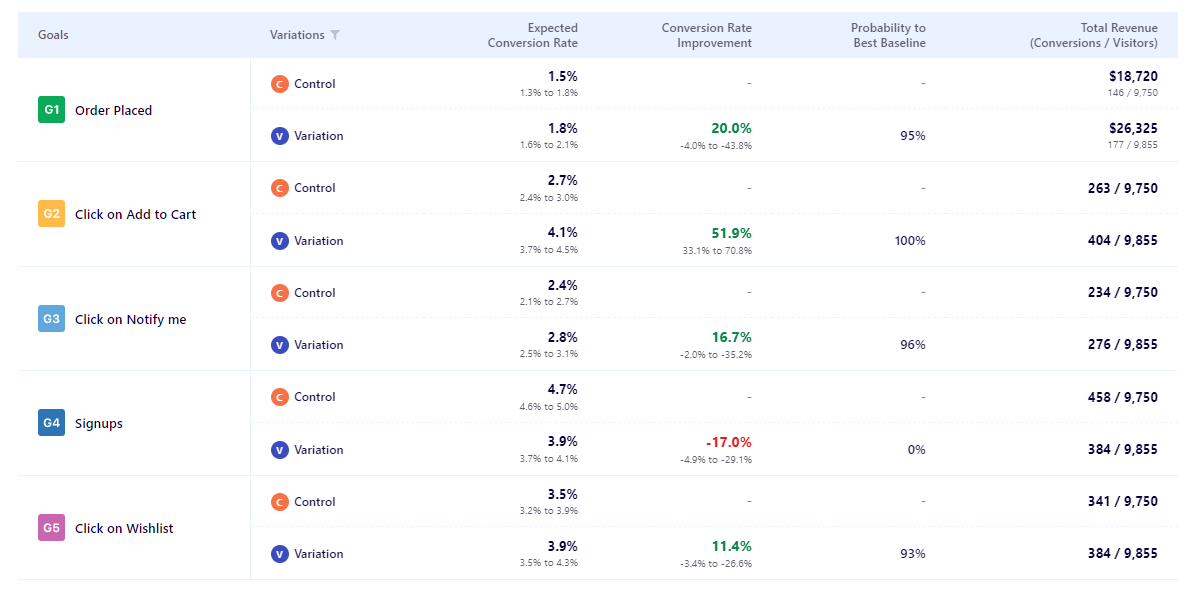 Ease of use
Coding skills are needed to set up VWO. But the tool makes it easy for anyone to walk through creating a new test. It allows users to create and run tests without involving IT or needing coding knowledge. It is a simple step-by-step process that makes more sense, especially for someone new to A/B testing.
Privacy and security

VWO claims to comply with national, regional, and industry best practices governing the collection and use of information in line with acts and regulations across the globe, including GDPR, CCPA, and HIPAA. It is ISO and PCI certified.
Here are some VWO features that allow you to comply with the relevant legislation:
By default, VWO anonymizes all key presses to avoid storing or transmitting personal or sensitive data on VWO servers.
Users are recommended to encrypt all incoming data.
VWO can be integrated with popular tag management and cookie banner tools to make it easier for you to customize your approach to cookie compliance. You can exercise your cookie rights by setting your preferences in the Cookies Consent Manager. The Cookies Consent Manager allows you to select which categories of cookies you accept or reject.
Data transfers and location
All VWO customer data resides in US data centers. VWO doesn't offer data hosting in the EU.
Additionally, VWO is open to signing a BAA with HIPAA-covered companies.
PROS:
➕User-friendly visual interface. Reports and charts are easy to analyze. The point-and-click visual editor of VWO enables you to edit any component on the website like text, background, images, etc. In addition, you can insert other fundamental or advanced widgets and elements.
➕It comes with surveys and feedback tools.
CONS:
➖For setting up more advanced A/B tests, coding skills are needed.
Overall

VWO is a basic, easy-to-use A/B testing tool. It is a top choice for businesses with slightly smaller budgets and is popular among marketers. With testing tools, behavior analytics, data retention, and a visual editor, VWO is a great tool for mid-size to large companies.
Conductrics is an advanced tool that offers methods from A/B testing blended with machine learning to automatically deliver optimal experiences for users.

Pricing
Pricing for Conductrics is available on request. A demo version is available.
Main features
A/B testing (client- and server-side): allows for robust reporting like purpose-built reporting for one or two-tailed analysis.
Multivariate experiments: enable to test if there is any aggregate impact across multiple treatment types.
Bandit tests: use algorithms to optimize your conversion target while the experiment is still running.
Visual WYSIWYG editor with Conductrics Express Customization: allows you to customize every element on your site.
Predictive targeting: AI/machine learning discovers which combinations of visitor traits respond best to each of your content variants automatically.
Content testing: to determine the most compelling images or stories.
User interface and UX testing: to check whether visitors respond well to a new design.
Testing in mobile apps: for example, to check whether users use a new feature you're looking to roll out.
Targeting for banners and campaigns: so that the right promotional content reaches the right users.
Landing page optimization: helps you to lift up conversions.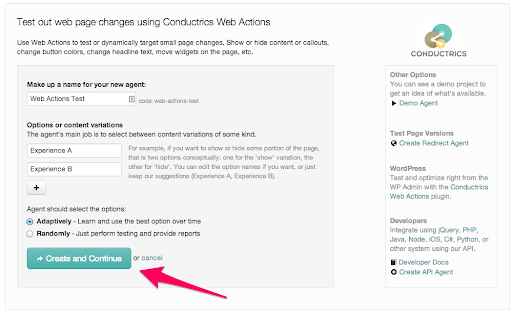 Ease of use
Setting up and using Conductrics is easy. Rich documentation and reliable support make Conductrics easy to use. Also, you don't need to install a script until you set things live, as you can use the browser extension to edit and preview variants.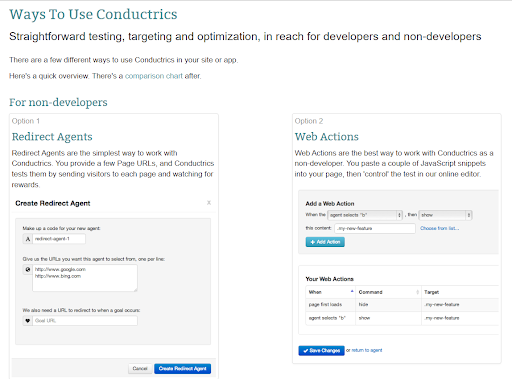 Privacy and security
Conductrics keeps the minimum information required to provide aggregated counts and other statistics in reporting. No IPs or Customer IDs are exposed to or stored by Conductrics.
You can provide your own database to store individual responses for surveys. Records are placed under your control, allowing you to apply internal data governance policies.
Data transfers and location
Self-hosting makes it easier to comply with data privacy policies and is suitable for companies that don't trust third-party scripts. You can also self-host the REST API for mobile or server-side use to completely control your Conductrics implementation. Dedicated servers enable you to choose your primary geo-region and your cloud provider.
PROS:
➕Conductrics offers significant flexibility regarding ways to interact with your systems, from APIs to one-tag solutions. It's at its best when it is not used for straight A/B testing but as an active decision agent, constantly adapting and creating experiences. Conductrics combines testing, machine learning, and surveys to give you the complete picture and help you to develop compelling visitor experiences.
➕Many testing solutions let you measure customer behavior. Conductrics measures changes in customer attitudes and behavioral measures such as conversions, revenue, and submits.
➕It offers straightforward integration into any site, app, or process anywhere in your stack.
➕Rich documentation and reliable support.
➕Privacy by design solution.
CONS:
➖Has a steeper learning curve than very basic tools.
Overall
Conductrics is an excellent tool for companies that want to tackle adaptive learning personalization or want a lot of interaction flexibility.
It requires more knowledge and has a higher learning curve than basic tools like VWO, but provides good functionality and flexibility.
Adobe Target is an AI-powered user experience testing and personalization platform that helps you automate the process of delivering personalized content to your users.

Pricing
Contact for custom pricing. Plans vary based on product options, volume, and whether you need omnichannel testing. No free trial available.
Main features
A/B testing: test images, website copy, UI components.
Numerous A/B tests: ability to run multiple tests simultaneously.
Targeting: target audiences from the various platforms of Adobe Experience Cloud.
Visual composer: allows you to easily create and run tests.
Multivariate and multiarm bandit testing: to funnel traffic to the most successful experience earlier in the process.
Technology compatibility: allows client-side and server-side testing or both.
AI-fueled automated personalization: Target's self-learning algorithm continually and automatically adjusts itself to make associations between visitor behavior and content to give you the best results possible.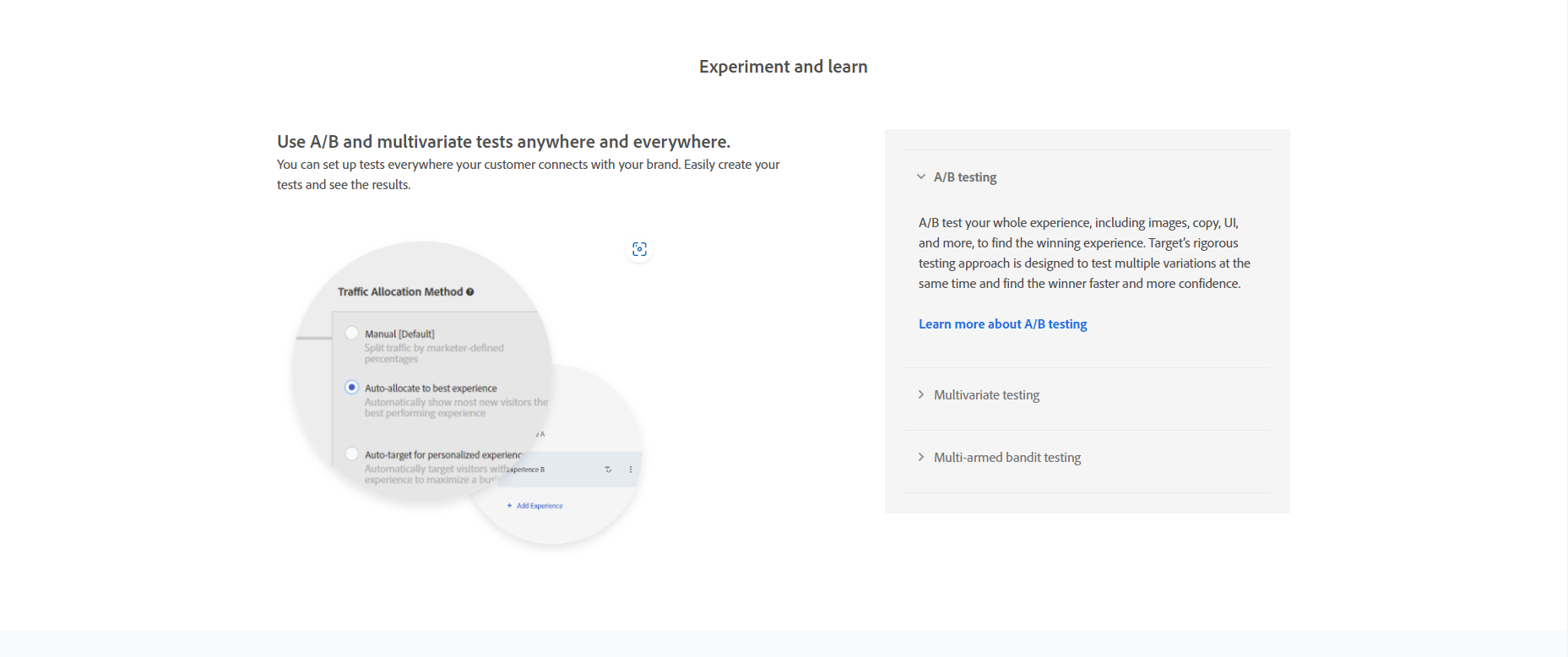 Ease of use
Difficult setup and use – Target is not beginner-friendly. Hence, it's probably not ideal for those just starting. It requires a lot more knowledge and has a steeper learning curve than very basic tools. Adobe offers plenty of training modules to get you up to speed.
Privacy and security
Adobe Target has enabled processes and settings that allow you to use Target in compliance with applicable data privacy laws. Adobe Target is SOC-2 and ISO 27001.
Adobe deploys Transport Layer Security (TLS) cryptographic protocol for web browsers and other applications that require data to be securely exchanged over a network. Adobe has security compliance standards that require the end-of-life of older protocols and is mandating the use of TLS 1.2 to have the most up-to-date and secure version in use.
Cookie settings allow you to select which categories of cookies you accept or reject. You can add an opt-out link to your sites to enable visitors to opt out of all counting and content delivery.
Data collection and consent management
Adobe collects individual feature-usage data to identify whether Target features are performing as intended or are underutilized. Personal data is not collected. You can opt out of reporting usage data in the SDKs. You can also support your consent management strategy with Target's opt-in functionality, which lets you control how and when the tag is fired. However, Adobe doesn't offer a Consent Management Solution.
Collection of IP addresses
Target doesn't store the IP addresses of the user or any personally identifiable information (PII). IP addresses are used only by Target during the session.
Data storage and location
Adobe Target Edge servers are hosted in data centers from public cloud service providers in US-East (Virginia) US-West (Oregon), Europe (Ireland), and Asia Pacific (Singapore, Tokyo, Mumbai, and Sydney). Visitor profile data is stored on the Edge Cluster closest to the site visitor.
PROS:
➕Target integrates with other Adobe products in Adobe Experience Cloud. If you're using Adobe for analytics, insights, and content, this allows for increased insight. For example, you can push segments to be targeted via specific variants and analyze your tests more deeply in Adobe Analytics.
➕It offers a visual composer to create tests.
CONS:
➖There is a steep learning curve. You need to complete an Adobe training course to use Adobe Target to its full potential.
➖Only a ticketing system is available for support.
Overall
Target is a good enterprise testing tool with many capabilities and customization. More advanced optimization is possible with modules such as personalization and recommendations that come at an additional cost. Suitable for large brands and websites5. .
A/B Smartly is a knowledge-based and engineering-centric experimentation platform that can run hundreds of simultaneous experiments. It was created by the team that built Booking.com's experimentation platform.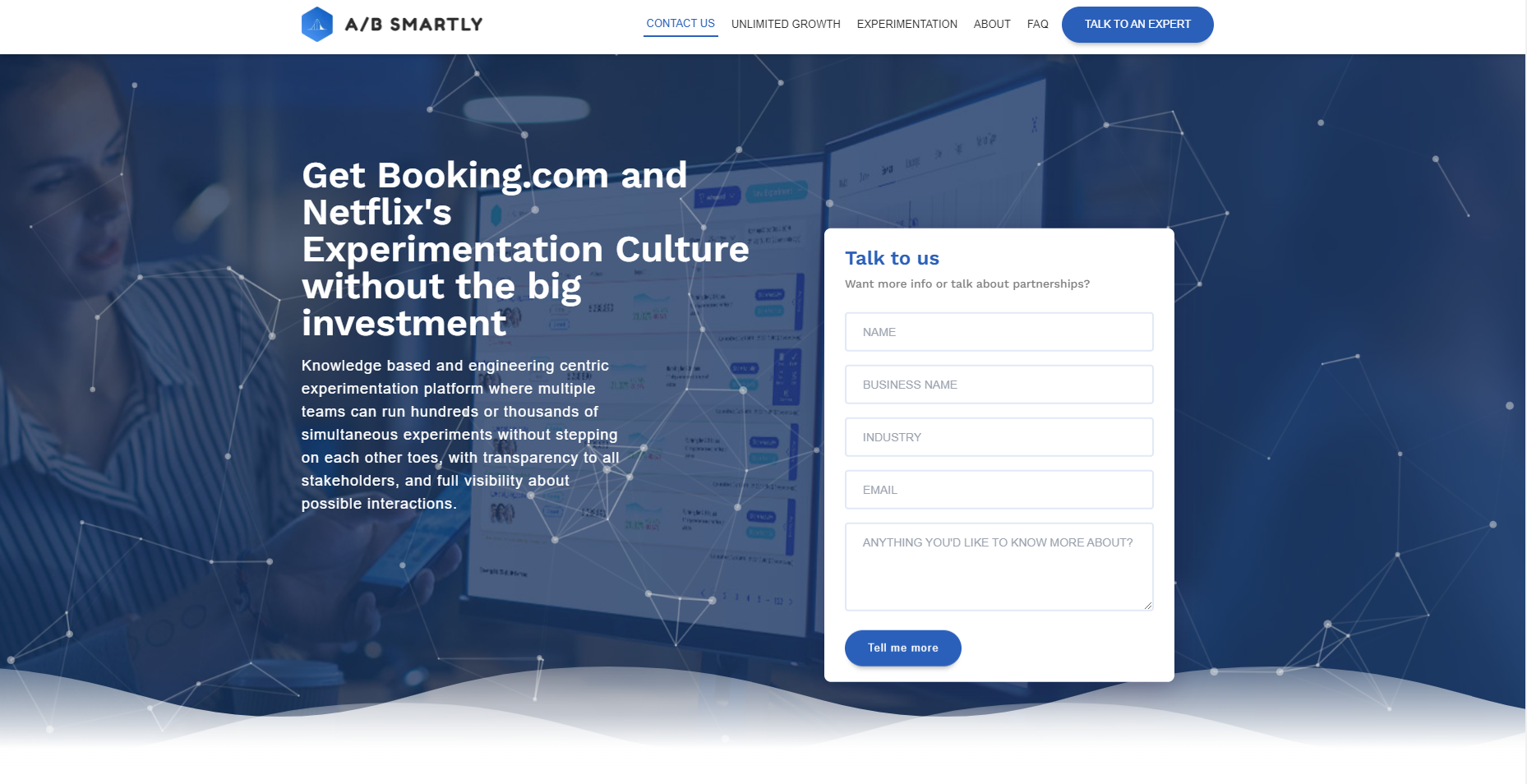 Pricing
Pricing depends on a few factors, including whether you require custom integrations or advanced support. Contact them for pricing. No free trial is available.
Main features

Unlimited A/B tests: you can run thousands of simultaneous A/B tests across your entire infrastructure.
Support for multiple data sinks: Redshift, BigQuery, Snowflake, Hadoop, S3, Apache Druid, ClickHouse and more.
Advanced segmentation: to segment the data on a variety of dimensions but also to filter any report on any specific audience after the fact.
Real-time reports: sub-minute dashboard latency.
Automatic warnings: it automatically warns you about sample ratio mismatches, novelty effects, trigger day effects, deeps or spikes caused by robots/scrappers, etc. You can even add your own custom guardrails.
Technology compatibility: for apps and web, client-side and server-side.
Ease of use
Setup requires some coding skills. But the ease of implementing experiments from the back and front end allows for reducing development time.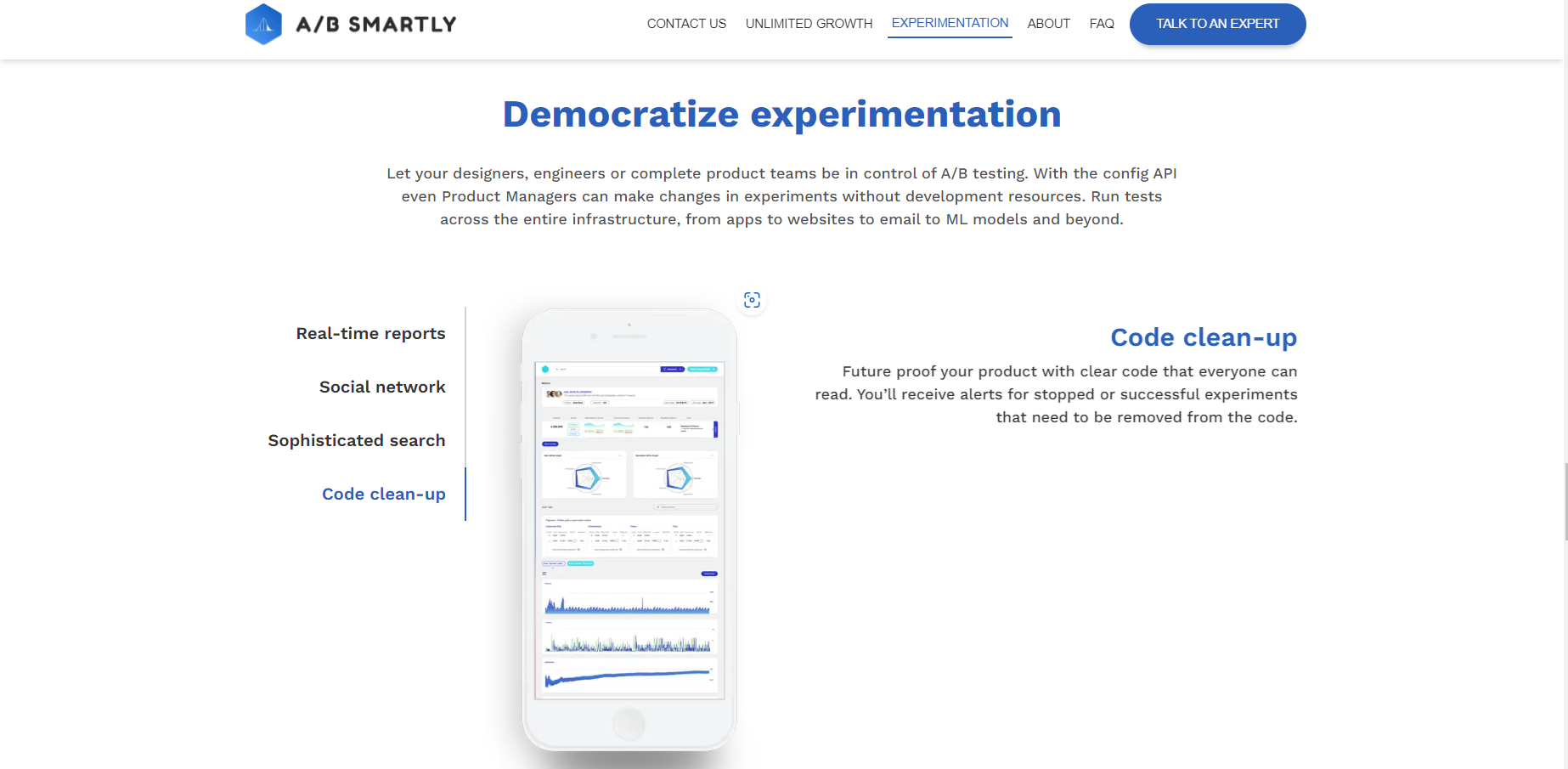 Privacy and security
A/B Smartly's GDPR and HIPAA Compliance Policy seeks to ensure that A/B Smartly allows you to comply with privacy laws.
A/B Smartly may use or disclose de-identified personal data, personal identifiable information, and personal health information without obtaining an individual's consent when such data is de-identified under GDPR/HIPAA.
Data transfer limitations under GDPR/HIPPA
When personal data is transferred outside the EEA, A/B Smartly says it applies special safeguards to protect the data. It only sends data to countries that ensure an adequate level of protection for data subjects' rights as specified by the EU Commission. A/B Smartly doesn't offer data hosting in the EU.
PROS:
➕One of the most significant differences between A/B Smartly and other A/B testing vendors is the level of training and support on offer. A/B Smartly gives access to training led by experts with over 10 years of experience in experimentation programs, and you can even contact them in real-time over Slack or video calls.
➕Rich data deep-dive capabilities. Not only is it possible to segment the data on anything, but you can also filter any report on any specific audience after the fact. This is crucial for debugging results and avoids creating custom reports internally when the tool doesn't answer all the questions.
➕The user-friendly interface lets you see your results in real-time.
CONS:
➖A/B Smartly is missing tools to export data.
Overall
A/B Smartly is an experimentation platform for experienced users. Overall, it's a complete tool for product and data teams that want to optimize the user experience across the whole stack.
AB Tasty is an experimentation platform that offers personalization tools and AI capabilities to optimize your site. AB Tasty is one of the most commonly used A/B testing tools.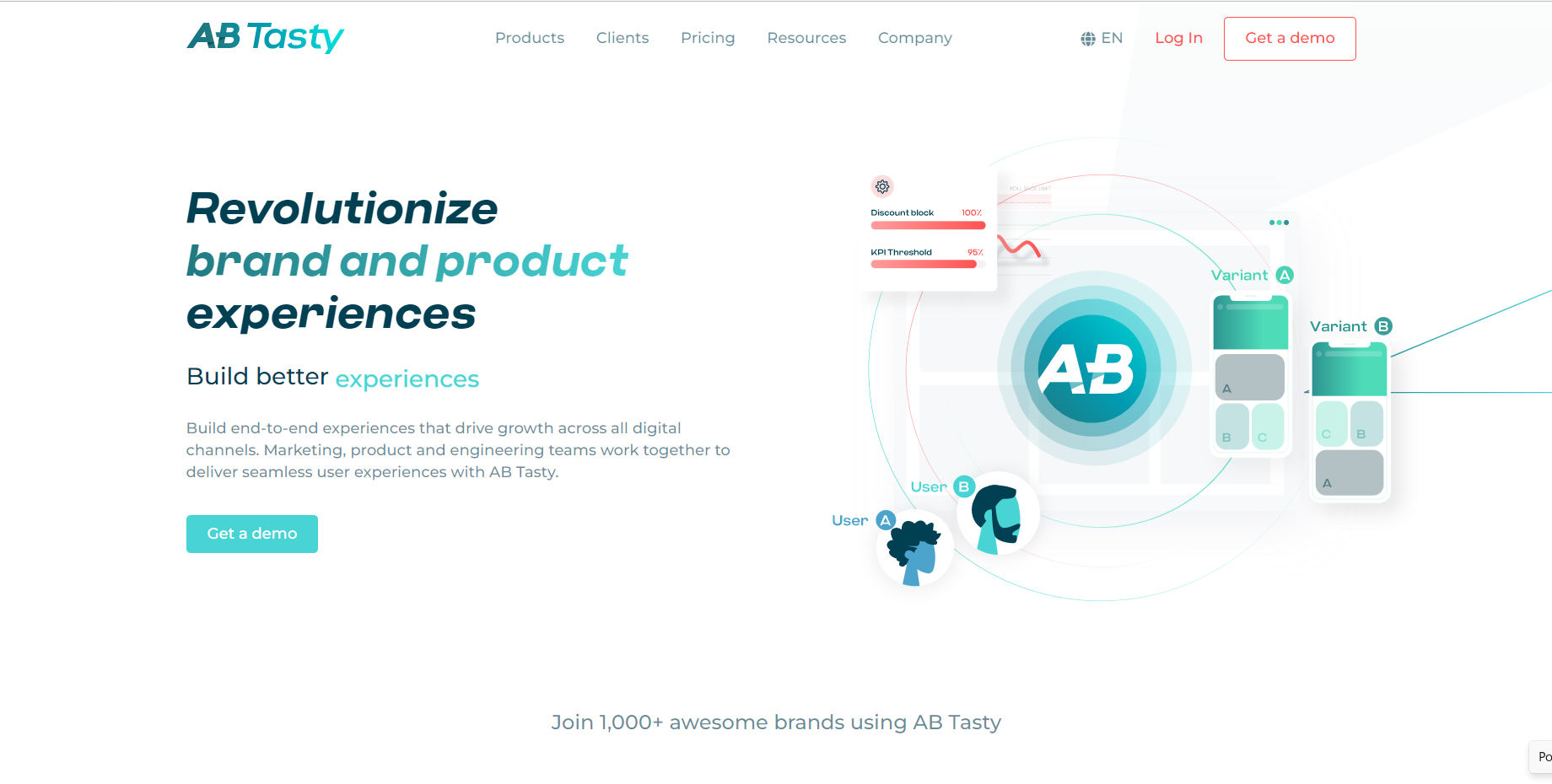 Pricing
Pricing for AB Tasty is available on request. The demo version is available.
Main features
A/B and multivariate testing: low code/no code approach.
Split URL testing: to host the different versions on distinct URLs.
Funnel testing: to run funnel testing across multiple pages.
Audience builder and AI-based segmentation: to enhance personalization.
Audience activation: pre-configured templates for client-side experiments.
Editors: code editor and WYSIWYG editor.
Analytics connectors: Google Analytics, Adobe Analytics and more.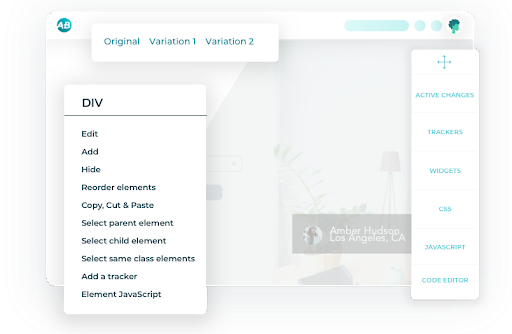 Ease of use
AB Tasty offers pre-configured templates that you can customize, making experimentation easier. Moreover, the drag-and-drop text editor makes it easy to test any feature of your site, from the navigation bar to coding.
Privacy and security
To protect individuals' privacy, AB Tasty limits the collection of personal data only to that which is essential for the operation of their service. AB Tasty is GDPR, PPDA, and CCPA compliant. AB Testy is ISO 27001 certified.
All the data collected is encrypted in transit (via TLS 1.2) and at rest (in AES-256).
AB Tasty processes personal data only for the sole purpose(s) for which it is outsourced. The IP address is collected but not stored (deleted after the campaign results have been obtained). The visitor ID is also collected and automatically deleted after a maximum of 13 months.
No consent management solution, but you can make AB Tasty execution dependent on your consent management system. Then, if you use cookies, js variables, or an external tool to manage visitor consents, AB Tasty will not be triggered for those visitors who refuse consent.
Data storage and location
Personal data is hosted in the EU, North America, or the Asia Pacific region. It is not transferred by AB Tasty or its subcontractors.
PROS:
➕The interface is clear to understand, and launching and monitoring tests is easy. There are many available configuration options. For example, you can add multiple filters such as user IP address, localization, or cookie values.
➕Many integrations are available and helpful in validating test results, such as Google Analytics, Clicktale, or Kissmetrics.
➕The customer service team is very responsive and quick to tackle problems if any arise.
CONS:
➖There is no trial version.
➖There is no built-in heatmap or recording tool.
Overall
AB Tasty is a very good tool for experiments. However, it lacks behavioral analysis tools such as heatmaps, surveys, session recordings, etc. For marketing teams, it offers basic client-side A/B testing, multivariate experiments, and personalization and social proof notifications for online retailers. For product teams, you get robust server-side experiment delivery, feature flags, and progressive rollout.
Is AB Tasty right for you? It's not recommended for smaller sites or those just getting started. It's a full-featured tool with many options and ways to test, so it's an excellent choice for enterprises, especially those in ecommerce.
Omniconvert is another crucial player in the testing tool market. It's an all-in-one optimization tool for on-page surveys, A/B testing, personalization, overlays, and segmentation.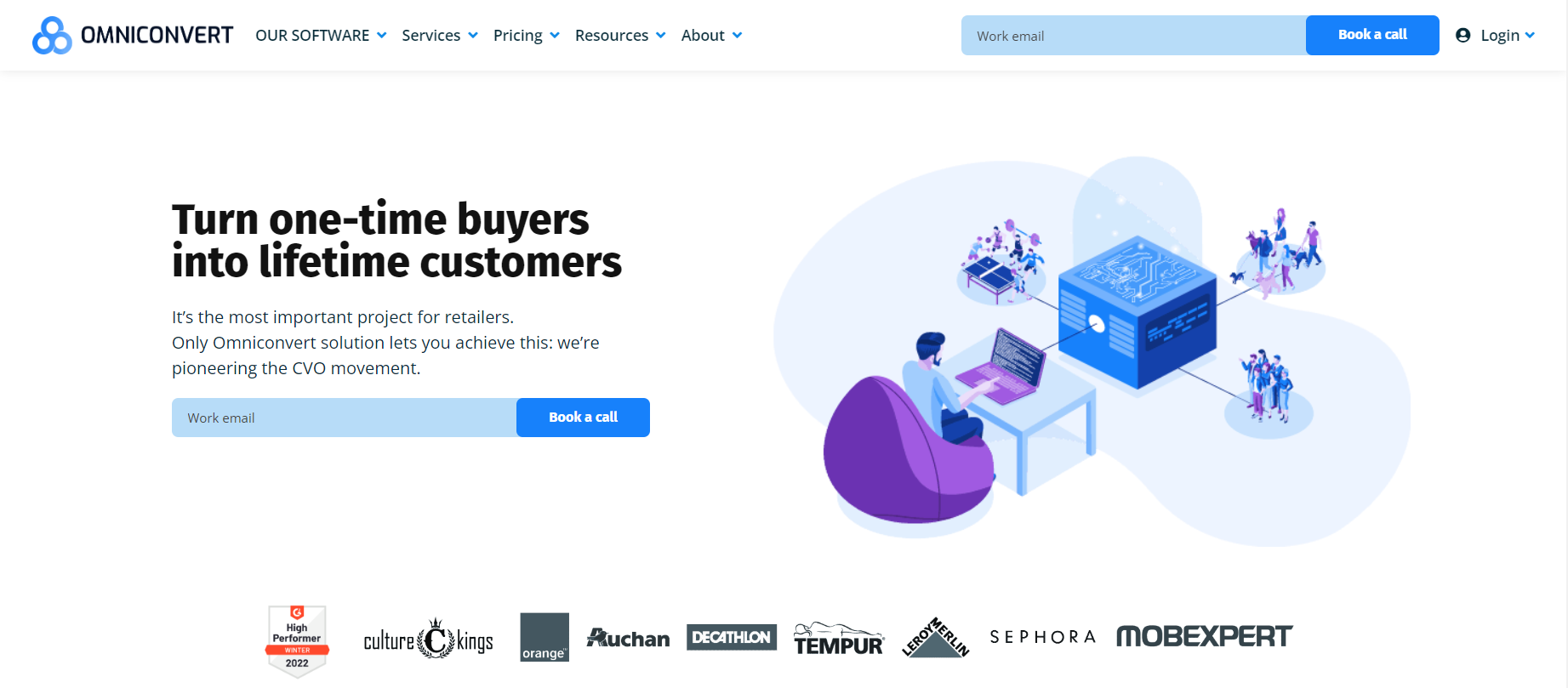 Pricing
Omniconvert's Scale plan starts at $249/month. An enterprise plan is also available, as well as a 30-day free trial.
Main features
A/B Testing: you can create A/B tests for your visitors regardless of whether they're on a tablet, mobile, or desktop.
Split testing: to test different page variations by hosting them on different URLs.
Multivariate testing: requires more time and traffic than A/B testing but allows you to perform a more detailed test.
Customer segmentation: you can mix and match any of the 40+ segmentation parameters
Personalization: to personalize web pages, overlays, and satisfaction surveys.
Multipage tests: allow you to compare multiple pages that are related and are all part of your sales funnel.
Website Overlays: customizable templates ready to use and customize, no coding needed.
Feedback survey tool: on-click, on-load, on-scroll, and on-exit surveys.
Ease of use
The platform is technical. Setup and use are rather difficult, and may require some reasonably extensive CSS/HTML knowledge. You'll need to be comfortable with coding and setting up reporting on your integrated platforms.
Plenty of ready-made templates require you to manually go to the HTML/CSS editor and edit the code directly. This may not be very friendly for non-technical users.
Privacy and security
Omniconvert processes personal data only for the sole purpose(s) for which it is outsourced. The types of personal data that Omniconvert collects, by itself or through third parties, include cookies, usage data, phone number, first name, last name, gender, date of birth, company name, profession, address, fax number, country, province, email address, city, field of activity, number of employees, geographic position.
Data storage and location
Data is processed at the Owner's operating offices and other places where the parties are located.
Data transfer and location
When personal data is transferred outside the EEA, Omniconvert must ensure the data is protected. Omnivert doesn't offer data hosting in the EU.
You may obtain the consent using third-party services. But the User privacy settings (GDPR) feature from the Omniconvert platform is available for users who do not have a cookie pop-up consent yet address visitors from the EU.

PROS:
➕Omiconvert is more than an A/B testing tool. It will help you to make strategic design changes with the testing tool and gather user data with the survey functionality. In addition, Omniconvert mixes its segmentation tool with the A/B testing tool so that you can test up to 40 segmentation parameters such as visitor behavior, geolocation, and traffic source.
➕You can count on reliable support and customer service.
CONS:
➖The user interface is a bit confusing. The UI hinders access to certain elements and the choice of a personalized pre-set for displaying data (main website, website overview, etc.).
➖You can't run two separate tests on one page simultaneously.
Overall

Omniconvert is affordable and includes lots of features. Moreover, this tool can be used for A/B testing a web page, app, or product – ideal for ecommerce organizations aiming to become more customer-focused. The pricing is reasonable and can be a good fit for small- to medium-size companies.
Apptimize is a testing tool focused on mobile optimization.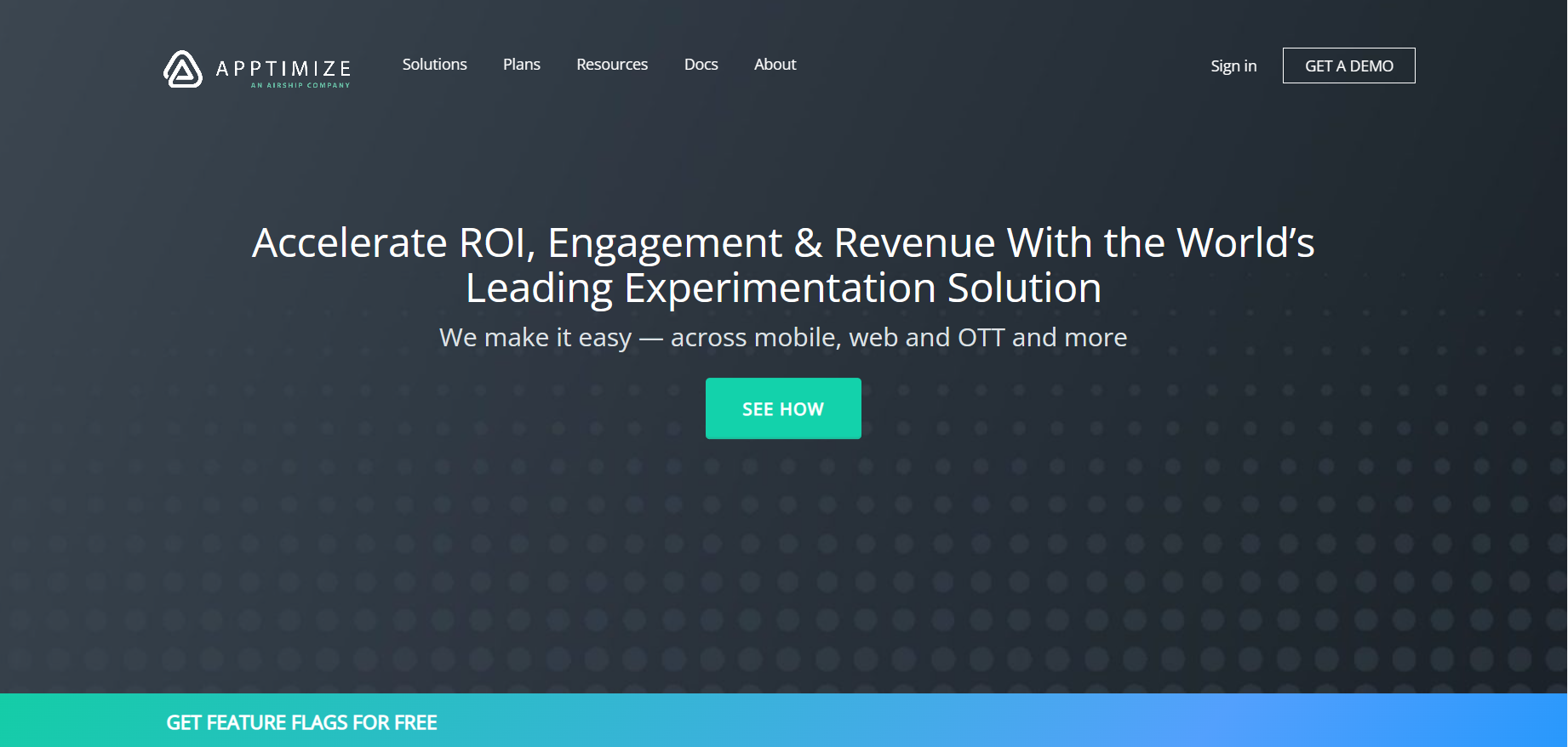 Pricing

Contact Apptimize for pricing. 30-day full-feature trial. Demo available.
Main features

A/B and multivariate testing tools: web, mobile, over-the-top (OTT), and in-store.
Experimentation features: audience targeting, funnel analysis, split testing, campaign segmentation, and visual editing.
Technology support: the ability to add dynamic variations and code blocks that support Objective-C, Swift, Java, HTML5, Xamarin, and React Native.
Cross-platform optimization: you can optimize all your customer digital touchpoints while ensuring a consistent user experience across all platforms and tracking the impact of those optimizations everywhere.
Programmatic tests: you can test anything you code through dynamic variables and code block experiments, i.e., search algorithms or the number of steps in a conversion flow.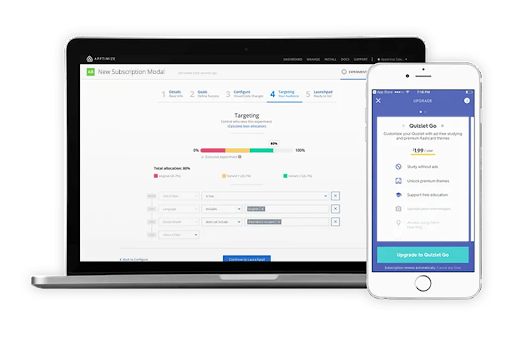 Ease of use

It is rather easy to set up and use – with easy-to-deploy SDKs, rich integrations, and a centralized dashboard for all channels, even non-technical users can launch experiments involving copy, CTAs, images, and navigation items through the WYSIWYG visual editor.
Privacy
To help customers comply with applicable data privacy laws, including GDPR and CCPA, Apptimize has introduced enhancements to the platform to provide controls and features.
Data is encrypted during transmission to and from Apptimize. Additionally, all data is encrypted with Whole Disk Encryption using the AES 256 standard.
Apptimize supports opt-in consents and withdrawal of consents for mobile application push notifications, web notifications, email, and SMS. No consent manager solution. You must implement your integration with the platform with the legally appropriate level of notice and consent enabled.
Apptimize claims to ensure that, as required under GDPR, EU residents' personal data may only be transferred outside the EU if the country to which the data is transferred has been deemed by the EU Commission to have adequate data protection laws.
Depending on the customer's selection of services at setup, Apptimize uses cloud data centers in the US and the EU.
PROS:
➕Apptimize offers an easy-to-use WYSIWYG editor.
➕Access controls and permissions limit who can make changes.
CONS:
➖No behavior tracking.
Overall

If you have an app or a buyer journey that crosses platforms, Apptimize might be a good solution for A/B testing.
Apptimize focuses explicitly on testing for companies with frequent product rollouts, such as software companies.
Crazy Egg is a tool that lets you track how users interact with your website. It has a built-in A/B testing platform to complement its heatmaps.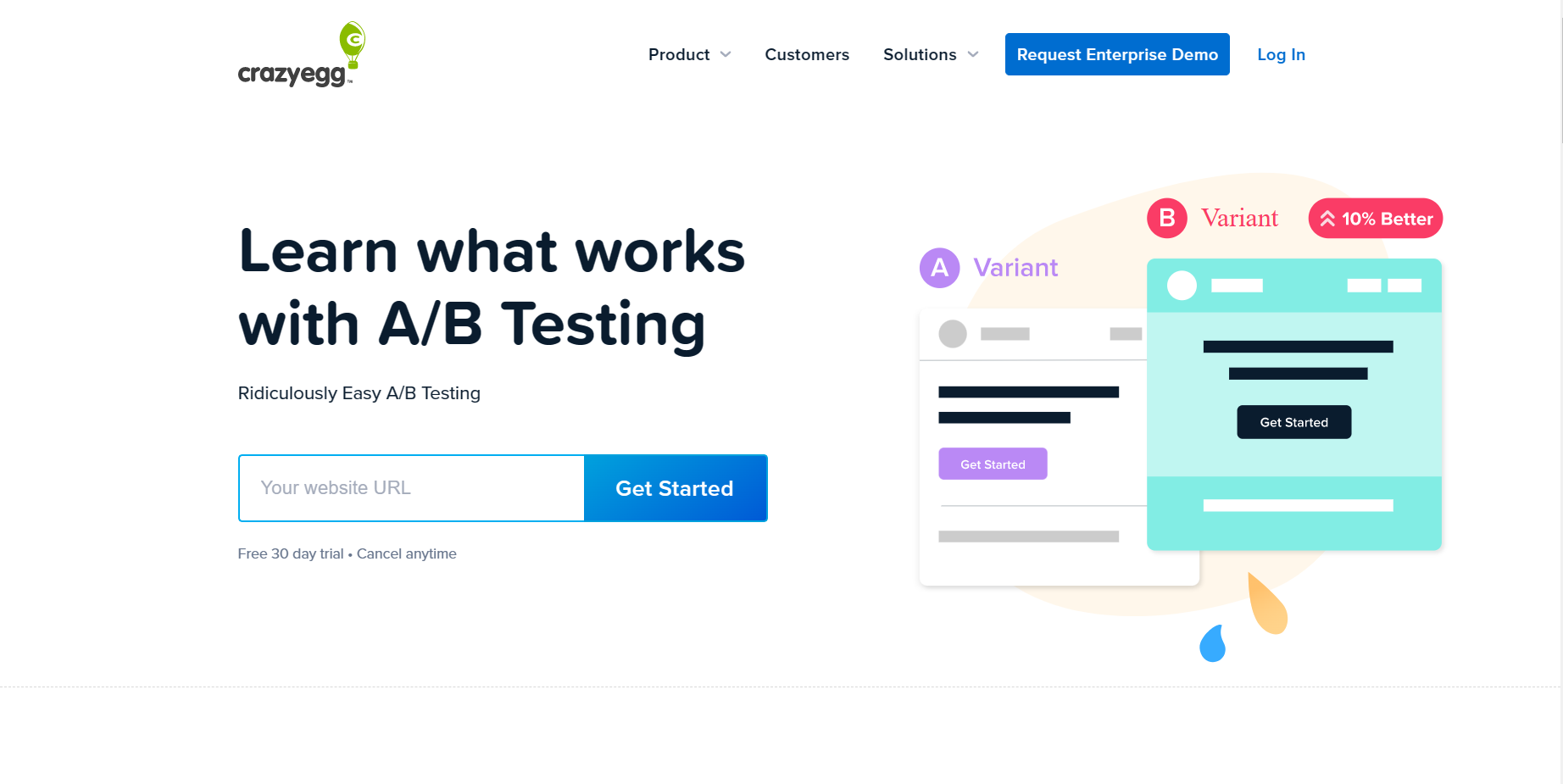 Pricing
Crazy Egg plans range from $29/month to $249/month. A 30-day free trial is available.
Main features

A/B tests: let you run tests of images, website copy, and UI components. You can target traffic from specific mobile, desktop, or tablet devices and set different goals, such as selling more products, getting more registrations or getting more page views, and more.
Traffic analysis: you can compare your website traffic based on origin. For example, you can see the top 10 sources of traffic and analyze which audience performed several actions on your site.
Errors tracking: you can see which errors reduce conversions in session replays. You'll get insights into each error, such as the raw stack trace, device and browser information, and more.
Surveys: enable you to create multiple-choice, text, and ratings-based surveys. You can also collect feedback on customer experience through NPS scores and ratings.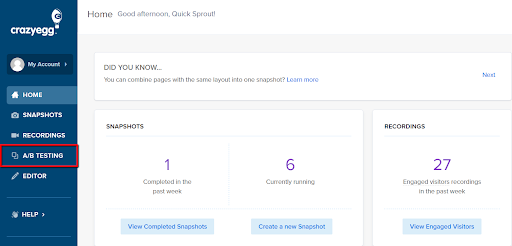 Ease of use

Very simple setup. Add the unique Crazy Egg snippet to the web page you want to test and you're ready to go. It is easy to use, and no advanced technical skills are needed.
Privacy and security

Crazy Egg is compliant with various pieces of privacy legislation across the globe, including GDPR, CCPA, HIPAA, and PIPEDA. Crazy Egg is ISO-27001 and SOC2 certified.
When tracking data from a customer's website, Crazy Egg does not collect any other Personal Identifiable Information (PII) in Snapshots or AB Testing features, and all IP addresses are anonymized; they are not stored.
All communications from your end users and visitors with the Crazy Egg Service are encrypted using industry-standard communication encryption technology. Crazy Egg currently uses Transport Layer Security (TLS).
Data storage and location
All data Crazy Egg collects is stored electronically in the US on AWS infrastructure. The application and database servers run inside an Amazon VPC (Virtual Private Cloud). Crazy Egg doesn't offer data hosting in the EU.
PROS:
➕Crazy Egg's A/B testing module was created to keep it simple. No complicated setup here. It offers solutions for both testing and behavioral insights. Each plan includes unlimited surveys, websites, and tests.
➕Works well with Google Tag Manager without complex coding scripts.
CONS:
➖No advanced reporting features. This is a very basic tool.
Overall

Crazy Egg's A/B testing module is a basic tool at an approachable price. If you do not need advanced features, don't do coding, and have no rich analytical skills but want to understand user behavior and identify what users are doing when they visit your website, this might be a suitable choice.
Here's an overview of the 9 A/B tools we've compared:

Optimizely
Convert
VWO
Conductrics
Adobe Target
A/B Smartly
Pricing
On request
From $99/m
From $356/m
On
request
On request
On request
Free trial/demo
A/B testing
Multivariate testing
Client-side
Server-side
Visitor segmentation
Consent Manager solution
Privacy
EU data hosting available
Ease of use
AB Tasty
Omniconvert
Apptimize
Crazy Egg
Pricing
On
request
From $249/month
On
request
From $29/month
Free trial/demo
A/B testing
Multivariate testing
Client-side
Server-side
Visitor segmentation
Consent Manager solution
Privacy
EU data hosting available
Ease of use
A/B testing tools: Conclusion
Each of the top A/B testing tools has pros and cons. You'll likely have to do some strategic thinking and exploration to get the right solution for your business and specific use case.
But it's always a good idea to work with those that support principles such as privacy by design. Following these values will help you abide by privacy laws, fully control your data, and understand what kind of data you collect, store, and transfer. Hopefully, our comparison will help you in the process.