As a product manager, app developer, or marketer, your goal should be to develop a mobile app that best caters to your users' expectations. You need to get reliable insights into your app's performance, what users are doing inside the app, and the impact of your marketing campaigns. 
A mobile app analytics platform is essential to your app development process for many reasons. 
With the right mobile app analytics tools, you are able to track in-app sessions and user behavior and get detailed insight into app usage and customer satisfaction. Specifically, you can measure mobile app installations, opens and downloads, locate user exit points, and learn how much time users spend in the app and how well they complete designated funnels. Such analytics software reports on real-time usage, trends and market behavior over time, location segmentation, and device or operating system attributes. 
All this data can be used by product, marketing, and sales teams to improve user acquisition, engagement, retention, or in-app purchases. They can better understand regional popularity and demographic analysis. Developers can use it to find inspiration for new functionalities.
While some mobile app analytics products solely address app analytics, others can be used for both app and digital analytics. Mobile app analytics are also popular with mobile game developers.
To help you decide which software will work best for your needs, we've prepared a detailed comparison of mobile app analytics platforms.
COMPARISON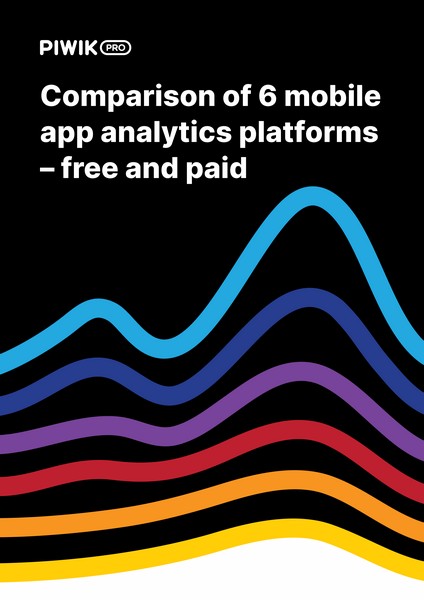 COMPARISON
Comparison of 6 mobile app analytics platforms – free and paid
Learn the key differences between Piwik PRO, Google Analytics for Firebase, Flurry Analytics, Mixpanel,  Data.ai (App Annie) and Countly.
How to find the right mobile app analytics platform for you
In the course of the decision-making process, consider your requirements for the following categories:
Features
When analyzing the mobile app analytics software available on the market, you want to look into the available reporting features, customization options, and software development kits (SDK). Some vendors give you advanced analytics and support for cross-platform applications for free, while others offer this only in paid plans.
Type of platform
Learn what type of platform you can integrate with your existing toolset. While few products specialize in app analytics, many are a part of modern web and mobile analytics platforms. All-in-one platforms let you analyze web and app data in one place for a comprehensive view of the customer journey. Another advantage is a shorter learning curve, as you don't need to familiarize yourself with a new tool and its features. However, if your use case requires collecting data solely from mobile apps, an all-in-one platform might actually complicate your work.
Ease of use
Look for a solution that is easy to implement and maintain with a user-friendly interface and clear reporting. Make sure your analytics provider has a strong track record of delivering accurate and reliable data. You want to have confidence in the data insights you receive from your mobile analytics partner.
Integrations
Analytics platforms must interface seamlessly with your tech and data infrastructure. Ensure any partner can integrate seamlessly with the platforms you use, such as CDPs, business intelligence (BI) tools, or data visualization software.
Customer support
You'll want the vendor's customer support team to be responsive, knowledgeable, and helpful when you need assistance. Help center resources and clear documentation are necessary. However, you will ideally be able to get in touch with the team through various channels and, when needed, receive personalized help, such as a training or onboarding session.
Data privacy and security
Data protection laws like GDPR or HIPAA regulate how information is collected, how users are informed about data collection, and what control they have over their data. Some platforms are privacy-friendly by default, but others may share your users' data with third parties.
When thinking about privacy and compliance, there are two key points to consider:
Data residency – It refers to the location of data within a particular region or country. For example, if you want to follow the rules of GDPR, you should consider a platform that allows you to store data on servers within the EU.
Data anonymization – Better privacy often means better data, so platforms with higher standards of anonymization allow you to collect data even in jurisdictions with strict privacy regulations.
Overview of mobile app analytics platforms
We've analyzed six tools in both their free and paid plans:
Mixpanel
Mixpanel is an advanced product analytics tool specializing in tracking in-app behaviors, segmenting users, and monitoring metrics like feature usage, retention, engagement, lifetime value, and churn. Its setup process provides granular control over every user action you track. The feature set is notable for including versatile and detailed product analytics reports, as well as an option to add historical event info to your data.
Flurry Analytics
Flurry is a web-based mobile app analytics platform that lets developers gain insights into audience, events, funnels, segmentation, and user journeys for Android and iOS devices. Companies can understand in real-time how users engage with their applications, compare engagement by app version, and get access to geographic, demographic, and technographic metrics.
Google Analytics for Firebase
Google Analytics for Firebase surfaces data about user behavior in your iOS and Android apps. You get access to comprehensive in-app behavioral and marketing performance data. You can define your own custom events to measure the things that uniquely matter to your business. The reports also let you create audiences and connect with third-party networks to make your insights immediately actionable.
Countly
Countly is a product analytics platform that helps teams track, analyze, and act on their user actions and behavior on mobile, web and desktop apps. It allows you to innovate your products to provide personalized and customized customer experiences and meet key business and revenue goals. You can build better applications and engaging experiences while maintaining full control over the product analytics data flow.
data.ai (App Annie)
App Annie is a mobile and data analytics platform that lets you get a side-by-side mobile view of both market data and your own analytics to maximize performance. See data on app rank history, rating tracker, app details, downloads, engagement metrics, advertising, ASO tools and more. This lets you identify trends and growth opportunities and optimize your app's paid or organic downloads, revenue, engagement, and retention.
Piwik PRO Analytics
Piwik PRO provides analytics software for websites, apps, and digital products that lets you track complete customer journeys and gives you access to accurate user data, including in post-login areas. With the collected insights, you can analyze and improve user engagement and ensure a smooth experience with your app. Through Piwik PRO's privacy-by-design focus, you can also benefit from enhanced data anonymization, full data control, and flexible EU hosting.
Comparison of 6 free and paid mobile app analytics tools
We compared the platforms based on the following criteria:
Mobile SDKs
Data collection flexibility
Data processing and connectivity
Reporting features 
Data anonymization
Data privacy and security
Customer support
Here's a general overview of the six platforms we've compared:
Performance and features
Part of a web and mobile analytics platform
Privacy and security compliance
Ease of implementation
Piwik PRO
Core
Piwik PRO
Enterprise
Mixpanel
Free
Mixpanel
Enterprise
data.ai (App Annie)
Free
data.ai (App Annie)
Premium
Countly
Community
Countly
Enterprise
Google Analytics for Firebase
Flurry Analytics
We believe that data privacy is a key aspect of any analytics platform you use.
That's why we also prepared a table detailing what popular mobile app analytics platforms have to offer when it comes to privacy features and compliance:
100% data control
Suitable for handling sensitive data
GDPR-compliant
HIPAA-compliant
Piwik PRO
Core
Piwik PRO
Enterprise
Mixpanel
Free
Mixpanel
Enterprise
data.ai (App Annie)
Free
data.ai (App Annie)
Premium
Countly
Community
Countly
Enterprise
Google Analytics for Firebase
Flurry Analytics
COMPARISON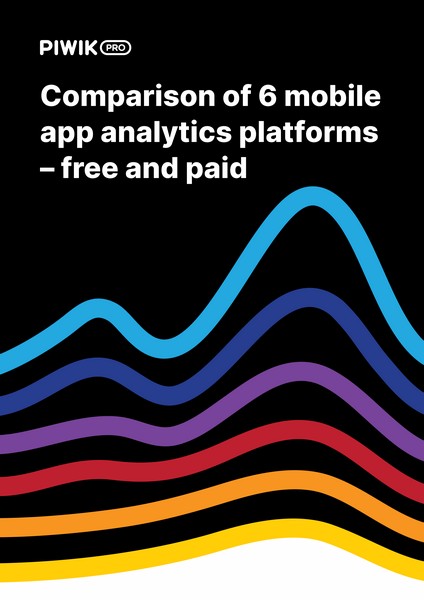 COMPARISON
Comparison of 6 mobile app analytics platforms – free and paid
Learn the key differences between Piwik PRO, Google Analytics for Firebase, Flurry Analytics, Mixpanel,  Data.ai (App Annie) and Countly.
This comparison is based on the publicly available information gathered in February 2022.
Want to learn more about privacy-friendly analytics that will empower you to improve your app's performance and increase your users' satisfaction? Get in touch with us: