This blog post was originally published on December 10th, 2019 with the title 4 Key Google Analytics drawbacks you won't realize until it's too late
The free version of Google Analytics, also called Universal Analytics, with its 86% market share, is the most widely used web analytics solution to date. It offers a variety of features, was created by the most popular brands in the world, and is free.
From a business perspective, a free analytics platform from the biggest name in tech sounds great. But just like most free products, it has limitations. You must realize what they are, how they impact your projects' goals, and what you can do about them.
Table of contents
What are the limitations of Google Analytics?
Limit #1: Sampled data
Google Analytics samples your data, so only a subset of your traffic is analyzed and used to estimate the overall results.
This is how Google explains it: "For example, if you wanted to estimate the number of trees in a 100-acre area where the distribution of trees was fairly uniform, you could count the number of trees in 1 acre and multiply by 100."
Google samples data to reduce the amount of processing needed to handle every free Google Analytics account. While this may work well in the example above, people coming to your website are anything but "fairly uniform." If they were, what would be the point of your advanced analytics efforts toward understanding visitors? Why map their journeys?
When does data sampling happen?
When you cross a threshold of 500K sessions, sampling activates, but there are exceptions. Google's support article explains that it can happen, let's say, because of "the complexity of your Analytics implementation, the use of view filters, query complexity for segmentation, or some combination of those factors."
Even low-traffic websites can experience sampling if you use:
custom reports
filtered views
segments
long time frames

And flow visualization reports, such as user flow, behavior flow, events flow, and goal flow, have a lower threshold of 100K sessions before data sampling begins.
This can cause discrepancies in reports. Google mentions that in support materials: "The flow-visualization reports, including entrance, exit, and conversion rates, may differ from the results in the default behavior and conversions reports, which are based on a different sample set."
How does data sampling impact your reporting?
Sampling presents an inaccurate narrative of what's happening on your website and increases the chances of bias.
Sampled data won't give you the whole picture. This creates a measurement error. The error rate depends on the size and quality of the sample taken. And you can't be sure whether your software will choose a representative set of your traffic or not.
This means your reports won't be accurate and will make it hard to determine specific figures such as revenue amount.
How to solve the problem of data sampling?
Sampling happens depending on how many hits and sessions you're working with, and the complexity of your analytics setup.
If you want to use Google Analytics and access unsampled data, you need to work with basic options such as standard reports, or avoid advanced ones. You can also limit the analyzed time frame.
These solutions restrict your flexibility in managing your data. You could upgrade to Google Analytics 360, but it too samples data, from 100M sessions a month.
If you want reliable reporting plus advanced analyses and the capacity to address different use cases, e.g. track the full customer journey, you need full data sets. With unsampled data you won't miss any valuable information and your reports will be precise. The good news is that there are other analytics platforms that will help you reach these goals, and they're available for free.
Limit #2: No access to raw data
Google Analytics doesn't give you access to raw data. It grants you only aggregated information presented in a summarized format, so your reports may lack valuable details. Also, it's harder to run sophisticated analyses.
Analysts rely on raw data to get more accuracy and dig into details. This kind of data comes directly from the source. You can put it into any form, program, or report. Since this is unprocessed data, you mold it exactly as you want, and perform advanced evaluations.
You can also visualize raw data as you wish. For instance, export it to business intelligence and visualization tools such as Tableau, Microsoft Power BI, and Sisense. This way you connect multiple data sources and then clean up shape, and model your data set into the desired report.
Moreover, merging information from different sources lets you build one central data set and get rid of data silos.
Unfortunately, Google Analytics only lets you work with raw data with the paid plan. But still, some blockers will remain because you need access to BigQuery, a Google product. This entails additional costs that depend on your data volume.
All said, if you want to apply new filters and visualizations and gain new points of view. It might be good to turn to other vendors that offer raw data, without extra effort. You'll get it for free and don't need additional plugins and tools; instead, you'll use an API to directly access such data.
Limit #3: Google Analytics hit limits
You can max out at 10 million hits a month. It's important not to mistake this for visitors or sessions. Google's support article explains that "every user interaction can be sent to Analytics as an individual hit, including (but not limited to) each page view, screen view, event, and e-commerce transaction. As a result, a single session can result in many hits."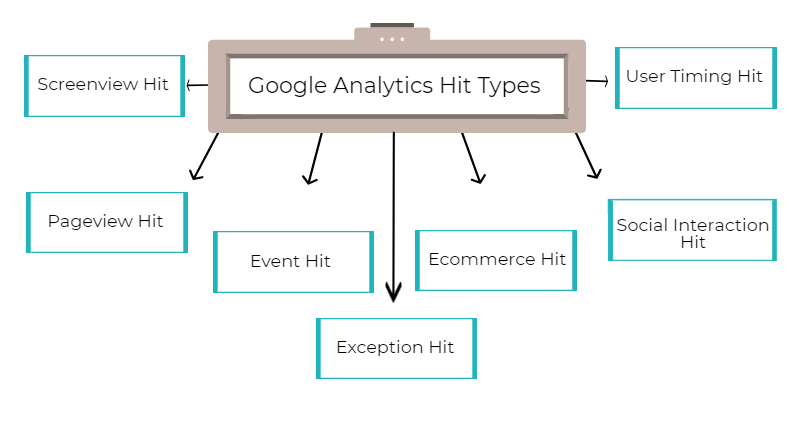 Your site visitors generate multiple hits during a single visit. For smaller projects, this 10M would be enough for a solid analysis. However, when your analytics projects get more advanced and traffic increases, reaching that 10M threshold will come fast.

So, what happens when you've reached the hits ceiling? Anything over 10M might not be tracked. Or, you might lose access to reports you've created and the ability to accurately track the activity on your page.
According to Google's terms of service "there is no assurance that the excess hits will be processed. If the property's hit volume exceeds this limit, a warning may be displayed in the user interface and you may be prevented from accessing reports."
What are your options post-10M hits?
Google's team will reach out to you to suggest an upgrade to Analytics 360. If Google Analytics 360's hefty price is out of the question, consider other options. You could stick to Google free and:
Increase your sampling rate. Google Analytics will be processing less data, and you'll be working with less accurate information. The higher the sampling rate, the more diluted and skewed your reporting becomes.
Adopt a less detailed strategy. Custom events, virtual page views, user timing, and other events generate hits. These are key aspects of an in-depth analytics model, but to decrease hits you will need to make sacrifices.
However, both solutions diminish the effectiveness of your analytics and make analyzing your metrics harder.
If you run bigger and more complex analytics projects, it's better to use a tool that gives you flexibility, letting you track as many actions, events, and properties as you want. This will allow you to reach specific goals and get accurate data.
Limit #4: Google Analytics doesn't comply with the EU law
In past years, Google Analytics and its mother company, Google LLC, have been drawing scrutiny from European activists for questionable privacy practices. This led to legal action based on the GDPR.
First, several European data protection authorities, including France's CNIL, the Swedish IMY, and Belgium's APD hit Google with multi-million-dollar fines. Then, on January 12, 2022, Austria's data protection authority, the DSB, released its ruling stating that the use of Google Analytics violates the GDPR.
Read more about other European data protection authorities' approach to this matter:
The major compliance concern with Google Analytics is that it saves user data, including details about EU residents, on cloud servers in the US. Moreover, Google LLC is a US-owned company, which makes it subject to US surveillance laws, such as the Cloud Act.
What's the problem here?
In July 2020, the Court of Justice of the European Union (CJEU) invalidated the Privacy Shield framework, which regulated data transfers from the EU and Switzerland to the US (EU-US data transfers, for short).
In this judgment, known as Schrems II, the European court ruled that the transfer of personal data from the EU to the US is illegal if companies can't guarantee the safety of data from US intelligence.
Then, Google and other companies resorted to their standard contractual clauses (SCC) and binding corporate rules (BCR) as a solution to protect data sent to the US.
In the mentioned ruling, the DSB states that it's possible to link the information collected with Google Analytics to an individual. Also, SCCs introduced by Google as the only safeguard can't protect EU residents' data from US surveillance. That's why organizations that gather analytics data about EU residents shouldn't use Google Analytics.
This problem is difficult for users to solve. When you use Google Analytics, your data is kept across different Google data centers, mostly in the US, but also in other locations around the world. You never know exactly where. This impacts your legal compliance and makes data security harder to achieve.
All said Google Analytics' biggest compliance issues come down to insufficient protection and control over data. We'll cover data control in more detail in the next section.
Limited control over data
Control over data means you're the only party with access to customer information and you govern how it's used. Google Analytics can't provide you with that.
Since Google Analytics keeps your data at random data centers, you don't know the server locations and can't control who accesses that data.
Additionally, as discussed above, Google operates under US surveillance laws which mandate US companies to share data with US authorities. It means Google Analytics doesn't ensure appropriate safeguards required by different privacy laws. For more information, check the data residency section.
Moreover, in its terms of service, Google claims the right to retain and utilize your data, stating that:
Google and its wholly owned subsidiaries may retain and use, subject to the terms of its privacy policy, information collected in Your use of the Service.
In other words, the information Google Analytics users gather on the platform is shared with users of other Google products, such as:
Google Ads
YouTube
Google AdSense
You can read Google's privacy policy & terms:
Many websites and apps use Google services to improve their content and keep it free. When they integrate our services, these sites and apps share information with Google.
Besides, the data collected by Google Analytics users allows Google to profile users.
This can be alarming for any organization that requires data privacy. The more entities access your data, the bigger the chance of security breaches. You can't control how Google uses its data, so it's difficult to adjust data collection to individuals' privacy choices.
On the other hand, data control gives you flexibility and enables sophisticated analyses. Once you handle data appropriately, you'll be able to obtain user-level details and gather data from more sources, such as post-login areas.
No data residency
If your organization handles personal data and operates in multiple countries, you need to be aware of local data privacy laws. This includes laws in the countries where data is collected and stored. Additionally, your internal protocols or industry standards might require keeping data in-house.
For instance, certain countries across the world, such as Australia, Canada, Germany, India, Russia, and Switzerland, have laws that mandate storing their residents' personal data within the nation's physical borders.
If you're collecting data about EU residents, then it's strongly advisable to keep that data on servers in the EU. This makes collecting and processing the data much easier and also avoids possible legal and regulatory problems with data transfers outside the EU.
A good solution would be getting an analytics platform that lets you keep data on your servers or choose specific storage locations. This will help you meet those obligations and focus on working with data for your projects.
Limit #5: Google Analytics doesn't offer privacy by design
Google Analytics wasn't designed with privacy in mind. It gets some things right, such as data security, but falls short in other areas – mostly transparency and granting control of data to individuals. That's why you need to take care of data protection yourself.
As the importance of compliance with regulations is growing. It's worth considering analytics platforms that offer a full set of privacy features.
Learn more about the rise of data regulations in our articles:
No reliable consent framework
Google Analytics doesn't have a reliable consent framework. That might be problematic if you run analytics projects as they often involve collecting personal data. Various data protection regulations require obtaining individuals' consent if you want to process such data. Then, it's best to have software that is privacy compliant and lets you work with user-level data.
Google created Funding Choices, a consent management platform dedicated to large publishers that monetize their data inventory through Google products. The platform was approved by the IAB (the Interactive Advertising Bureau) under Europe's Transparency and Consent Framework (TCF 2.0) for the EU's General Data Protection Regulation (GDPR).
However, the Belgian Data Protection Authority and the Irish Council for Civil Liberties regard this consent based on the IAB framework as non-compliant with GDPR because this consent mechanism deprives individuals of their fundamental privacy rights.
Unfortunately, while this platform integrates with ad tools, such as Google's Ad Manager and AdMob, it doesn't give you solutions for managing analytics data. Consequently, users who want to gather information about visitors with Google Analytics still need to find a way to handle consent and data requests.
The best option is to have an analytics platform that has built-in consent management, so you don't need to worry about additional integrations with third-party tools.
Having the proper consent mechanism has two key benefits. First, it enables you to respect individuals' privacy and ensures compliance with data protection laws. Second, it helps you get more data from more places, e.g. from post-login areas.
No anonymous data collection
Although privacy regulations may vary from country to country, in most cases, you can't collect personal data without individuals' consent. But, for instance, in France, the data protection authority (CNIL) has added an exemption for audience measurement without consent, including anonymous data.
Anonymous data is helpful when users ignore or decline consent. It allows you to collect data more often, even in some jurisdictions with stringent data privacy regulations. That's why analytics vendors offer different ways to obtain this kind of data.
That's not the case with Google Analytics as it doesn't let you fully anonymize data. Even if you don't want to process personal data, you can't avoid it because in Google Analytics every user gets a unique ID. In this way, Google Analytics can give you details such as how many people visit your site and how many of them return. But those online identifiers are personal data under the GDPR.
Anonymous data is data without any personal identifiers, direct or indirect, that could allow you to identify an individual. It is not personal data under the GDPR.
According to Recital 26 of GDPR:
The principles of data protection should therefore not apply to anonymous information, namely information which does not relate to an identified or identifiable natural person or to personal data rendered anonymous in such a manner that the data subject is not or no longer identifiable.
Google advises you to leverage a minimum hashing requirement of SHA256 to avoid sending personal data or personally identifiable information (PII) to Google Analytics. Here you can find Google's guide on that matter.
However, GDPR considers hashed data as personal data, so you need valid visitor consent to gather and process it. That may result in some serious data loss, as 30-70% of visitors don't opt-in to track their data.
Limit #6: Lack of dedicated customer care and support
Setting up and maintaining analytics for your site is a complicated, time-consuming process. The only support you get from Google Analytics is online documentation and community forums. Although its huge user base has given rise to plenty of communities dedicated to the platform's issues. You'll still have to navigate that information and sort out what's outdated, irrelevant, or inapplicable.
That kind of help is not enough when burning issues arise or you're struggling with complex analytics problems. It's also a question of the time you'll need to spend learning the ins and outs of the platform or scouring the web for answers.
But high-touch customer care gives you more than instructions and answers to technical questions.
For example, with dedicated support, you'll be able to resolve both basic and complex issues, as well as accomplish specific analytics goals. Working with a real person who walks you through the onboarding process or assists you in product training will help you become more familiar with the analytics platform. In the end, it'll be easier for you to take advantage of it and make advanced analyses.
What are the main limits of Google Analytics 4?
On the surface, there are no limits in Google Analytics 4, but the data that's there is quite different. The platform has a new data model. It has different reports, tracking points, and metrics, and even the UI is different. Most of the default reports from Universal Analytics, the version most people use now, aren't there.
If you're used to Universal Analytics, then you'd have to spend some time learning how to use the new platform.
Also, you can get access to raw data, but not for free as it requires BigQuery, at extra cost.
Experienced Google Analytics users recommend using Google Analytics 4 together with Universal Analytics because the newer version is still evolving. It lacks important integrations, e.g. with Google Search Console or Optimizely, and some standard metrics.
The switch from Universal Analytics to Google Analytics 4 is not that easy because you can't migrate data or settings from one platform to another. You'll have to start from scratch.
Other limitations in Google Analytics 4 are the same as in Universal Analytics. So you'll need to deal with issues such as a lack of privacy features, no dedicated support, and limited hosting options.
A way out of Google Analytics' limitations
Google Analytics doesn't always fit the bill. It may be free, but not without limitations. Some of them might be easy to deal with while others can be roadblocks, so you need to realize how they impact your business.
If those limitations are a serious problem, you can upgrade to Google Analytics 360, with a hefty price tag, or look for another vendor.
There are other free options but they are limited, too. You can't cut down the price completely without placing some limitations, e.g. in the number of features, data sampling, reduced performance, and lack of privacy protections.
It's better to learn about them before investing your time and effort in switching from Google Analytics. Some of these platforms offer a smooth transition from free and limited to a paid plan with extra features and capabilities. Others remove specific limitations as you sign up for a higher plan.
You might find it handy how they differ and how they can help achieve your short- and long-term goals. And we've gathered some details about those platforms. If you're interested in diving into details, read our comparison of free web analytics platforms →
If you'd like to find out more about the advantages and limits of Google Analytics 360 and other analytics platforms designed with bigger projects in mind, see our comparisons:
Piwik PRO vs. Google Analytics 360 →
Piwik PRO vs. Matomo →
Piwik PRO vs. Adobe Analytics →