This blog post was originally published on December 10th, 2019 with the title 4 Key Google Analytics drawbacks you won't realize until it's too late
Google Analytics is the most widely used web analytics solution on the market. It offers a variety of features, was created by the most popular brands in the world, and is free.
From a business perspective, a free analytics platform from the biggest name in tech sounds great. But just like most free products, it has limitations. And its benefits are changing dramatically after the sunset of Universal Analytics on July 1, 2023. Now, the Google Analytics 4 (GA4) is replacing the previous version.
GA4 introduces a different reporting and measurement technology where the data revolves around events instead of sessions. It has a steep learning curve and may be difficult to navigate, especially for less tech-savvy users. 
Plus, at this stage, GA4 is still a work in progress. The platform has some significant shortcomings, many of which require additional customization and workarounds. If you're new to GA4 or still trying to work out how you will approach the switch from UA to GA4, it's key that you know where the new Google platform falls short. 
In this article, we're discussing the limitations of both Universal Analytics and Google Analytics 4. Understanding the limitations of both platforms – especially GA4 – is necessary to learn how they impact your projects' goals and what you can do about them.
Table of contents
What are the limitations of Universal Analytics?
Limit #1: Sampled data
Google Analytics samples your data, so only a subset of your traffic is analyzed and used to estimate the overall results.
This is how Google explains it: "For example, if you wanted to estimate the number of trees in a 100-acre area where the distribution of trees was fairly uniform, you could count the number of trees in 1 acre and multiply by 100."
Google samples data to reduce the amount of processing needed to handle every free Google Analytics account. While this may work well in the example above, people coming to your website are anything but "fairly uniform." If they were, what would be the point of your advanced analytics efforts toward understanding visitors? Why map their journeys?
When does data sampling happen?
When you cross a threshold of 500K sessions, sampling activates, but there are exceptions. Google's support article explains that it can happen, let's say, because of "the complexity of your Analytics implementation, the use of view filters, query complexity for segmentation, or some combination of those factors."
Even low-traffic websites can experience sampling if you use:
custom reports
filtered views
segments
long time frames

And flow visualization reports, such as user flow, behavior flow, events flow, and goal flow, have a lower threshold of 100K sessions before data sampling begins.
This can cause discrepancies in reports. Google mentions that in support materials: "The flow-visualization reports, including entrance, exit, and conversion rates, may differ from the results in the default behavior and conversions reports, which are based on a different sample set."
How does data sampling impact your reporting?
Sampling presents an inaccurate narrative of what's happening on your website and increases the chances of bias.
Sampled data won't give you the whole picture. This creates a measurement error. The error rate depends on the size and quality of the sample taken. And you can't be sure whether your software will choose a representative set of your traffic or not.
This means your reports won't be accurate and will make it hard to determine specific figures such as revenue amount.
How to solve the problem of data sampling?
Sampling happens depending on how many hits and sessions you're working with, and the complexity of your analytics setup.
If you want to use Google Analytics and access unsampled data, you need to work with basic options such as standard reports, or avoid advanced ones. You can also limit the analyzed time frame.
These solutions restrict your flexibility in managing your data. You could upgrade to Google Analytics 360, but it too samples data, from 100M sessions a month.
If you want reliable reporting plus advanced analyses and the capacity to address different use cases, e.g. track the full customer journey, you need full data sets. With unsampled data you won't miss any valuable information and your reports will be precise. The good news is that there are other analytics platforms that will help you reach these goals, and they're available for free.
Limit #2: No access to raw data
Google Analytics doesn't give you access to raw data. It grants you only aggregated information presented in a summarized format, so your reports may lack valuable details. Also, it's harder to run sophisticated analyses.
Analysts rely on raw data to get more accuracy and dig into details. This kind of data comes directly from the source. You can put it into any form, program, or report. Since this is unprocessed data, you mold it exactly as you want, and perform advanced evaluations.
You can also visualize raw data as you wish. For instance, export it to business intelligence and visualization tools such as Tableau, Microsoft Power BI, and Sisense. This way you connect multiple data sources and then clean up shape, and model your data set into the desired report.
Moreover, merging information from different sources lets you build one central data set and get rid of data silos.
Unfortunately, Google Analytics only lets you work with raw data with the paid plan. But still, some blockers will remain because you need access to BigQuery, a Google product. This entails additional costs that depend on your data volume.
All said, if you want to apply new filters and visualizations and gain new points of view. It might be good to turn to other vendors that offer raw data, without extra effort. You'll get it for free and don't need additional plugins and tools; instead, you'll use an API to directly access such data.
Limit #3: Google Analytics hit limits
You can max out at 10 million hits a month. It's important not to mistake this for visitors or sessions. Google's support article explains that "every user interaction can be sent to Analytics as an individual hit, including (but not limited to) each page view, screen view, event, and e-commerce transaction. As a result, a single session can result in many hits."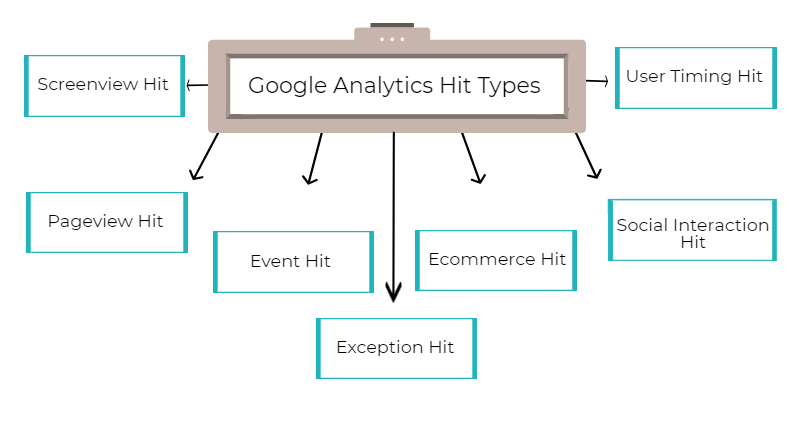 Your site visitors generate multiple hits during a single visit. For smaller projects, this 10M would be enough for a solid analysis. However, when your analytics projects get more advanced and traffic increases, reaching that 10M threshold will come fast.

So, what happens when you've reached the hits ceiling? Anything over 10M might not be tracked. Or, you might lose access to reports you've created and the ability to accurately track the activity on your page.
According to Google's terms of service "there is no assurance that the excess hits will be processed. If the property's hit volume exceeds this limit, a warning may be displayed in the user interface and you may be prevented from accessing reports."
What are your options post-10M hits?
Google's team will reach out to you to suggest an upgrade to Analytics 360. If Google Analytics 360's hefty price is out of the question, consider other options. You could stick to Google free and:
Increase your sampling rate. Google Analytics will be processing less data, and you'll be working with less accurate information. The higher the sampling rate, the more diluted and skewed your reporting becomes.
Adopt a less detailed strategy. Custom events, virtual page views, user timing, and other events generate hits. These are key aspects of an in-depth analytics model, but to decrease hits you will need to make sacrifices.
However, both solutions diminish the effectiveness of your analytics and make analyzing your metrics harder.
If you run bigger and more complex analytics projects, it's better to use a tool that gives you flexibility, letting you track as many actions, events, and properties as you want. This will allow you to reach specific goals and get accurate data.
Limit #4: Privacy compliance issues
In past years, Google Analytics and its mother company, Google LLC, have been drawing scrutiny from European activists for questionable privacy practices. This led to legal action based on the GDPR.
First, several European data protection authorities, including France's CNIL, the Swedish IMY, and Belgium's APD hit Google with multi-million-dollar fines. Then, on January 12, 2022, Austria's data protection authority, the DSB, released its ruling stating that the use of Google Analytics violates the GDPR.
The major compliance concern with Google Analytics is that it saves user data, including details about EU residents, on cloud servers in the US. Moreover, Google LLC is a US-owned company, which makes it subject to US surveillance laws, such as the Cloud Act.
What's the problem here?
In July 2020, the Court of Justice of the European Union (CJEU) invalidated the Privacy Shield framework, which regulated data transfers from the EU and Switzerland to the US (EU-US data transfers, for short).
In this judgment, known as Schrems II, the European court ruled that the transfer of personal data from the EU to the US is illegal if companies can't guarantee the safety of data from US intelligence.
Then, Google and other companies resorted to their standard contractual clauses (SCC) and binding corporate rules (BCR) as a solution to protect data sent to the US.
In the mentioned ruling, the DSB states that it's possible to link the information collected with Google Analytics to an individual. Also, SCCs introduced by Google as the only safeguard can't protect EU residents' data from US surveillance.
This problem is difficult for users to solve. When you use Google Analytics, your data is kept across different Google data centers, mostly in the US, but also in other locations around the world. You never know exactly where.
The newly introduced EU-US Data Privacy Framework changes the legal status of using GA in Europe, but many privacy experts doubt if it's strong enough to protect EU residents' data from scrutiny by the US government. NOYB, a privacy organization behind the invalidation of the two previous deals, has already announced that it will challenge the framework before the Court of Justice of the European Union.
Limited control over data
Control over data means you're the only party with access to customer information and you govern how it's used. Google Analytics can't provide you with that.
Since Google Analytics keeps your data at random data centers, you don't know the server locations and can't control who accesses that data.
Additionally, as discussed above, Google operates under US surveillance laws which mandate US companies to share data with US authorities. It means Google Analytics doesn't ensure appropriate safeguards required by different privacy laws. For more information, check the data residency section.
Moreover, in its terms of service, Google claims the right to retain and utilize your data, stating that:
Google and its wholly owned subsidiaries may retain and use, subject to the terms of its privacy policy, information collected in Your use of the Service.
In other words, the information Google Analytics users gather on the platform is shared with users of other Google products, such as:
Google Ads
YouTube
Google AdSense
You can read Google's privacy policy & terms:
Many websites and apps use Google services to improve their content and keep it free. When they integrate our services, these sites and apps share information with Google.
Besides, the data collected by Google Analytics users allows Google to profile users.
This can be alarming for any organization that requires data privacy. The more entities access your data, the bigger the chance of security breaches. You can't control how Google uses its data, so it's difficult to adjust data collection to individuals' privacy choices.
On the other hand, data control gives you flexibility and enables sophisticated analyses. Once you handle data appropriately, you'll be able to obtain user-level details and gather data from more sources, such as post-login areas.
Data residency
If your organization handles personal data and operates in multiple countries, you need to be aware of local data privacy laws. This includes laws in the countries where data is collected and stored. Additionally, your internal protocols or industry standards might require keeping data in-house.
For instance, certain countries across the world, such as Australia, Canada, Germany, India, Russia, and Switzerland, have laws that mandate storing their residents' personal data within the nation's physical borders.
If you're collecting data about EU residents, then it's strongly advisable to keep that data on servers in the EU. This makes collecting and processing the data much easier and also avoids possible legal and regulatory problems with data transfers outside the EU.
A good solution would be getting an analytics platform that lets you keep data on your servers or choose specific storage locations. This will help you meet those obligations and focus on working with data for your projects.
Limit #5: No privacy by design
Google Analytics wasn't designed with privacy in mind. It gets some things right, such as data security, but falls short in other areas – mostly transparency and granting control of data to individuals. That's why you need to take care of data protection yourself.
As the importance of compliance with regulations is growing. It's worth considering analytics platforms that offer a full set of privacy features.
No reliable consent framework
Google Analytics doesn't have a reliable consent framework. That might be problematic if you run analytics projects as they often involve collecting personal data. Various data protection regulations require obtaining individuals' consent if you want to process such data. Then, it's best to have software that is privacy compliant and lets you work with user-level data.
Google created Funding Choices, a consent management platform dedicated to large publishers that monetize their data inventory through Google products. The platform was approved by the IAB (the Interactive Advertising Bureau) under Europe's Transparency and Consent Framework (TCF 2.0) for the EU's General Data Protection Regulation (GDPR).
However, the Belgian Data Protection Authority and the Irish Council for Civil Liberties regard this consent based on the IAB framework as non-compliant with GDPR because this consent mechanism deprives individuals of their fundamental privacy rights.
Unfortunately, while this platform integrates with ad tools, such as Google's Ad Manager and AdMob, it doesn't give you solutions for managing analytics data. Consequently, users who want to gather information about visitors with Google Analytics still need to find a way to handle consent and data requests.
The best option is to have an analytics platform that has built-in consent management, so you don't need to worry about additional integrations with third-party tools.
Having the proper consent mechanism has two key benefits. First, it enables you to respect individuals' privacy and ensures compliance with data protection laws. Second, it helps you get more data from more places, e.g. from post-login areas.
No anonymous data collection
Although privacy regulations may vary from country to country, in most cases, you can't collect personal data without individuals' consent. But, for instance, in France, the data protection authority (CNIL) has added an exemption for audience measurement without consent, including anonymous data.
Anonymous data is helpful when users ignore or decline consent. It allows you to collect data more often, even in some jurisdictions with stringent data privacy regulations. That's why analytics vendors offer different ways to obtain this kind of data.
That's not the case with Google Analytics as it doesn't let you fully anonymize data. Even if you don't want to process personal data, you can't avoid it because in Google Analytics every user gets a unique ID. In this way, Google Analytics can give you details such as how many people visit your site and how many of them return. But those online identifiers are personal data under the GDPR.
Google advises you to leverage a minimum hashing requirement of SHA256 to avoid sending personal data or personally identifiable information (PII) to Google Analytics. Here you can find Google's guide on that matter.
However, GDPR considers hashed data as personal data, so you need valid visitor consent to gather and process it. That may result in some serious data loss, as 30-70% of visitors don't opt-in to track their data.
Limit #6: Lack of dedicated customer care and support
Setting up and maintaining analytics for your site is a complicated, time-consuming process. The only support you get from Google Analytics is online documentation and community forums. Although its huge user base has given rise to plenty of communities dedicated to the platform's issues. You'll still have to navigate that information and sort out what's outdated, irrelevant, or inapplicable.
That kind of help is not enough when burning issues arise or you're struggling with complex analytics problems. It's also a question of the time you'll need to spend learning the ins and outs of the platform or scouring the web for answers.
But high-touch customer care gives you more than instructions and answers to technical questions.
For example, with dedicated support, you'll be able to resolve both basic and complex issues, as well as accomplish specific analytics goals. Working with a real person who walks you through the onboarding process or assists you in product training will help you become more familiar with the analytics platform. In the end, it'll be easier for you to take advantage of it and make advanced analyses.
What are the limitations of Google Analytics 4 (GA4)?
There has been a lot of skepticism about the introduction of Google Analytics 4, especially due to Google's hastened decision to deprecate Universal Analytics and focus on GA4, forcing businesses and specialists to transition to Google's new product.
Google Analytics 4 is supposed to be a revamped analytics platform that responds to the changing paradigms in consumer behavior and privacy on the web. It uses an event-based data model that enables a unified tracking system to capture web and app data.
Specifically, GA4 stands out by:
Giving you a complete understanding of how customers interact with your business across devices and platforms throughout their entire lifecycle.
Using advanced machine learning models that surface trends in your data, predict future user actions and help you gain deeper insights.
Utilizing privacy-by-design controls, including addressing regulatory developments and changing technology standards for user privacy, such as restrictions on cookies and identifiers.
But the reality of GA4 isn't as bright as Google makes it sound. It's still an unfinished product containing many issues that users struggle with.
Many issues arise from the structure of the new platform. GA4 records data in the form of events, while UA revolves around tracking sessions and page views. And the concept of "events" in GA4 differs from what it stands for in UA.
For UA, an event has a Category, Action and Label, and represents its own type of hit.
Meanwhile, in GA4, events encompass all hit types like page views, social, transaction, user timing and more.
With that in mind, let's look into some issues specific to Google Analytics 4.
Lacking features
The fact that Google Analytics 4 focuses on recording events rather than session-level data limits the type of data you have access to.
Here are the essential features that are missing from GA4 or come with restrictions:
Missing metrics and reports
Because of the event-based data model, some standard calculated metrics aren't available in Google Analytics 4, like pages per session.
GA4 does provide some alternative metrics, such as engaged sessions, average engagement time per session and engaged rate.
These metrics are doubtlessly helpful in analyzing user behavior. The issue is that they are brand new, meaning you can't connect them to your historical data where no such metrics exist.
Many default reports from Universal Analytics are not available. There are only three acquisition reports in GA4, while UA offered 30. You will need to construct custom reports for common use cases.
Moreover, reporting lacks several basic features. There is no regex in dimension filtering, no filters for metrics in standard reports (only in explorations), and no segments in standard reports (there are comparisons that have limited capabilities).
Usually, basic reports will need to be scattered across standard reporting, explorations and Looker Studio, which creates another layer of complexity. Overall, the reports available in GA4 give you a limited level of analytics insight – this especially concerns standard reports.
Missing ecommerce features
Enhanced ecommerce was a key set of features for ecommerce websites in Universal Analytics, but it's no longer available in GA4.
Many useful ecommerce metrics initially available in GA4 were removed, such as Add-to-detail and Buy-to-detail rate, which were important for measuring item-level performance.
Also, GA4 has limited ecommerce reporting – for example, it lacks an abandoned cart report and customer loyalty report. You may need to configure a number of custom reports for your ecommerce site.
There are new events and different event names in GA4 ecommerce tracking, which adds another layer of complexity when migrating the tracking.
Complex conversion tracking setup
The data model used in GA4 makes it difficult to set up some basic goals, primarily ones based on pages/session, session duration, and destination (a view of a specific page). In GA4, you can only see conversions based on events, requiring you to use Google Tag Manager for most conversion items.
There are two sides to this. First, the new conversion tracking setup gives you more flexibility in creating conversions – you're able to track even very complex sequences of events.
But this complexity and requirement to use GTM even for simple conversions – such as tracking form submissions using a thank you page – make the setup tricky, especially for companies with little technical experience. Tracking a successful form submission is a crucial conversion type for many sites, so it might be a significant barrier for some companies that won't be able to track visits to valuable pages easily.
Additionally, specific events marked as conversions cannot be isolated as separate metrics in reporting. The only way to display a specific event's conversion rate is via a dropdown under the session conversion rate or user conversion rate metric. This is only available in standard reports, and unavailable in explorations or Looker Studio.
Missing integrations
Google Analytics 4 lacks integrations with some valuable tools, such as Google Sheets. Luckily, there are chances that it will be added, as it took Google some time to launch other integrations with its products, like Google Search Console.
Limited custom channel groupings
Channel groupings consolidate marketing channels based on a set of rules. Customizing them improves tracking the performance of these channels. Custom channel grouping is available in Google Analytics 4 but you can create only 2 groups and 25 channels within each group.
Limited options for customizing dashboards
You only have a minimal set of options to customize dashboards and widgets, so it will be difficult to display data in a presentation style that suits your needs. You can only add predefined components that can't be modified. Plus, GA4 doesn't offer a simple drag-and-drop editor.
Limited segments
In GA4, segments can only be used with explorations – a segment definition can apply to a particular exploration report. If you need to apply it to a different report, you have to create it from scratch, which can be time-consuming, especially for complex segments with multiple conditions. There is no way to share segments with other users of the GA4 property.
Issues with calculating bounce rate and engagement rate
In GA4, you have less control over bounce rate. For one, the time for an engaged session is a max of 55 seconds. There is no way to stop conversion events from impacting the bounce rate.
Typically, it's good to have as many events as conversions to see them in the dropdown for session conversion rate. But if you do it, the bounce rate and engagement rate will be, respectively, very low and very high, making them not useful anymore.
No custom annotations
Annotations come in handy when you need to provide additional context to other team members.
They help you further down the road to remember when certain onsite and offline events took place and affected traffic or user behavior on your site. For example, you can spot unusual traffic spikes or highlight a leak in the sales funnel.
This feature isn't available in Google Analytics 4.
Unintuitive UI
The altered reporting and measurement technology introduced in Google Analytics 4 is neither well understood nor widely accepted by the marketing community, making it difficult to navigate and gain insights.
The simple menu layout makes it more difficult to tell when something new has been released or updated. The report builder is less flexible overall. For example, you can't adjust column widths.
You also can't create views – for example, you can't add a view that would include only traffic from specific sources or traffic to specific directories (like the blog or support center). Instead of views in UA, you now need to work with data streams in GA4. A data stream could be a website, an iOS app, or an Android app, and it's a source of information that feeds into your Google Analytics property.
You can set up data filters, similar to view filters in UA, which you will now apply directly to the data stream. It means that there's no way to create reports for a specific view that would contain a limited amount of data. Data filters come in handy for filtering out internal or developer traffic to your site.
There is also no roll-up reporting, which would aggregate data from multiple Analytics properties, allowing you to see that data combined in the same reports. Roll-up reporting is only available for Google Analytics 4 360 properties.
The reports show an (other) row message when a report is affected by cardinality limits. As a result, a substantial number of conversions in GA4 reports are hidden without a clear warning shown anywhere. While it was added by Google as an improvement, this may be confusing and lead to wasting time when trying to identify potential implementation problems.
Flawed privacy features
In response to generally increased expectations of user privacy and control over data, Google Analytics 4 applies a few privacy controls to make it easier to comply with privacy regulations.
Unfortunately, using Google Analytics 4 still exposes you to serious privacy risks.
Consent mode
Because Google Analytics 4 tracks specific events, it doesn't rely on cookies and JavaScript variables to track page views as Universal Analytics did. But GA4 still uses cookies for tracking where available, meaning you need to display a cookie consent banner on your website to trigger GA4 tags and capture user data.
Consent Mode is Google's API developed in 2020 that can interact with your consent management platform (CMP) or a custom consent implementation. The CMP collects users' consent status, and then Google Consent Mode transmits it to Google for further processing.
Consent Mode modifies how Google products, like Analytics, Tag Manager or Ads, behave before and after your website visitors make their consent choices regarding advertising cookies and analytics cookies.
This sounds promising in terms of its potential for privacy protection, but there is a catch that makes the setup problematic for user privacy.
In Consent Settings, you will find Built-in consent checks – ad_storage and analytics_storage – that are used by the given Google tag and can't be modified.
If a hit is generated and a visitor hasn't provided consent, a cookie won't be set. Still, the hit may include identifying information in the URL parameters (such as GCLID) or referrer.
This information will then be transmitted to Google servers, not your Google Analytics account, and Google has easy access to it. And clearly, these hits aren't strictly necessary for the website or app to function, which would have alleviated the requirement to collect consent prior to processing the data.
With only the default settings of Consent Mode in place, Google continues to collect data even when a visitor has explicitly said "no" to tracking and transfers data to the US, where it's subject to US government surveillance. This is a breach of GDPR and most other privacy laws.
You can be privacy-compliant while using Consent Mode if you apply some modifications to the setup. For that purpose, you will need to block Google's hits processed without consent. You can do it by forcing every tag to require explicit consent before any data is sent – use the option called Require additional consent settings and add both ad_storage and analytics_storage there.
IP anonymization
Since IP addresses are considered online identifiers under GDPR, masking them is vital for protecting the privacy of the users they belong to.
IP anonymization is the process of setting the octet – the fourth string of three numbers in an IP address – to zero. This feature is always enabled for Google Analytics 4 properties and requires no manual setup. It's an improvement from Universal Analytics, where IP addresses were collected by default, and the IP anonymization feature had to be manually activated.
But there are a few problems with that.
Although the IP addresses get anonymized at some point after gathering them, they are still processed initially and Google can easily access the full IPs.
Even with a partial IP, Google can still make a rough estimate of a visitor's physical location. The removed number is always in the range of 0 – 255, so Google doesn't have to go through too many hurdles to determine the correct IP.
Anonymizing one identifier does not overcome the fact that other personal identifiers exist and are within reach of Google's infrastructure.
Since only a part of the IP is masked, Google might de-anonymize it by matching it to other kinds of information sent by the website that is using analytics. If Google combines a known IP with further details it has access to, it can easily cross-reference data from users across services.
This means that anonymizing IPs doesn't make them anonymous. But this isn't the only difficulty, because authorities in Europe have started to recognize the issues of using Consent Mode.
Specifically, the Austrian DPA concluded that IP anonymization isn't a sufficient protection measure for data transfers between the EU and the US because:
The IPs are anonymized after the data is transferred to Google.
IP anonymization only applies to IP addresses, whereas Google still collects (and transfers to the US) other identifiers, such as device data or visitor ID stored in the cookie.
No suitable option for addressing data losses caused by low opt-in rates
One of the biggest limitations of GA4 is its lack of a proper solution that addresses data losses caused by visitors not granting consent to use their data.
When you display a consent banner and only process a user's data after they explicitly consent to it, typically between 30% and 70% of users will either ignore or reject it. Consequently, the quality of your dataset will be lowered. Some platforms will give you alternative options, such as solutions to collect anonymous data that allow you to still draw some valuable insights without processing personal data.
In Google Analytics 4, if consent isn't granted, the data is still captured but doesn't contain personal identifiers.
GA4 will only collect events with limited information for users who don't consent, making it very hard to analyze the customer journey, run conversion attribution, or analyze funnels. The events won't be tied to a session, so you can't determine which session an event concerns, at what step a user dropped off and why.
Google applies behavioral modeling, which uses machine learning to model the behavior of users who decline analytics cookies based on the behavior of similar users who accept analytics cookies. It means that the reports you analyze in GA4 display modeled data that isn't fully reliable.
Ultimately, the algorithm responsible for behavioral modeling is a black box, hence you can't verify if the data is accurate. When a lack of consent can already lead to up to a 70% data loss and you are operating on a limited amount of data on your users, the addition of modeled data can compromise the quality of the whole dataset and impact the decisions you make based on it.
As you can see, GA4's "privacy by design" is not a solution for capturing 100% of reliable data when users refuse to be tracked.
Complex migration process
Switching from Universal Analytics to Google Analytics 4 won't be easy because there is no streamlined way to move to the other platform. You won't be able to import any data, tags or settings between the platforms.
You'll have to start setting up GA4 from scratch. If your company is large and collects a lot of data, the process will be time-consuming and require meticulous work. The data collection models are significantly different between the platforms, making it challenging to create and adjust every event properly.
To start with, you should set up a GA4 account as soon as possible and run UA and GA4 in parallel. But once UA is shut down for good, you will lose access to all the historical data it collected.
Historical records are essential for analyzing growth trends and creating benchmarks for new marketing campaigns. Effectively, you are cut short from past insights — and forced to start strategizing from scratch.
And, let's face it, if you must start your data collection with a clean slate, you might as well look around to find better alternatives that will overcome Google Analytics' many limitations.
Steep learning curve
If you're used to Universal Analytics, you'll have to put in significant time learning how to use Google Analytics 4. GA4 isn't a reporting interface for viewing your data. Instead, it provides you with a selection of do-it-yourself tools to tailor reports to your preferences and needs.
But, because GA4 gives you such extensive customization options, its adoption requires considerable analytical skills and a deep understanding of data. You need to familiarize yourself with the user interface, understand the new metrics, and determine where and how to draw valuable conclusions.
As ready-made reports in GA4 are limited, many people build their reports in Looker Studio (formerly Google Data Studio) or export data to BigQuery. And since much of the analysis takes place outside the platform, you will need to familiarize yourself with new tools.
The learning curve might be too steep or not worth the effort for smaller organizations that don't rely on data as much and lack the resources to set up and maintain such an elaborate tool as GA4.
Learning to use GA4 might also be challenging for marketers due to the platform's newly introduced data model, complicated attribution, and the lack of many standard marketing reports about channels and campaigns. GA4 is far more suitable for data scientists who can appreciate its flexibility and customization features.
What puts pressure on you and your learning process is the strict deadline of July 1, 2023, when all UA properties will stop processing new hits. That's when relying on GA4 will become a prerequisite for using Google's web analytics platform. You will be able to view and export all historical data from Universal Analytics until July 1, 2024. On that day, you'll lose access to the UA user interface.
Limitations of Google Analytics 4 shared with Universal Analytics
Other limitations in Google Analytics 4 are similar to those present in Universal Analytics:
Data sampling – It will occur in advanced analysis, such as when you create a report to analyze funnels, paths, cohorts, segment overlap, and others when the data exceeds 10 million counts. With data sampling, your data isn't wholly accurate and representative of user behavior. Google will display information on how much a given report is based on available data. If the percentage shown is lower than 70-80%, you shouldn't fully trust the data you're getting.
Data freshness – It may take up to 4-8 hours to process data from your website or app. This is an improvement from Universal Analytics, where you would have to wait 24-48 hours for your reports, but it's still a visible delay. As a result, you won't be seeing the latest data on core metrics. This reduces your ability to act fast, such as when you launch a time-limited promo. On top of that, you need to factor in that data might be sampled, as mentioned in the previous section.
Privacy compliance – Despite changes in privacy settings, Google Analytics 4 still collects personal data (unique user identifiers) and processes it outside the EU. Finally, both Universal Analytics and Google Analytics 4 are products developed and maintained by Google – a US entity subject to US data surveillance laws such as FISA and the EO 12.333.
Server location – You don't get to select where your data is hosted. Google can store it in data centers in North and South America, Europe, and Asia. This raises significant legal issues, especially if your business or customers are based in the EU, because Google may send data to the US where it's subject to US surveillance laws.
Lack of customer care – Google offers no dedicated support or onboarding to help you set up and customize the platform. This will make migrating and learning GA4 even harder, especially for large businesses with complex setups. There is no option for certain levels of extensive platform customization – for example, through custom integrations.
Raw data – Access to raw data requires BigQuery, which comes at an extra cost. There are no other tools you can use for this purpose.
The bottom line is that GA4 isn't fully rolled out yet, and Google has been releasing numerous features and adjustments to GA4. Despite some improvements, the list of limitations remains long and the sunset of Universal Analytics is just around the corner.
Experienced Google Analytics users recommend using Google Analytics 4 together with Universal Analytics while it still processes new hits.
Now the ball's in your court – will you embark on a new journey with GA4, or do you prefer to move on and explore some alternatives? If you can't decide, you can try out another web analytics platform alongside GA4 and see how each tool behaves in practice.
How can you escape Google Analytics' limitations?
The downsides of using Google Analytics vary in severity and will differ between businesses. Some might not be a problem, while others can be substantial roadblocks. Let's not forget that, in some cases, where GA4 lacks, it attempts to make up for it by offering brand-new functionalities.
If Google Analytics 4's limitations are a serious problem, you can upgrade to Google Analytics 4 360, though it comes with a hefty price tag. Or, you can simply look for another vendor.
Before investing your time and effort in moving away from Google Analytics and switching to a different platform, review and compare how the alternative solutions work, what they offer, and how they can help you achieve your business goals.
We've gathered tons of details about various platforms – read our comparison of free web analytics platforms to get the information you need.
If you want to learn how Piwik PRO can fit right into your stack and support your marketing strategy, check out how it fares against other major analytics platforms: