With January just getting started, it's a great opportunity for year-end roundups. 2018 was a hustling, bustling and exciting year for Piwik PRO, and that's why we want to recap some of the strides we've taken and key initiatives we were a part of. We're sharing our reflections on the past year to show how we're still growing, developing and making plans to keep moving forward, and never resting on our laurels.
Let us take you on a tour of 2018 and show you its juiciest bits. Off we go!
Events and Partnerships
Although our field of expertise is producing compelling software, our creativity for finding new solutions wouldn't be sparked if we just operated in the isolation of our "lab". Attending events, cooperating with other great specialists, sharing and acquiring knowledge all contribute to our development and growth.
Here's what we've done in this field over the last year.
A fresh start
First of all, we started the year by clearing up any confusion about our brand name. An open-source project we used to work on changed its name from Piwik to Matomo. We went our separate ways from our open source cousins long before the name change, and we want to leave the past where it belongs. As the brand name "Piwik" is well-recognized, we hold the trademarks to Piwik PRO, and there's also the fact that it was the open-source community's decision to rebrand, we decided to stick with our name. This is explained in more detail here.

Joining EIT Digital Accelerator
We got a huge boost by becoming the first Polish organization to join the EIT Digital Accelerator. The EIT supports digital technology ventures in the EU to scale up their business. This marks the beginning of a vital business development cooperation. The partnership allows us to bring our GDPR-compliant analytics platform to a growing across Western Europe and North America. It also enabled us in the past year to take part in a range of events like Innovation Day in Paris and Madrid, and the EIT Digital Conference in Brussels.
Piwik PRO teams up with Microsoft

Piwik PRO has reinforced its bonds with Microsoft, initiated by the BizSpark programme in 2017. First, this allowed us to acquire a significant amount of sponsorship.
Then, we started onboarding new Cloud customers on Microsoft Azure. What's more, under Microsoft's new co-selling initiative that promotes joint sales engagements and grants scaleups with access to technology and community spaces, we can provide more value to our mutual customers.
Talking about the GDPR's future in Rotterdam
In March, we had the tremendous pleasure of hosting our first conference "Moving Towards GDPR". We held the conference in Rotterdam, where data-focused entrepreneurs, governmental and non-governmental representatives and data privacy experts gathered to discuss the plans and expectations concerning data protection, GDPR compliance and how Piwik PRO products complement this realm.
Partnership with the Candid Group

The spring brought us another fruitful partnership, this time with the Candid Group, which is the largest independent network of marketing, media and communication agencies in the Netherlands. It's now our exclusive partner for the retail, marketing and media industry in the Benelux. Together, we provide value to companies that acknowledge the importance and advantages of data ownership and look for effective and GDPR-compliant solutions in marketing and web analytics on the Dutch market.
Boom! GDPR enters into force
In May, the long-awaited entry into force of GDPR became a fact, bringing massive changes to virtually every company in the digital marketing ecosystem – Piwik PRO is not an exception. Our response to this earth-shaking event was the introduction of a consent manager and a number of structural changes to how we collect data with our product. Above all, we will help our customers collect, process and store data in line with the Regulation. We'll dwell more on what you can expect from this software a little later in the article.
Launching the Customer Success team
In order to take the best possible care of our customers and address all their needs on the spot, we put together a Customer Success team. They are responsible for our Help Center, which we'll cover later on, but also for supporting our clients in a range of areas. For instance, now you can have a dedicated team member to assist your end-users alongside the Technical Project Coordinators helping your tech team with technical and platform stability issues so far.
The team helps with end-user onboarding, goal setting, personalised training, and developing clients' knowledge and skills in using our product. Tons of benefits on offer whenever needed and with a highly customized approach.

Panoptykon Foundation
Panoptykon is the biggest and most active game-changing organization in Poland acting to develop a better understanding of privacy issues and enhance respect for privacy. We initiated cooperation with Panoptykon in June as a part of our CSR activity. Our role as the AdTech and MarTech expert is to provide industry insights, consult on projects and campaigns, and explain the technical aspects of data collection and processing. More information on the foundation itself can be found here: en.panoptykon.org/about.
Startup Europe Comes to Silicon Valley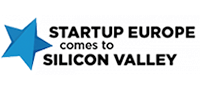 Piwik PRO was recognized as one of the 13 Most Promising European Scaleups by the Startup Europe Comes to Silicon Valley initiative. The aim is to showcase participants – future EU unicorns – to business development specialists in the Valley and help them find partnership opportunities to facilitate their expansion in the US. The program was organized by Mind the Bridge with support from the European Commission, the European Parliament and EIT Digital.
Piwik PRO gets ISO 27001
In September, a the long series of audits came to a successful conclusion as Piwik PRO received ISO 27001 certification. ISO 27001 is one of the leading information security standards designed to protect company networks by an information security management system (ISMS).
To meet the requirements and get the certificate, a business must demonstrate a systematic approach to handling information security risks related to confidentiality, integrity and availability of company and client information.
Becoming certified was important for us to show our partners and customers that we have policies in place to better protect their data from the big threats haunting the digital ecosystem.
Also, certification means that our future customers don't need to undertake any extra compliance assessments when they sign up for our product.
Piwik PRO in the "Deloitte Technology Fast 50" Ranking


In 2018, Piwik PRO was made a Laureate of Deloitte's ranking of the 50 fastest growing tech companies in Central Europe, taking twentieth place. Nominees were chosen based on their financial performance. After years of hard work it was rewarding to be noticed and recognized internationally and become a part of the strong crowd of the fastest-growing businesses.
Setting in motion the Piwik PRO Partner Program
If you want to maximize your potential, it's always good to consider joining forces with a quality partner. That's why we are offering companies more business and cooperation opportunities, helping them prosper by providing extra services for our platform and growing their businesses with our products by launching a Partner Program. But whatever option our partners choose, we make sure they see measurable benefits from discounts, rewards, dedicated onboarding program, sales and marketing support to ongoing assistance.
Leaving no stone unturned – ePrivacy petition
We understand the importance of the ePrivacy Regulation, and the extension of negotiations without a final conclusion neglects the necessity of strengthening the privacy and security of communications across the digital landscape. As a company that has data privacy in its DNA, we've joined with industry representatives, NGOs and more than 30 consumer groups to urge the Council of the European Union to advance ePrivacy reform and reach a final decision.
Technical news and improvements
To briefly sum up the technical changes we introduced in 2018, for sure we now have tighter integrations and better stability. We've added some new products and features so our customers can get the most out of software which has become faster and more powerful. On top of that, the Piwik PRO Analytics Suite has become available in both cloud and on-premises deployment models.
Launching the Help Center
To help our customers take better advantage of our products, quickly find answers to all their questions and receive practical tips and guidance, we've launched our long-awaited Help Center. With more than 516 articles (and this number is still growing!) this knowledge base is a great aid to users of the Piwik PRO Analytics Suite and standalone products.
To aid organizations in meeting the GDPR's requirements while still getting maximum benefits from their marketing strategy, we've expanded our Analytics Suite with a Consent Manager. We know that getting and managing compliant consents from your users is no easy feat.
That's why we've designed a tool that helps you automate large chunks of the process of gathering, processing and storing consents and data subject requests. It also enables you to easily design and edit request pop-ups along with various widgets for collecting consents. Finally, you'll get all user consents and requests history in one place, ready to review and use when you need it.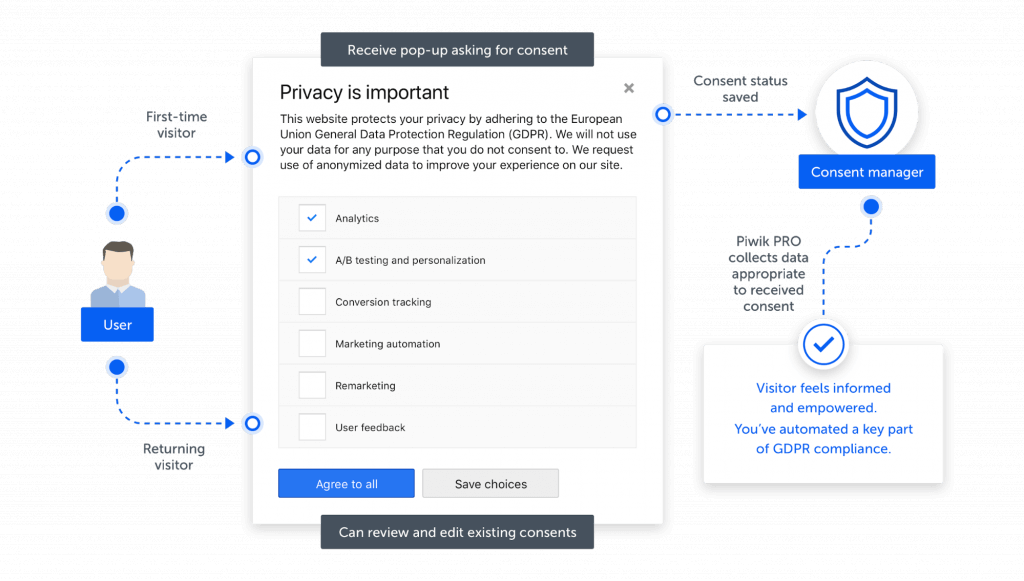 Custom Reports take center stage
Addressing the different needs of diverse customers is our priority, so it was just a matter of time before we introduced our new product, Custom Reports. It allows users to combine metrics, dimensions and events with greater ease and flexibility, then create reports for quick comparisons of results.
The increasing use of web and mobile analytics means that you will have more and more combinations of metrics and reports. What's more, we've switched from the row-oriented MySQL to the column-oriented ClickHouse to help you aggregate immense data sets in a flash.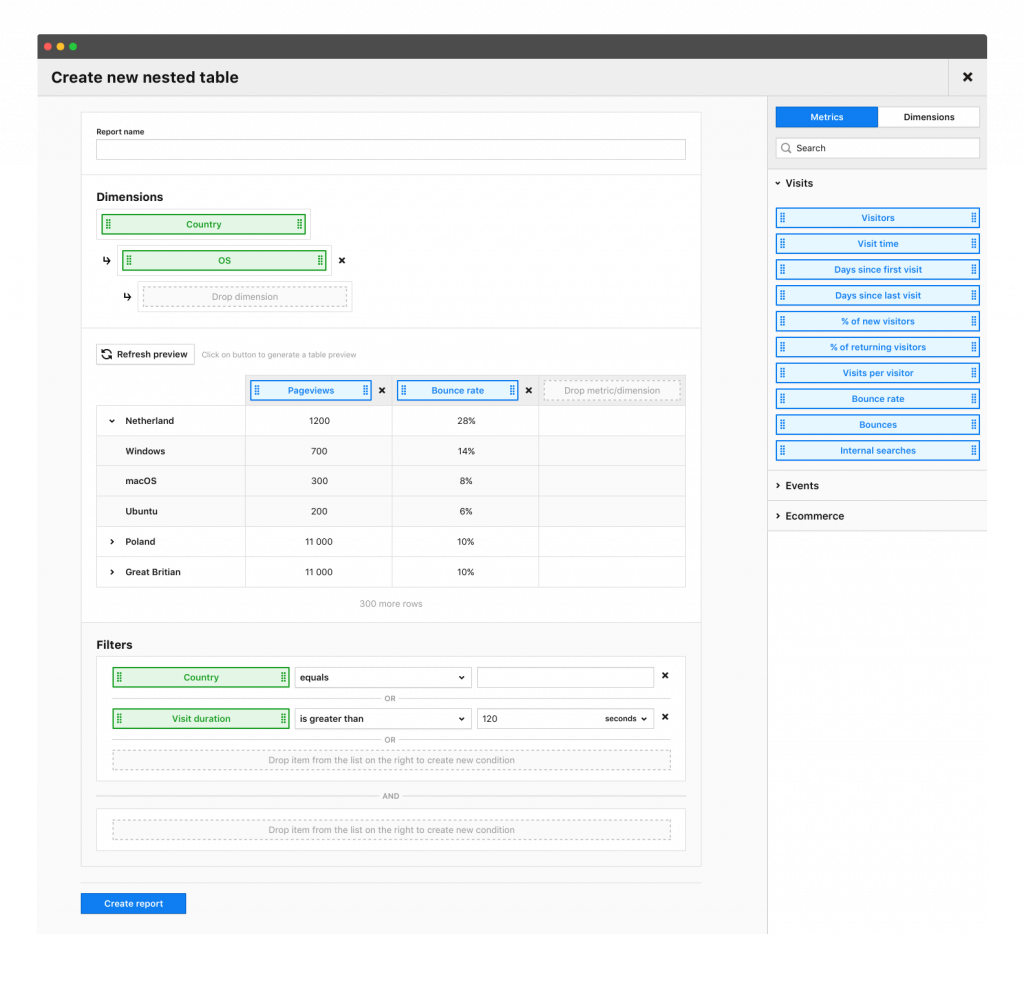 Piwik PRO websites go live for Dutch and French markets
To our great delight, our customer base is still growing and we want to make sure our products and all relevant information become increasingly useful and accessible to our clients and partners. That's why we first launched the piwikpro.nl website in Dutch, created with our partner in the Netherlands, Candid Group. Next, we made a French version of our site, which you can find at piwikpro.fr.
Rolling out Anonymous Analytics
The tight restrictions introduced by GDPR on collection and use of personal data have cast dark shadows over analytics. We closed the year by chasing them away and adding a powerful feature – anonymous data collection. It gives you the power to generate useful insights into visitors' actions without using personal data or violating their privacy.
This means you don't need to obtain consent and you're still aligned with the GDPR. Anonymous data collection remains a novelty in digital marketing and analytics, but it's the right direction to go for organizations that recognize the changing demands of the data privacy landscape.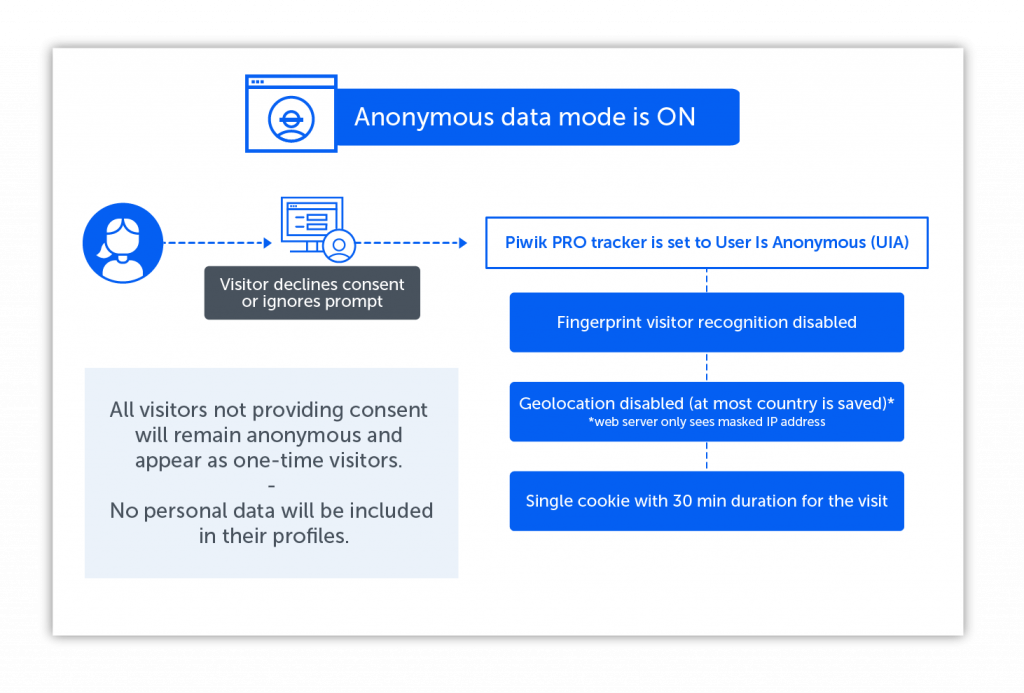 2018 – a year that paved the way for new opportunities
As you can see, it was a fruitful year, and we had an extremely busy schedule. If you haven't yet had the chance to explore our products in detail, now's a great time to catch up. And of course we'd love to get your feedback and comments.
Everything we've done over the last year has served as a lesson, and charts our course for the future. We've entered 2019 at full throttle, so expect to hear lots more news from us soon.