With the new release on March 31, 2020, we're excited to share the juicy bits of the Piwik PRO 12.0 upgrade. We'll walk you through changes both big and small. Some of them are in response to our clients' requests, while others are the outcome of brainstorming sessions, tests and our diligent work to deliver a platform that's easy to use and helps you reach your business goals.
Additionally, we're proud to present version 12.0 on our shiny new website. Make sure to learn all its ins and outs to find valuable content for your organization.
For now, here's the release rundown.
Stay up-to-date with your reports and benefit from content grouping with Analytics
The newest update brings functionalities to improve your reporting on multiple levels. Most importantly, in Analytics, you can now arrange your data within one dimension for clearer reports. By taking advantage of the dimension value grouping feature, you can analyze metrics in a broader context.
For instance, you can take advantage of content grouping – this means you first group all pages using the Page URL dimension, and then narrow them down to those dedicated to your product. But you can also apply dimension value grouping to organize:
blog posts under a certain category
products in your store
categories in your store
landing pages dedicated to a particular campaign
contact subpages
and much more. Everything depends on your business needs.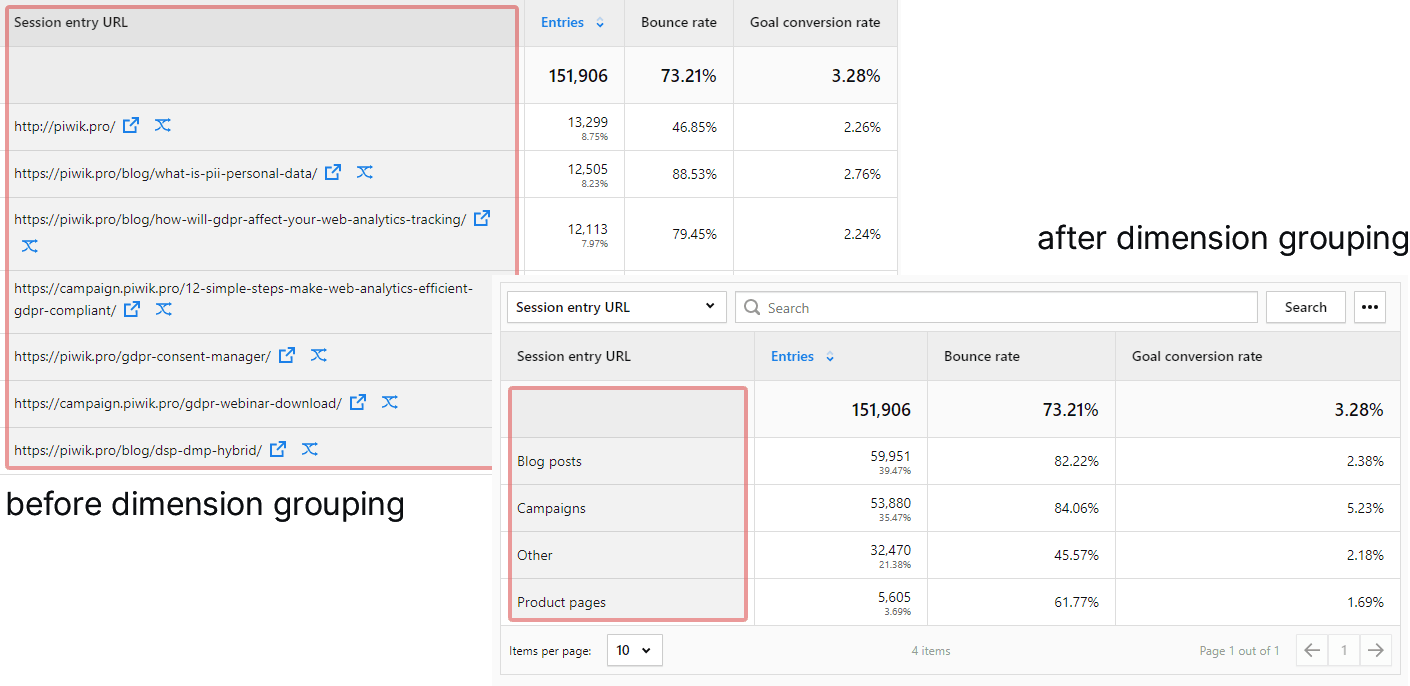 We've also added this feature to the user flow report so you get more clarity. Presenting this report using just a URL might make the outcome hazy, so grouping will provide you with a better view of the visitor's path.
On top of that, you can enhance the visual side of your analysis and highlight the top path visitors follow within a session.

Moving on, we've enabled you to create schedules for sending emails with reports you're interested in, so you won't miss any key data.
What's more, you can set alerts that will arrive as emails into your inbox whenever a metric value rises, drops, or reaches a certain level. This will keep you on top of things so you can take action as soon as it's needed.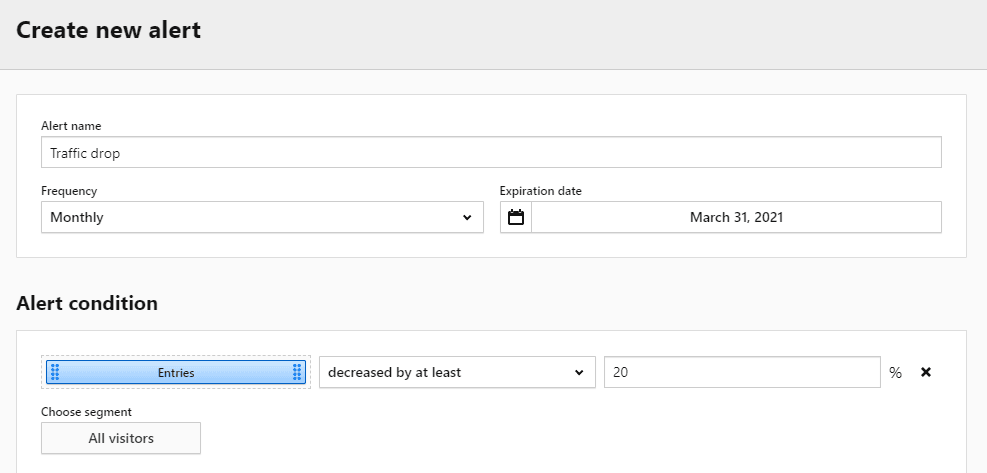 The latest release provides some other improvements to make the Analytics module easier to use and generate even more benefits. You'll be able to apply up to 100 filters to each report for more precision, while the drag & drop option in the user flow report makes changing the order of interactions more convenient.
Easily track single-page applications with Tag Manager
We've done what we can to save you time and trouble with tracking single-page applications (SPAs) and introduced the history trigger to Tag Manager. No custom coding, adding JavaScript lines or complex variables.

A small tweak to Consent Manager
Since single-page application can be hard to track (check out the blog post mentioned above for details), servicing consent forms for their visitors is also troublesome. But we've addressed this in Piwik PRO Analytics Suite 12.0, providing a new Consent Manager API command openConsentForm. You can apply this method when tracking SPAs and still get visitors' permission without any fuss.
Upgraded Audience Manager
The last update to Audience Manager (Customer Data Platform) focuses on improving UI, efficiency and the visual side of the module. We've improved the profile view, and to help you navigate it and find the essential information faster, we moved profile statistics to a separate tab.
Moreover, we've changed the visitor log to show you data from the last 30 days by default. Now you'll get vital details on visits much faster. However, if you want to see records for a longer period, you can always set it up with just a few clicks.
Improved Piwik PRO Platform
Last but not least, because we want you to get the most out of our product, we've given Piwik PRO Platform a makeover. In a single API call, you'll be able to add up to 1,000 apps at once to a meta site and list up to a maximum of 1,000 records from user groups.
Next, we've made the UI even more convenient. Navigation across the platform gets simpler and smoother as you just click on websites' names and user email addresses to move from one place to another.
The last asset on today's list is support for IPv6, which lets you exclude IP addresses from your traffic. By omitting the one coming from your office you're paying more attention to the one related to external visits.
Check out our help center article for full coverage and visit our changelog for the complete list of modifications in Piwik PRO Analytics Suite 12.0.
Final thoughts
We're constantly working on our software to keep up with trends and help our customers easily make informed decisions. We hope that the functionalities and other "under the hood" improvements we've discussed make doing web analytics even smoother.
We're already working on further developments and will be posting more updates. If you have some questions or would like to see Piwik PRO in action, don't hesitate to reach out to us…