You probably know that Universal Analytics (GA3 or UA) and Google Analytics 4 (GA4) use different data models.
GA3's data model is based on sessions and page views. In contrast, GA4's is based on events and parameters. This means that the two analytics platforms collect, process, and report the same data differently. And the differences don't stop there. GA4 also introduces a new UI, lacks some key features known from its predecessor and introduces new ones.
Google is sunsetting UA in July 2023 to replace it with the event-based GA4. So, all professionals who used GA3 so far are faced with a choice – to learn analytics based on a completely new tracking logic or to look for a new platform based on familiar models.
In this article, we will discuss the differences between GA3 and GA4. It will help you decide which analytics method is better for you and whether to move to GA4 or look for an alternative. Please note that in this comparison, we'll mostly rely on the default settings of the platforms.
We will also present some options you have if you decide that event-based GA4 is not a good choice for you.
Universal Analytics (GA3) vs. Google Analytics 4 (GA4)
One of the first things you'll notice about Google Analytics 4 is that the platform structure is quite different from Universal Analytics. Where before you had views, you now have data streams. Both platforms allow you to track the same amount of details, yet they measure them differently.
Google Analytics 4 is simplified in some ways. You have a few things automatically set up for you. For example, for the web data stream you set up in a property, you'll automatically track page views, scrolls, video plays, file downloads, site search, clicks and outbound links. Because Google has pre-selected some of these key settings, it's easier to get analytics to start tracking. Yet, data collected by default is much more limited and requires customization. It means that the implementation becomes far more difficult if you want to make your dataset more targeted in GA4.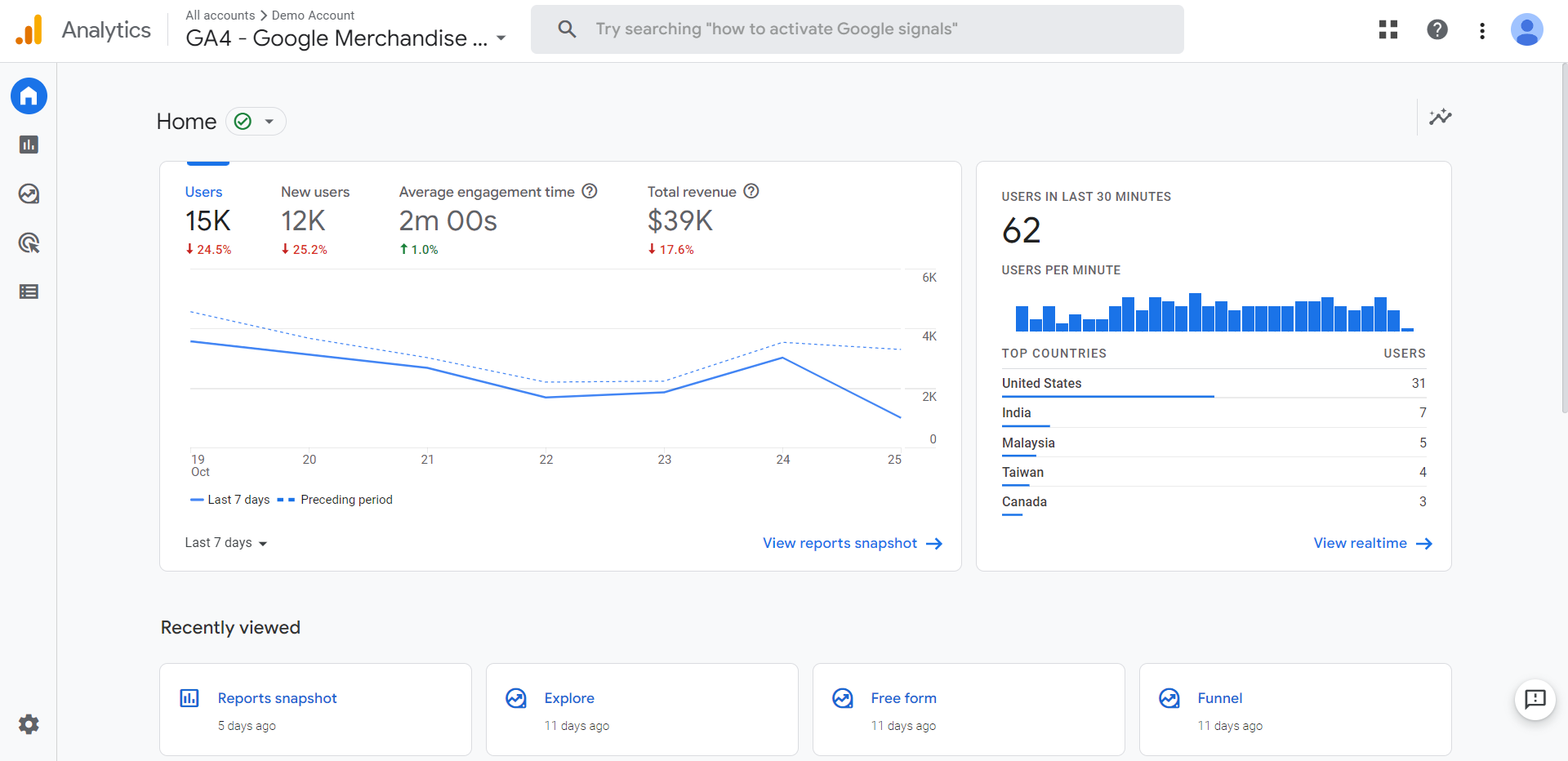 Due to the different measurement model of GA4, some of the metrics are different and many of the familiar reports from Universal Analytics are not available. There are also fewer standard reports in GA4, so you need to construct custom reports for a lot of common use cases.
Universal Analytics was built as a comprehensive suite of pre-made reports that can be used out of the box to analyze online performance.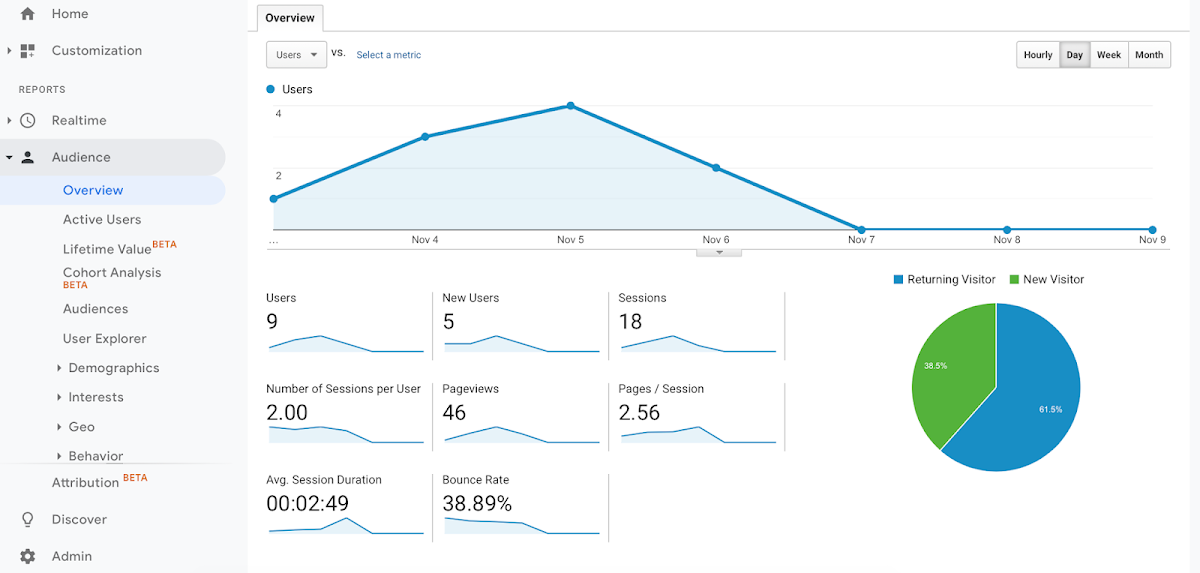 Universal Analytics and Google Analytics 4 measurement models

Since UA is a session-based analytics platform, it uses sessions as the foundation of all reporting. A session refers to various interactions that take place within a given timeframe. You can think of a session as a container for all user actions on your site.
What is crucial in session-based analytics is how the session started (for example, which channel the user came from) and how it ended (for example, where the user dropped off), average session times, and pages per visit, just to give a few examples.
The GA4 event-based data changes how data is measured. While things like page views, user timing, and app/screen views are classified as hit types in session-based analytics, here they're all counted as events.
Let's explain it a bit further. In UA, events track information about certain user actions within your page, such as button clicks or scrolls. You also need to set them up to make them work. In GA4, all data that comes into your reports is events, including information about users, actions, and information from your website and/or mobile apps.
In UA, events are managed with Google Tag Manager or by including code on the site. With GA4, some events can be edited directly in the Google Analytics user interface.
Conversion attribution
Due to different data models, attribution modeling in UA and GA4 is very different as well.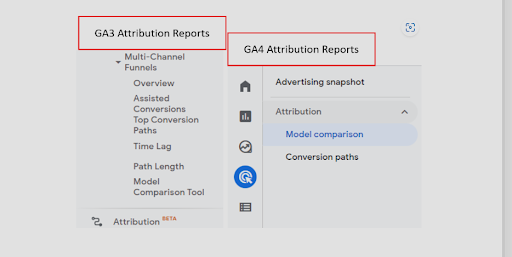 UA has robust attribution modeling features with multi-channel funnels and extensive attribution reports. It is essential in assessing conversion. What's more, Universal Analytics allows you to segment your attribution reports. Also, it provides you with data-driven attribution reports that work based on algorithms and let you assess converting and non-converting paths.
Attribution modeling in GA4 is data-driven. GA4 allows you to choose the reporting attribution model yourself. To make the right decision, you need to have an understanding of the role of each attribution model.
Acquisition reporting
UA gives you insights into the performance of different customer acquisition channels, such as organic or paid ads. It helps to find out how visitors arrive at your website, which traffic source is working for you, and which pages require optimization.
Traffic acquisition reports are especially helpful to understand how traffic sources perform in terms of total sessions on the site and driving conversions.
Let's consider the Source/Medium report. This report is the place to go if you want to understand the performance of various traffic sources and mediums. You can also find the referrals under Acquisition, in All Traffic and All Referrals reports and use the information on the 'start session' point (where the user found the website) to optimize the results of your referral marketing campaigns.
In Google Analytics 4, there are only 3 acquisition reports initially available. Therefore, GA4 might not provide the same level of useful analytics insight as you can get from Universal Analytics. There is simply not enough information to really grasp the full picture of what's happening on a site.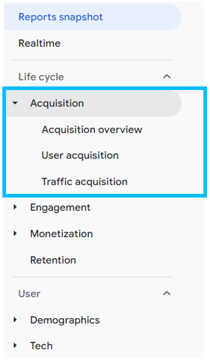 Goal conversions
In Universal Analytics, you can report and analyze the conversion rate of each traffic source for each goal. You may use the 'end session' point to analyze and optimize the conversion rate.
For example, the Goal URLs report shows you the URLs where most goals are completed. In many cases, this report will show the URL which you have assigned as the goal completion point (for example, a sign-up form the "thank you" page). And if you're using events to assign goals, this report becomes even more useful, as it shows which elements of the website help convert the best. With the code implemented on every page of your website you may collect data on clicks on buttons, links, social media profiles and more.
In GA4, conversions are completely different. Goals as conversions are not URL-based. For example, you can't use the 'end session' point as in GA3 since in event-based analytics it's hard to locate actual drop-offs without sessions. All conversions are events. To set the events as a conversion, you will have to mark it as a conversion in existing events. Since conversions are based solely on events, you need tools like Google Tag Manager.
Bounce rate and engagement rate
Google suggests GA4 is more customer-centric because it no longer only measures customers' actions by individual devices or platforms. Instead, it assesses that behavior by measuring how the customer interacts with your business. So, some once-familiar metrics are now gone. Universal Analytics' bounce rate has been changed and replaced with an engagement rate. With GA4, a session is considered engaged when it:
Lasts for at least 10 seconds.*
Has at least one conversion event.
Involves at least two page views. 
It's a helpful metric, but it's less specific than bounce rate. Being able to view landing pages based on lowest and highest bounce rates is a great way for digital marketers to understand which pages perform best and which need optimization. If bounce rate is one of the key metrics for your business, you'll need to find a new way to identify your best and worst performing pages.
It's worth noting that, in UA, bounce rate doesn't have a time threshold. Universal Analytics will record the session as a zero-second session if a site visitor bounces from a web page. Unlike the bounce rate metric, the engagement rate metric has a time threshold associated with it. Because of that, it might be more useful in measuring user engagement on a single-page web/app.
*This parameter is configurable. It makes the analysis more flexible, but also harder, since you have to know the default setting for that.
Cookies and consent requirements

In UA, data gets into the analytics platform from cookie-based tracking. The website sends cookies (or similar identifiers) to a user's web browser, allowing for monitoring web activity during that user's session on the site. 
If your company manages personal data from EU residents, the EU's General Data Protection Regulation (GDPR) applies to your organization. GDPR requires website owners to disclose details such as the type, source and purpose of data collection, and with whom this data is shared. According to GDPR, you have to get explicit consent from EU residents to collect and process their personal information. If the user refuses to consent, you can't collect their personal data.
Using a tool like Universal Analytics to track users, you'll need to ask for consent via a cookie consent banner. That's because cookies used by platforms such as GA can contain a great deal of personal data about a visitor's identity, location, and online activities. 
Depending on how many users choose to opt-in, this could cause a decrease in measurable website traffic.
GA4, rather than relying on cookies and JavaScript variables to track every pageview, tracks data based on specific events. But Google Analytics 4 also uses cookies where they are available for tracking. 
You still need to display a cookie consent banner on your website to trigger GA4 tags and capture user data. If consent isn't granted, the data is captured, but without identifiers. The reporting interface uses this data to prepare reports based on machine learning. It means you operate on data that is modeled, and not the real behavior of your website's visitors. Because of that, GA4's 'privacy by design' might not be a solution to capturing 100% of reliable data when users don't want to be tracked.
Customer journey analytics: funnels, user flows and more
With the U, session-based model, user flows and funnels are based on events that happened within one visit (session). It can be less accurate when the steps in a conversion funnel were completed during separate visits.
GA4 gives you customer-centric measurement from multiple touchpoints, instead of measurement fragmented by device or by platform. Customer-centric insights might give you a fuller picture of the buyer funnel, especially if your conversion funnel involves many steps that can be completed during separate visits. 
Let's discuss this in detail. Google Analytics 4 users have access to funnel exploration features. In GA4, funnel exploration utilizes data that's already been collected. In Universal Analytics, using funnels requires defining a goal. The report will only show data collected going forward from that point. Whereas in Universal Analytics step customization is based on Page dimension, in GA4 it is based on events, with filtering by other dimensions.
Since the GA4 data model is not based on sessions and page views, calculated metrics like pages / session and session duration don't exist in GA4. Setting a destination goal based on a view of a specific page is now a complex endeavor.
That's not much of a problem for session duration and pages / session goal types, but the lack of easy-to-use destination goals is a loss. Since data in GA4 is processed as various types of events, you only have conversions based on event data.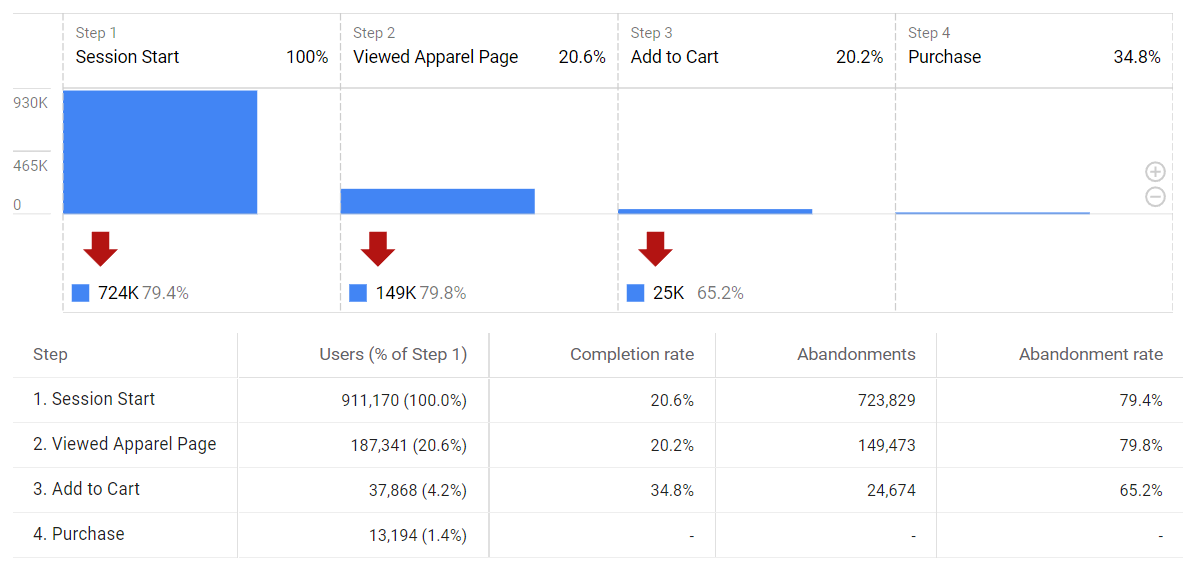 Universal Analytics offers many types of flow reporting. The list includes:
Behavior flow
Goal flow
Users flow
Events flow
Funnel visualization
Google Play referral flow
GA4 doesn't have a behavior flow report. Instead, you can use your exploration templates to follow your user's journey. Use your funnel exploration report to track a predetermined path or your path exploration for free-form tracking.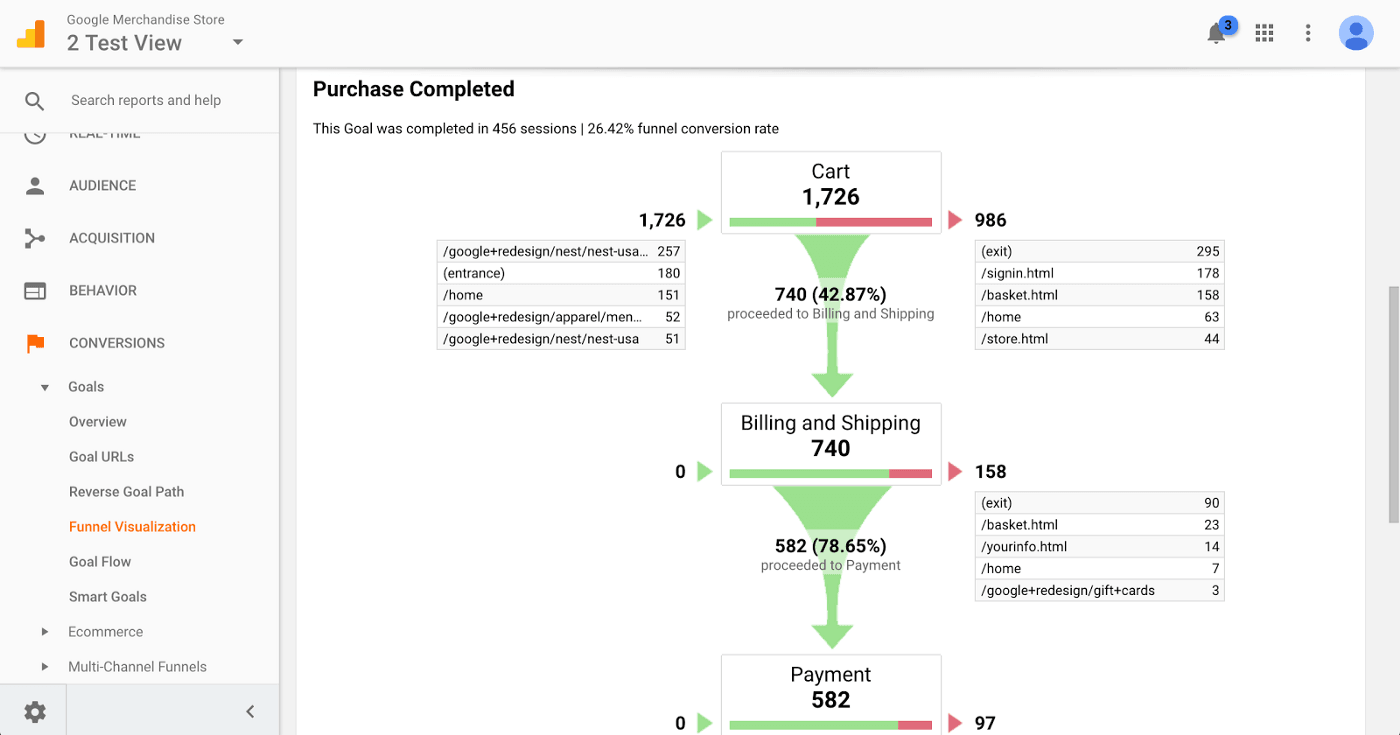 Rich ecommerce tracking capabilities
UA offers a wealth of data related to ecommerce. You can use it to track and analyze transactions, revenue, or products you've sold.
Ecommerce data in UA gives you insights into products with a high (or low) number of sales, the average revenue, the number of products per transaction, your online store's conversion rate or changes, and trends in transactions and revenue over time. 
In GA4, ecommerce reports seem to provide much less information than what's currently in Universal Analytics. For example, the lack of product-level custom dimensions in GA4 can surprise you if you depend heavily on ecommerce. 
Due to the different conversion model, you will need to head to Google Tag Manager (GTM) if you want to track more complex conversions like click-to-call or purchases. It requires technical knowledge to go in and set them up. This can be especially tricky for ecommerce site owners who may need to track multiple complex conversions.
So, if your business relies on detailed ecommerce reports, you shouldn't rely solely on GA4. At least not yet.
Data sampling
With Universal Analytics, data sampling occurs automatically when you reach the monthly limit of 500,000 sessions. 
In GA4, standard reports are always unsampled. Advanced reports are sampled when the data exceeds 10 million counts. In UA, the data may be sampled if you apply a secondary dimension or segment to the standard reports. But in GA4, you can apply comparisons and secondary dimensions, filter the reports, and everything remains unsampled. 
Mobile and app analytics
GA4's event-based data model allows for a unified tracking system for web and app.
Earlier, you had to use Google Analytics for your website tracking and Firebase for your app tracking. Now you can do it in one place.
Required skill set
New GA4 users are sometimes intimidated by the new layout. The familiar Universal Analytics interface is gone, along with its standard reports and metrics.
Google Analytics 4 switches from a ready-made reporting interface. It is moving towards providing do-it-yourself tools for your reporting. Explorations in GA4 is a collection of advanced techniques that go beyond standard reports to help you uncover insights about your customers' behavior. Thus, it provides more customization but requires greater analytical skills. 
Moreover, GA4 seems to be built more as a tool for collecting lots of data, with much of the analysis taking place outside the platform. Since the GA4 default reports are limited, many users are building their GA4 reports in Looker Studio or exporting their data to BigQuery. That's something that requires a deep understanding of the data.

Privacy matters
Last but not least, let's talk about the standards of user privacy provided by both platforms.
According to several EU data protection authorities (DPA), the use of Universal Analytics and GA4 is illegal under the General Data Protection Regulation (GDPR). Both platforms send EU residents' personal data to the US, making it available to surveillance by US authorities. Moreover, Google still collects user identfiers that are not anonymized in a way that satisfies the requirements of GDPR.
GA4 is visitor-oriented, which is clearly a use case where we collect data about individuals and will fail under the consent requirement. You will be working on a limited data set, and even though Google makes an effort to "fill in the gaps" using their predictive data models and hits tracking, this isn't linked to sessions (including channels, etc.) and isn't giving you full visibility into your audience.
A quick recap of the platform's capabilities
Advantages and disadvantages of GA3
Rich attribution modeling features
You get a bird's eye view of each customer journey — from the starting point to the moment of conversion.
Privacy compliance
According to several EU data protection authorities, the use of Universal Analytics is illegal under GDPR.
Robust standard acquisition reporting
It gives you insights into how visitors arrive at your website, which traffic source is working for you, and pages that require optimization.
Customer journey limitation
User flows and funnels are based on events that happened within one visit. It is less accurate when the steps in a conversion funnel are completed during separate visits.
Rich ecommerce tracking capabilities
UA offers a long list of tracking details. You can use it to track and analyze transaction data, revenue, or products you've sold.
Data sampling
Automatic sampling for more than 500K sessions per month.
Quick goal conversions
You can report and analyze the conversion rate of each traffic source for each goal.
Separate tracking for web and mobile apps
If you want to track a mobile app's data in your Google Analytics account, you need to rely upon a Firebase integration to do it.
Advantages and disadvantages of GA4

One platform for both website and mobile app data
GA4's event-based data model allows for a unified tracking system for web and app.
Steep learning curve (not an out-of-the box solution)
The data model is completely different, new UI, very few standard features, missing key metrics.
Better user insights
GA4 gives you customer-centric measurement from multiple touchpoints, which gives you a fuller picture of the buyer funnel.
Limited acquisition reporting
Only 3 default acquisition reports that don't provide the same level of useful analytics insight that we can get from Universal Analytics.
Greater customization options
You can customize your events, so they can be used to report on various actions your users take and any user traits you would like to see in your reports.
All conversions are events/Different conversions
If you're used to using URL destination goals in UA, you'll need to set up events in GA4 with the same goal values. This is way more complicated than simply creating a goal in UA.
Data sampling
It occurs only in advanced reporting when the data exceeds 10 million in counts.
Privacy
Despite some privacy changes introduced in GA4, the new version of the product is considered illegal by some European DPAs.
Lack of historical data
When you switch to GA4, you're starting from scratch. All of your historical data from UA will not be transferred over.
Summary
Universal Analytics gives you such information as the number of unique visitors and pageviews on your website. It offers a rich set of built-in reports like acquisition reports, thanks to which you can get data and insights on how people are finding your website. And if you set up custom event tracking on your website, you can understand your site's user behavior better.
GA4 provides you with more customer-centric insights, whereas UA gives you data about your users and deeper insights into how well your website is performing.
So, if you rely on a Universal Analytics's data model and want to switch to event-based, it will be a radical change. The data model is a completely different product, with new UI and very few predefined features.
Is GA4 the right choice for your business?
Now that we have a better idea of what GA4 is and how it differs from GA3, the question is — who is the new platform right for? GA4 may not be for everyone. Millions of websites, especially small businesses, use GA3 as their primary data analytics tool. It is going to be wiped away, and its replacement is a whole new platform that comes with its own features and functions.
GA4 is a good fit:
1. For larger organizations. You need time and resources to rethink, redesign, and rebuild your data pipeline. In all, data capture is much more limited by default. It requires customization and difficult implementation to make data more targeted in GA4. That, in turn, allows organizations to really tailor it to their needs but requires a much greater investment in data strategy and configuration.
2. For a pro analytics user who is not afraid of customizing their analytics setup. If you're more comfortable defining and deploying your own event tracking than using simpler, default, and older industry standard definitions, GA4 will be the right tool for you.
3. If you need detailed funnel modeling. In the UA data model, user flows and funnels are based on events performed within one visit (session). Event-based analytics uses visitor ID to generate flows and funnels, thus it might be more accurate when there are many steps in a conversion funnel that can be completed during separate visits.
4. For businesses that are app-first in their approach. They are already used to the Firebase model and reporting since GA4 has adopted the Firebase Analytics data model.
GA4 is a bad fit:
1. If your organization has small data teams. Teams that are smaller and less experienced with data capture may find it difficult to take advantage of GA4 as it relies on managing and building different data pipelines.
2. You don't have the capacity and resources to create custom event tracking or the time to design and deploy custom reports, and you don't want to use outside assistance.
3. You rely on behavior reporting, benchmarking, and ecommerce flow reports from GA3. These features are gone in GA4, so you will be starting from scratch and measuring events instead.
4. If you need greater detail on user interactions. If you have a single-page website or quite a few on-page actions (events) you want to measure, these can be tricky to track without the use of Google Tag Manager to push event data to Google Analytics.
What is the alternative?
If you know that GA4 is not a good choice for you, and you care about user privacy, there are other alternatives than migrating to GA4. You could decide to use a different session-based platform that allows you to collect more data by default without the need of custom implementations.
On top of that, some platforms like Piwik PRO are built with privacy in mind and have an integrated Consent Manager that makes it easy to stay compliant with laws such as GDPR or TTDSG. You may also like to have full control over the data you collect. That, combined with flexible data hosting, allows you to employ analytics in more contexts without violating user privacy.
See product comparisons that will help you choose the right web analytics software. We present the essential features of all products, explaining in detail their significance from a legal, technical and practical point of view:
If you'd like to learn more about a privacy-friendly, session-based analytics platform, be sure to contact us. We'll be happy to answer all your questions.