This blog post was originally published on October 25, 2016 and first updated on February 28, 2018.
Are you racking your brain to find analytics software that will match your business needs? Then we've got great news for you.
In our freshly updated comparison, you'll find 4 of the most popular analytics solutions side-by-side for you to see the key differences between them and decide what's your best pick.
Sounds good? So, check it out!
Web analytics tools have changed the way we make decisions in the digital world.
Thanks to web analytics we don't have to guess about what our customers and users want.
We can get detailed information on anything we want, and optimize our digital activities to increase ROI, improve the user experience, and do a number of other things to move towards our business goals.
Web analytics software has evolved a lot since the beginning of the Internet, and right now it is in the prime of its life.
There are dozens of great solutions with various functionalities, but which one is right for you?
Choosing an enterprise web analytics partner is hard
Although for most small and medium-size companies Google Analytics remains the obvious choice, the game has changed for enterprise-level organizations.
The aim of all enterprise web analytics vendors is very similar, but with different tools come different functionalities and services.
There is no one-size-fits-all web analytics platform. That's why you should research, dig, ask questions, and test.
This post is the right place to take the first step.
Here we'll give you an overview of the four most popular web analytics tools, particularly those recommended for enterprises and other large organizations. After reviewing it, you should be able to reject those which don't satisfy your primary requirements. We've already discussed here and here what you should consider during the decision process.
Remember that if you decide to invest in enterprise web analytics software, make sure you have sufficient development, analytics, and management resources within your organization.
There is glory awaiting every marketer and business owner who understands data and uses it to make the right business decisions. Choose your analytics soulmate and march together down the path to glory.
read also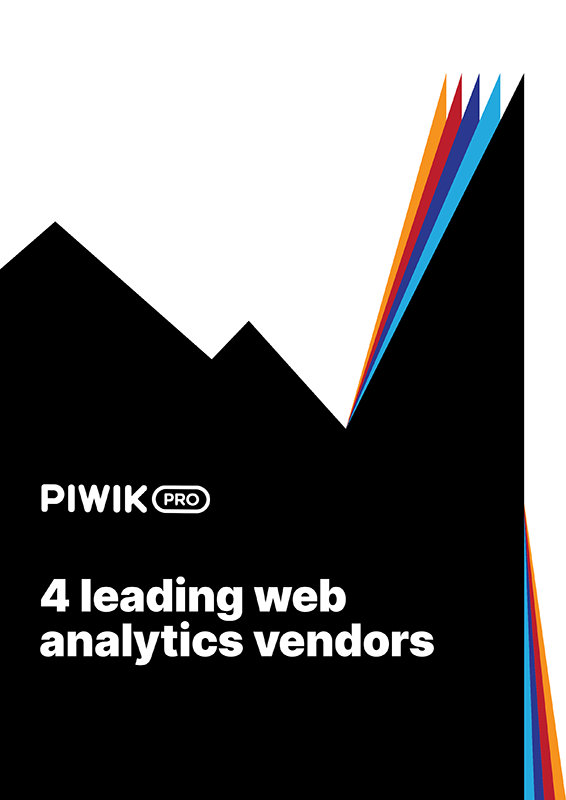 read also
Free web analytics tools comparison sheet
If you'd like to compare the specifications of the web analytics vendors discussed here, download our free web analytics tools comparison sheet. We have detailed over 30 functionalities and placed 4 of the most popular analytics solutions side-by-side for you to see the key differences between them.
Google Analytics 360
Google Analytics 360 (formerly Google Analytics Premium) is a premium version of the most commonly used analytics software – Google Analytics.
It was announced on March 15, 2016, along with the entire Google suite comprised of six products (Google Analytics, Google Optimize, Google Audience Center, Google Tag Manager, Google Data Studio and Google Attribution).
GA is a well-known standard solution for tracking, analyzing, and reporting website data. According to W3Techs, it controls 85% of the market and is believed to be the most comprehensive solution available.
And, of course, it is free. On the other hand, Google Analytics 360 targets enterprise-level organizations. It includes SLAs, technical support, and extended limits for the number of hits.
Its customers include Panasonic, 1stdibs and Domino's.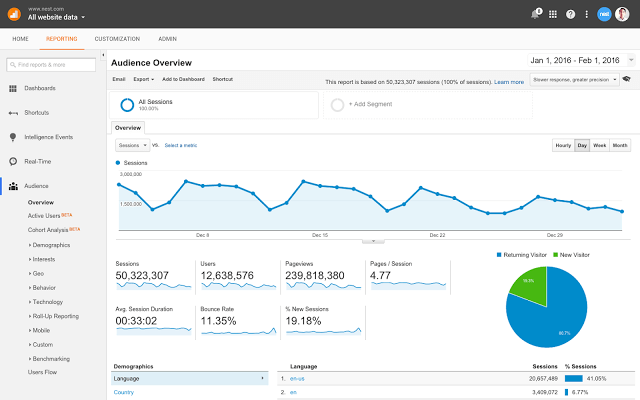 Strengths
As we're getting more and more digitalized and using multiple devices on our way to conversion, analytics data may be not as reliable as it should be. The biggest advantage of GA 360 is its connectivity with other Google products. GA 360 connects different data sources in one place, which makes it a comprehensive resource across all user touchpoints. It is also valued for clear data visualization, custom reports, and the extensive library of expert books, articles, blogs, and other valuable content around it.
Downsides
Choosing GA 360 means you make a commitment to Google. You agree to pass your entire digital activity data to the digital giant, which may be a source of concern for organizations handling sensitive information. Pricing lacks flexibility and cannot be adjusted based on the functionalities you actually use. Moreover, even if data limits are extended, going premium still leaves you with the problem of data sampling for high volume traffic.
Adobe Analytics
Adobe Analytics is a part of Adobe Marketing Cloud. It is the result of a series of acquisitions between 2007 and 2014. Adobe Analytics is based on the SiteCatalyst solution by Omniture, which was acquired by Adobe in 2009.
It lets you measure the performance of your websites and marketing activities and is highly customizable for users with the right know-how.
Adobe Analytics can be integrated with other Adobe marketing products. It offers advanced segmentation, real-time automation, ad-hoc analysis and other features. Adobe Analytics is used in the enterprise environment and provides support and consulting to its clients.
Adobe charges based on every 1000 server calls (Page Views + Downloads + Custom Events) generated from the client's website.
Its customers include Sony, Asos, and B&Q.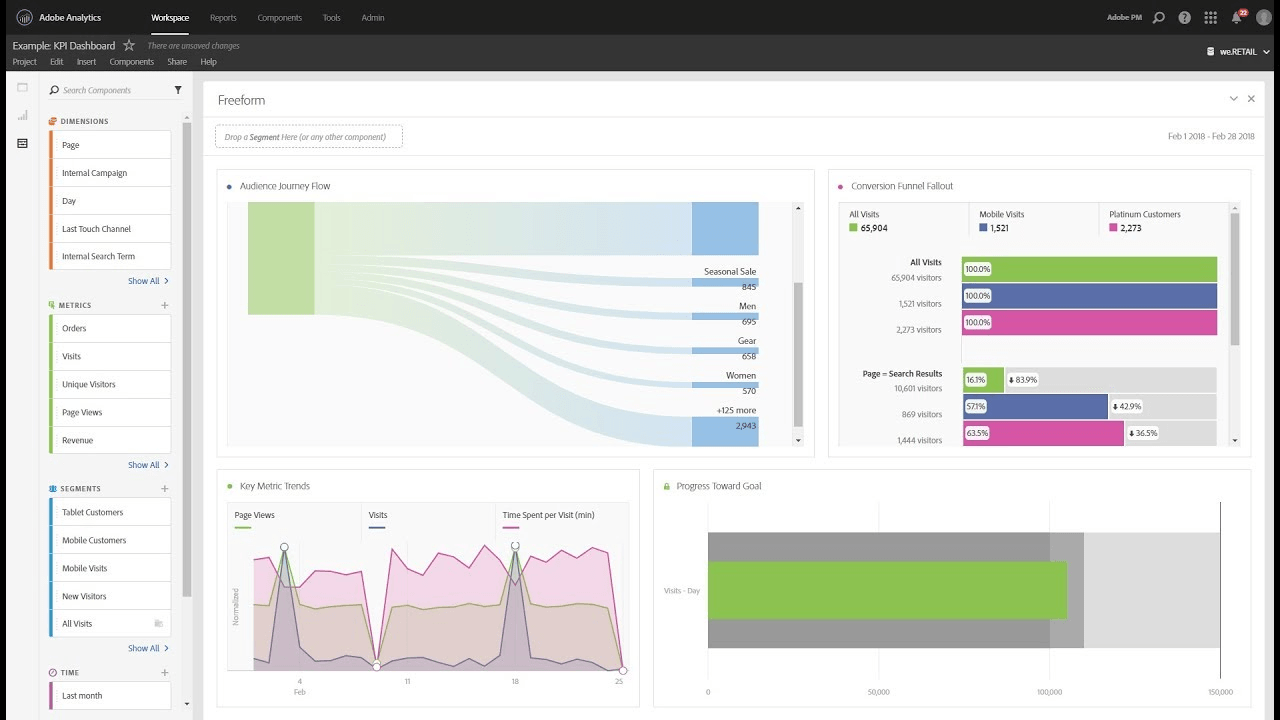 Strengths
For a savvy marketer, this is a real heaven of various features and functionalities. Especially when it comes to segmentation capabilities, it offers flexibility and customizability. Adobe Analytics is a strong competitor due to its enterprise functionalities (like sharing reports and segments with auto-update) and unsampled reports.
Downsides
Adobe Analytics is thought to be one of the most expensive solutions on the market. It also requires some skilled analysts (including technically) to make use of all the features and set the platform up properly. It integrates well with the whole Adobe Marketing Cloud, but it works poorly with Google products.
Countly
Countly is a United Kingdom-based web and product analytics provider. The platform grants its clients full data ownership and allows for customizing its interface with the use of the White Label feature. There are over 25 enterprise edition-exclusive plugins that broaden its reporting capabilities. Countly is used by more than a thousand businesses worldwide.
Its customers include: Ubisoft, Wirecard, and Verizon.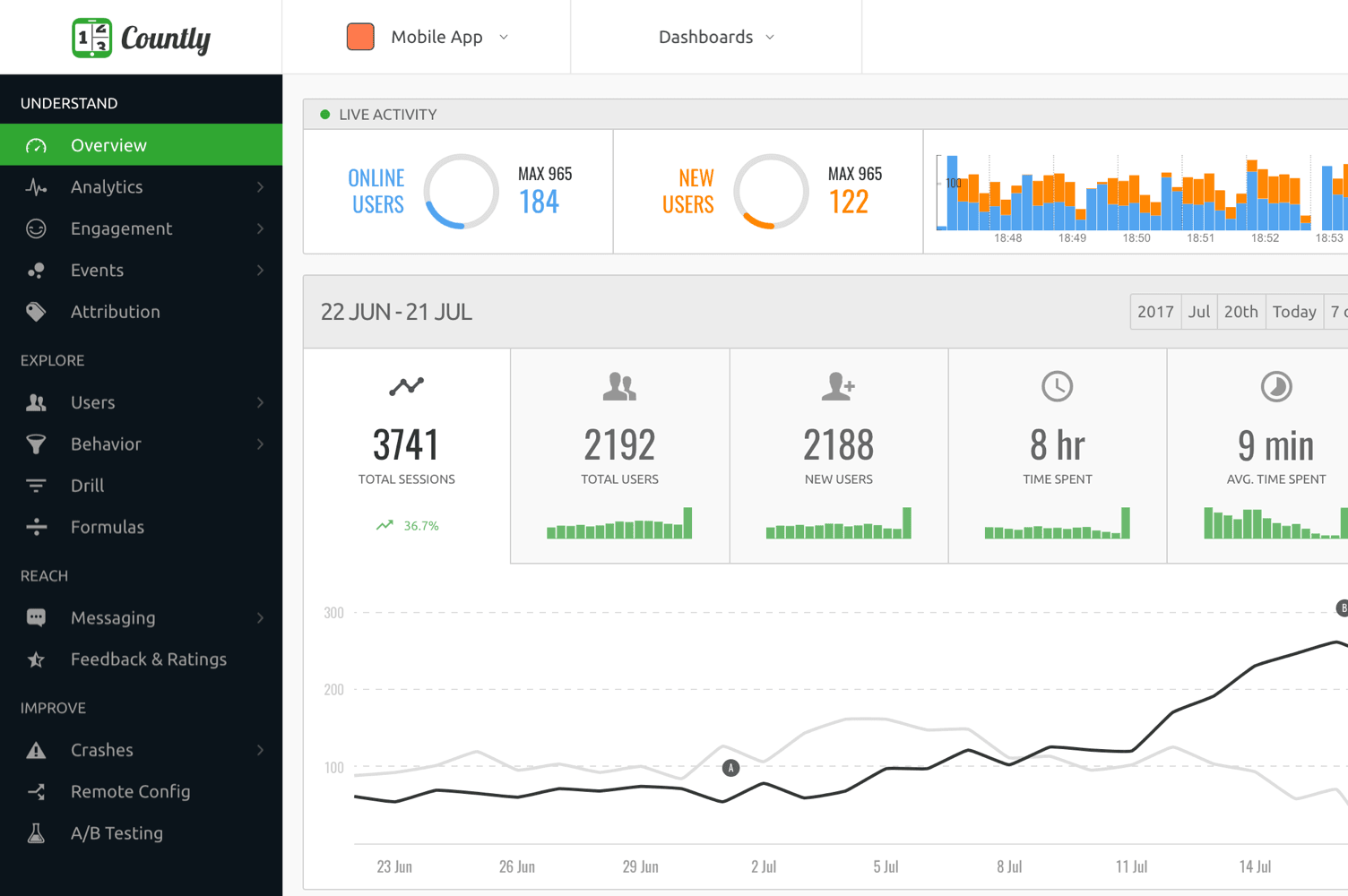 Strengths
In addition to web analytics, Countly also has a strong product analytics offer that covers mobile, IoT and web applications. With a variety of reports and plugins such as heatmaps, push notifications, funnels and dashboards, users can construct advanced tracking plans. Compliance with privacy and security regulations around the world such as GDPR, COPPA and HIPAA makes it a safe bet for companies collecting personal data or operating within privacy-intensive industries such as banking or healthcare.
Downsides
Users need to manually install JavaScript tags on their website since there is no integrated tag manager. Countly doesn't provide a dedicated customer success manager to help establish analytics goals and set up their product. There's no integration with Google products like Google Ads, and Search Console. Finally, there is no offer for SharePoint analytics making it a no-go for those who want to track user activity on this popular intranet platform.
Piwik PRO
Piwik PRO was established in 2013, in Poland. The main philosophy behind their products is to deliver enterprise-class analytics while supporting data privacy and security.
Since its release, Piwik PRO has launched several products including Tag Manager, Customer Data Platform, and Consent Manager, and more under their brand, which became a part of the Piwik PRO Analytics Suite.
Piwik PRO is designed for medium-sized companies and enterprise-level organizations. Hosting options include both on-premises and cloud-hosted models (with servers in Germany, the Netherlands and the United States), depending on the client's requirements.
Each product adheres to the strictest privacy and security regulations while ensuring its partners retain full data control.
Its customers include Wurth, HP, European Commision, Credit Agricole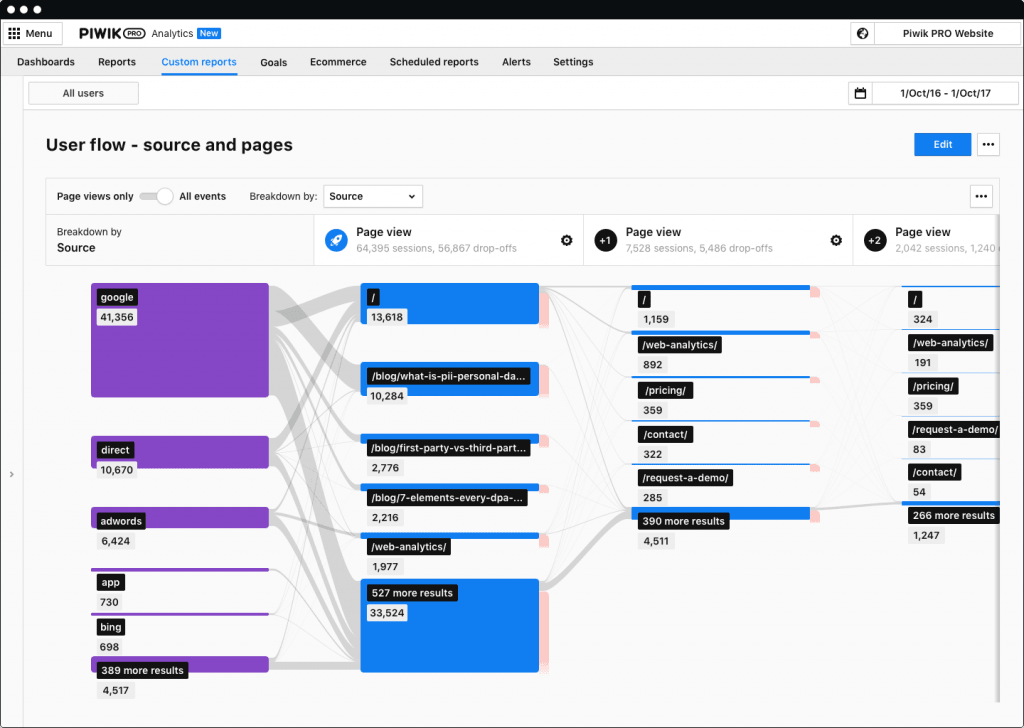 Strengths
Piwik PRO offers numerous privacy and security features which make it a serious contender among enterprise clients and organizations handling loads of sensitive-data. By default it delivers unsampled data, giving users reports based on 100% traffic. Piwik PRO's customers can take advantage of its SharePoint analytics, Tag Management System, Customer Data Platform and Consent Manager.
Downsides
Considering drawbacks, it doesn't integrate as well with Google products as Google Analytics. Moreover, you will need a skilled technical team or premium support if you decide on the self-hosted version.
read also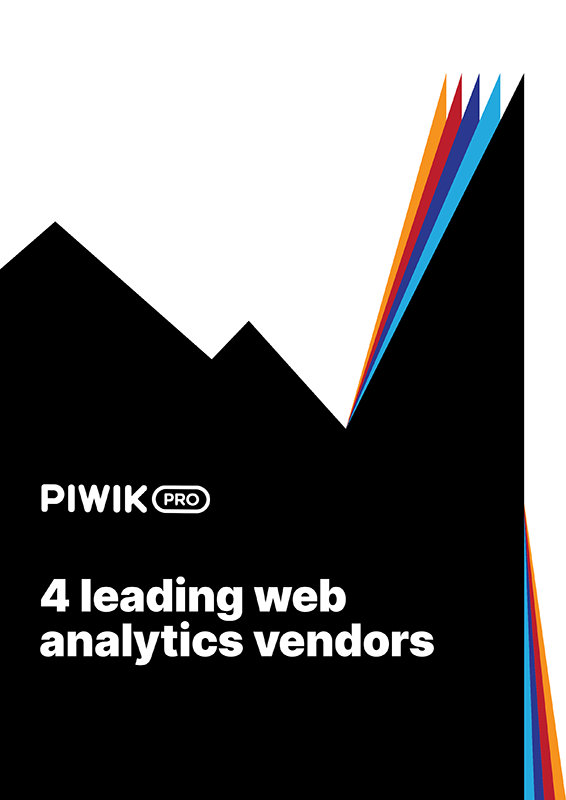 read also
Free web analytics tools comparison sheet
If you'd like to compare the specifications of the web analytics vendors discussed here, download our free web analytics tools comparison sheet. We have detailed over 30 functionalities and placed 4 of the most popular analytics solutions side-by-side for you to see the key differences between them.