Read this blog post to learn how to utilize first-party data in your marketing strategy.
Data is the fuel for virtually every marketing activity – from prospecting, to nurturing up through to conversions and customer retention. Every tool and platform we use collects data and tells us something about our customers and their behavior. And we use a lot of these tools. A typical list would include sources like:
Tag manager
Email automation tools
Web analytics
CRMs
Advertising campaigns
Social media
Paid search
SEO tools
Retargeting
And in many cases this would be just the beginning.
However, we must remember that not every type of data is created equal – one of them stands head and shoulders above the rest. Which one? If you guessed that we're talking about first-party data, you've hit the nail on the head.
What is first-, second- and third-party data? A handy cheat sheet
First-party data is information collected directly from your users/customers. It can come from various different sources like:
an advertiser's web and mobile analytics tools
customer relationship management (CRM) systems
transactional systems
data collected from subscriptions and newsletter signups
other similar systems
Second-party data is basically first-party data that's been collected directly by someone else. For example, a car rental company might purchase an airline's first-party data so they can target their passengers with car rental offers.
Third-party data: this kind of data is acquired from a range of different sources and then sold to you by a third party.
The trouble with third-party data
Before we explore the benefits of using first-party data, let's take a quick look at a quite popular type of data used in digital marketing and advertising: third-party data.
Third-party data is typically used for:
Enhancing media buys – to help advertisers target relevant consumers on the internet (mainly for prospecting, brand awareness campaigns) using demographic, behavioral, and contextual targeting.
Look-alike modelling – to allow advertisers to find users on the internet that are "similar" to their customers.
Audience extension – to let publishers generate revenue by allowing advertisers to reach their audience far beyond their website.
Third-party data does a decent job in those areas. However, it also entails some serious drawbacks. The most important of them include:
No transparency and low accuracy
As you most certainly know, third-party data is the product of aggregated data from different data sets. Unfortunately, you never know what exactly this process looks like. Data brokers provide little to no transparency about how the data segments are created. There's a high risk that some pieces of data might be outdated or inaccurate, caused by excessive extrapolation and lookalike modelling.
There's also a big chance that your competitors have access to the same database, which means you're essentially targeting the same audiences with your ads.
Privacy concerns
The other big obstacle in using third-party data is that internet users are becoming more and more reluctant to share information about themselves with online advertisers. They've even started fighting back with ad-blocking software, installing plugins like Ghostery that show them who is tracking them, and then block them.
The "2017 Adblock Report" prepared by PageFair estimates that nearly 615 milion devices around the world now use adblock – this equals 11% of the global internet population!
What's more, Intelligent Tracking Prevention is also a new feature of Webkit, an open-source web-browser engine that powers Apple's Safari web browser, shipped out in the new release of Safari 11 and iOS 11. The feature aims to further protect users' online privacy by changing the way Safari handles first-party cookies.
Intelligent Tracking Prevention was released with iOS 11 and Safari 11 in September 2017. About 1 month later, the ad-retargeting company Criteo announced that ITP had already cost them $1M in Q3, with this number expected to grow in Q4. It means we're experiencing quite a shift in the balance of power in the world of digital advertising.
GDPR and first-party data
There's also one piece of legislation that will change many things about how you collect and use third-party data. This is GDPR (General Data Protection Regulation). Although GDPR is an EU law, it will affect every company doing business in Europe.
Want to learn more about GDPR and how it's going to affect the digital world? Check out these blog posts:
– What Everybody Ought to Know About GDPR and Web Analytics – Free Webinar to Download
– How ePrivacy Impacts Marketing Automation, Re-marketing, Personalization and Web Analytics
– [Infographic] How to Collect and Process Data Under GDPR?
– [Infographic] GDPR Data Subject Rights – What You Need to Know
– How Will GDPR Affect Your Web Analytics Tracking?
The most crucial upcoming change under GDPR is that consumers will be asked for consent for the use of their personal data (including cookies!). The request for consent will probably take the form of a pop-up. In that pop-up, you will have to provide your users with several pieces of information, such as how exactly you want to use their data.
We also have to be aware that in the case of third-party data, the message in the box will sound something like this: "We want to sell your information to data brokers and allow other companies to send you offers and track your online behavior." Considering that users will be under no obligation to do so, it's rather unlikely that anyone would be interested in ticking that kind of box.
This statement is not only based on common sense, but it's backed up by facts. In a 2017 survey conducted by PageFair, the vast majority (81%) of respondents said they would not consent to having their behaviour tracked by companies other than the website they are visiting. Sounds pretty serious, right?
What's more, companies won't even be able to use third-party data collected without GDPR-level consent before May 2018, since GDPR has no "grandfather" provision!
All that will make gathering and using third-party data extremely troublesome. So you might start thinking that it's a good idea to modify your marketing strategy to use primarily first-party data.
Let us assure you that this strategy will really pay off.
First-party data – core benefits
In the eyes of marketers and advertisers, first-party data is considered the most valuable because it is collected from people who have a direct relationship with the brand: customers or potential customers who have had some interaction with it.
The recent results of a survey by Signal demonstrate that using first-party data also translates into positive customer experience outcomes: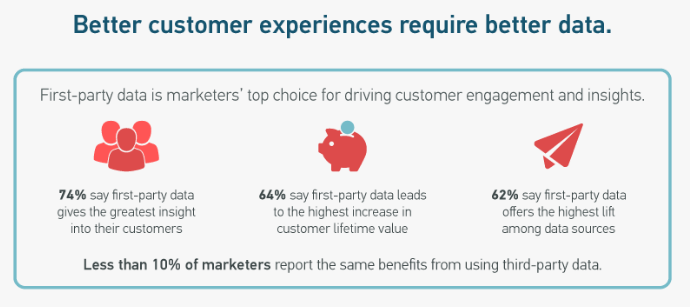 As you can see, marketers are increasingly coming to realize how valuable first-party data is, especially because of its accuracy and relevancy.
There's also one aspect that can't be ignored: first-party data is definitely more privacy-friendly than other types. It's much easier to convince your customers to share this kind of information, since they have a clear understanding of how it will be used, and that in many cases it will serve their best interests; for example, when you utilize it to personalize your website content or provide your clients with customized offers.
If you want to read more on the most important advantages of first-party data, we encourage you to read this blog post: Why First-Party Data is the Most Valuable For Marketers?
However, we're aware that you probably want to get a more practical perspective on the usage of first-party data. We've got you covered. In the next section of this blog post, we'll present three powerful (and universal!) applications of first-party data in marketing and advertising campaigns.
3 practical use cases of first-party data targeting for better marketing
Personalized email marketing and automation
Let's say that you run an online shoe shop. Without first-party data targeting your newsletters would only contain new arrivals, and they wouldn't be personalized to a user's interests or previous behavior: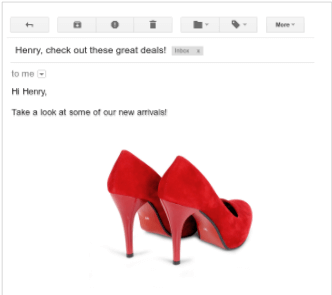 Fortunately, with first-party data at your disposal, you can review users' interactions with your website, finding for example individuals who:
have visited more than five subpages with men's formal shoes, or
left your website without making any purchase.
There's a tool that can prove extremely useful for collecting various data from your clients – it's called a customer data platform. To learn more about it, we recommend you review this blog post: What is a Customer Data Platform and How Does It Work?
Based on that knowledge you can prepare an automated and dedicated email campaign for people interested in buying formal men's shoes: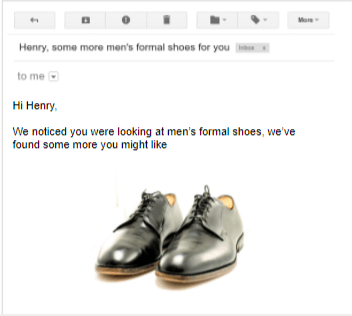 Onsite personalization
Let's say that you want to personalize some areas of your website, to serve your visitors with content that is relevant to their needs. Unfortunately, this can't be done using third-party data.
However, it's a perfect example of how first-party data can come in handy. Here's an example to explain how:
Imagine that you've created an ebook dedicated to one particular industry, such as healthcare. To filter out the group you are interested in, you can use a short survey on your page with a question asking about the industry your visitor works in.
Then, using web analytics data, you can see who has and hasn't downloaded the book. This information will help you create two separate audiences and serve them with tailored messaging:
1) For people who work in healthcare but haven't downloaded the ebook:
2) For people who work in healthcare and have already downloaded the ebook:
This approach is widely considered more effective than "unpersonalized", run-of-the-mill content. Studies have proven that: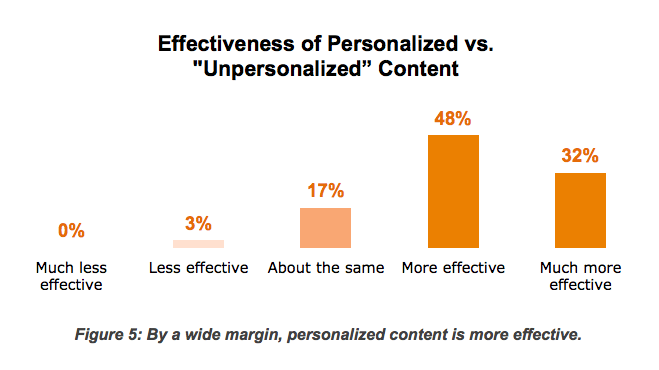 Dynamic creatives
Let's imagine you're working in the marketing department of an airline and you want to run a display campaign promoting flights. In a traditional, non-dynamic ad campaign, you could display the following ad to users located in the USA: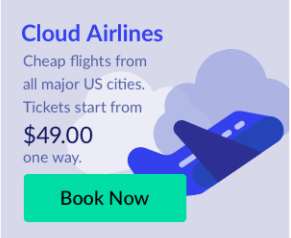 The message in the ad is very generic and really only targets US-based users.
Fortunately, with first-party data your targeting strategy can be much more granular. The dynamic ad contains a message based on a range of different factors, including previous user behavior (such as an offline transaction), location, and even intent, not just browser history.
The airline could, for instance, use their first-party data in a third-party platform (like a DSP) and display this ad to a consumer who has recently purchased a one-way ticket from New York to Chicago. By leveraging their first-party data in this way, the airline could predict that the user will be returning to Chicago in the very near future: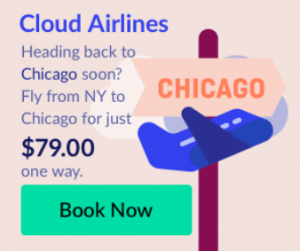 Now that looks a lot better, doesn't it?
First-party data targeting – some conclusions
We trust the examples presented above have convinced you that using first-party data is not only safer that relying on third-party data – it's also much more effective in marketing terms.
However, we're aware you may still have some questions about this. For instance, you might want to know which marketing and analytics tool is the best for accomplishing this kind of goal.
If this sounds like your situation, we advise you to contact our experts. They will be happy to help you understand how the Piwik PRO Analytics Suite can help you implement a first-party data strategy and squeeze the most out of this kind of information.