Starting July 1, 2023, standard Universal Analytics (UA) properties will stop processing new hits. This will align with Google's plan to sunset UA and replace it with its next-generation measurement solution known as Google Analytics 4 (GA4). In preparation for this, Google is providing all UA users a means to migrate their standard UA properties to GA4. This will be automatic unless you intervene and actively decline (or opt-out).
This article explains how the GA4 automatic migration works, what kind of GA4 migration problems you may encounter, and what the alternatives are.
The switch to GA4
On February 9, Google said they would start configuring Google Analytics 4 for users in March 2023.
This means that if you have a Universal Analytics (UA) property but haven't migrated to GA4, Google will create a GA4 property based on many of the settings you have in UA, such as your goals, audiences, Ads links, users, and more. Moreover, even if you have already set up GA4, you might still be subject to auto migration.
GA4 auto migration process
There are three scenarios under which Google will push you into auto migration:
You have an active UA property but haven't created a GA4 property yet.
You created a GA4 property but haven't connected it to your UA property.
You created a GA4 property but haven't gone through the setup steps.
Who is eligible for automatic migration?
The deadline for opting out of automatic migration was February 28, 2023, for non-360 UA properties that have received data in the past 12 months but don't use goals, audiences, or Google Ads integrations.
In the meantime, non-360 UA properties that use goals, audiences, or Google Ads integrations have another month to opt-out – until March 31, 2023.

The option to opt-out will be disabled once the automatic migration has started for any UA property.
360-enabled UA properties cannot be migrated automatically, which means they have to be manually migrated. You'll still have time until July 1, 2024, to migrate in line with the current deprecation timeline set out by Google.
Opting out of auto migration
Even Google recommends that you opt-out of auto migration and instead create your properties manually. This recommendation is confusing – the automatic configuration has no value if you manually migrate your settings. But if you carefully consider all the differences between UA and GA4, you will realize that manual migration gives you at least some control over what gets migrated from UA, how it gets migrated, and when.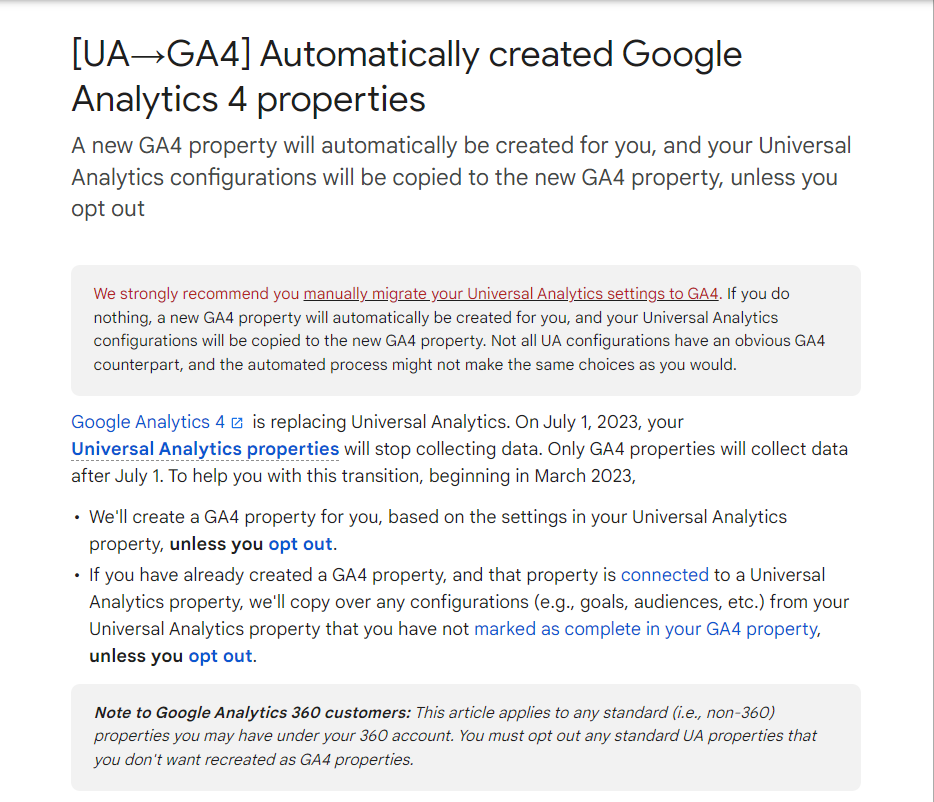 How to opt-out?
Anyone with UA property-level Editor access can enable or disable automatic migration for UA properties. You can find it on the GA4 Setup assistant page. Go to Admin, in the Property column, you will find GA4 Setup Assistant. Scroll to the bottom and toggle off the switch for Automatically set up a basic Google Analytics 4 property.
If you didn't opt-out in time and had automatically configured the GA4 property but don't want it, you can go to GA4 Setup Assistant and disconnect the Connected property. Then go to your GA4 property and delete it.
Opting out via API
Suppose you have numerous UA properties eligible for migration that you do not want to migrate. In that case, you can leverage the GA Admin API method setAutomatedGa4ConfigurationOptOut to programmatically confirm the opt-out status.
Opting out via add-on for Google Sheets
If you want to opt-out of multiple properties simultaneously, you can use the GA4 Migrator for Google Analytics add-on for Google Sheets. After installing it, select Set the automated GA4 setup opt-out status, and follow the on-screen directions.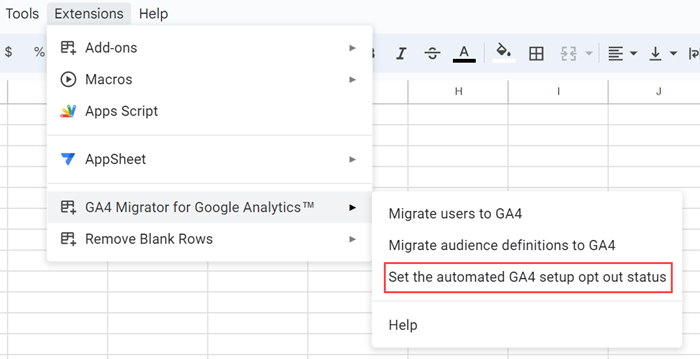 GA4 auto migration problems
Firstly, the automatic migration depends on the event tracking setup, so you shouldn't use it if you use multiple UA goal types. You must remember that there is a difference in the data model, UA is session-based and GA4 is event-based. Both platforms allow you to track a similar amount of details, yet they measure them differently.
Secondly, the automatic migration only includes integration with Google Ads. You shouldn't use it if you integrate the data with other platforms/tools like data visualization tools, BI platforms, data warehouses, and CRM systems.
However, if you use Google Ads, you also should not rely on auto migration. The rotation of primary and secondary conversions in Google Ads with no data validation could cause double conversions and result in false CPCs. You can read more about it in the Bidding to GA4 conversions section.
Though the automatic migration tool has been around for a while, there are some issues with it:
It is a direct mapping solution and will ignore non-GA4 compliant tags (if you have them).
If there is a problem with your existing UA setup, the same issues will exist in your GA4 setup.
GA4 cannot redact PII from incoming data, so if you use this function in UA now, you risk PII entering your Google Analytics 4 data.
There is a risk of GDPR privacy violations due to inline remarketing settings set to OFF getting auto-changed to ON. The Google Ads cost data importer in the GA4 setup wizard automatically enables ad personalization.
Switching to GA4 was an excellent opportunity to make the tracking setup more privacy friendly, for instance, by implementing a consent mechanism while setting up a new property. Using the auto migration tool will utilize the old tracking tags, keeping many setups that are not in line with regulations like GDPR.
If your event setup would create more than 50 custom dimensions or 50 custom metrics. GA4 limits you to 50 custom dimensions and 50 custom metrics. The automated migration may create tracking for less essential events in GA4 while leaving out others you rely on in UA.
GA4 does not support AMP, meaning any website using mobile AMP pages will under-report.
Bidding to GA4 conversions
By letting Google migrate your UA conversions without checking them, you agree that those actions are still important to you.
Google can turn the goals from UA to GA4 conversions and bid to them in Ads. And, if you don't manually change Universal Analytics goals from primary to secondary, then import your GA4 conversion events and mark them as primary conversions, the conversion counts may be duplicated. Auto migration will not ensure that you stop bidding on Universal Analytics conversions before you start bidding on Google Analytics 4 conversions.
If you didn't set up those conversions, you risk an automated process spending your money in a way you may not want or that is not optimized toward your current goals
The same concerns exist as regards targeting ads to GA4 conversions. You would have Google migrate audiences for you, hoping they are good enough, and then bid toward them with your money.
In the April 6 announcement, Google stated that four attribution models would disappear from Google Ads and Google Analytics:
Starting in May, newly created properties will no longer support these models. Beginning in September, Google will sunset the models for all other properties. Cross-channel data-driven attribution, cross-channel last click, and Ads preferred last click will remain available.
First click
Linear
Time decay
Position-based
Starting in May, newly created properties will no longer support these models. Beginning in September, Google will sunset the models for all other properties. Cross-channel data-driven attribution, cross-channel last click, and Ads preferred last click will remain available.
Here are some issues with GA4 conversions and Google Ads auto migration/integration:
Google Ads deflation may be caused by broken GA4 imported conversions that fail CPA bidding.
Google Ads inflation may be caused by running GA4 imported conversions simultaneously with Adwords conversions, with both set to primary for CPA bidding.
Google Ads inflation may be caused by over-counting of conversions due to GA4, no deduping of same-session conversions. Visit to print order pages would be an example of this.
Consider some examples of GA4 conversions where automatically imported goals could cause inaccuracies:
If a GA4 property has already been created manually – for example, via the setup wizard – and is linked to UA, the default currency has been changed from what was imported. In this scenario, the migrated GA4 goal values will be wrong. These are not automatically converted into the local currency when created as newly added GA4 events. This will cause over or underbidding due to the incorrect Google Ads conversion value being recorded.
If you use Paypal, the exclude referral setting is not copied to GA4. Thus, conversions won't be attributed to SEO or PPC. They will all be attributed to referrals from Paypal.com. You must edit the GA4 setting for referrals to fix it.
If you use Smart Goals, Duration Goals, or Pages/Session Goals, these cannot be imported into GA4.
RegEx URL and event-based goals cannot be imported, so you must copy them manually.
GA4 does not test or verify that a goal is working when it imports from UA into GA4. Furthermore, there's no automatic validation when it rotates your Google Ads' primary and secondary goals from UA to GA4 as the primary goal to use for CPA bidding.
Read more about GA4 auto migration issues.
What are the alternatives
There are a few things that you may do:
Opt-out of auto migration. You can do it in settings.
Plan to customize your migration. If using Google Ads, you can manually import the GA4 transaction or conversion, review it – for example, to ensure there are no two primary conversions – and then opt-out. Remember to change Bid on GA4 conversions to Mark as complete in the GA4 setup wizard to prevent these changes from being overwritten.
Delete your GA4 property if you didn't opt-out in time, and it was automatically configured for you.
Look for an alternative to GA4.
Piwik PRO'S Migration tool (GA3 and GTM)
The migration tool lets you quickly transfer your settings from Google Analytics 3 (Universal Analytics) and Google Tag Manager. It enables you to import GA3 properties, settings, goals, custom dimensions, and Google Tag Manager containers, including tags, triggers, and variables.
Conclusion
Migration of UA properties to GA4 can be problematic, regardless of whether you do this on your own or let Google's tool automate the process. The process becomes even more complex if you have a lot of data or many custom configurations.
Your data is essential, and its accuracy, control, and integrity are equally crucial. That's why it's good to consider all of your options before embarking on the GA4 migration journey. One of your alternatives would be using a different platform with a session- and event-based model to collect more data by default without custom implementations.
On top of that, some platforms like Piwik PRO are built with privacy in mind, letting you comply with laws such as GDPR or TTDSG. Piwik PRO gives you complete control over the data you collect, flexible hosting to employ analytics in more contexts without violating user privacy, and native integration with Consent Manager.
See product comparisons that will help you choose the right web analytics software. We present the essential features of all products, explaining in detail their significance from the legal, technical, and practical perspectives:
If you'd like to learn more about a privacy-friendly, session-based analytics platform that will let you collect more data, be sure to contact us. We'll be happy to answer all your questions.